Research article

Open Access
Moderate strength (0.23–0.28 T) static magnetic fields (SMF) modulate signaling and differentiation in human embryonic cells
Received: 2 February 2009
Accepted: 4 August 2009
Published: 4 August 2009
Abstract
Background
Compelling evidence exists that magnetic fields modulate living systems. To date, however, rigorous studies have focused on identifying the molecular-level biosensor (e.g., radical ion pairs or membranes) or on the behavior of whole animals leaving a gap in understanding how molecular effects are translated into tissue-wide and organism-level responses. This study begins to bridge this gulf by investigating static magnetic fields (SMF) through global mRNA profiling in human embryonic cells coupled with software analysis to identify the affected signaling pathways.
Results
Software analysis of gene expression in cells exposed to 0.23–0.28 T SMF showed that nine signaling networks responded to SMF; of these, detailed biochemical validation was performed for the network linked to the inflammatory cytokine IL-6. We found the short-term (<24 h) activation of IL-6 involved the coordinate up-regulation of toll-like receptor-4 (TLR4) with complementary changes to NEU3 and ST3GAL5 that reduced ganglioside GM3 in a manner that augmented the activation of TLR4 and IL-6. Loss of GM3 also provided a plausible mechanism for the attenuation of cellular responses to SMF that occurred over longer exposure periods. Finally, SMF-mediated responses were manifest at the cellular level as morphological changes and biochemical markers indicative of pre-oligodendrocyte differentiation.
Conclusion
This study provides a framework describing how magnetic exposure is transduced from a plausible molecular biosensor (lipid membranes) to cell-level responses that include differentiation toward neural lineages. In addition, SMF provided a stimulus that uncovered new relationships – that exist even in the absence of magnetic fields – between gangliosides, the time-dependent regulation of IL-6 signaling by these glycosphingolipids, and the fate of embryonic cells.
Keywords
Static Magnetic Field
Static Magnetic Field Exposure
Human Embryonic Cell
Vascular Epidermal Growth Factor
Magnetic Exposure
Background
Life exists amid an electromagnetic background and it is therefore not surprising that biological systems are finely tuned to detect and react to static magnetic fields (SMF) of various strengths. In a well known example from nature, the migration of birds is guided by very low strength geomagnetic fields [1–5]. In humans, there are intriguing reports – exemplified by an anecdotal Harvard study that showed severely depressed manic depressive patients experienced dramatic mood swings towards happiness during MRI [6] and pilot pain management clinical trials [7, 8] – that magnetic fields can benefit health. In more rigorously controlled animal studies, beneficial effects on pain reduction [9], hypertension [10], wound healing [11], inflammation [12], and microvascular circulation [13] have been reported. To facilitate the translation of these early results to efficacious therapeutic modalities, a greater understanding of the underlying biological basis of magnetic exposure is required [13]. Accordingly, in this paper we take steps towards bridging the gap between the established biophysical effects of magnetic fields on sub-cellular macromolecular components and reported tissue-level and whole organism responses by exploring whether SMF can function as a novel stimulus for signaling pathways at the cell level.
The premise that SMF can modulate signaling networks is based on reports that establish lipid bilayers as the most compelling molecular biosensors capable of responding to magnetic exposure. Specifically, moderate strength SMF can change biophysical properties of membranes that include hyperpolarization [14], redox potential [15], and fluidity [16] thereby altering flux through sodium (Na+) [17] and calcium (Ca2+) [13, 16] channels. As a result, changes in cytosolic concentrations of the calcium ion – which serves as a second messenger in several signaling pathways – occurs ubiquitously in cells exposed to SMF [18]. In addition to altering ion channel flux, biophysical changes to membranes may also affect lipid raft microdomains in ways that modulate downstream signaling; an example of this phenomenon is the impact of ethanol on lipid rafts and the concomitant changes to toll like receptor 4 (TLR4) activity [19]. In contrast to ethanol – which increases membrane domain fluidity – SMF exposure increases membrane rigidity, an effect that has been coupled to the promotion of differentiation in osteoblast-like cells [20].
In the first part this study, mRNA profiling of SMF-treated cells coupled with analysis of the microarray data by the Ingenuity Pathway Analysis software tool [
21
–
23
] verified that anticipated transcriptional changes – qualitatively consistent with the impact of altered Ca
2+
flux or membrane domain fluidity on signaling pathways – did occur. Building on this finding, we conducted a detailed molecular and biochemical characterization of cellular elements linked to interleukin-6 (IL-6, which was identified to respond to SMF from the software analysis) in human embryonic cells. As a framework for the ensuing experiments described in this study, these connections are diagrammed in Figure
1
; this figure shows both known connections between IL-6 and other molecular players (e.g., Ca
2+
and TLR4) as well previously unappreciated links (e.g., ganglioside involvement in IL-6 activation that acts even in the absence of SMF, offering a new controlling mechanism for IL-6). This study concludes by showing that SMF leads towards oligodendrocyte differentiation in human embryonic cells by preferentially stimulating pre-oligodendrocyte markers over the astrocyte markers usually associated with IL-6 exposure. Together, these results establish SMF as an intriguing means to ultimately (and non-invasively) stimulate cells in an endogenous niche.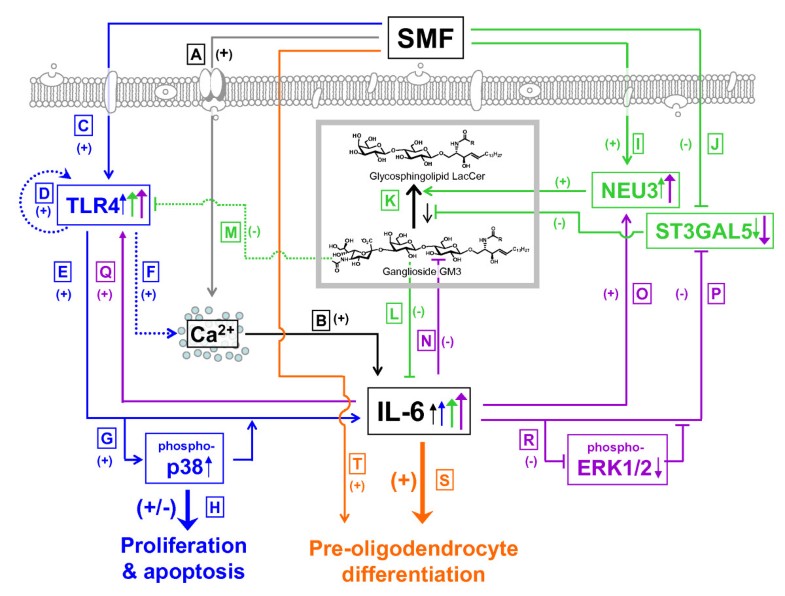 Conclusion
At the outset, we emphasize that this study was not intended to provide a comprehensive account of the cellular effects of SMF. For example, mechanisms other than those based on a lipid biolayer 'biosensor' may contribute to the transcriptional changes observed in this study as direct effects of SMF on protein-DNA interactions have been postulated [63–66] as have changes in enzymatic and biochemical reactions [5, 67–69]. Therefore, we reiterate that our goal was to provide a rudimentary framework of one of many parallel or complementary mechanisms through which magnetic stimuli are transduced from molecular level biosensors into cell-level responses. This objective was pursued by mRNA microarray profiling that verified time-dependent global changes in transcription occurred that were consistent with the activation of signaling pathways. Then, to gain insight into the specific networks affected by SMF exposure, which were not obvious by simple inspection of the genes involved, the microarray data was subject to software analysis and signaling networks consistent with tissue- or organ-level responses to magnetic exposure (that include benefits to wound healing [11] and inflammation [12]; cardiovascular effects [13] such as modulation of blood flow and pressure [10]; and anti-tumor activity [70, 71]) were identified.
Although the microarray data identified cellular responses consistent with previously reported biological responses to magnetic exposure, we nonetheless sought to ensure that these associations were not just coincidental or an artefact of the software analysis. Detailed biochemical investigation of all nine pathways (see Table 5) was well beyond the scope of a single study, therefore we selected a single network – IL-6 signaling – for validation and outlined several molecular paths (as shown in Figure 1) that accounted for the multifaceted up-regulation of IL-6 by SMF that occurred over the first 1 to 3 days of exposure. From the standpoint of disease intervention, the up-regulation of IL-6 by SMF at first seems to be unwanted because IL-6 is generally maintained at low levels in healthy tissue [50]. Moreover, chronically elevated levels of IL-6 are usually deleterious (for example, inflammation and unabated astrocyte differentiation associated with increased IL-6 experienced after brain or spinal cord injury blocks axonal regeneration of neurons and thereby hampers full recovery [35]). In some cases, however, the short-term activation of IL-6 can be therapeutically beneficial; for example, this pleiotropic cytokine can be neuroprotective immediately after injury [28]. Consequently, successful therapeutic intervention involving IL-6 is contingent upon transient – as experienced in the SMF-treated cells – rather than on prolonged activation to avoid the deleterious consequences of chronic inflammation and other long term consequences of sustained IL-6 production.
In a final set of experiments, we briefly investigated whether SMF-mediated responses associated with IL-6 signaling translated into changes in phenotype observable at the whole cell level. Although IL-6 impacts numerous cell-level and systemic responses, our experimental efforts were focused by reports that IL-6 guides differentiation of neural stem cells primarily to astrocytes [35]. These clues led us to investigate whether evidence of astrocytogenesis was seen in the hEBD LVEC cells, an embryonic line that is predisposed to neural differentiation [24]. Interestingly, responses consistent with differentiation (i.e., slowed proliferation and morphological changes) were not reflected in the biochemical markers indicative of the astrocyte differentiation expected from IL-6. Instead, markers found in oligodendrocyte precursor cells were manifest, indicating that the other pathways modulated by SMF tuned the 'usual' activity of IL-6. Ultimately, if full oligodendrocyte formation can be promoted in vivo by SMF without concomitant astrocyte enhancement (under the current experimental conditions, full differential to oligodendrocytes was not feasible due to the absence of neurons and other glial cells found in the in situ oligodendrocyte microenvironment), this capability could lead to non-invasive therapies for conditions such a multiple sclerosis (MS) linked to oligodendrocyte pathologies.
Methods
Cell lines and culture conditions
The human embryoid body derived (hEBD) LVEC cell line [24] was obtained from the Shamblott Laboratory (JHMI) and was cultured in EGM2MV media (Clonetics, San Diego, CA) that included 5.0% fetal bovine serum (FBS), hydrocortisone, human basic fibroblast growth factor, human vascular epidermal growth factor, R(3)-insulin-like growth factor I, ascorbic acid, human epidermal growth factor, heparin, gentamycin, and amphotericin. The HEK AD293 line was obtained from the ATCC (Manassas, VA) and incubated in DMEM supplemented with 10% FBS under established conditions [72]. Cells were cultured on tissue culture (T.C.) plastic coated with bovine collagen I (Collaborative Biomedical Products, Bedford, MA; 10 μg/cm2) in a water-saturated, 37°C incubator with 5.0% CO2.
Exposure of cultured cells to SMF
Cell exposure to SMF was conducted for time intervals up to a maximum of 9 days using a device obtained from the Advanced Magnetic Research Institute, International (AMRIi, Calgary, AB) that fit into a standard T. C. incubator with sufficient clearance on all sides so that incubator functions (i.e., circulation of CO2 and water saturated air) were not affected. The device was designed based on principles derived from clinical testing of SMF (Diabetic Peripheral Neuropathy (ClinicalTrials.gov Identifier: NCT00134524) and Chronic Low Back Pain (NCT00325377)) that the magnetic field must be unidirectional with no reverse field passing through the sample [73]. It was embedded with four 1" × 4" × 6" (inch) permanent neodymium (NdFeB) rectangular block magnets with two located above and two below the central cavity (Additional file 2: Figure S10). The device produced a field with a magnetic flux gradient of < 1.0 mT/mm in the portion of the central cavity where the cells were maintained during experiments. This arrangement contrasts with experimental set-ups where each well of a T. C. plate has been supplied with SMF exposure by using a separate magnet; in these cases (or in experiments specifically designed to test gradient responses) the periphery of the treatment areas were subject to much higher magnetic flux gradients of 20, 21, or 28 mT/mm [31–33, 74] that resulted in different cellular responses than observed in the more uniform portions of the magnetic fields.
As just explained, the SMF conditions used in the current experiments were not expected to elicit gradient effects because the gradient used was much shallower than previously reported (i.e., < 1.0 mT/mm compared to 20–28 mT/mm). Nevertheless, to ensure that gradient effects – or other artefacts of the exposure conditions – did not account for the effects observed in hEBD LVEC cells in this study, several control experiments were conducted. First, the direction of the flux (i.e., whether the device was oriented upright so that the field was superimposed on the Earth's magnetic field or oriented upside down so that the applied field countered the background field) was tested and found not to have an impact on the parameters under investigation in hEBD LVEC cells. Second, differences in field strength (i.e., whether the cells were exposed to field at the extreme top or bottom of the treatment device when six T. C. plates – the maximum capacity of the device – were stacked on top of each other) did not measurably affect the outcome of the experimental parameters reported in this study. Finally, the orientation of the T. C. plates (e.g., whether the plates were placed as shown in Figure S10 (Additional file 2) or at 90°, 180°, or 270° angles) did not alter experimental outcomes.
Despite the lack of variation in IL-6 related outcomes, the experiments described in this report were always performed with the induced static magnetic field superimposed in the same direction as the ambient field, the SMF-treated cells were maintained in the central portion of the device oriented as shown in Figure S10 (Additional file 2) in the region the where magnetic flux density ranged between 0.23 and 0.28 T (as measured by a gaussmeter, Type 181002, Thyssen Magnet-und komponententechnik, Dortmund, Germany). Control cells were kept in an identical incubator where the ambient magnetic field was ~52 μT (which was within 1 μT of the background levels measured by us or reported by the National Geophysical Data Center for the location where these experiments were conducted (i.e., 52,359.0 nT at a latitude of 39° 19' 35" and a longitude of – 76° 36' 17",. http://ngdc.noaa.gov/geomagmodels/IGRFWMM.jsp?defaultModel=IGRF).
Transcriptional (mRNA) profiling
In all cases, the cells subjected to microarray profiling were obtained from the same initial culture batch and were subsequently cultured for a total of six days before RNA was isolated and analyzed. Subconfluent (70%–80%) undifferentiated hEBD LVEC (passage 11) cells were trypsinized, resuspended, and replated at 5.0 × 105 cells in 10 ml medium in 10 cm T. C. dishes on "Day 0". All cells were allowed to recover from the plating process by incubating them under normal culture conditions for one day after which time four conditions were investigated. For Group 1, control cells were incubated for five additional days under normal culture conditions. For Group 2, cells were cultured under normal conditions for four additional days and then subjected to one day (~24 h) of SMF exposure in the magnetic treatment device on "Day 6"; mRNA from these cells, as well as from the third group, was isolated for analysis immediately after magnetic exposure ended. For Group 3, cells were subjected to continuous SMF exposure for five days. Finally, for Group 4, cells were exposed to SMF for four days (from Day 2 through Day 5) followed by a 24 h recovery period during which time they were incubated under normal culture conditions. mRNA was isolated from the cells and microarray analysis was done using the Affymetrix Human Genome U133 2.0 Plus Chip using the protocols and facilities available through the Johns Hopkins Cancer Center Microarray Core. All data was obtained in duplicate from independent experiments. Software analysis was performed using the Ingenuity Pathway tool (available through the Microarray Core) using merged data from each set of independent experiments. The microarry data have been deposited in NCBI's Gene Expression Omnibus [75] and are accessible through GEO Series accession number GSE14474 http://www.ncbi.nlm.nih.gov/geo/query/acc.cgi?acc=GSE14474.
Calcium measurements
hEBD LVEC cells were incubated in Ca2+- and Mg2+-free for PBS for up to four hours (longer time points decreased cell viability making the assay results unreliable) with or without SMF exposure. Intra- and extra-cellular calcium levels were measured separately after the cells were separated from their supernatants by pelleting with a 300 g, 2 min centrifugation step followed by lysis by sonication with a GE130PB ultrasonic processor (General Electric, New York, NY). Analysis of the supernatants and cell lysates was then conducted using a calcium reagent set (Pointe Scientific Inc., Canton, MI) and published methods [76].
Treatment of cells with exogenous gangliosides (GM3 and GD3)
The basic procedure for ganglioside supplementation followed published procedures [77]. Briefly, cells were plated in 6-well tissue culture dishes and incubated until they reached 60% confluence. GM3 or GD3 (Matreya LLC, Pleasant Gap, PA) was resuspended in serum-free medium and briefly sonicated to ensure appropriate micellar suspension and cellular incorporation of these gangliosides. Cells were then incubated in culture medium containing 1.0, 5.0, 10, 20, or 50 μM GM3 or GD3 for varying periods of times (as specified in the Results section and accompanying figures). In each case, results were compared with a "solvent control," where an equal volume of medium was added to cells without ganglioside.
Real-time PCR quantification of gene expression
The mRNA
levelsofST
3
GAL
5,
NEU
3,
TLR
4,
IL
-6
andglyceraldehyde
-3-
phosphatedehydrogenase
(
GAPDH
)
wereanalyzedbyquantitativereal
-
timepolymerasechain
reaction (qRT-PCR) [
77
,
78
]. Primers (listed in Table
6
), were designed by using the Primer3 software made available through the Broad Institute
http://genecruiser.broadinstitute.org/science/software
and obtained from MWG-Biotech (High Point, NC). The basic protocol followed for qRT-PCR experiments began with the isolation of total RNA from 5.0 × 10
6
cells with the RNeasy Mini Kit (Qiagen, Valencia, CA) or by the TRIzol (Invitrogen) method. RNA quality was assessed by agarose gel electrophoresis (1.8% gels run with TAE buffer followed by nucleic acid band visualization under UV illumination after ethidium bromide staining) and quantified by A
260
/A
280
OD readings. RNA integrity was confirmed using 18 S rRNA primers, and samples were standardized based on equal levels of β-actin cDNA. Quantitative real-time PCR was performed in an ABI Prism 7000 sequence detector (Applied Biosystems) using SYBR Green PCR Master Mix reagent (Applied Biosystems). Reactions were performed in 20 μl of a mixture containing a 2.0 μl cDNA dilution, 1.0 μl (10 pmol/μl) of primer, and 10 μl of 2× SYBR master mix containing Amplitaq Gold DNA polymerase, reaction buffer, a dNTP mixture with dUTP, passive reference, and the SYBR Green I. qRT-PCR conditions were as follows: one cycle of 2.0 min at 50°C, 95°C for 10 min, followed by 40 cycles of 95°C for 15 s and 60°C for 1.0 min. Specific PCR products were detected with the fluorescent double-stranded DNA binding dye, SYBR Green. qRT-PCR amplification was performed in quadruplicate for each sample (typically values for the replicates were within 2% of each other) and the results were replicated in at least three independent experiments. Gel electrophoresis and melting curve analyses were performed to confirm correct PCR product sizes and the absence of nonspecific bands. The expression level of each gene was normalized against β-actin using the comparative CT method [
79
] according to the manufacturer's protocols.
Table 6
Primers used for qRT-PCR
| Gene | Forward primer (5' to 3') | Reverse primer (5' to 3') |
| --- | --- | --- |
| ST3GAL5 | CCC TGA ACC AGT TCG ATG TT | CAT TGC TTG AAG CCA GTT GA |
| NEU3 | CCT GAA GCC ACT GAT GGA A | TTC CTG CCT GAC ACA ATC TG |
| IL-6 | TAC ATC CTC GAC GGC ATC TC | GCT ACA TTT GCC GAA GAG CC |
| TLR4 | TGA GCA GTC GTG CTG GTA TC | CAG GGC TTT TCT GAG TCG T |
| GAPDH | GCA AAT TCC ATG GCA CCG T | TCG CCC CAC TTG ATT TTG G |
Analysis of cell surface and total levels of GM3 and GD3
The method used for the analysis of cell surface GM3 and GD3 expression by flow cytometry was adapted from published protocols [77]. Briefly, these tests were performed by detaching hEBD LVEC cells by trypsinization and washing them with washing buffer (1.0% bovine serum albumin, 0.1% NaN3 in phosphate-buffered saline). Cells (1.0 × 106) were stained with 20 μg/ml of a mouse monoclonal antibody against GM3 (NBT-M101/M102, isotype IgM, clone M2590; Cosmo Bio Co., Ltd., Tokyo, Japan) and detected with fluorescein isothiocyanate-conjugated Affinipure rabbit anti-mouse IgM (Jackson Immunoresearch, West Grove, PA). A similar procedure was used for GD3 analysis, except cells were stained with mouse anti-human ganglioside GD3 monoclonal antibody (Product number 371440, clone 110.14F9, isotype IgG3; Calbiochem) diluted 1:50 in washing buffer and detected with a donkey anti-mouse IgG antibody conjugated to fluorescein (Jackson Immunoresearch). Control samples stained with secondary antibody alone were analyzed in parallel in each experiment. Samples were analyzed with a FACScan flow cytometer and Cell Quest software (BD Immunocytometry Systems, San Diego, CA), and a minimum of 5000 events were acquired for each sample. Analysis of total (i.e., surface and intracellular) GM3 and GD3 was tested in fixed and permeabilized cells [80] by adaptation of a method used to quantify intracellular levels of p21WAF1 [81]. Briefly, before completing the staining procedure described above, cells were fixed by incubation in 4.0% paraformaldehyde in phosphate-buffered saline for 10 min at room temperature followed by
Western blot analyses
An equal amount of protein from each sample (20 μg) was incubated for 5.0 min at 100°C in Laemmli buffer (Bio-Rad), separated on a 7–11% SDS-polyacrylamide discontinuous gel, and then electrophoretically transferred to a nitrocellulose membrane (Bio-Rad). The membrane was blocked with Tris-buffered saline containing 5.0% nonfat milk and 0.1% Tween 20 for 1.0 h at room temperature and then incubated overnight with rabbit phospho-p44/42 MAPK (i.e., pERK1/2) monoclonal antibody and p44/42 MAPK (i.e., ERK1/2) antibody (1:1000 dilution) or phospho-p38 MAPK and p38 MAPK (1:2000) or phospho-stat3 (Tyr705) and Stat3 rabbit antibody (1:1000) (Cell Signaling Technology, Beverly, MA) at 4.0°C, followed by anti-rabbit or anti-mouse IgG, horseradish peroxidase-linked antibody (1:2000) for 1.0 h. Bound antibody on the membrane was detected using the SuperSignal West Dura Extended Duration Substrate (Pierce) according to the protocols supplied by the manufacturer. Quantification of bands was performed by using the NIH ImageJ software (available on the World Wide Web at rsb.info.nih.gov/nih-image) following a published method [82, 83].
Measurement of proliferation with the MTT assay
For proliferation assays, control or SMF-exposed hEBD LVEC cells were added to 96-well tissue culture plates at 3000 cells/well in serum-containing medium and cultured for up to nine days with the culture medium replenished every 3rd day. To quantify cell proliferation by measuring metabolic activity, 3-(4,5-Dimethylthiazol-2-yl)-2,5-diphenyltetrazolium bromide (MTT, (Sigma) was added to each well (0.5 mg/ml). After incubation for 3.0 h at 37°C, the supernatants were aspirated, and 100 μl of n-propyl alcohol containing 0.1% Nonidet P-40 and 4.0 mM HCl were added. The colorimetric reaction was quantified by using an automatic plate reader, μ Quant (Bio-tek Instrument Inc., Winooski, VT) to measure absorbance at 570 nm with a reference filter of 690 nm. Each MTT assay was carried out in triplicate. In all cases, measurement of proliferation through cell counting by using a Coulter Z2 instrument (as described in our previous publications [84]) yielded identical results.
Detection of apoptosis by Annexin V/propidium iodide assays
The Annexin V/propidium iodide flow cytometry method was used for the detection and quantification of apoptosis by following the procedure previously reported for Jurkat cells [85, 86] with the added step of trypsinizing the adherent hEBD LVEC cells (the previously-tested Jurkat cells grow in suspension and did not require this step). After trypsinization and resuspension in complete medium, cells were counted with a Coulter Z2 instrument, 1.0 × 106 cells from each sample were pelleted by centrifugation, washed by gentle resuspension in Dulbecco's phosphate-buffered saline, centrifuged again, and suspended in staining buffer. The cells were stained with fluorescein isothiocyanate-labeled Annexin V and propidium iodide and analyzed by flow cytometry as described previously [85, 86].
Measurement of secreted IL-6 by ELISA
Cells were seeded in triplicate in a 96 well culture plate at 6000 cells/well in 200 μl of medium. After two days, cells were exposed to SMF and supernatant was collected over the time course indicated in the Results section and the concentration of IL-6 was determined by an ELISA kit designed for this purpose (eBioscience, San Diego, CA) following the protocol provided by the manufacturer.
Confocal imaging of Gal-C, GFAP, NEF and Vim
hEBD LVEC cells (1.0 × 105 in 2.0 ml of medium) were plated on collagen coated 35 mm glass bottom dishes (35 mm, MatTek Corporation, Ashland, MA) and either exposed to SMF during culture or subject to normal cultivation. On day 4 the monolayers were fixed in reagent A and permeabilized in reagent B (Fix & Perm, Reagents A and B, Caltag Laboratories, Burlingame, CA) followed by washing with 3.0% BSA in PBS. Cells were incubated with anti-galactocerebroside (Gal-C, 1:100) (Sigma, Saint Louis, MO); anti-NEF 70 kD (1:100) (Chemicon, Temecula, CA); anti-GFAP (1:100) (Santa Cruz, Los Angeles, CA); or anti-vimentin (anti-Vim, 1:500) (BD Pharmingen, San Diego, CA) for 2.0 h at RT. The secondary antibody used to stain anti-GFAP, anti-NEF, and anti-Vim was Cy3-conjugated Donkey anti-mouse IgG(H+L) and Cy3–conjugated Donkey anti-Rabbit IgG(H+L) was the secondary anti-body used for anti-Gal-C (both were obtained from Jackson ImmunoResearch Labs, West Grove, PA and used at a 1:100). In all cases, a solution of the high-affinity probe for F-actin Oregon Green® 488 phalloidin (1:100) (Molecular Probes, now Invitrogen, Eugene, OR, Cat. No. O7466) was added to the monolayers and incubated for 20 min and the monolayers were stained with nuclear-localizing dye DAPI (1.0 μg/mL) for 10 min at RT. The monolayers were then mounted using ProLong Gold® anti-fade reagent (Molecular Probes, Eugene, OR, Cat. No.P36934) and imaged by using a Zeiss 510 Meta confocal microscope.
List of abbreviations
GD3 :

ganglioside GM3 (Neu5Acα3Galβ4GlcCer)
GM3 :

ganglioside GD3 (Neu5Acα8Neu5Acα3Galβ4GlcCer)
hEBD LVEC :

the human embryoid body derived LVEC cell line
IL-6 :

interleukin-6
LacCer :

lactosylceramide (Galβ4GlcCer)
NEU3 :

neuramindase 3
qRT-PCR :

quantitative real-time polymerase chain reaction
SD :

standard deviation
SMF :

static magnetic field(s)
ST3GAL5 :

β-galactoside α-2,3-sialyltransferase 5
TLR4 :

toll-like receptor 4.
Declarations
Acknowledgements
Funding for the bulk of this project was provided by Arnold and Mabel Beckman Foundation with the analysis of IL-6-mediated and ganglioside-associated responses funded the National Institutes of Health (NIBIB, grant 5R01EB5692). The hEDB LVEC cell line was generously donated by Michael Shamblott (JHMI). We are grateful for technical assistance with the microarray experiments and pathway analysis from Conover Talbot (JHMI Microarray Core Facility), for helpful discussions with Wayne Bonlie, and for the gift of the magnetic treatment device from AMRI International (Calgary, AB).
Authors' Affiliations
(1)
Department of Biomedical Engineering, The Johns Hopkins University, Baltimore, USA
(2)
Department of Electrical and Computer Engineering, University of Maryland, College Park, USA
Copyright
© Wang et al; licensee BioMed Central Ltd. 2009
This article is published under license to BioMed Central Ltd. This is an Open Access article distributed under the terms of the Creative Commons Attribution License (http://creativecommons.org/licenses/by/2.0), which permits unrestricted use, distribution, and reproduction in any medium, provided the original work is properly cited.