Research article
Open Access
Heterologous oligonucleotide microarrays for transcriptomics in a non-model species; a proof-of-concept study of drought stress in Musa
Received: 30 March 2009
Accepted: 16 September 2009
Published: 16 September 2009
Abstract
Background
'Systems-wide' approaches such as microarray RNA-profiling are ideally suited to the study of the complex overlapping responses of plants to biotic and abiotic stresses. However, commercial microarrays are only available for a limited number of plant species and development costs are so substantial as to be prohibitive for most research groups. Here we evaluate the use of cross-hybridisation to Affymetrix oligonucleotide GeneChip® microarrays to profile the response of the banana (Musa spp.) leaf transcriptome to drought stress using a genomic DNA (gDNA)-based probe-selection strategy to improve the efficiency of detection of differentially expressed Musa transcripts.
Results
Following cross-hybridisation of Musa gDNA to the Rice GeneChip® Genome Array, ~33,700 gene-specific probe-sets had a sufficiently high degree of homology to be retained for transcriptomic analyses. In a proof-of-concept approach, pooled RNA representing a single biological replicate of control and drought stressed leaves of the Musa cultivar 'Cachaco' were hybridised to the Affymetrix Rice Genome Array. A total of 2,910 Musa gene homologues with a >2-fold difference in expression levels were subsequently identified. These drought-responsive transcripts included many functional classes associated with plant biotic and abiotic stress responses, as well as a range of regulatory genes known to be involved in coordinating abiotic stress responses. This latter group included members of the ERF, DREB, MYB, bZIP and bHLH transcription factor families. Fifty-two of these drought-sensitive Musa transcripts were homologous to genes underlying QTLs for drought and cold tolerance in rice, including in 2 instances QTLs associated with a single underlying gene. The list of drought-responsive transcripts also included genes identified in publicly-available comparative transcriptomics experiments.
Conclusion
Our results demonstrate that despite the general paucity of nucleotide sequence data in Musa and only distant phylogenetic relations to rice, gDNA probe-based cross-hybridisation to the Rice GeneChip® is a highly promising strategy to study complex biological responses and illustrates the potential of such strategies for gene discovery in non-model species.
Keywords
Drought StressGenome ArrayMusa GeneRice Genome ArrayProbe Mask
Background
Bananas and plantains are large herbaceous monocots from the genus Musa of the family Musaceae. The vast majority of cultivated bananas are hybrids derived from natural inter- and intraspecific crosses between two diploid wild species, Musa acuminata (designated by genome A) and M. balbisiana (designated by genome B) [1]. These diploid, triploid or tetraploid hybrids are of great economic importance in sub-Saharan Africa, South and Central America and Asia, where they are a staple food for an estimated 400 million people. Although Musa spp. are mainly cultivated in tropical and subtropical regions, rain water supply is often far from uniform so that more or less-pronounced dry seasons exist which have an impact on fruit quality and yields. To date there have been few comparative studies on Musa drought stress tolerance, but field observations suggest that B-genome confers greater tolerance to drought than the A-genome [2, 3].
Plants display a wide range of overlapping responses to biotic and abiotic stresses, and the diversity of physiological, biochemical and molecular strategies adopted during adaptation to unfavourable environmental conditions (including drought), creates particular problems for the scientist wishing to study and understand them [4–6]. Non-biased, 'systems-wide' approaches such as transcriptomics and microarray RNA-profiling are well-suited to the analysis of this type of problem and have provided many insights into the pathways of (a)biotic stress response and adaptation in a variety of model plant systems [7–11]. However, while cDNA and oligonucleotide microarrays are now routinely used for transcriptomic analyses in plants, the number of species for which commercial microarrays are available is very limited. For non-model plant species such as Musa where little sequence information is available, microarray development costs are so substantial as to be prohibitive for most groups working in the area. However it has been recently demonstrated that commercially available high-density oligonucleotide microarrays from closely related, heterologous species can be used to probe the transcriptomes of non-model plants. For example the Arabidopsis Affymetrix ATH-1 Genome Array has been used to study the transcriptome of Brassicacea species such as Arabidopsis halleri [12, 13], Thlaspi caerulescens [14, 15], Thelungiella halophila [16, 17], Brassica oleracea [18] and Brassica napus [19]. In addition a tomato array has also been used to study fruit ripening and development in tomato, aubergine and pepper [20], as well as in potato [21].
In spite of the economic and social importance of banana and plantains and its relatively small haploid genome size (amongst the monocots) of 560 - 600 Mbp [22, 23], little sequence information is publicly accessible. Available published data includes the complete sequencing of two BAC clones from a wild diploid banana cultivar [24], the analysis 6,252 BAC end-sequences [25] and recently the sequencing of 13 BAC clones and the analysis of 17 BAC clones collectively containing a total of 443 predicted genes [26]. In addition, 5,292 unique foliar 24 bp transcript sequences were sequenced and identified in the cultivar Musa acuminata following SuperSAGE [27]. The only transcriptomics study published to date however, describes the creation of cDNA libraries from Musa plants subjected to temperature stress. This lead to the identification of 2,286 high-quality sequences, of which 715 where considered to be full-length cDNA clones representing a set of 149 unique genes. [28]. The aim of the work presented here therefore was to determine the feasibility of using commercial heterologous oligonucleotide microarrays to probe the Musa transcriptome in response to drought stress in the relatively drought-tolerant Musa triploid cultivar 'Cachaco' (ABB genome composition). The use of highly standardized, commercial Affymetrix GeneChips® arrays allows comparisons to be made with probe-set data sets from other plant species and helps to reduce cross-laboratory errors. Because of the phylogenetic relationship between target and probe, this work with Musa necessarily involves cross-hybridising to species that are evolutionarily much more distant than has previously been attempted.
Clearly the success in identifying differentially-regulated transcripts via cross-hybridisation depends on the degree of similarity between the target and probe sequences. With the Affymetrix GeneChip® Genome Array, the expression level of any one particular gene transcript is generally calculated as the mean of the expression levels of the 11 - 16 perfect match (PM) 25 bp probe-pairs that make up the 'probe-set' for each individual transcript. Therefore inefficient hybridisation of transcripts from the test species of interest to the GeneChip® target probes, due for example to the presence of sequence polymorphisms, will affect the overall signal calculated across a probe-set, reducing the number of 'present' calls, and as a consequence the mean strength of the signal for that transcript's probe-set [14, 29]. To eliminate non-hybridising probes, Hammond et al, first carried out a cross-hybridisation with gDNA from the test organism. The results allow a 'probe mask' to be created by which weak- or non-hybridising probes can be discarded without discarding the signal for the entire probe-set for a particular transcript in subsequent analyses [18]. The disadvantage of this method is that it can realistically only be used on microarray platforms that contain multiple probes per gene. Applying it to arrays with only one probe per gene (cDNA microarrays) will result in a much lower number of genes for which expression levels can be determined. An alternative approach is to create a 'Global Match File' or a list of 'highly reliable' GeneChip® probe-sets for analysis based on alignment to EST-derived clusters/singletons. This latter heterologous hybridisation approach has been used to study cold-induced sweetening of potato tubers using the Affymetrix tomato microarray [21], but its success depends on the availability of extensive EST sequences to create the Global Match File, and these are not yet available for Musa. Interestingly, gDNA-based probe selection has recently been shown to also improve the analysis of differentially expressed genes in homologous species, again by accounting for the impact of differences in the physical hybridisation characteristics of individual probes on probe-set signal intensities [18, 30].
Here we report on work to evaluate the use of commercial, high-density Affymetrix Rice and Arabidopsis ATH-1 GeneChip® microarrays to analyse complex plant responses in a distantly-related, non-model plant species. Using a gDNA probe-based cross-hybridisation approach we were able to rapidly profile the response of Musa transcriptome to chronic drought stress, and to identify a range of structural and regulatory Musa gene-homologues previously found to be associated with the water-deficit response in other (model) plants. Further, despite the large phylogenetic difference between Musa target and the Rice or Arabidopsis probes, comparisons to publically available transcriptome-profiling experiments identified a range of common drought-responsive genes, supporting the assigned Musa gene identities and descriptions. This approach outlines the potential of this strategy for the characterization of stress-resistance in banana and plantain varieties for which relatively little sequence information is currently available.
Results and Discussion
Microarrays for a number of plant species are now commercially available. Of these, the Arabidopsis ATH-1 GeneChip® Genome Array is probably the best-characterised/annotated, containing over 22,500 probe-sets representing ~24,000 genes http://www.affymetrix.com/products_services/arrays/specific/arab.affx. Similar high density oligonucleotide Affymetrix microarrays also exist for important monocotolydenous crops, including maize, wheat, barley and sugar cane, but the Affymetrix Rice Genome Array contains many more probe-sets (~57,000), and covers a larger portion of the transcriptome than these other arrays.
gDNA cross-hybridisations and creation of probe mask (.cdf) files
Each individual gene transcript on the Affymetrix Rice and
Arabidopsis
ATH-1 GeneChip
®
microarray, is represented by a set of eleven, 25 bp 'probe-pairs' that make up a 'probe-set', and it is the average hybridisation intensity across this probe-set that is used to calculate expression levels for that gene. To identify and eliminate oligonucleotide GeneChip
®
probes with low or no-hybridisation to
Musa
transcripts, we used the gDNA probe-masking strategy of Hammond
et al
[
14
,
30
]. Here, 'Cachaco' genomic DNA (gDNA) was first hybridised to both the
Arabidopsis
ATH-1 and the Rice GeneChip
®
Genome Array using standard Affymetrix hybridisation protocols. From the resultant gDNA cell intensity file (.cel) file, perfect match probe-pairs showing a high hybridisation signal to
Musa
gDNA were selected and probe masks (a chip definition file, or .cdf file) then created to exclude non-hybridising probe-pairs within each transcript probe-set. The hybridisation intensity threshold for probe exclusion is set arbitrarily and ranges from 0 (no probe selection) to 1000. The minimum requirement for a probe-set to be called 'present' therefore is hybridisation to at least one probe-pair within that probe-set. [
14
,
18
]. The resultant probe mask (.cdf) files are then used to analyze gene expression levels following cross hybridisation of
Musa
RNA samples to the GeneChip
®
. The influence of hybridisation intensity thresholds on probe and probe-set retention for both the ATH-1 and Rice Genome Arrays following cross hybridisation to
Musa
gDNA is shown in Figure
1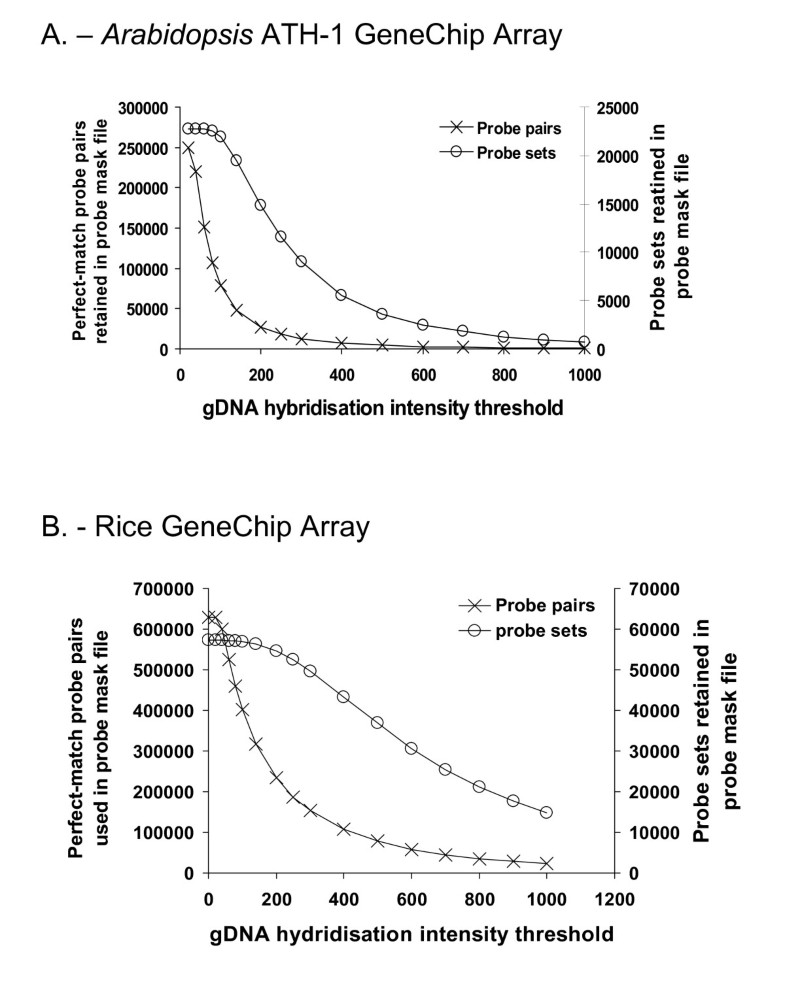 As can be seen in Figure 1, the number of probes retained decreases rapidly with increasing hybridisation intensity threshold (CDF) values, while the number of probe-sets (transcripts) retained decreases relatively slowly and only at higher CDF values. As a result the number of probe-sets retained for transcriptome analysis within a probe mask file remains high, even as more probes are excluded. For example after cross hybridisation to the Rice Genome Array, a probe mask created at a CDF value of 550, excludes 87.6% of the total PM probes, even though some 64.4% of the probe-sets are still represented by at least one probe-pair and can be used for subsequent transcriptome profiling. This is similar to the results obtained by Hammond et al following cross-hybridisation of B. Oleracea and Thlaspi arvense sp. gDNA to the ATH-1 Genome Array [14, 18]. In our case the average number of probes present per probe-set at an optimum CDF value of 550 was 2.0, with a total of 16,416 probe-sets being represented by a single probe-pair.
Following hybridisation of 'Cachaco' gDNA to the ATH-1 Genome Array, only 1,321 probe-sets were retained at a CDF value of 0 (no filtering). This corresponds to ~5.7% of the total available Arabidopsis transcriptome. However at a CDF value of 500, 3,594 or 15.8% of the available Arabidopsis transcriptome was retained. Unsurprisingly, hybridisation of 'Cachaco' gDNA to the Rice Genome Array produced far better results, with over 78,000 probe-pairs corresponding to over 36,000 probe-sets (64.4%) being retained at a CDF value of 550. These results therefore broadly confirm the phylogenetic relationships between Musa and either Arabidopsis or Oryza with current estimates indicating that Musa and Oryza diverged at the level of the order Zingiberalae some 65 Mya, while the closest evolutionary link between Arabidopsis and Musa occurs at the point that the eudicots diverged some 145 - 208 Mya [31]. Interestingly the existence of regions of microsynteny between rice, Arabidopsis and Musa have recentlybeen demonstrated [26]. For example, even though Musa genes generally have a GC structure more closely resembling rice than Arabidopsis, out of 443 Musa predicted proteins, 268 and 224 had hits with an E-value threshold of 1e-10 to rice and Arabidopsis respectively.
On the basis of the gDNA hybridisation results presented here and the closer synteny of Musa gene sequences to rice rather than Arabidopsis [26, 31], transcriptomics experiments were carried out with the Rice GeneChip® array rather than with the Arabidopsis ATH-1 GeneChip Array.
RNA hybridisations - measuring transcript abundance
The response of the
Musa
transcriptome to chronic drought stress was examined by challenging Rice Genome Arrays with 'Cachaco' foliar RNA, isolated and pooled from plants subjected to either 3 weeks water-deficit conditions or to control conditions, as described in 'methods'. The ability to detect differentially-expressed transcripts depends upon the hybridisation intensity threshold cut off values (CDF values) used to create the probe mask (.cdf) files as summarised in Figure
2
. As can be seen, there is a significant loss in the number of probe-sets retained at higher CDF values, but the number of differentially-regulated genes identified is still greater than when no probe-masking is used [
14
,
18
]. Indeed at the optimum CDF value, over 40-fold more >2-fold drought-responsive transcripts are identified than is the case without masking (CDF = 0).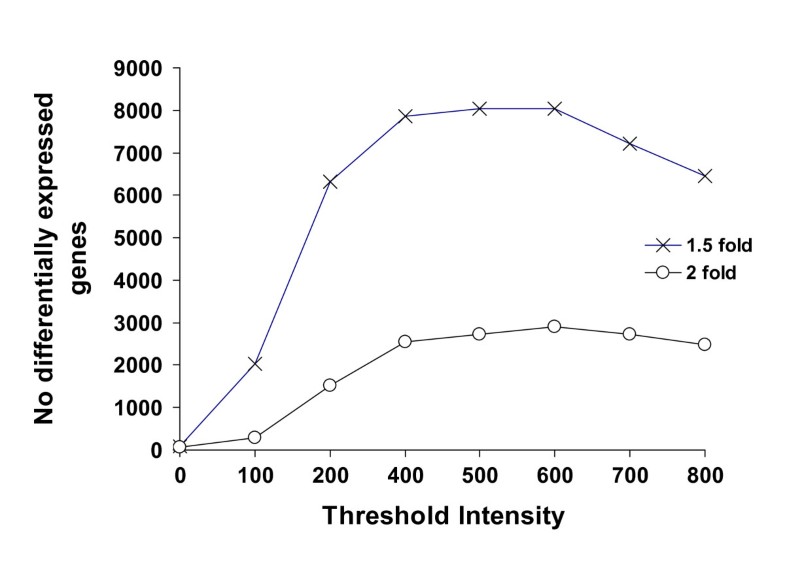 As shown in Figure 2, the maximum number of differentially-expressed transcripts was detected using a CDF value of 550. At this cut off level, a total of 5,292 (RMA normalized expression value >20) of the maximal 33,696 probe-sets hybridised to Musa RNA at levels above background suggesting that ~16% of the available Musa genome was being expressed at any one time. Based on a single biological replicate, 2,910 transcripts of these transcripts displayed a >2-fold difference in expression levels in response to drought conditions, representing ~8% of the total available transcriptome [see Additional file 1].
This value is similar to values reported in other transcriptomic studies of plant drought stress-responses. For example Talame et al [32] using a cDNA microarray found 173 barley genes out of the 1654 genes tested (~10%), to be differentially regulated following 7 days dehydration stress and Seki et al [33], found that 277 genes from a cDNA array of 7,000 genes (~4%), were drought-responsive in Arabidopsis. Clearly these responses are dependent on the tissue, the severity and length of exposure to stress, as well as the sampling time points [33, 34].
Of the 2,910 differentially-regulated putative drought-responsive transcripts detected, 1,671 were up-regulated (57.4%), with the most responsive transcript (Affymetrix probe-set ID Os.53488.1.S1_at; GenBank AK072922, 'expressed protein'), increasing 15.7-fold in relation to the control. The remaining 1,239 (42.6%) transcripts were down-regulated, with the transcript coding for a putative chlorophyll a apoprotein (Affymetrix probe-set ID Os.26751.1.S1_s_at; GenBank AK062299), being down-regulated over 100-fold.
Conclusion
Despite the economic and social importance of Musa spp for large sections of the world's population, there have been few systematic studies into banana and plantain responses to abiotic stress [28, 49–51] and none to drought. There are also no published genome-wide stress-studies in Musa and relatively little sequence data is available particularly when compared to other important crops. Further, despite the large number of drought stress-associated genes identified in both model and non-model plant species, there is still no consensus as to the key processes that determine plant tolerance and survival, and in only a few cases has gene function been defined. Therefore it is likely that the study of bananas and plantains, will result in the identification of additional, novel stress adaptation mechanisms and could represent a powerful resource in the search for plant stress-tolerant genes and/or markers. The aim of this work therefore was to evaluate the use of a heterologous microarray approach to profile the transcriptome of the relatively drought-tolerant Musa cultivar 'Cachaco' to chronic drought stress. In contrast to other transcriptomic studies in which short, 'shock-like' treatments have been applied [10, 33, 52] experimental conditions here were chosen to more closely mimic field conditions and thus to identify genes involved in the long-term adaptation and survival of plants to water deficit.
Cross-hybridisation of Musa gDNA to the ATH-1 and Rice GeneChips® showed that the number of probes and probe-sets retained decreased much more rapidly with increasing CDF-values on the ATH-1 array than on the Rice GeneChip®. Nonetheless there was still a sufficient degree of homology between Musa and Arabidopsis to be able to profile a significant proportion of the Musa expressed genome using the ATH-1 GeneChip®. This would thus tend to support the results of comparative sequence studies in Musa, Oryza and Arabidopsis that indicate that Poacea and eudicot genomes share microsyntenic regions [26, 53].
Cross-hybridisation of Musa RNA to the Rice GeneChip® identified 2,910 transcripts (probe-sets) displaying a >2-fold difference in expression levels in response to drought. Gene annotations based on rice and Arabidopsis databases indicated that many of these transcripts were involved in cellular pathways and processes typically involved in plant (a)biotic stress responses, including a number of genes with TF activity. Importantly, our results share significant overlaps with transcriptome studies in other (model) species, with the list of drought-responsive Musa genes including homologues known to be involved in the dehydration stress responses of both rice and Arabidopsis. Furthermore, the list also contained a number of transcripts that co-localized to known rice QTLs for both drought and cold responses, including 2 QTLs for which the underlying genetic determinant has been localized to a single (up-regulated) gene. These could therefore be a good target for marker development and could directly incorporated into Musa breeding and selection programs. These QTL results further suggest that the Musa gene annotations and functionalities assigned on the basis of cross-hybridisation to rice probes are correct and have biological significance. This conclusion is further supported by the results of the RT-PCR results, which largely agreed with the expression results derived from the microarray, except for those cases where homology to available Musa unigenes was very low or where multiple gene models were available.
Therefore cross-species (heterologous) microarray studies using gDNA-based probe selection allows the profiling of up to ~58% of the total Musa genome despite the absence of substantial sequence data for this species and the large phylogenetic distance from the target species. This is a substantially larger proportion of the transcriptome than has previously reported for this species and as far as we are aware, the largest phylogenetic distance used in a cross-hybridisation study. gDNA probe-based selection thus represents a powerful tool for the study of complex biological responses in a non-model species. While gene ontologies and function of key transcripts have to be carefully validated, the results here underline the potential of this methodology for the identification of (new) mechanisms and pathways of expression control. In the long term this information can lead to the development of new tools and strategies for the development and breeding of important new crop varieties with improved (a)biotic stress tolerance.
Abbreviations
gDNA:

genomic DNA
cel:

cell intensity files
cdf:

probe mask layout description files
CDF:

hybridisation intensity threshold value
EST:

Expressed Sequence Tag
GO:

Gene Ontology
PM:

Perfect Match
BIN:

functional gene category code.
Declarations
Acknowledgements
The authors gratefully acknowledge stimulating discussion with Otto Van Poeselaere and Eva A. Davey during the preparation of this manuscript. Access to the Syngenta Musa 3'EST database, donated by Syngenta to Bioversity International within the framework of the Global Musa Genomics Consortium is gratefully acknowledged. Financial resources: 42 This work was partly supported by the GARNet transcriptomics and Bioinformatics service III. Grant reference BBE01772X1
Authors' Affiliations
(1)
Laboratory for Fruit Breeding and Biotechnology, Department of Biosystems, Katholieke Universiteit Leuven, Heverlee, Leuven, Belgium
(2)
Nottingham Arabidopsis Stock Centre, School of Biosciences, University of Nottingham, Sutton Bonington Campus, Loughborough, UK
(3)
Department of Plant Systems Biology, VIB, and Department of Molecular Genetics, Universiteit Gent, Gent, Belgium
(4)
Department of Biosystems, Katholieke Universiteit Leuven, Leuven, Belgium
Copyright
© Davey et al; licensee BioMed Central Ltd. 2009
This article is published under license to BioMed Central Ltd. This is an Open Access article distributed under the terms of the Creative Commons Attribution License (http://creativecommons.org/licenses/by/2.0), which permits unrestricted use, distribution, and reproduction in any medium, provided the original work is properly cited.