Research article
Open Access
Comparative venom gland transcriptome surveys of the saw-scaled vipers (Viperidae: Echis) reveal substantial intra-family gene diversity and novel venom transcripts
Received: 14 August 2009
Accepted: 30 November 2009
Published: 30 November 2009
Abstract
Background
Venom variation occurs at all taxonomical levels and can impact significantly upon the clinical manifestations and efficacy of antivenom therapy following snakebite. Variation in snake venom composition is thought to be subject to strong natural selection as a result of adaptation towards specific diets. Members of the medically important genus Echis exhibit considerable variation in venom composition, which has been demonstrated to co-evolve with evolutionary shifts in diet. We adopt a venom gland transcriptome approach in order to investigate the diversity of toxins in the genus and elucidate the mechanisms which result in prey-specific adaptations of venom composition.
Results
Venom gland transcriptomes were created for E. pyramidum leakeyi, E. coloratus and E. carinatus sochureki by sequencing ~1000 expressed sequence tags from venom gland cDNA libraries. A standardised methodology allowed a comprehensive intra-genus comparison of the venom gland profiles to be undertaken, including the previously described E. ocellatus transcriptome. Blast annotation revealed the presence of snake venom metalloproteinases, C-type lectins, group II phopholipases A2, serine proteases, L-amino oxidases and growth factors in all transcriptomes throughout the genus. Transcripts encoding disintegrins, cysteine-rich secretory proteins and hyaluronidases were obtained from at least one, but not all, species. A representative group of novel venom transcripts exhibiting similarity to lysosomal acid lipase were identified from the E. coloratus transcriptome, whilst novel metallopeptidases exhibiting similarity to neprilysin and dipeptidyl peptidase III were identified from E. p. leakeyi and E. coloratus respectively.
Conclusion
The comparison of Echis venom gland transcriptomes revealed substantial intrageneric venom variation in representations and cluster numbers of the most abundant venom toxin families. The expression profiles of established toxin groups exhibit little obvious association with venom-related adaptations to diet described from this genus. We suggest therefore that alterations in isoform diversity or transcript expression levels within the major venom protein families are likely to be responsible for prey specificity, rather than differences in the representation of entire toxin families or the recruitment of novel toxin families, although the recruitment of lysosomal acid lipase as a response to vertebrate feeding cannot be excluded. Evidence of marked intrageneric venom variation within the medically important genus Echis strongly advocates further investigations into the medical significance of venom variation in this genus and its impact upon antivenom therapy.
Keywords
Snake VenomVenom GlandVenom ProteinVenom ComponentVenom Toxin
Background
Snake venoms contain a complex mix of components, with biologically active proteins and peptides comprising the vast majority [1]. Variation in the composition of venom occurs at several taxonomical levels in multiple snake lineages [reviewed in [2, 3]]. The view that variation in venom composition evolves primarily through neutral evolutionary processes [4–6] is not supported by other reports that snake venom composition is subject to strong natural selection as a result of adaptation towards specific diets [e.g. [7–10]]. Since the primary role of venom is to aid prey capture [2], it is perhaps unsurprising that variation in the protein composition of venom has been associated with significant dietary shifts in a number of genera [9–12]. Irrespective of the evolutionary forces underpinning venom protein composition, variation in venom components can significantly impact upon the clinical manifestations of snake envenoming [13–15] and, because the clinical efficacy of an antivenom may be largely restricted to the venom used in its manufacture, the success of antivenom therapy [16–18].
Envenoming by saw-scaled viper (Viperidae: Echis) species is thought to be responsible for more snakebite deaths worldwide than any other snake genus [19]. Envenomed victims typically suffer a combination of systemic and local haemorrhagic symptomatologies and up to 20% mortality rates without antivenom treatment [19–21]. Whilst the clinical symptoms are largely consistent throughout this widely distributed genus [20], cases of incomplete intrageneric antivenom efficacy have been documented, implying substantial inter-species venom variation [18, 22–24]. We demonstrated that the four species complexes making up this genus, the E. carinatus, E. ocellatus, E. pyramidum and E. coloratus species groups [10, 25], exhibit considerable vertebrate or invertebrate dietary preferences, E. coloratus being a vertebrate specialist whereas invertebrates feature prominently in the diet of the others. Since the proportions of consumed invertebrates correlated strongly with alterations in venom toxicity to scorpions, we believe the toxicity of the venom from these species to have co-evolved alongside evolutionary shifts in diet [10]. A preliminary venom protein analysis using reduced SDS-PAGE failed to identify an obvious link between venom composition and diet [10], justifying the use of a more comprehensive venom composition analysis in order to elucidate the mechanisms driving venom adaptations within the Echis viper genus.
Based on our earlier work with E. ocellatus [26], a comparative venom gland transcriptome approach was elected and we generated venom gland cDNA libraries from E. coloratus, E. pyramidum leakeyi and E. carinatus sochureki. Together with the existing E. ocellatus database, these provided DNA sequence data representing the venom gland transcriptomes for each of the four major species groups within the genus. The production of multiple Echis venom gland expressed sequence tag databases (vgDbEST) provides an unbiased overview of the transcriptional activity during venom synthesis in the venom glands of four species in this genus. This, the first comprehensive compilation of venom gland transcriptomes of congeneric snake species, was then interrogated to determine whether the mechanisms resulting in prey-specific adaptation of venom composition involve (i) the recruitment of novel prey-specific venom toxin transcripts, (ii) major changes in the expression levels of established toxin families, (iii) the diversification of functional isoforms within established toxin families or (iv) a combination of these factors.
Results
EST data provides a powerful insight into the transcriptional activity of a tissue at a particular time point. Our protocols for the generation of venom gland EST databases provide a snapshot of transcriptional activity in the venom gland 3 days after venom expulsion, when transcription peaks [27] in preparation for new venom synthesis. Although each individual venom transcript cannot be correlated with the mature venom proteome without considerable extra experimental verification, our own work with E. ocellatus [28] shows there is a good general accordance between the venom proteome and that predicted from the venom gland transcriptome. Thus, whilst a cautionary approach is required when interpreting a correlation between transcriptome and proteome, the sensitivity and unbiased nature of venom gland transcriptome surveys can be valuable in the identification of rare, unusual or potentially novel toxins and their isoforms that are difficult to detect in the proteome [29].
To provide a representative overview of the transcriptional variation in venom components in each species, whilst minimising compositional bias arising from intraspecific variation in venom composition, venom gland cDNA libraries were based on ten specimens of variable size and gender. Generated ESTs were clustered under high stringency conditions to assemble overlapping single sequence reads into full length gene objects where possible. Using BLAST, 80-93% of gene objects for each library were assigned a functional annotation based upon significant (>1e-05) scores against multiple databases. The majority of annotated ESTs (61-74%) were assigned to clusters representing distinct gene objects (additional file
1
). The proportion of toxin encoding transcripts (enzymes and non-enzymatic toxins) assigned by BLAST homology, was typically greater than those encoding non-toxin transcripts (for example, those involved in cellular biosynthetic processes) and unidentified components (i.e. with no significant hit against the databases) (Figure
1
). There were twice the numbers of unidentified ESTs in the
E. c. sochureki
vgDbESTs than in any of the other
Echis
vgDbESTs. As the bulk of these unidentified ESTs were singletons, not clustered gene objects, we interpret this to result from increases in unidentified 3' untranslated regions rather than unidentified novel toxin transcripts. The annotated venom toxin encoding profiles for the four
Echis
species revealed substantial variation in (i) the inferred expression levels and (ii) the cluster diversity within many toxin families (Figure
2
, additional file
2
). The details and potential implications of this species-specific variation in the representation of each toxin family will be discussed in turn.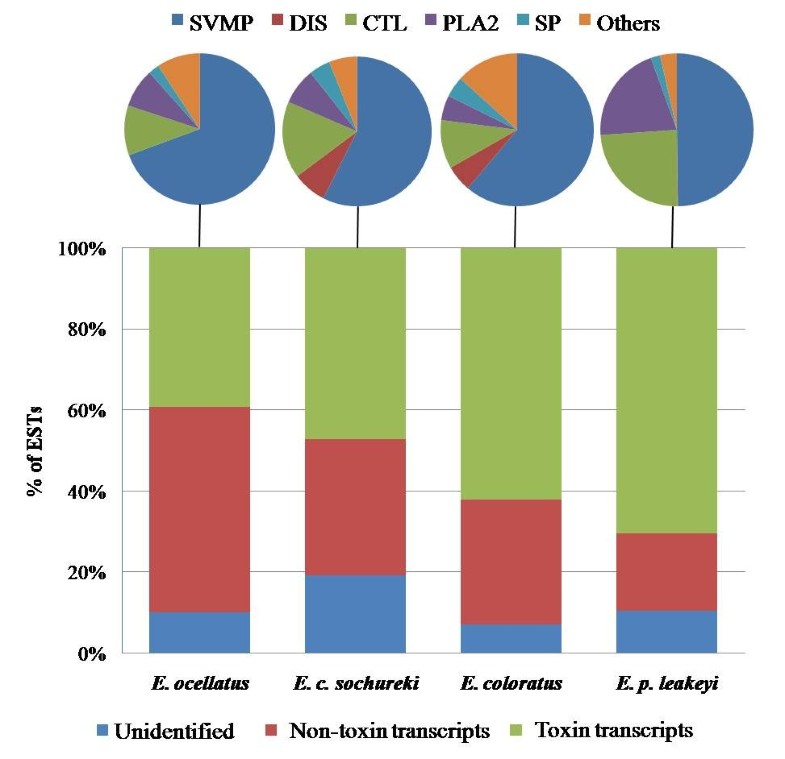 Discussion
The most numerically abundant venom toxin families in the four Echis species were the SVMPs, CTLs, PLA2s, and SPs. This is broadly consistent with previous viperid venom gland analyses, although considerable inter-generic variations in the EST-inferred expression levels of these toxin families have been observed [26, 38, 52, 53, 56–59]. The correlation of toxin families identified from the genus Echis and other viperid species support current theories of early venom toxin recruitment prior to the radiation of the Viperidae [74]. The absence of three finger toxins from the Echis vgDbESTs is particularly notable as their recent identification in other viper species [53, 58] implies the venom gland recruitment of these toxins occurred prior to the divergence of the Viperidae; presumably these toxins have subsequently been lost in an ancestor of Echis. Consistent with the early, PCR-driven, reports of accelerated evolution of venom serine proteases [75], CTLs [76] and PLA2s [77], it is apparent from the Echis genus vgDbESTs and those of other vipers that the evolutionary forces driving venom toxin recruitment in the genus Echis have served to promote diversification in some toxin lineages (PII and PIII SVMPs, CTLs) while in comparison relatively low diversification exists in others (PI and PIV SVMPs, PLA2s, LAOs, the growth factors, and remaining minor venom components). Prey capture is considered a major biological imperative driving the venom toxin selection process. This project was undertaken to identify correlations between intrageneric dietary preferences and transcript expression in order to elucidate the influence dietary selection pressures may have on the toxin composition of snake venoms.
(i) Recruitment of novel venom toxins and diet. The Echis vgDbESTs reveal the recruitment of novel renin-like aspartic proteases in E. ocellatus [26], LAL and DPPIII in E. coloratus and Neprilysin in E. p. leakeyi. The potential hypotensive role of venom aspartic proteases has been discussed previously [26]. Whilst expression in the venom proteome requires experimental verification, the presence of a signal peptide suggests that LAL is more likely to be secreted in the venom gland rather than acting as an intracellular protein. LAL has been implicated in severe alveolar destruction following over-expression of these enzymes in the lungs of mice [64]. Lipases such as LAL and lipoprotein lipase may also contribute to an influx of fatty acids into the brain by hydrolysing lipoproteins in the microvascular system of the cerebral cortex [78]. The suggestion that these fatty acids are then intra-cellularly internalised within lysosomes [78] correlates with intriguing observations from E. coloratus induced pathology, where increases in the size and numbers of lysosomes within the neuronal tissue of guinea pigs were implicated in neuron lysis and cerebral damage [79]. We infer from the predominately vertebrate-only diet of E. coloratus and the exclusive, yet substantial, representation of LAL in this species (2% - equivalent to the SPs, LAOs and growth factors) that LALs may play a contributory, albeit not yet understood, role in prey envenoming. As singletons, it is more difficult to argue that the novel recruitments of DPPIII and Neprilysin represent additional adaptations to prey preference; as they are found in such low numbers it is impossible to determine whether they are indeed novel species-specific venom gland recruitments or are rare transcripts that remain undetected in other snake species. We previously reported that invertebrate feeding likely evolved as a basal trait in the genus Echis [10]. The absence of genus-wide transcripts encoding novel putative venom toxin families implies that the adaptation to invertebrate feeding in Echis did not evolve as a consequence of recruiting novel invertebrate-specific venom toxins. However, we cannot exclude the possibility that the novel recruitment of LAL into the E. coloratus venom gland transcriptome may result from the subsequent reversion to vertebrate feeding observed in this species [10], particularly given the absence of these well represented putative toxin transcripts in other members of the genus.
(ii) Changes in toxin family expression and diet. All the major Echis venom toxin families (SVMP, CTL, PLA2, SP) exhibited considerable intrageneric variation in transcriptional representation. Thus, the E. p. leakeyi vgDbEST was notable for its absence of PI and PIV SVMPs, short coding disintegrins and CRISPs and atypically abundant representation of PII SVMPs, CTLs and PLA2s. The CRISPs were only represented by clusters in E. c. sochureki and E. coloratus, species whose vgDbESTs draw similarities, particularly in their high comparative expression of PIII SVMPs and short coding disintegrins. The only distinguishing feature (in terms of transcript abundance) in the E. ocellatus vgDbEST was the atypically high number of PIV SVMPs. However, none of these toxin encoding expression profiles showed a clear association with diet. Most notably, E. p. leakeyi and E. c. sochureki exhibit distinct toxin encoding profiles (Figure 2), despite both species feeding predominately on invertebrates and exhibiting highly invertebrate-lethal venom [10].
(iii) Diversification of venom toxins and diet. The above observations imply adaptations to diet are occurring within venom toxin families rather than resulting from changes in expression levels of entire toxin families. Evidence supporting this hypothesis is provided by substantial increases in representation of echicetin-like CTLs (relative to other CTLs) in both E. p. leakeyi and E. c. sochureki, implying perhaps a significant role for these platelet aggregation inhibitors in invertebrate prey capture. The absence of PI SVMPs in these species perhaps suggests that this SVMP isoform is more associated with a vertebrate diet. Furthermore, a number of atypical observations identified from the E. coloratus vgDbEST may be associated with a reversion to vertebrate feeding [10], including; (i) increases in the representation of CRISPs, (ii) increases in cluster diversity of the SPs and (iii) the identification of putative novel venom toxins (LAL and DPPIII). However, the general similarity between the toxin encoding expression profiles of E. c. sochureki and E. coloratus (Figure 2), despite E. coloratus exhibiting a significant reduction in venom toxicity to invertebrates [10], indicates that more analytical molecular tools are required to determine whether snake prey specificity is achieved through subtle alterations in isoform expression levels within the major venom toxin families. We are subjecting the Echis genus vgDbEST data generated here to a phylogenetic analysis on each toxin class to determine species-specific trends in diversification, which will inform us whether multiple levels of gene control in the Echis genus venom gland (switching of transcriptional expression, gene duplication conferring functional diversification and novel gene expression) maybe responsible for evolutionary responses to dietary pressures.
Correlations between variation in venom gland toxin encoding profiles and snakebite symptomatologies from the genus Echis are unclear, particularly given the similar, predominately incoagulable and haemorrhagic, clinical outcomes observed throughout the genus [19–21] and the presence of multiple isoforms of toxin families implicated in haemorrhage and coagulopathy. However, some observations of atypical symptoms can be tentatively explained; substantial increases in PLA2 representation and the unique presence of Neprilysin may correlate with the rare manifestation of neurotoxicity observed in an E. pyramidum envenomation [22], whilst the putative function of DPPIII may imply a contributory role in cases of hypotension observed following E. coloratus snakebite [20].
Venom gland transcriptome surveys provide valuable new data that we are correlating with a proteomic analysis of the venom from each Echis species. With this comprehensive description of the venom composition of each major Echis lineage, we will identify, using proteomic (antivenomic) techniques [3], the extent to which the intrageneric variation in venom composition impacts on the preclinical efficacy of commercially available antivenoms. We hope that such analyses will (i) explain past antivenom failures described following snakebite by members of this medically important genus [18, 22–24] and (ii) identify the venom toxin mix required to generate an antivenom with continent-wide clinical effectiveness against Echis envenoming.
Conclusion
The first comprehensive comparison of intrageneric venom gland transcriptomes reveals substantial venom variation in the genus Echis. The observed variations in venom toxin encoding profiles reveal little association with venom adaptations to diet previously described from this genus. We hypothesise that relatively subtle alterations in toxin expression levels within the major venom toxin families are likely to be predominately responsible for prey specificity, although we cannot rule out a contributory role for novel putative venom toxins, such as lysosomal acid lipase. The observation of substantial venom variation within the medically important genus Echis strongly advocates further investigations into the medical significance of venom variation and its potential impact upon antivenom therapy.
Methods
Venom gland cDNA libraries were constructed from ten wild-caught specimens of Echis coloratus (Egypt), E. p. leakeyi (Kenya)and E. c. sochureki (Sharjah, UAE), maintained in the herpetarium of the Liverpool School of Tropical Medicine, using identical protocols described for the construction of the venom gland cDNA library from E. ocellatus [26]. Clones from the cDNA libraries were picked randomly and sequenced (NERC Molecular Genetics Facility, UK) using M13 forward primers.
Bioinformatic processing was carried out using the PartiGene pipeline [80] with the same protocols used previously [26]. Briefly, sequences were processed (to exclude low quality, contaminating vector sequences and poly A+ tracts) using Trace2dbEST [81]. Subsequently, assembly was undertaken in PartiGene version 3.0, using high stringency clustering parameters [26, 81]. A total of 1070 (E. coloratus), 1078 (E. p. leakeyi) and 1156 (E. c. sochureki) processed ESTs were entered into respective species databases alongside the 883 ESTs generated from the E. ocellatus vgDbEST [26]. Assembled ESTs were BLAST annotated against UniProt (v56.2), TrEMBL (v39.2) and separate databases containing only Serpentes nucleotide and protein sequences derived from the same Uniprot/TrEMBL release versions.
Clustering was performed incrementally (96 sequences per round) to determine the number of sequences required to construct a representative transcriptome (i.e. the point where further sequencing only adds to existing clusters). We estimate that a minimum of 800 EST sequences were required to provide an accurate representation of the three vgDbESTs (additional file 3). For longer clones (i.e. SVMPs), representatives of each cluster were subject to primer walking to acquire sufficient sequence data for isoform classification. SVMPs were characterised based upon the presence or absence of additional domains extending from the metalloproteinase domain [30]. PIVs were distinguished from PIIIs by the presence of an additional cysteine residue in the cysteine-rich region at positions 397 or 400 [[28, 30] (numbering from 30)].
Additional file 2 displays the catalogue of venom toxin transcripts present in each of the four Echis vgDbESTs based upon significant (>1e-05) BLAST annotation. Presentation of the fully assembled and annotated vgDbESTs can be viewed at http://venoms.liv.ac.uk. The sequences reported in this paper have also been submitted into dbEST division of the public database GenBank: E. coloratus [GenBank: GR947900-GR948969], E. c. sochureki [GenBank: GR948970-GR950126] and E. p. leakeyi [GenBank: GR950127-GR951204].
All animal experimentation was conducted using standard protocols approved by the University of Liverpool Animal Welfare Committee and performed with the approval of the UK Home Office (40/3216) under project licence # 40/3216.
Declarations
Acknowledgements
The authors wish to thank Paul Rowley for expert herpetological assistance, Damien Egan and Paul Vercammen (Breeding Centre for Endangered Arabian Wildlife, United Arab Emirates) for providing specimens of E. c. sochureki, Ann Hedley and Mark Blaxter (NERC Molecular Genetics Facility, University of Edinburgh) for providing sequencing and bioinformatic advice regarding the PartiGene pipeline and Tim Booth, Bela Tiwari and Jorge Soares (NERC Environmental Bioinformatics Centre) for bioinformatic advice. This work was funded by Research Studentship NER/S/A/2006/14086 from the Natural Environmental Research Council (NERC) to NRC, access to the NERC Molecular Genetics Facility at the University of Edinburgh (ref MGF 150) to WW, the Leverhulme Trust (Grant F/00 174/I) to WW and RH and the Biotechnology and Biological Sciences Research Council (BBSRC) to RH and SCW (BB/F012675/1).
Authors' Affiliations
(1)
School of Biological Sciences, Bangor University, Environment Centre Wales, Bangor, UK
(2)
Alistair Reid Venom Research Unit, Liverpool School of Tropical Medicine, Liverpool, UK
Copyright
© Casewell et al; licensee BioMed Central Ltd. 2009
This article is published under license to BioMed Central Ltd. This is an Open Access article distributed under the terms of the Creative Commons Attribution License (http://creativecommons.org/licenses/by/2.0), which permits unrestricted use, distribution, and reproduction in any medium, provided the original work is properly cited.