Research article
Open Access
Large-scale transcriptome data reveals transcriptional activity of fission yeast LTR retrotransposons
Received: 20 October 2009
Accepted: 12 March 2010
Published: 12 March 2010
Abstract
Background
Retrotransposons are transposable elements that proliferate within eukaryotic genomes through a process involving reverse transcription. The numbers of retrotransposons within genomes and differences between closely related species may yield insight into the evolutionary history of the elements. Less is known about the ongoing dynamics of retrotransposons, as analysis of genome sequences will only reveal insertions of retrotransposons that are fixed - or near fixation - in the population or strain from which genetic material has been extracted for sequencing. One pre-requisite for retrotransposition is transcription of the elements. Given their intrinsic sequence redundancy, transcriptome-level analyses of transposable elements are scarce. We have used recently published transcriptome data from the fission yeast Schizosaccharomyces pombe to assess the ability to detect and describe transcriptional activity from Long Terminal Repeat (LTR) retrotransposons. LTR retrotransposons are normally flanked by two LTR sequences. However, the majority of LTR sequences in S. pombe exist as solitary LTRs, i.e. as single terminal repeat sequences not flanking a retrotransposon. Transcriptional activity was analysed for both full-length LTR retrotransposons and solitary LTRs.
Results
Two independent sets of transcriptome data reveal the presence of full-length, polyadenylated transcripts from LTR retrotransposons in S. pombe during growth phase in rich medium. The redundancy of retrotransposon sequences makes it difficult to assess which elements are transcriptionally active, but data strongly indicates that only a subset of the LTR retrotransposons contribute significantly to the detected transcription. A considerable level of reverse strand transcription is also detected. Equal levels of transcriptional activity are observed from both strands of solitary LTR sequences. Transcriptome data collected during meiosis suggests that transcription of solitary LTRs is correlated with the transcription of nearby protein-coding genes.
Conclusions
Presumably, the host organism negatively regulates proliferation of LTR retrotransposons. The finding of considerable transcriptional activity of retrotransposons suggests that part of this regulation is likely to take place at a post-transcriptional level. Alternatively, the transcriptional activity may signify a hitherto unrecognized activity level of retrotransposon proliferation. Our findings underline the usefulness of transcriptome data in elucidating dynamics in retrotransposon transcription.
Keywords
Long Terminal RepeatAverage Signal IntensityLong Terminal Repeat RetrotransposonsLong Terminal Repeat SequenceLong Terminal Repeat Element
Background
With only a few exceptions [1, 2], retrotransposons have been found in all analysed eukaryotic genomes. Although transcription of retrotransposons is an integral part of their life cycle, elements may be transcriptionally active without this resulting in proliferation of the elements within the host genome [3, 4]. Transcriptional activity of retrotransposons has been detected in a range of organisms and conditions, and may involve a multitude of elements that are simultaneously transcribed [5–7], or alternatively, single element loci driving transcription of nearby genes [8, 9]. The presence and transcriptional activity of retrotransposons may interfere with nearby genes [10], and hence presumably are subject to negative selection [11–13].
Unfortunately, the intrinsic sequence redundancy of retrotransposons has limited the resolution by which activity can be assigned to specific elements (or classes thereof) using genome-scale approaches [14, 15]. The recent advances in novel sequencing and hybridization technologies [16, 17] have permitted an unforeseen depth in detection of transcriptional activity. Recently, Faulkner and colleagues reported that 6-30% of cap-selected mammalian transcripts were initiated in repetitive elements [4]. We set out to test if transcriptome data could provide information on the transcriptional activity of presumably functional (i.e. retrotransposition-competent) retrotransposons, and turned our attention to the single-celled fission yeast Schizosaccharomyces pombe. The genome of S. pombe is highly compact and well annotated [18], and harbours only a few families of Long Terminal Repeat (LTR) retrotransposons [19, 20]. LTR retrotransposons are transposable elements that typically contain gag and pol genes required for transposition, are related to retroviruses, and have their name from the two repeated LTR sequences flanking them. Two LTR sequences may recombine resulting in a solitary LTR sequence. All full-length LTR retrotransposons in the S. pombe reference genome (strain 972) belong to the Tf2 family, while all members of the other dominant LTR family, Tf1, are found as solitary LTR sequences [18, 21]. S. pombe LTR elements are predominantly inserted upstream of protein-coding genes [22, 23], where transcription activators are responsible for targeting the site of insertion [24]. Intriguingly, the Tf1 elements were shown to harbour promoter regions restoring the regulatory functions that are disrupted by LTR integration [24].
We have analysed the data from two recent studies: First, a high throughput sequencing of complementary DNAs generating short reads (30-51 nucleotides) from S. pombe growth phase and five time points during meiosis from the Bähler lab [25]. This study is henceforth referred to as RNA-Seq. Second, a study from the Cairns lab [26] using a novel approach (called HybMap) in which RNA from growth phase was directly hybridized to a whole-genome microarray with 60 base pair DNA probes, followed by antibody procedures ensuring perfect matches as well as subsequent quantification by light emission [16]. The direct hybridization approach hence allows the assignment of transcriptional activity to a specific strand. We refer to this study simply as HybMap. The available data samples are summarized in Additional file 1; Table S1. From RNA-Seq sequence reads and signal intensities of HybMap array probes we recorded the transcriptional activity from LTR sequences, analysed the extent and orientation of LTR transcription, and how the expression profiles of LTR sequences correlate with nearby genes.
Results and discussion
We retrieved 239 LTR sequences with lengths from 75 to 412 base pairs (bp) (median/average size: 346/321 bp) from the S. pombe genome annotation. Of these, 25 LTR sequences were residing in full-length LTR retrotransposons. This uneven number results from a single chimerical LTR retrotransposon with an [LTR-internal sequence-LTR-internal sequence-LTR] organization that potentially is a result of an ectopic recombination event. Two full-length LTR retrotransposons (SPBC1E8.04 and SPCC1494.11c) are frame shifted and annotated as pseudogenes http://www.genedb.org/. Genomic coordinates of the LTR sequences are provided in Additional file 1; Table S2. From a biological point of view, we are interested in distinguishing between transcriptional activity stemming from full-length LTR retrotransposons and from solitary LTRs. Analysis of transcriptional activity was therefore performed on these two sets of LTRs separately: 13 full-length LTR retrotransposons (each consisting of the internal sequence flanked by LTR sequences) and the remaining 214 solitary LTR sequences.
To assess the level of transcriptional activity using the HybMap approach, we collected the recorded signal intensities of HybMap probes mapping exclusively within the full-length LTR set and uniquely within the solitary LTR sets, and compared these to signal intensities for probes mapping to other genomic reference features. These reference features include RNA genes, protein-coding genes and background sequences (intergenic and intronic) (Table
1
). As expected, when plotting the signal intensity for genes (both protein-coding and RNA) we observe higher levels of signal intensities for forward strand probes, and lower levels of intensities for reverse strand probes (Figure
1
). Signal intensities for intergenic mapping probes are distributed around zero, in accordance with the normalization procedures carried out in the HybMap study [
26
]. Finally, low levels of signals are observed for intronic mapping probes, showing slightly higher intensities on the forward than on the reverse strands. Signal intensities for the two LTR sets are presented in detail below.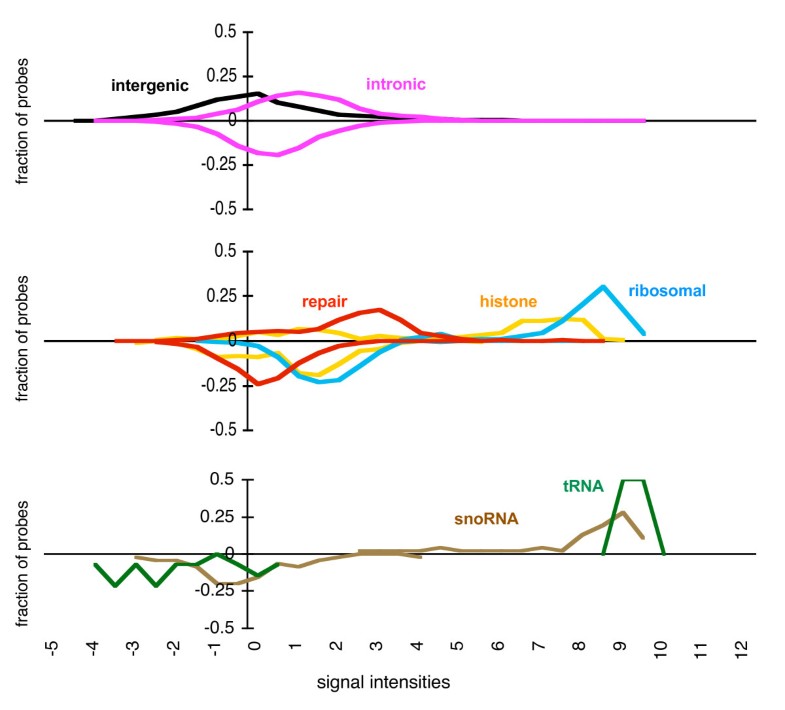 Table 1
Data sets of LTR sequence sets and other genomic features
| Genomic features | Seqsa | Total size (bp) | HybMap probesb | RNA-Seq readsc |
| --- | --- | --- | --- | --- |
| LTRs | | | | |
|    Full-length LTR elements | 13 | 63855 | 1032d | 901d |
|    Solitary LTRs | 214 | 67938 | 1298 | 817d |
| Background | | | | |
|    Intergenic | 3206 | 2796112 | 59528 | 300955 |
|    Intronic | 943 | 177104 | 4380 | 6939 |
| RNA genes | | | | |
|    tRNAs | 170 | 13130 | 28 | 290 |
|    snoRNAs | 23 | 4073 | 91 | 2941 |
| Highly expressed protein-coding genes | | | | |
|    Histone proteins | 12 | 12964 | 422 | 8672 |
|    Ribosomal proteins | 124 | 62661 | 1794 | 236760 |
| Lowly expressed protein-coding genes | | | | |
|    Repair genes (rec and rad) | 43 | 82258 | 2860 | 10833 |
Conclusions
Our analysis of two independent transcriptome data sets clearly indicates that LTR retrotransposons are actively transcribed during growth phase, and that the retrotransposon transcripts are polyadenylated. When considering the evolutionary dynamics of S. pombe LTR elements, Kelly and Levin [21] speculated if only a few of the complete elements were responsible for majority of transposition events (by necessity preceded by transcriptional activity) as has been observed in Saccharomyces cerevisiae[31]. Although we cannot conclude anything on the transcriptional levels of individual loci, our data strongly suggest that a minority of loci contribute the majority of the transcriptional output from LTR retrotransposons.
Assuming that high levels of retrotransposition are detrimental to the host, selection will favour regulation of retrotransposition. Such regulation may either take place pre-transcriptionally (e.g. methylation or chromatin condensation) or post-transcriptionally (e.g. degradation of transcripts). The observed transcription of S. pombe LTR retrotransposons suggests that post-transcriptional mechanisms are the predominant type of regulation during regular growth phase. The relatively high levels of transcriptional activity antisense to full-length LTR retrotransposons (Figures 2 and 3) may potentially be part of such post-transcriptional regulation pathways. The targeting of LTR insertion upstream of genes [23, 24] (which can be viewed as a means to minimize the deleterious effects of retrotransposition in a compact genome [32]) could limit the potential of regulating retrotransposition pre-transcriptionally in S. pombe, as any interference with transcriptional regulation presumably would also affect neighbouring protein-coding genes.
From the HybMap data transcriptional activity is detectable from both strands of solitary LTR sequences, and the transcription appears to be confined to the LTR sequences themselves. Analysis of the RNA-Seq data suggests that transcription of solitary LTRs upstream of genes is correlated with the transcriptional activity of the neighbouring genes. One might speculate that the presence of transcripts from both strands of the solitary LTRs could generate double-stranded RNAs, similar to the double-stranded RNAs involved in heterochromatin formation in S. pombe[33, 34]. However, this would suggest a negative correlation between the transcriptional activity of genes and LTR sequences. The observed positive correlation rather suggests that the LTR transcripts represent transcription facilitated by a physical association with actively transcribed genes, in parallel to the observed co-expression of linked genes [35].
Our analysis indicates that a clear distinction exists between solitary LTR sequences and full-length LTR elements in terms of transcriptional activity. Transcription of full-length LTR retrotransposons is for the most part derived from the forward strand and transcripts are polyadenylated. In contrast, solitary LTR transcription is found from both strands, with transcripts showing no signs of polyadenylation. Additionally, divergent expression levels during meiosis are observed between full-length LTR retrotransposons and solitary LTR sequences. In HIV retroviruses, a number of transcription factors bind the internal retrotransposon downstream of the 5' LTR [36]. It is possible that the absence of such binding sites around solitary LTRs contributes to their changed transcription patterns. Similarly, in a range of retrovirus LTRs, polyadenylation signals are present downstream of the transcription start sites, but a minimum distance is required for polyadenylation to take place [37], so that transcription is initiated in the 5' LTR and polyadenylation only in the 3' LTR of full-length retroviruses. Certainly, this would preclude polyadenylation of transcripts initiated within solitary LTR sequences. Similar to the solitary LTR sequences, levels of transcriptional activity appear to be relatively similar from both strands of the LTRs from full-length retrotransposons. One possible scenario is therefore that - compared to full-length retrotransposons - the solitary LTR sequences have changed their transcriptional patterns due to loss of regulatory motifs, and lost the ability to generate polyadenylated transcripts, but have retained the ability to generate transcription from both strands (at equal, albeit relatively low levels).
Based on our analysis, we conclude that the application of large-scale transcriptome data allows the elucidation of retrotransposon transcriptional activity, but that the resolution by which transcription can be assigned to specific retrotransposon loci is still limited. A recent RNA-Seq approach revealed an up-regulation of transposons in methylation-defective Arabidopsis mutants [38]. Additionally, mapping of capped sequence reads demonstrate wide-spread, regulated transcription initiated with mammalian retrotransposons [4]. Hence, novel transcriptome analysis techniques will inevitably shed light on tissue-specific (if applicable) and temporal expression patterns of retrotransposons facilitating an assessment of the dynamics and immediate impact of these long-term residents of eukaryotic genomes.
Declarations
Acknowledgements
This work was supported by a personal grant to TM from the Lundbeck Foundation. Work at the Ancient DNA and Evolution group is funded by the Villum Kann Rasmussen Foundation; the Danish Natural Science Research Council; and the Danish National Research Foundation. We thank Daniel Jeffares for critical reading of the manuscript, Olaf Nielsen for advice on S. pombe biology, and two anonymous referees for constructive comments on an earlier version of this study.
Authors' Affiliations
(1)
Ancient DNA and Evolution Group, Natural History Museum of Denmark, University of Copenhagen, Copenhagen, Denmark
Copyright
© Mourier and Willerslev; licensee BioMed Central Ltd. 2010
This article is published under license to BioMed Central Ltd. This is an Open Access article distributed under the terms of the Creative Commons Attribution License (http://creativecommons.org/licenses/by/2.0), which permits unrestricted use, distribution, and reproduction in any medium, provided the original work is properly cited.