Research article
Open Access
Transcriptome survey of the anhydrobiotic tardigrade Milnesium tardigradum in comparison with Hypsibius dujardini and Richtersius coronifer
Received: 22 October 2009
Accepted: 12 March 2010
Published: 12 March 2010
Abstract
Background
The phenomenon of desiccation tolerance, also called anhydrobiosis, involves the ability of an organism to survive the loss of almost all cellular water without sustaining irreversible damage. Although there are several physiological, morphological and ecological studies on tardigrades, only limited DNA sequence information is available. Therefore, we explored the transcriptome in the active and anhydrobiotic state of the tardigrade Milnesium tardigradum which has extraordinary tolerance to desiccation and freezing. In this study, we present the first overview of the transcriptome of M. tardigradum and its response to desiccation and discuss potential parallels to stress responses in other organisms.
Results
We sequenced a total of 9984 expressed sequence tags (ESTs) from two cDNA libraries from the eutardigrade M. tardigradum in its active and inactive, anhydrobiotic (tun) stage. Assembly of these ESTs resulted in 3283 putative unique transcripts, whereof ~50% showed significant sequence similarity to known genes. The resulting unigenes were functionally annotated using the Gene Ontology (GO) vocabulary. A GO term enrichment analysis revealed several GOs that were significantly underrepresented in the inactive stage. Furthermore we compared the putative unigenes of M. tardigradum with ESTs from two other eutardigrade species that are available from public sequence databases, namely Richtersius coronifer and Hypsibius dujardini. The processed sequences of the three tardigrade species revealed similar functional content and the M. tardigradum dataset contained additional sequences from tardigrades not present in the other two.
Conclusions
This study describes novel sequence data from the tardigrade M. tardigradum, which significantly contributes to the available tardigrade sequence data and will help to establish this extraordinary tardigrade as a model for studying anhydrobiosis. Functional comparison of active and anhydrobiotic tardigrades revealed a differential distribution of Gene Ontology terms associated with chromatin structure and the translation machinery, which are underrepresented in the inactive animals. These findings imply a widespread metabolic response of the animals on dehydration. The collective tardigrade transcriptome data will serve as a reference for further studies and support the identification and characterization of genes involved in the anhydrobiotic response.
Keywords
Gene OntologyTrehaloseDesiccation ToleranceTranslationally Control Tumor ProteinDesiccation Resistance
Background
Desiccation tolerance or anhydrobiosis is the ability of an organism to survive almost complete drying without sustaining damage. Anhydrobiosis is observed in certain micro-organisms, plants and animals such as rotifers, brine shrimp cysts, tardigrades and insect larvae, as for example those of the Polypedilum vanderplanki[1–3]. Studying the mechanisms of tolerance against desiccation may lead to development of new methods for preserving biological materials, which is of enormous practical importance in industrial as well as in medical fields [4]. In the dry state, the metabolism is suspended and the duration that anhydrobiotic organisms can survive ranges from years to centuries. Tardigrades are able to survive long periods of desiccation [5–8]. The hitherto longest known observation of an extended lifespan of 20 years has been demonstrated in the anhydrobiotic state of the species Echiniscus testudo Doyère 1840 [9]. Anhydrobiosis probably depends on a series of complex morphological, physiological and genetic adaptations that involve the stabilization of macromolecular complexes. As a consequence, a number of components have been identified and appear to be important for protecting these organisms from desiccation damage. Among them are the highly hydrophilic LEA proteins, which have been initially described in plants but have been identified in several invertebrates [10, 11, 2, 12], as well as non-reducing disaccharides like trehalose [13–16]. We are studying anhydrobiosis in the limno-terrestrial tardigrade Milnesium tardigradum Doyère 1840 which shows remarkable resistance to adverse environmental conditions in all stages of life [17] - even to extreme levels of ionizing radiation [18] and the vacuum of space in low earth orbit [19]. M. tardigradum outperforms several other tardigrade species in tolerance e.g. survival of extreme temperatures above 100°C [20] as well as freezing [21, 22]. Similar anhydrobiotic resistance to extreme environmental stress has been observed in other animals such as bdelloid rotifers or chironomid larvae [23, 24] suggesting common mechanisms that allow anhydrobiotic survival and conferring radiation tolerance. The tardigrade phylum currently includes more than 1000 species living in the sea, in fresh water and on land. These last, needing at least a film of water to be active, are called limno-terrestrial and include most of the anhydrobiotic species [25]. They have been studied for their fascinating ability to perform anhydrobiosis and consequently serve as a potential model for studying tolerance and survival of multicellular organisms to a variety of extreme environmental conditions. Although there are several physiological, morphological and ecological studies on anhydrobiotic tardigrades [26–30], only limited DNA sequence information from molecular phylogenetic studies is available [30–34]. However, some sequence resources are only available from the species Hypsibius dujardini Doyère 1840 [Daub et al. Unpublished data 2003] and Richtersius coronifer (Richters 1903) [35]. Studies of H. dujardini have been focused mainly on developmental and evolutionary biology [36–38]. In this study we generated 9984 ESTs of M. tardigradum from active and inactive (anhydrobiotic/tun) stages, thereby establishing M. tardigradum as a model for anhydrobiosis research. These ESTs and the resulting unigenes were functionally annotated using Gene Ontology vocabulary. Furthermore, a cross-species comparison between M. tardigradum, H. dujardini and R. coronifer has been performed.
Conclusions
This study describes novel sequence data from the tardigrade M. tardigradum that identified a set of 3283 unigenes, which significantly contributes to the available tardigrade sequence data and will help to establish this tardigrade as a model for studying desiccation tolerance. The comparison of active and inactive stage EST libraries by performing an exploratory GO enrichment analysis suggests a metabolic suppression in terms of replication and translation during desiccation. The tardigrade-EST resource generated from this study will serve as a reference for future global gene expression experiments, aiming at the identification of key regulators of desiccation resistance during anhydrobosis. Furthermore the datasets of H. dujardini and R. coronifer will serve as additional resources that could give clues about the evolutionary conservation of these regulators between tardigrade species of different anhydrobiotic capabilities.
Methods
Animal culture and sampling
M. tardigradum was reared in a laboratory culture on 3% agar plates covered with Volvic® mineral water at 20 ± 2°C and a light/dark cycle of 12 h as previously published [8]. For all experiments, adult animals (eight weeks after hatching) in good condition were collected directly from the agar plate using a pipette and a stereomicroscope. Tardigrades were starved for 3 days, and washed for several times with Volvic® mineral water before being processed to avoid contaminations. A total of 1000 animals were collected into 1.5 ml Eppendorf tubes in aliquots of 200 animals each. Animals representing the active state were frozen directly in liquid nitrogen. Anhydrobiotic stages of M. tardigradum were generated by a previously published protocol [8]. Briefly, M. tardigradum (200 animals) were placed in 1.5 ml Eppendorf tube and desiccated at room-temperature at 85% relative humidity (RH) for 12 to 16 hours (till they have completed the tun formation) and then at 35% RH for further 48 hours. The animals were frozen at -80°C until their experimental use.
Library construction
Total RNA extraction was performed by following the instructions of QIAGEN RNeasy R Mini kit (Qiagen, Hilden, Germany). Complete lysis of the tardigrades and especially disruption of their harsh cuticle was achieved by sonication on ice for 1 min (duty cycle 0.5s) by using a microsonicator (Probe 73, Sonopuls; Bandelin). For cDNA synthesis 1 μg total RNA was reverse transcribed using the Creator™ SMART™ cDNA Library Construction Kit following the manufacturers recommendations (Clontech-TaKaRa Bio Europe, France). The resulting first strand cDNA was amplified by LD-PCR for 18 cycles according to the manufacturers protocol using the 5' PCR primer (5'-AAGCAGTGGTATCAACGCAGAGT-3') as the forward and the CDSIII/3'PCR Primer (5'-ATTCTAGAGGCCGAGGCGGCCGACATG-d(T)30N-1N-3') as reverse primer. The amplified PCR products were then analyzed by agarose gel electrophoresis. After digestion of the amplified cDNA with the Sfi I restriction enzyme, products smaller than 300 bp were removed using the Chroma Spin-400 column as described in the Creator SMART™ protocol and cloned into pDNR-Lib cloning vector. This procedure was chosen because of the low amount of starting material. Plasmids were transferred via electroporation to Escherichia coli (strain DH10B, Invitrogen, Karlsruhe, Germany).
cDNA sequencing
In total, 9984 cDNA clones were either picked by hand or automatically using a QPix robot (Genetix, UK) into 384 well LB-agar culture plates containing chloramphenicol. Sequencing was mostly from the 5' end using standard M13 forward sequencing primer. The sequencing of the cDNA library was sequenced on a ABI 3730XL capillary sequencer by GATC Biotech AG (Konstanz, Germany).
Sequence analysis and annotation
The EST analysis pipeline (Figure
3
) includes typically, EST pre-processing, EST assembly and annotation of the resulting unigenes. The result is the generation of a clean, high-quality EST sequence set. Both chromatogram (
M. tardigradum
) and FASTA sequences (
H. dujardini
and
R. coronifer
) files are accepted as entry point to the analysis. Base calling was performed with phred [
87
,
88
] using a score threshold of 20. Low quality sequences, cloning vector, poly A or T tails, adaptors, and short sequences (<100 base pairs) are removed from the sequences with SeqClean [
89
]. Repetitive elements are masked with RepeatMasker [
90
]. Sequences that can be considered contaminants and unexpected vector sequences are also removed with SeqClean, using NCBI's UniVec database (v5.1) [
91
].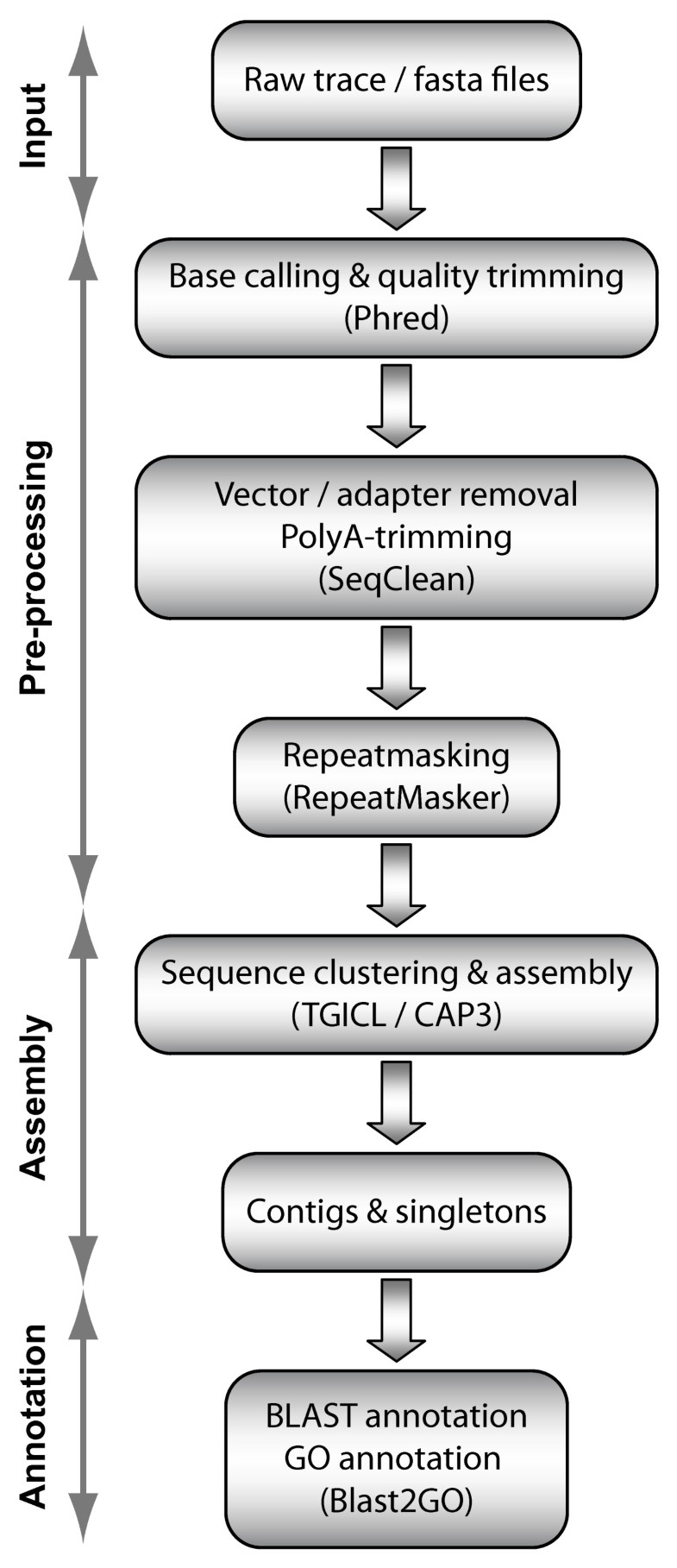 TIGR Gene Indices clustering tools (TGICL) with standard parameters [92] and CAP3 [93] have been used for the assembly step. For functional annotation, processed putative unique transcripts were loaded into the Blast2GO software [94]. Blasting was done with BLASTX algorithm using Blast2GO (v2.3.5) standard parameters. Unigenes were annotated with GO terms using standard evidence GO weight parameters. The 'Augment Annotation by ANNEX' function was used to refine annotations. Subsequently, Inter-ProScan [95] was performed to find conserved functional domains. GO terms derived from domains were merged into the existing GO annotation of the respective unigenes.
GO enrichment analysis
Identification of GO terms differentially enriched between the active and inactive M. tardigradum datasets was performed using the GOSSIP statistical framework [96] webservice via the BLAST2GO software. GOSSIP employs 2 × 2 contingency tables of annotation frequencies for each GO term and computes p-values using Fisher's exact test. The statistical framework accounts for false positives (type-I-errors) that arise from multiple testing by calculating adjusted p-values. We screened for significantly enriched GO-terms by controlling the false discovery rate (FDR), setting a cut-off threshold of pFDR(p) ≤ 0.05. GO terms fulfilling this criterion were considered differentially enriched between the two M. tardigradum datasets.
Declarations
Acknowledgements
This study was supported by the German Federal Ministry of Education and Research (BMBF) (FUNCRYPTA 0313838).
Authors' Affiliations
(1)
Molecular Biology and Functional Genomics, University of Applied Sciences Wildau, Wildau, Germany
(2)
Department of Bioinformatics, Biocenter, University of Würzburg, Am HublandWürzburg, Germany
(3)
German Cancer Research Center (DKFZ), Protein Analysis Facility, Heidelberg, Germany
(4)
Oncoscience AG, Wedel, Germany
(5)
Biological Institute, Zoology, Universität Stuttgart, Stuttgart, Germany
Copyright
© Mali et al; licensee BioMed Central Ltd. 2010
This article is published under license to BioMed Central Ltd. This is an Open Access article distributed under the terms of the Creative Commons Attribution License (http://creativecommons.org/licenses/by/2.0), which permits unrestricted use, distribution, and reproduction in any medium, provided the original work is properly cited.