Research article

Open Access
Plasmodium infection alters Anopheles gambiae detoxification gene expression
Received: 6 November 2009
Accepted: 19 May 2010
Published: 19 May 2010
Abstract
Background
Anopheles gambiae has been shown to change its global gene expression patterns upon Plasmodium infection. While many alterations are directly related to the mosquito's innate immune response, parasite invasion is also expected to generate toxic by-products such as free radicals. The current study aimed at identifying which loci coding for detoxification enzymes are differentially expressed as a function of Plasmodium berghei infection in midgut and fat body tissues.
Results
Using a custom-made DNA microarray, transcript levels of 254 loci primarily belonging to three major detoxification enzyme families (glutathione S-transferases, cytochrome P450 monooxygenases and esterases) were compared in infected and uninfected mosquitoes both during ookinete invasion and the release of sporozoites into the hemocoel. The greatest changes in gene expression were observed in the midgut in response to ookinete invasion. Interestingly, many detoxification genes including a large number of P450s were down-regulated at this stage. In the fat body, while less dramatic, gene expression alterations were also observed and occurred during the ookinete invasion and during the release of sporozoites into the hemocoel. While most gene expression changes were tissue-related, CYP6M2, a CYP previously associated with insecticide resistance, was over-expressed both in the midgut and fat body during ookinete invasion.
Conclusions
Most toxicity-related reactions occur in the midgut shortly after the ingestion of an infected blood meal. Strong up-regulation of CYP6M2 in the midgut and the fat body as well as its previous association with insecticide resistance shows its broad role in metabolic detoxification.
Keywords
Blood Meal
Detoxification Enzyme
Plasmodium Infection
Cytochrome P450 Monooxygenases
Midgut Epithelium
Background
The mosquito Anopheles gambiae is the main malaria vector in sub-Saharan Africa. Resistance to anti-malaria drugs and insecticides together with the lack of vaccines highlight the need for novel strategies in malaria control. Such a strategy could be the interruption of the transmission cycle within the mosquito.
The mosquito becomes infected with the malaria parasite by taking a blood meal. The blood meal itself brings metabolic changes and induces a state of oxidative stress [1, 2]. This is further increased by the presence of Plasmodium parasites in the blood meal [3]. During mosquito response to infection, active nitrogen and oxygen radicals are produced to contain Plasmodium infection [1, 3]. These products may represent potential oxidative stress that can be ameliorated or eliminated by detoxification enzymes. For example several glutathione S-transferases (GSTs) have peroxidase activity and some can also metabolise reactive α,β-aldehydes [4]. GST expression can also be induced by reactive oxygen species (ROS) [5, 6]. While GSTs help to eliminate ROS, cytochrome P450 monooxygenases (CYP) may actually contribute towards its generation [7].
Although transcription alteration of detoxification genes in response to bacteria and Plasmodium [8–10] has been described, the nature of this response hasn't been fully discussed. In this study we describe the impact of P. berghei infection at two time points (1 day and 11 days post infection) on the expression of detoxification genes in the midgut and fat body. We identified several genes, previously implicated in the detoxification of xenobiotics, which are differentially expressed in relation to parasite infection in the midgut and fat body. The possible role of detoxification enzymes in modulating malaria transmission is discussed.
Conclusions
This study determined transcription profiles of detoxification enzymes during Plasmodium infection in A. gambiae, showing important changes in the expression of several detoxification enzymes, as well as membrane associated ABC transporters. Interestingly, genes coding for detoxification enzymes revealed a variable response, being differentially induced or repressed depending on the tissue and stage of infection.
Although the mechanism underlying these changes is presently unclear, this differential regulation of detoxification genes observed during
Plasmodium
infection may be due to 1) the increasing oxidative stress caused by the presence of the parasite; 2) the epithelium rearrangement involving alterations in cytoskeleton genes caused by the ookinetes invasion and the oocysts burst; or 3) a combination of both. A hypothetical scenario for the inter-relationship between infection and detoxifying molecules is depicted in Figure
3
.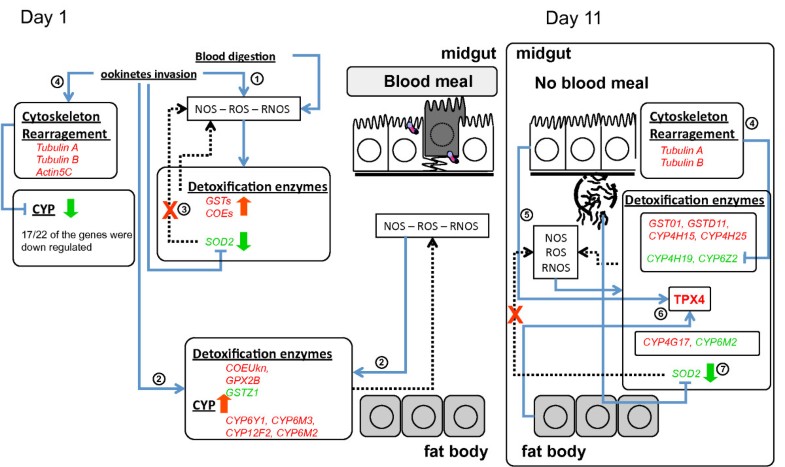 In contrast to the majority of differentially expressed P450s which were down-regulated in response to midgut invasion, CYP6M2 expression was induced in response to P. berghei infection. This CYP is involved in resistance to pyrethroid insecticides [17, 18]. This observation together with regulation of other genes, such as membrane ABC transporters involved in xenobiotic elimination, lead us to speculate that there might be an association between the response to Plasmodium infection and insecticide resistance, enhancing the importance of further studying their interaction.
Methods
Mosquitoes
A. gambiae s.s. (molecular M form) of the Yaoundé strain mosquitoes were reared at 26°C and 75% relative humidity on a 12/12 hours light/dark cycle. Adult mosquitoes were maintained on 10% glucose solution until blood feeding.
P. berghei infection of mosquitoes
Female CD1 mice were intraperitoneally inoculated with 107 P. berghei ANKA parasitised red blood cells. The levels of parasitaemia were measured from blood samples of the mouse tail using Giemsa-stained blood films. When the parasitaemia reached 10-20% and exflagellation was observed, mice were used to infect mosquitoes. Female mosquitoes were allowed to feed directly on naïve (control) and P. berghei infected mice up to one hour, with regular monitoring to certify mice were anesthetised. Fully engorged mosquitoes were kept at 19-21°C and 80% relative humidity for P. berghei development. The maintenance and care of experimental animals complied with portaria n° 1005/92 from 23rd October and was approved by the Divisão Geral de Veterinaria, Portugal.
Tissue collection
Mosquito midguts and abdominal walls containing fat body tissues were collected from pools of 40 sibling mosquitoes at day 1 and on day 11 after the blood meal. This procedure was repeated to obtain 3 independent replicates. Tissues were dissected from mosquitoes submerged in ice-cold phosphate-buffered saline (PBS) that was prepared with DEPC-treated water and transferred to ice-cold RNAlater (Ambion). After incubation at 4°C over night any excess RNAlater was removed and samples were stored at -20°C until RNA extraction. On day 11 post infection mosquito midguts were also collected to determine infection rate (number of infected mosquitoes over total number of mosquitoes observed).
Microarray analysis
Protocols for RNA extraction, amplification and labelling with fluorescent dyes are described in [22]. Fluorescent Cy3- and Cy5-labelled targets were hybridised to the latest version of the A. gambiae detox chip [23] (ArrayExpress accession AMEXP-863). The features on this version of the detox chip probe for 103 cytochrome P450s, 31 esterases, 35 glutathione S-transferases and 85 additional loci coding for enzymes such as peroxidases, reductases, superoxide dismutases, ATP-binding cassette transporters, tissue specific genes and housekeeping genes.
Two separate microarray experiments were conducted; one for the RNA pools obtained from midguts and another one for RNA extracted from fat body tissues. Each experiment followed a 2 × 2 factorial design in which the first factor was time and the second one was infection status. Each factor was measured at two levels; at one and eleven days post blood meal and from female mosquitoes that were either fed with Plasmodium-infected or uninfected blood. Factors and levels were combined constituting a total of four measurements. Each combination was repeated three times with tissues from 40 individuals pooled for RNA isolation per replicate (see Figure S2 in Additional file 4).
After scanning of raw signal intensities and visual spot inspection in GenePix Pro 5.1 software (Axon Instruments) data were exported to limma (version 2.9). Limma, part of the Bioconductor project [24], is a bioinformatics package for the analysis of linear models in microarray experiments [25] implemented in R http://www.r-project.org. Here, median spot and background intensities from the red (Cy5) and green (Cy3) channels were analysed. Any spot with a saturated signal in either the green or the red channel was excluded from the statistical analysis. For each spot, background intensities were first subtracted from the foreground intensities. To generate positive corrected intensities any intensity that was less than 0.5 after background subtraction was reset to 0.5. Background-corrected intensities from each spot were then transformed to intensity log-fold changes, M = log2(red)-log2(green), and their geometrical means, A = [log2(red)+log2(green)]/2. Within each array, M-values for each spot were subsequently normalized as a function of A using the loess scatter plot smoothing function implemented in limma. In the normalization step the calibration spots on the detox chip were included too. The detox chip contains 40 calibration spots representing a 1:1 dilution series over a concentration gradient from 1 pg to 30 ng per 2 μl of added mRNA spike-in mix).
For the statistical analysis of the microarray experiments limma employs a linear model approach whereby linear models are fitted to the normalised data for each locus probed by the array [25, 26]. Because each unique probe is spotted four times onto the detox chip we took advantage of the pooled correlation method implemented in limma to make full use of the replicate spots [27]. Contrasts, linear combinations of the coefficients, were then tested for significance. The contrasts tested between factor levels (time and infection status) and the interaction term (time × infection status) are given in Figure S2 (Additional file 4). To assess differential expression limma uses an empirical Bayes method to moderate the standard errors of the estimated log-fold changes [26]. This approach results in more stable inference and improved power, especially for experiments with small numbers of arrays [28]. P-values obtained from the t-tests (with the moderated t-statistic) were adjusted for multiple testing adopting the approach of Benjamini and Hochberg [25, 29]. In order to define a set of differentially expressed genes only hits with an adjusted p-value below the level of significance, α = 0.001, were considered.
All microarray data have been deposited in ArrayExpress (ArrayExpress accession E-MTAB-195).
Quantitative RT-PCR
To validate microarray data a subset of 20 differentially expressed genes (see Table S2 in Addditional file 2) were chosen and their expression levels measured by multiplexed quantitative RT-PCR. The same RNA pools used in the microarray experiment served as target RNA in the PCR. The Beckman Coulter GeXP system was used to quantify the expression of these genes and the ribosomal protein RPS7-encoding gene [VectorBase: AGAP010592] was used for normalisation as described in [22]. PCR primer sequences are given in Table S3 (see Additional file 5).
Declarations
Acknowledgements
This work was partially supported by Fundação para a Ciência e a Tecnologia (FCT), trough research funds from project POCTI/IMI/59489/2004. RF is a recipient of a FCT grant (SFRH/BD/28024/2006).
Authors' Affiliations
(1)
Centro de Malária e Outras Doenças Tropicais, UEI Malária, Instituto de Higiene e Medicina Tropical, Universidade Nova de Lisboa, Lisbon, Portugal
(2)
Vector Group, Liverpool School of Tropical Medicine, Liverpool, UK
(3)
Vector Control Unit, Medical Department, Swiss Tropical and Public Health Institute, Basel, Switzerland
(4)
University of Basel, Basel, Switzerland
(5)
Centro de Biomedicina Molecular e Estrutural (CBME), Instituto de Biotecnologia e Bioengenharia (IBB-LA), Universidade do Algarve, Faro, Portugal
Copyright
© Félix et al; licensee BioMed Central Ltd. 2010
This article is published under license to BioMed Central Ltd. This is an Open Access article distributed under the terms of the Creative Commons Attribution License (http://creativecommons.org/licenses/by/2.0), which permits unrestricted use, distribution, and reproduction in any medium, provided the original work is properly cited.