Research article

Open Access
Metabolic flexibility revealed in the genome of the cyst-forming α-1 proteobacterium Rhodospirillum centenum
Received: 24 February 2010
Accepted: 25 May 2010
Published: 25 May 2010
Abstract
Background
Rhodospirillum centenum is a photosynthetic non-sulfur purple bacterium that favors growth in an anoxygenic, photosynthetic N2-fixing environment. It is emerging as a genetically amenable model organism for molecular genetic analysis of cyst formation, photosynthesis, phototaxis, and cellular development. Here, we present an analysis of the genome of this bacterium.
Results
R. centenum contains a singular circular chromosome of 4,355,548 base pairs in size harboring 4,105 genes. It has an intact Calvin cycle with two forms of Rubisco, as well as a gene encoding phosphoenolpyruvate carboxylase (PEPC) for mixotrophic CO2 fixation. This dual carbon-fixation system may be required for regulating internal carbon flux to facilitate bacterial nitrogen assimilation. Enzymatic reactions associated with arsenate and mercuric detoxification are rare or unique compared to other purple bacteria. Among numerous newly identified signal transduction proteins, of particular interest is a putative bacteriophytochrome that is phylogenetically distinct from a previously characterized R. centenum phytochrome, Ppr. Genes encoding proteins involved in chemotaxis as well as a sophisticated dual flagellar system have also been mapped.
Conclusions
Remarkable metabolic versatility and a superior capability for photoautotrophic carbon assimilation is evident in R. centenum.
Keywords
Purple Bacterium
Receiver Domain
Polar Flagellum
Arsenate Reductase
Mercuric Reductase
Background
Rhodospirillum centenum (also known as Rhodocista centenaria) is a thermotolerant α-1 proteobacterium that is closely related to species of the Azospirillum genus [1–4]. R. centenum is one of the few known thermotolerant purple bacteria species. It has an optimal growth temperature of 44°C, and is capable of differentiating into metabolically dormant cysts that can survive at temperatures as high as 65°C [1–3, 5]. Consequently, R. centenum can often be cultivated from hot springs such as those found at Yellowstone National Park [3]. R. centenum metabolizes a unique set of carbon sources, but is unable to utilize malate or other C4 dicarboxylic acids [2]. Unlike Rhodobacter capsulatus and other known purple non-sulfur bacteria, R. centenum does not repress photosystem synthesis in the presence of molecular oxygen [6].
Three morphologically distinct cell types are observed during the
R. centenum
life cycle; swim cells, swarm cells and metabolically dormant cyst cells [
1
,
7
]. Proteobacterial encystment has been reported in diverse species, and is one of several prokaryotic resting cell strategies employed for surviving environmental stress. Physiological aspects of cyst cell development have been well studied in
R. centenum
,
Azotobacter vinelandii
and
Azospirillum brasilense
, several features of which are shared by these species [
4
,
5
,
8
–
10
]. Environmental stresses, including nutrient deprivation, trigger vegetative cells to undergo a multi-stage transition into rounded, immotile cells encapsulated by complex, protective outer coats (Figure
1B
). These cysts are additionally typified by the presence of large intracellular granules of the industrially significant polymer poly-hydroxybutyrate (PHB) [
11
]. The resulting cells have extreme desiccation resistance and also afford modest protection from stresses such as heat and UV light. While the morphological and resistive aspects of such cysts have been well studied, mechanisms that underlie the regulation of this process remain largely unknown.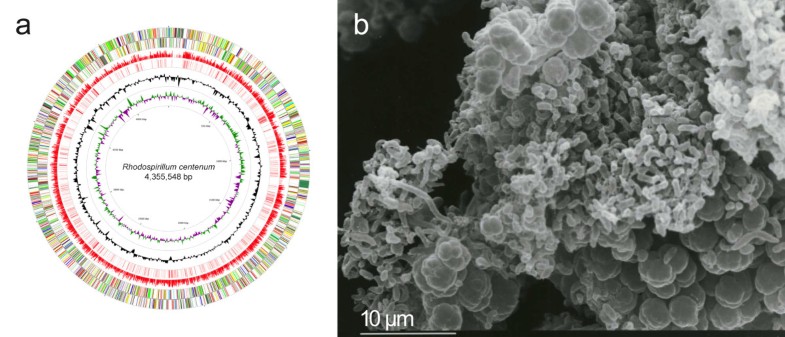 Members of the cyst forming Azospirillum genera have significant agricultural importance. Specifically, the aerobic nitrogen fixing species A. brasilense and A. lipoferum (both closely related to R. centenum) are known to associate with, and stimulate the growth of, numerous grasses and cereals [12]. These bacteria may benefit such plants through their ability to aerobically fix nitrogen [12]. Interestingly, mutations that affect swim cell to swarm cell differentiation [13, 14] and cyst-cell development [15] also affect plant root colonization. Thus, a better understanding of these cellular differentiation events is clearly warranted. A genome sequence advances the tools available for studies of these processes.
Conclusions
Analysis of the R. centenum genome demonstrates that both Rubisco- and PEPC- derived carbon assimilation can compensate for the inability to utilize malate or other C4 dicarboxylic acids in the R. centenum environment. Many newly identified genes that are discussed in this report have advanced our knowledge of the structure and origin of the R. centenum PGC, the complex life cycle involving differentiation from swim to swarm cells, and the differentiation into heat and desiccation resistant resting cysts. R. centenum also contains many sensory proteins such as bacteriophytochromes that control gene expression in response to complex environmental stimuli.
The completion of the R. centenum genome impacts the study of cyst cell development in particular, already allowing the identification of an A. brasilense flcA homolog. FlcA is a transcriptional regulator of A. brasilense encystment, and appears to have a role in R. centenum encystment (Marden and Bauer, Unpublished Data). The sequenced genome has also allowed for the discovery of an additional sensor kinase involved in encystment, RC1_2747. This gene was originally disrupted and identified in a hyper-cyst screen, however the transposition occurred in a region with low sequence similarity and was placed in a class of unknown genes [5].
R. centenum is emerging as a model organism for molecular genetic analysis of cyst formation, photosynthesis, phototaxis, and cellular development. This species is genetically amenable, with a variety of genetic tools already developed to explore these processes. The generation of a complete and annotated genome sequence establishes the genetic infrastructure for such studies, provides a framework to organize all the genetic information about the organism, and catalyzes future 'omics' research.
Methods
R. centenum strain SW (ATCC 51521) originated from hot spring mud in Wyoming, United States. A single colony was grown anaerobically and total DNA was isolated using proteinase K treatment followed by phenol extraction. The DNA was fragmented by kinetic shearing, and three shotgun libraries were generated: small and medium insert libraries in the plasmid pOTWI3 (using size fractions of 2-3 kb and 6-8 kb, respectively), and a large insert fosmid library in pEpiFOS-5 (insert sizes ranging from 28-47 kb), which was used as a scaffold. The relative amount of sequence coverage obtained from the small, medium, and large insert libraries was approximately 8×, 1×, and 1×, respectively. The whole genome sequence was established from 55,014 end sequences (giving 9.7× coverage) derived from these libraries using dye terminator chemistry on ABI 3730xl automated sequencers. The sequence was assembled with the program Arachne [42] and finished as described previously [43]. The complete and annotated genome sequence of R. centenum has been deposited at DDBJ/EMBL/GenBank under the accession number CP000613.
Initial automated annotation of the genome was performed with the TIGR/JCVI Annotation Engine http://www.tigr.org/AnnotationEngine, where it was processed by TIGR's prokaryotic annotation pipeline. Included in the pipeline is gene finding with Glimmer, Blast-extend-repraze (BER) searches, HMM searches, TMHMM searches, SignalP predictions, and automatic annotations from AutoAnnotate. The manual annotation tool Manatee (manatee.sourceforge.net) was used to carefully review and confirm the annotation of every gene. Pseudogenes contained one or more mutations that would ablate expression; each inactivating mutation was subsequently checked against the original sequencing data. The circular genome map was created using the program CGView [44].
Mulitple amino acid sequence alignment and phylogenetic trees for this study were built using Muscle [45], Gblocks [46], PhyML [47], and MEGA 4.0 [48] as previously described [36]. Some of the sequences used in our analysis were collected from the JGI Integrated Microbial Genomes browser http://img.jgi.doe.gov/cgi-bin/pub/main.cgi. The Pathway-Tools software was employed for predicting and comparing metabolic pathways of R. centenum [16, 17]. The initial process of metabolic construction for R. centenum was automatic and involved building each pathway based on genome annotation results and the presence of each pathway in the MetaCyc database [17]. A further step to validate the accuracy of the constructed metabolic network was carried out based on supporting information from the scientific literature.
Electron microscopy
R. centenum cultures were harvested and washed three times in phosphate buffer and then pipetted onto CENBA plates in 5 μl aliquots. After 1, 2 and 3 days incubation, the cell spots were harvested, fixed in 5% glutaraldehyde/100 mM HEPES/2 mM MgCl2 and analyzed by transmission electron microscopy as described previously [18]. Mature R. centenum colonies were analyzed by scanning electron microscopy, performed as described previously [49].
Declarations
Acknowledgements
We would like to dedicate this study to the memory of Jeffrey Favinger who, along with Howard Gest, was the first to isolate R. centenum. We'd like to thank The Institute for Genomics Research and the J. C. Venter Institute for providing the Annotation Engine Service that provided us with first-pass automated annotation data and the manual annotation tool Manatee free of charge. Amber L. Conrad, Liza C. Dejesa, and Heather L. Taylor provided excellent technical assistance with genome sequencing and finishing.
This work was supported by the U.S. National Science Foundation Phototrophic Prokaryotes Sequencing Project, grant number 0412824, by a Grant-in-Aid for Creative Scientific Research (No. 17GS0314) from the Japanese Society for Promotion of Science, and a Indiana University MetaCyt grant. W.D.S. is funded by the Japanese Society for Promotion of Science Postdoctoral Fellowship for Foreign Researchers (No. P07141).
Authors' Affiliations
(1)
School of Life Sciences, Arizona State University, Tempe, USA
(2)
Indiana University, Bloomington, USA
(3)
School of Natural Sciences, University of California - Merced, Merced, USA
(4)
Translational Genomics Research Institute, Phoenix, USA
(5)
Washington University in St. Louis, St. Louis, USA
(6)
University of Alberta, Edmonton, Canada
Copyright
© Lu et al; licensee BioMed Central Ltd. 2010
This article is published under license to BioMed Central Ltd. This is an Open Access article distributed under the terms of the Creative Commons Attribution License (http://creativecommons.org/licenses/by/2.0), which permits unrestricted use, distribution, and reproduction in any medium, provided the original work is properly cited.