Research article

Open Access
Understanding the evolutionary relationships and major traits of Bacillus through comparative genomics
Received: 29 December 2009
Accepted: 26 May 2010
Published: 26 May 2010
Abstract
Background
The presence of Bacillus in very diverse environments reflects the versatile metabolic capabilities of a widely distributed genus. Traditional phylogenetic analysis based on limited gene sampling is not adequate for resolving the genus evolutionary relationships. By distinguishing between core and pan-genome, we determined the evolutionary and functional relationships of known Bacillus.
Results
Our analysis is based upon twenty complete and draft Bacillus genomes, including a newly sequenced Bacillus isolate from an aquatic environment that we report for the first time here. Using a core genome, we were able to determine the phylogeny of known Bacilli, including aquatic strains whose position in the phylogenetic tree could not be unambiguously determined in the past. Using the pan-genome from the sequenced Bacillus, we identified functional differences, such as carbohydrate utilization and genes involved in signal transduction, which distinguished the taxonomic groups. We also assessed the genetic architecture of the defining traits of Bacillus, such as sporulation and competence, and showed that less than one third of the B. subtilis genes are conserved across other Bacilli. Most variation was shown to occur in genes that are needed to respond to environmental cues, suggesting that Bacilli have genetically specialized to allow for the occupation of diverse habitats and niches.
Conclusions
The aquatic Bacilli are defined here for the first time as a group through the phylogenetic analysis of 814 genes that comprise the core genome. Our data distinguished between genomic components, especially core vs. pan-genome to provide insight into phylogeny and function that would otherwise be difficult to achieve. A phylogeny may mask the diversity of functions, which we tried to uncover in our approach. The diversity of sporulation and competence genes across the Bacilli was unexpected based on previous studies of the B. subtilis model alone. The challenge of uncovering the novelties and variations among genes of the non-subtilis groups still remains. This task will be best accomplished by directing efforts toward understanding phylogenetic groups with similar ecological niches.
Keywords
Core Genome
Whole Genome Shotgun
Multi Locus Sequence Typing
Sporulation Gene
Subtilis Group
Background
Bacillus is one of the best characterized bacterial genera. Since the late 19th century, the long history of Bacilli research has included classical microbiology, biochemistry, and more modern genomic and proteomic approaches. Bacillus is defined as a Gram-positive, rod-shaped bacterium that can be aerobic or facultative anaerobic [1] and produces highly resistant dormant endospores in response to nutritional or environmental stresses [2].
Bacilli are ubiquitous bacteria that exploit a wide variety of organic and inorganic substrates as nutrient sources [1]. However, spore dispersal by air and water [3] may lead to false conclusions about the ecological significance of recovered bacillus isolates, since it is not clear if the robust presence of the bacteria is due to the resistant nature of the dispersed spores or due rather to a large adaptive capacity that would allow the bacteria to be found in an active, vegetative state in diverse environments [2]. This study of the Bacillus pan-genome, and in particular the functional categorization of the accessory genomes and their relationship or lack thereof with the environment, may provide insight into these important biological questions.
There are several ways to classify this group according to biochemistry, lifestyles, and/or growth on different substrates. One classification of the Bacillus splits them into three major classes [1]: pathogenic, environmental, and those used for industrial purposes. The pathogenic class is represented by B. anthracis, B. cereus, and B. thuringiensis. Environmental Bacilli are quite diverse and include B. subtilis, B. pumilus, B. halodurans, and B. coahuilensis. The strain B. licheniformis is a well known representative of an industrial strain [1]. This classification is useful for introducing the metabolic diversity of the genus, but it provides no guidance on a phylogenetic classification of the Bacillus for research purposes. In addition, this type of classification does not consider any aquatic Bacillus. There is need for a classification method that could take advantage of the nearly 130 genome projects of the genus. With more than 108 complete and draft genome sequences available to date, Bacillus is one of the most represented genera in the genomic databases.
Although there are close to 1,000 complete prokaryotic genome sequences to date, the group is highly biased toward pathogenic isolates [4, 5]. Among 85 Bacillus genomes, 61% are devoted to the cereus-anthracis-thuringiensis group (See Additional file 2: Table S1). Several researchers have used this overrepresentation as an advantage to perform comparative genomic studies aimed at defining the population structure and finding genetic markers for pathovar identification [6–9]. Despite the oversampling of pathogens, genomes of Bacillus isolated from a wide range of environments are available, including hydrothermal vents [10], tidal flats [11], soil [12], alkaline environments [13, 14], shallow marine water [15], and a shallow water column from an oligotrophic environment [16]. The presence of Bacillus in these different environments reflects the broad metabolic capabilities of a widely distributed genus.
In a report of the intra-species diversity of Streptococcus agalactiae[17], the "pan-genome" concept was defined as the sum of the core genome (comprising genes present in all analyzed strains) and the "accessory" genome (comprising all strain-specific genes) [18, 19]. This concept has been expanded for comparisons at other taxonomic levels, such as family [20, 21] and for defining the universal ancestor hypothetical core [22]. Most traditional markers for species identification, such as 16S rRNA genes, Comparative Genome Hybridization (CGH), and the classical measures of phenotypic similarity, mask the real genetic diversity since they rely mainly on core-genome genes [17, 23, 24]. Another approach to unveil the microbial diversity used mostly by population geneticists and by clinical microbiologists are the Multi Locus Sequence Typing (MLST) and Multi Locus Sequence Analysis (MLSA) methods [25] relying on the analysis of internal fragments of housekeeping genes (usually 7 genes), which are useful for understanding populations dynamics, recombination, and pathogen diagnosis. Phylogenetic relationships can be obtained through more extensive genomic sampling, such as the one afforded by the genome sequences. Analyzing the whole set of conserved genes across a taxonomical level, such as the core genomes, will shed light about evolutionary and functional relationships among the related species. Several methods based on pairwise ortholog comparison and synteny strategies have been developed to assess the composition of core genomes [17, 20, 23].
In this study, we were interested in understanding the cohesion of the Bacillus genus at the genomic level by using the core and pan-genomes as the working units and taking advantage of the large dataset available. We have recently described the complete genome of Bacillus coahuilensis[16, 26], which possesses one of the smallest genomes (3.35 Mb; 38% GC) reported for a free-living bacteria in the group, and have identified genes that allow this bacterium to survive in an aquatic oligotrophic environment. We now report the genome sequence of another isolate, Bacillus sp. m3-13 with a genome size of 4.13 Mb from the same environment as B. coahuilensis. We compared these genomes to ask whether the common environment has selected for similar features in the two genomes. These coincidences would be observed in their gene constitutions as cohesion of similar classes of metabolic genes.
To obtain insight into the group's biology we describe the relatedness within the
Bacillus
using whole genome information to reconstruct their evolutionary history taking advantage of the dataset available from the complete and draft genomes of 20 Bacillus isolated from a wide range of environments. We compared the use of different conserved genes as well as pairwise shared genes to address local phylogenies and measure quantitatively the relatedness between species using the core genome. Analysis of the functional categories of the core and pan-genome revealed a clear separation between different groups and reflected the niche of the
Bacillus
strains. Finally, clustering of conserved/absent genes for competence and sporulation genes, distinctive processes of the
Bacillus
genus, showed that genetic mechanisms for sporulation are far more diverse across
Bacillus
than expected from studies of
B. subtilis
alone (Figure
1
).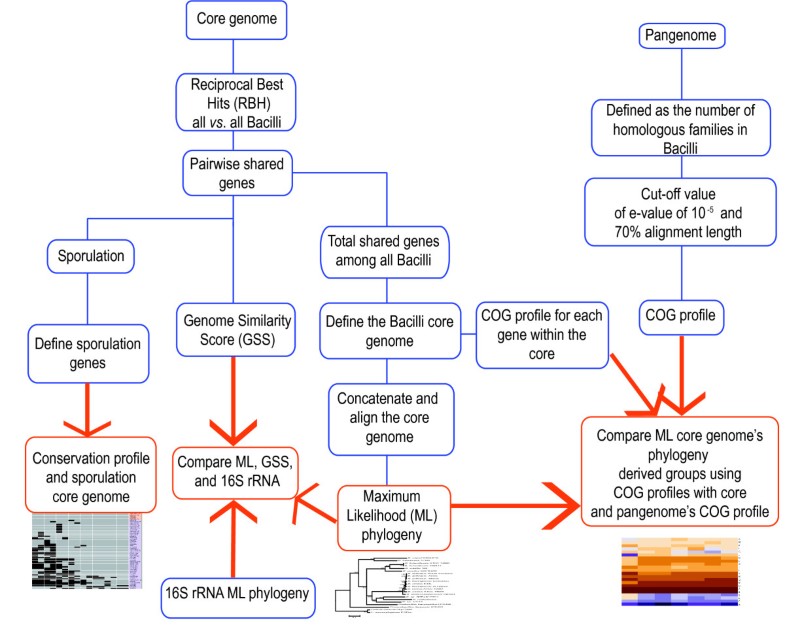 Discussion
The increasing number of sequenced microbial genomes provides an ideal opportunity to re-evaluate approaches in understanding phylogenetic and functional differences among bacteria. Much of the understanding of microbial biodiversity has been studied by comparison of rRNA sequences. However, this approach has clear limitations, such as arbitrary cut-off values for sequence identity and the inability to resolve relationships between closely related groups [74]. For very close relatives, MLST and similar approaches can be used successfully to describe intra-diversity and resolve discrete clusters [75]. Both rRNA and MLST approaches use genes from the core genome [17], and in our analysis, we expanded the gene set for use in phylogenetic reconstruction in order to greatly increase our ability to resolve clusters. Testing inter-species phylogenetic cohesion of a group, such as the Bacillus, and taking advantage of 814 concatenated core genes, allowed us to obtain a robust phylogenetic reconstruction of the inner clusters that failed when comparing the same species with rRNA or universally conserved genes. Data obtained using metrics of taxa distance, such as GSS, for whole genome pairwise comparisons that made use of the entire shared genetic information agreed with the cluster resolution. Of note, we described the aquatic Bacillus as a new group. We predict that this group will quickly gain importance given the numerous examples of aquatic representatives that have been identified through 16S rRNA gene sequencing in multiple environmental samplings.
Today, given the constant improvement in cost/benefit of massive sequencing technologies, it is possible to think in whole genome shotgun (WGS) approaches to try to answer global internal group diversity. Although it is not yet the cheapest/feasible option for the regular laboratory, we suggest that the rapidly growing microbial genome database can be used to regularly and automatically build core genomes at intra-species, genus, family, order, and other taxonomic levels. This approach will aid in defining the functions of the genes behind different taxonomic ranks and provide the whole research community with specific genetic markers to perform detailed ecological and evolutionary analysis. Similar to the RBH approach, researchers can benefit from WGS projects in progress to define core genomes, since the number of unfinished genomes (1,777) almost doubles the amount of complete genomes (892). In this study, we used data from the sequenced genome of Bacillus sp. m3-13 with 22-fold coverage, the previously sequenced genome of B. coahuilensis[16], and the WGS assembly of Bacillus sp. NRRL-B14911 [15]. A core genome is a dynamic entity, since the incorporation of new genomes into the database will reduce the total number of genes within core genomes. How does core data compare with experimental data, such as the essential genes of B. subtilis[76]?. In this study, we found that the core genome for the sequenced Bacillus includes 61 of the 79 essential genes of B. subtilis. Another approach, using synteny [20] rather than RBH, defined 761 genes of the core genome. That particular study used several definitions of a core-genome and only considered complete genomes in the analysis. Our approach defined 814 genes and therefore obtained 54 more genes than the synteny approach. The use of a synteny strategy to identify a core genome would clearly miss rearranged orthologs and would also be limited if it were applied to WGS assemblies. Thus, working with orthologs as RBH may be a better approach.
Pan-genomes at genus level are only beginning to be described, and the number of gene families in these is expected to grow as more genomes are included. This approach however is highly valuable to reveal niche specific genes, to guide future studies linking genes to ecology, and even for selecting new genomes to sequence that could balance and enrich our knowledge of the Bacillus genus. The genetic features that explain metabolic diversity and that are part of the pan-genome and the non-core genes (known also as dispensable or "accessory" genes) are missing from the usual rRNA and MLST analysis. Genes involved in niche adaptation are amongst the dispensable genes and the whole pan-genome. Several of these genes are mobilized by means of HGT, such as genomic islands or individual elements involved in pathogenicity, as is the case for the B. cereus group [77], responses to environmental stresses like phosphorous deprivation found for B. coahuilensis[16]. In addition to core genome phylogenetics and the determination of ecological and geographical features, we suggest taking into account gene functions, such as COG comparative distributions, in order to describe species clusters and compare the phylogenetic profile with the functional profile. These data will aid in the analysis of the concordance or incongruence between them.
The existence of model organisms, such as B. subtilis str. 168, has been crucial for inferring homologous gene functions through all bacteria using physiological, genetic, and molecular biology approaches. The power and unequivocal value of the model organism in tackling biological mysteries is clear, but recent work on the intra-specific diversity of this model organism [78] has led us to recognize the great genomic variation that exists. These findings suggest that strain-specific genes are at the base of broad adaptations of B. subtilis to the terrestrial and aquatic environments from where it has been isolated. The B. subtilis str. 168 genome was sequenced in early 1997, but concerns regarding the effects of domestication of the strain in the laboratory and the subsequent genomic changes, as well as reevaluation of the quality of the original sequence, led to the re-sequencing of str. 168 [79]. Interestingly, other strains within the subtilis species show differences in the conservancy of genes. This is true even within the so-called essential genes, sporulation and competence genes, which are a central part of Bacillus biology. Therefore, the variability of gene content in the sporulation and essential genes amongst other representatives of the genus comes as no surprise. Although spore formation is central to the definition of Bacilli, it is clear that variability in the sensing of stress conditions, spore resistance, and germination is the result of specific niche constrains.
Use of comparative genomics, ecological and evolutionary facts, and the lowering costs of genomic sequencing are together aiding in the understanding of microbial diversity. Our next steps must focus on analyzing the temporal and spatial patterns of genes present or absent using high throughput genetic expression in order to understand the roles of microbes in their environments. Science is moving into a paradigm shift in the study of bacteria from single individuals to populations with the boost from metagenomic approaches. The challenges of unveiling comprehensive relationships between the environment, genes, and evolution of the bacterial species remain ahead.
Conclusions
We have determined and defined a set of 814 genes that make up the core genome of Bacillus. From the core genome, we have reconstructed a robust phylogeny of the group using GSS index data, which use the total number of pairwise shared genes to resolve phylogenetic relationships within the group. Both the core genome and GSS phylogenies describe a new group of aquatic Bacilli that have similar habitats. To understand the biology of each group of Bacillus as defined by the respective phylogenies, we have described functional roles of their genes as well as differences between the core and pan-genomes. Our results show that a total of 53 genes comprise the sporulation and competence core genome. In addition, we have highlighted the differences in gene set conservancy across all Bacillus species that have been previously defined for B. subtilis. Our work will be a valuable resource for understanding the evolutionary and functional relationships within the Bacillus genus. The core genome defined here may also be used as a list of genetic markers for future population genetics studies. The lack of conservancy in non-subtilis groups of genes for processes such as sporulation and competence underlines the natural variability of the genus and emphasizes the need for further exploration of these differences.
Abbreviations
CGH:

Comparative Genome Hybridization
COG:

Cluster of Orthologous Groups
GSS:

Genome Similarity Score
HGT:

Horizontal Gene Transfer
KEGG:

Kyoto Encyclopedia of Genes and Genomes
ML:

Maximum likelihood
MLSA:

Multi Locus Sequence Analysis
MLST:

Multi Locus Sequence Typing
RBH:

Reciprocal Blast Hits
SASP:

Small Acid Soluble Protein
WGS:

Whole Genome Shotgun.
Declarations
Acknowledgements
This work was supported by a CONACyT-SEP grant 57507to VS, VS and LEE worked on this manuscript during their sabbatical at UCI with a DGAPA and an UCMExus grant respectively, Howard Hughes Medical Institute Grant 55005946 (to LHE), and a research grant from Cinvestav to GO. LDA was a recipient of a fellowship from CONACyT. We acknowledge Beatriz Jiménez and Gustavo Hernandez for sequencing assistance at Langebio-Cinvestav. We are grateful for the work of Rene Cerritos in the isolation of Bacillus sp. m3-13, Michael Travisano (U. Minnesota), and Alex Mira (CSISP, Spain) for their comments on the manuscript.
Authors' Affiliations
(1)
Departamento de Ingeniería Genética, Centro de Investigación y de Estudios Avanzados del I.P.N., Irapuato, México
(2)
Department of Biology, Wilfrid Laurier University, W. Waterloo, Canada
(3)
Departamento de Ecología Evolutiva, Instituto de Ecología, Universidad Nacional Autónoma de México, Coyoacán, México DF
(4)
Laboratorio Nacional de Genómica para la Biodiversidad (Langebio), Centro de Investigación y de Estudios Avanzados del I.P.N. Campus Guanajuato, Guanajuato, México
Copyright
© Alcaraz et al; licensee BioMed Central Ltd. 2010
This article is published under license to BioMed Central Ltd. This is an Open Access article distributed under the terms of the Creative Commons Attribution License (http://creativecommons.org/licenses/by/2.0), which permits unrestricted use, distribution, and reproduction in any medium, provided the original work is properly cited.