Recent advances in clustering methods for protein interaction networks
BMC Genomics
2010
11(Suppl 3):S10
Published: 01 December 2010
Abstract
The increasing availability of large-scale protein-protein interaction data has made it possible to understand the basic components and organization of cell machinery from the network level. The arising challenge is how to analyze such complex interacting data to reveal the principles of cellular organization, processes and functions. Many studies have shown that clustering protein interaction network is an effective approach for identifying protein complexes or functional modules, which has become a major research topic in systems biology. In this review, recent advances in clustering methods for protein interaction networks will be presented in detail. The predictions of protein functions and interactions based on modules will be covered. Finally, the performance of different clustering methods will be compared and the directions for future research will be discussed.
Keywords
Monte CarloCluster CoefficientFunctional ModuleBetweenness CentralityProtein Interaction Network
Background
Within cells, proteins seldom act as single isolated species to perform their functions. It has been observed that proteins involved in the same cellular processes often interact with each other [1]. Protein-protein interactions are thus fundamental to almost all biological processes [2]. As advances in high-throughput technologies, such as yeast-two-hybrid, mass spectrometry, and protein chip technologies, huge data sets of protein-protein interactions are available [3]. Such protein-protein interaction data can be naturally represented in the form of networks, which not only give us the initial global picture of protein interactions on a genomic scale but also help us understand the basic components and organization of cell machinery from the network level.
A protein interaction network is generally represented as an interaction graph with proteins as vertices (or nodes) and interactions as edges. Various topological properties of protein interaction networks have been studied, such as the network diameter, the distribution of vertex degree, the clustering coefficient and etc. These network analyses have shown that protein interaction networks have the features of a scale-free network [4–7] and "small-world effect" [8, 9]. Beyond the discussions of the scale-free and small-world properties, an important challenge for system biology is to understand the relationship between the organization of a network and its function. It has been shown that clustering protein interaction networks is an effective approach to achieve this goal [10].
Clustering in protein interaction networks is to group the proteins into sets (clusters) which demonstrate greater similarity among proteins in the same cluster than in different clusters. In protein interaction networks, the clusters correspond to two types of modules: protein complexes and functional modules. Protein complexes are groups of proteins that interact with each other at the same time and place, forming a single multimolecular machine, such as the anaphase-promoting complex, RNA splicing and polyadenylation machinery, protein export and transport complexes, etc [11]. Functional modules consist of proteins that participate in a particular cellular process while binding each other at a different time and place, such as the yeast pheromone response pathway, MAP signaling cascades, etc [11].
Recently, many research works have been done on the problem of clustering protein interaction networks. These works rely on very different ideas and approaches. This paper tries to help readers keep up with recent and important developments in the field, and to give readers a comprehensive survey on the different approaches. This paper is organized as follows: At first, the graph-based clustering methods including the density-based and local search algorithms, the hierarchical clustering algorithms, and other optimization-based algorithms, are given in Section 2. Then the approaches of combination with other information are discussed and some ensembles are given in Section 3. In Section 4, the validation and comparison of the clustering methods are discussed. Then the application of the clustering methods for protein function prediction and protein-protein interaction prediction are given in Section 5. At last, challenges and directions for future research are discussed in Section 6.
Graph-based clustering methods
In general, a protein interaction network is represented as an undirected graph G(V,E), where vertices represent proteins and edges represent interactions. The relationship between two proteins can be the simple binary values: 1 or 0, where 1 denotes the two proteins interact and 0 denotes the two proteins do not interact. In such cases, the graph is unweighted. Sometimes, the edges of graph G are weighted with a value between 0 and 1. In such cases, the weight represents the probability that this interaction is a true positive.
In recent years, various graph-based clustering algorithms have been developed for detecting protein complexes and functional modules in protein interaction networks. According to whether the algorithm can identify overlapping clusters, these algorithms can be classified into two types: Non-overlapping clusters detecting algorithms and overlapping clustering identifying algorithms. These algorithms can also be divided into the follows: density-based and local search algorithms, hierarchical clustering algorithms, and other optimization-based algorithms, according to different definition and ideas.
Combination with other information and ensemble
Integration of Multiple Sources
The above discussed methods for identifying clusters are mostly based on graph theoretic properties solely and only require the protein-protein interaction data. Unfortunately, protein interaction networks, as we all know, can not avoid of the false positives and false negatives [10]. To lessen the effect of them, one can add a pre-processing [88] for evaluating the reliability of the interactions, filtering the false positives, or predicting the false negatives, to improve the robustness of the clustering algorithms. Other than the adoption of pre-processing, several authors have suggested to develop robust clustering algorithms by integrating data from multiple sources, such as genomic data [89–91], structure information [92], gene expression [19, 93–101], Gene Ontology (GO) annotations [48, 102, 103], etc. The approaches differ in the way the sources are combined.
Jiang and Keating [89] described the first integrative framework, named AVID which integrates experimental results with sequence information, for the discovery of functional relationships among proteins. Zheng et al.[90] integrated seven genomic features and four experimental interaction data sets by using a Bayesian-networks-based data integration approach. From the inferred protein interaction networks, they implemented algorithm MCL to detect protein complexes. Zhang et al.[91] developed another multi-step but easy-to-follow framework for the detection of protein complexes which estimated the affinity between each pair of proteins based on their co-purification patterns derived from MS data. Dittrich et al.[92] presented an integrated exact approach for clustering protein interaction networks based on integer-linear programming and its connection to the prize-collecting Steiner tree problem. Their approach allows a smooth integration of data from various sources. Instead of yeast, they applied their method on a large interaction network of HPRD in combination with associated survival data.
Jung et al.[93] presented a method to detect protein complexes based on the integration of protein-protein interaction data and mutually exclusive interaction information which were drawn from structural interface data of protein domains. PSIMAP [105], a tool and Database for constructing interactomes, provides interfacial residue pairs in physical domain-domain interactions. By excluding interaction conflicts, Jung et al.[93] extracted cooperative sets of proteins as the Simultaneous Protein Interaction Cluster (SPIC) from the protein interaction network. Then, they applied conventional graph-based clustering algorithms, MCODE [14] and LCMA [75], to estimate the density of clusters.
Owing to the attribute that members in a cluster typically perform a specific biological function [106], several clustering algorithms have been proposed with a combination of protein-protein interaction data and gene expression data. For example, Jansen et al.[94] related whole-genome expression data with protein-protein interactions and scored expression activity in complexes. Hanisch et al.[95] proposed a Co-clustering methodology by using a distance function which combined similarity of gene expression profiles with network topology. Ideker et al.[96] developed a clustering algorithm for the discovery of active subnetworks which showed significant changes in expression over a particular subset of the conditions. Unfortunately, this method requires an activity p-value for every measurement, a situation which is rather uncommon [97]. Segal et al.[98] introduced a probabilistic graphical model to detect functional modules from gene expression measurements combined with protein-protein interaction data, in which a module was expected to contain a significant portion of the possible interactions. Maraziotis et al.[99] presented an algorithm to identify dense subnetworks in the weighted graph by expanding a kernel protein sets from a seed protein via integration of protein interaction and gene expression data. The weighted graph was constructed by using the gene expression information. Cho et al.[100] also introduced an algorithm based on informative protein selection from a weighted graph where the weight was computed by using co-expressional profiles. Moreover, graph reduction and hierarchical clustering based on minimum cut were also used in [100]. Recently, Lu et al.[101] proposed a hierarchical clustering algorithm based on the integration of high-throughput protein-protein interaction data with the added subcellular localization and expression profile data. They were the smart few who distinguished protein complexes from functional modules when clustering in protein interaction networks.
More recently, Ulitsky and Shamir [97] transformed the high-throughput data into similarity values, on the basis of which they found clusters, named as Jointly Active Connected Subnetworks (JACSs), which manifested high similarity. Also, a program called MATISSE (Module Analysis via Topology of Interactions and Similarity SEts) was developed for the discovery of JACSs. The problem of seeking for JACSs was actually to discover the subnetworks of maximum likelihood by transforming edge weights to attain probabilistic meaning. For the problem of discovering the heaviest-subnetwork is computationally hard, Ulitsky and Shamir introduced several heuristic methods, see in [97]. One advantage of MATISSE is its flexibility. Except gene expression similarity, other similarity measures, such as functional similarity or similarity in protein-DNA binding profiles, can also be used in MATISSE. Even more recently, Ulitsky and Shamir [102] presented another novel confidence-based method for extracting functionally coherent co-expressed gene sets, named Co-Expression Zone ANalysis using NEtworks (CEZANNE), by using expression profiles and confidence-scored protein interactions. CEZANNE is available as part of the MATISSE software.
Except for gene expression data, authors also usually combined protein interaction networks with GO annotations. Typically, the flow-based approach proposed by Cho et al.[48], as already discussed, is a method combined with GO annotations. Besides, Lubovac et al.[103] suggested a Semantic WEights for MODule Elucidation (SWEMODE) by using an alternative measure, called weighted clustering coefficient, and a weighting scheme according to semantic similarity between the proteins. Turanalp and Can [104] mapped known functional annotations onto a protein interaction network and adopted a frequent pattern identification technique, PPISpan, to detect recurring functional interaction patterns instead of single clusters.
With the rapidly expanding resource of microarray data and other biological information, such as structure profiles [92] and phylogenetic profiles [107], combination with these information is believed to be an intriguing method to solve the problem of unreliable interaction data when clustering in protein interaction networks.
Ensemble clustering framework
Ensemble clustering [
108
,
109
] has been proposed to obtain a single, comprehensive consensus clustering by combining multiple, diverse and independent clustering results. As different datasets may be generated using different approaches and even from the repeated application of a given approach with different parameters when clustering in the same protein interaction network, ensemble clustering may be a good choice to get more desirable clustering results. Asur
et al.
[
109
] first presented an ensemble framework, as shown in Fig.
2
, for clustering in protein interaction networks.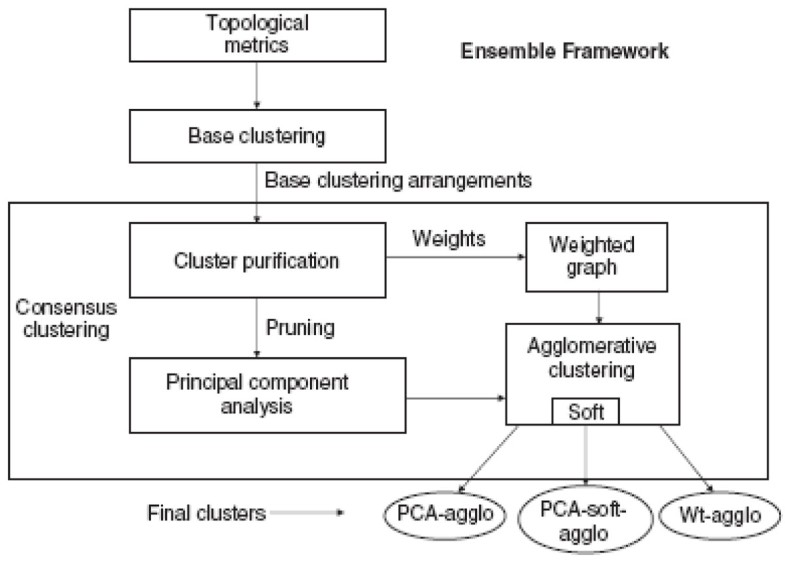 In [109], initially three conventional graph partitioning algorithms: repeated bisections, direct k-way partitioning, and multilevel k-way partitioning, with two topology driven distance metrics were used to obtain six base clusterings, and then a consensus method based on Principal Component Analysis (PCA) was developed to reduce the dimensionality of the consensus problem. Asur et al.[109] also designed an adaptation to allow for soft ensemble clustering in protein interaction networks.
Another ensemble framework for clustering protein interaction networks was proposed by Greene et al.[110]. They first produced a collection of non-negative matrix factorizations (NMF) and then combined the factorizations to produce an improved clustering. NMF proposed by Lee and Seung [111] was adopted for accurately detecting overlapping groups. A latest study on clustering complex networks and biological networks by non-negative matrix factorization with various similarity measures can be seen in [112]. Consensus solution given by Greene et al.[110] was a soft hierarchical clustering.
As being in nascent stage, ensemble clustering approach inevitably faces some challenges for the discovery of protein complexes and functional modules. A series of crucial factors, such as choosing the basic clustering methods, building a consensus, and adapting for soft clustering, must be taken into account carefully.
Validation and comparison of clustering methods
Applications
Typical applications of clustering protein interaction networks are protein function prediction and protein-protein interaction prediction. For a cluster, as pointed by Hartwell et al.[106], its members are generally a group of cellular components and their interactions that can be attributed to a specific biological function. Thus, one can identify clusters firstly and then coherently annotate the whole subset of proteins of a given cluster instead of predicting function for individual proteins. Such cluster-assisted methods for predicting protein function differ mainly in their clustering technique. As we have discussed above, distinct clustering results will be obtained by different clustering techniques. After obtaining the clustering result, the methods for protein function prediction are similar. The simplest method is to assign the function shared by the majority of the cluster's proteins to the function-unknown proteins. Alternatively, a hypergeometric enrichment P-value is calculated for every function of the identified cluster, and the function with the lowest P-value is assigned to the function-unknown proteins.
As there exits a large number of function-unknown proteins, even for the most well-studied yeast, about one-fourth of the proteins remain uncharacterized [117], and the prediction of protein function by laboratory experiments is costly and time consuming, the approaches for predicting protein function based on clustering protein interaction networks are very attractive. Though the prediction can not be the substitute of a lab experiment, it provides references for biologists and experimenters. Moreover, many studies [118, 119] have shown that the predictions based on clusters are effective. In a recent review, Sharan et al.[117] have given an excellent summary of network-based functional annotation methods and roughly compared direct and cluster-assisted methods for functional annotation. The validation of prediction accuracy highly depends on the knowledge of known annotations. Moreover, the prediction accuracy of the cluster-assisted methods will be affected by the reliabilities of protein interaction networks.
It is well known that the protein-protein interaction data available now are incomplete, though a number of high-throughput biotechnologies have been applied to biological systems. Recently, a series of computational methods have been developed for predicting protein-protein interaction data [120, 121]. Especially, the well-developed clustering techniques in protein interaction networks provide new opportunities for completing the protein-protein interaction data. For instances, Yu et al.[122] predicted the false negatives based on completing defective cliques, Wang et al.[123] suggested an improved method based on maximal cliques for the protein-protein interactions prediction. All these methods are to find highly connected subgraphs in protein interaction networks and to predict the protein-protein interactions based on the supposition that proteins in the same cluster should connect to each other.
Clustering protein interaction networks can be used not only for predicting false negatives, but also for purifying false positives, as shown in Fig.
3
. These two operations: prediction and purification, in turn can also be used as a pre-processing step to improve the accuracy of currently available protein interaction networks.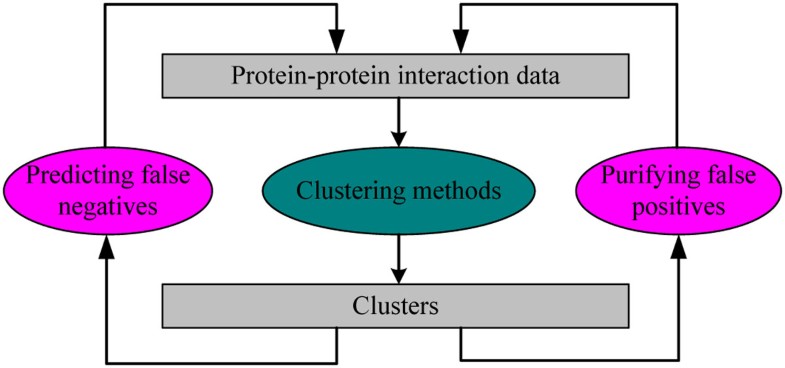 Challenges and future researches
In the post-genomic era, an important work is to analyze biological systems from network level, in order to understand the topological organization of protein interaction networks, identify protein complexes and functional modules, discover functions of uncharacterized proteins, and obtain more exact networks. To achieve this aim, a series of clustering approaches have been proposed. For different types of clustering algorithms, each has its own advantages and disadvantages. Every algorithm has certain problems while it exhibits good performances in other cases. The main challenges for clustering protein interaction networks are identified as follows:
(1) Up to now, all methods for predicting protein-protein interactions are known to yield a nonnegligible amount of noise (false positives) and to miss a fraction of existing interactions (false negatives) [10]. Therefore, the protein interaction data available for clustering are very noisy. How to define the quality of a cluster and develop robust algorithm in the presence of noisy edges are challenging.
(2) Clusters of a protein interaction network may overlap with each other. Most proteins have more than one molecular function and participate in more than one biological process. For example, some proteins form transient associations and are part of several complexes at different stages. Most cellular processes are carried out by multi-protein complexes. Therefore, the traditional clustering approaches of putting each protein into one single cluster do not suit this problem well. Moreover, how heavily two clusters should overlap with each other is not certain.
(3) Recent advances in the development of high-throughput techniques have led to an unprecedented amount of protein-protein interaction data becoming available in a variety of simple organisms. It is computationally difficult for most of current clustering algorithms to accurately identify protein complexes or functional modules from large-scale protein interaction networks, especially to discover meso-scale clusters.
(4) There are little priori knowledge for clustering protein interaction networks, such as cluster number and cluster size. How many clusters should we produce? How large are clusters suitable? How to validate different clustering results with various sizes? These are all challenges for designing effective clustering algorithms.
(5) Current clustering approaches mainly focus on detecting clusters in static protein interaction networks for most existing biological data are static. However, both the protein-protein interactions and protein complexes are dynamically organized when implementing special functions. Dynamic modules generally correspond to the sequential ordering of molecular events in cellular systems. How to explore dynamic modules from static protein interaction networks is a very difficult task.
While some clustering approaches have been applied successfully in the discovery of protein complexes or functional modules, methods for clustering and analyzing protein interaction networks are less mature. Particularly, the methods for identifying dynamic modules are in a nascent stage. Methods which use time-series gene expression profiling data to manifest the temporal complexity of protein interaction networks may be useful to the exploration of dynamic modules. For example, Li et al.[124] have successfully detected dynamic modules by using the time-series gene expression profiling data. Moreover, spatial constraints [125] may also be an interesting means for further research because proteins belonging to the same functional module should be expressed in the same place.
Furthermore, techniques and methods for developing both robust and fast clustering algorithms are directions for further researches. In the future, "overlap" will continue to be a hot topic for clustering protein interaction networks, which include how many molecular functions a protein can perform, how many biological processes a protein can participate in, and how many cellular components a protein can be associated with or located in. Moreover, we should investigate the question that if there some relationship between the two properties: overlapping and hierarchical organization of clusters, which were usually taken into account separately before. Some works have been done in complex networks, such as word association networks and scientific collaboration networks [86], to detect both the overlapping and hierarchical properties of a community structure. Are the properties also true in protein interaction networks? Additionally, integration of multiple resources will help to detect clusters more accurately and will continue to be interesting.
Declarations
Acknowledgements
This work is supported in part by the National Natural Science Foundation of China under Grant No. 61003124 and No.60773111, the National Basic Research 973 Program of China No.2008CB317107, the Ph.D. Programs Foundation of Ministry of Education of China No. 20090162120073, the Freedom Explore Program of Central South University No.201012200124, the U.S. National Science Foundation under Grants CCF-0514750, CCF-0646102, and CNS-0831634, and the Program for Changjiang Scholars and Innovative Research Team in University No. IRT0661. Publication of this supplement was made possible with support from the International Society of Intelligent Biological Medicine (ISIBM).
This article has been published as part of BMC Genomics Volume 11 Supplement 3, 2010: The full contents of the supplement are available online at http://www.biomedcentral.com/1471-2164/11?issue=S3.
Authors' Affiliations
(1)
School of Information Science and Engineering, Central South University, Changsha, China
(2)
Department of Computer Science, Georgia State University, Atlanta, USA
(3)
Rush University Cancer Center, Rush University Medical Center, Chicago, USA
Copyright
© Wang et al; licensee BioMed Central Ltd. 2010
This article is published under license to BioMed Central Ltd. This is an open access article distributed under the terms of the Creative Commons Attribution License (http://creativecommons.org/licenses/by/2.0), which permits unrestricted use, distribution, and reproduction in any medium, provided the original work is properly cited.