Research article
Open Access
Complete genome sequencing and analysis of a Lancefield group G Streptococcus dysgalactiae subsp. equisimilis strain causing streptococcal toxic shock syndrome (STSS)
Received: 7 June 2010
Accepted: 11 January 2011
Published: 11 January 2011
Abstract
Background
Streptococcus dysgalactiae subsp. equisimilis (SDSE) causes invasive streptococcal infections, including streptococcal toxic shock syndrome (STSS), as does Lancefield group A Streptococcus pyogenes (GAS). We sequenced the entire genome of SDSE strain GGS_124 isolated from a patient with STSS.
Results
We found that GGS_124 consisted of a circular genome of 2,106,340 bp. Comparative analyses among bacterial genomes indicated that GGS_124 was most closely related to GAS. GGS_124 and GAS, but not other streptococci, shared a number of virulence factor genes, including genes encoding streptolysin O, NADase, and streptokinase A, distantly related to SIC (DRS), suggesting the importance of these factors in the development of invasive disease. GGS_124 contained 3 prophages, with one containing a virulence factor gene for streptodornase. All 3 prophages were significantly similar to GAS prophages that carry virulence factor genes, indicating that these prophages had transferred these genes between pathogens. SDSE was found to contain a gene encoding a superantigen, streptococcal exotoxin type G, but lacked several genes present in GAS that encode virulence factors, such as other superantigens, cysteine protease speB, and hyaluronan synthase operon hasABC. Similar to GGS_124, the SDSE strains contained larger numbers of clustered, regularly interspaced, short palindromic repeats (CRISPR) spacers than did GAS, suggesting that horizontal gene transfer via streptococcal phages between SDSE and GAS is somewhat restricted, although they share phage species.
Conclusion
Genome wide comparisons of SDSE with GAS indicate that SDSE is closely and quantitatively related to GAS. SDSE, however, lacks several virulence factors of GAS, including superantigens, SPE-B and the hasABC operon. CRISPR spacers may limit the horizontal transfer of phage encoded GAS virulence genes into SDSE. These findings may provide clues for dissecting the pathological roles of the virulence factors in SDSE and GAS that cause STSS.
Keywords
Streptococcal Toxic Shock SyndromePutative Virulence FactorVirulence Factor GeneLancefield GroupStreptococcus Dysgalactiae
Background
Since Lancefield group G streptococci (GGS) have been considered components of the normal flora of the human throat, skin, and genitourinary tract, the contributions of GGS to streptococcal disease have often been overlooked [1]. Over the last decade, however, infections by pathogenic GGS have been reported, including life-threatening invasive β-hemolytic streptococcal disease [1–7], making it necessary to expand our knowledge of the pathogenesis of GGS infections, especially invasive infections. Several species of streptococci can carry group C and G antigens, including Streptococcus dysgalactiae subsp. equisimilis (SDSE), S. canis, S. dysgalactiae subsp. dysgalactiae, S. equi subsp. equi (SESE), S. equi subsp. zooepidemicus (SESZ), and S. anginosus group bacteria. SDSE, which consists of Lancefield group G and C bacteria, in a ratio of about 4:1 [3, 8, 9], has been isolated from patients at higher frequency than other GGS and GCS species. For example, of 313 strains of GCS and GGS isolated from clinical samples in Southern India between 2006 and 2007, 254 (81.1%) were SDSE [9], as were 80% of the 266 invasive non-A and non-B β-hemolytic streptococcal isolates in the USA [3]. The spectrum and clinical courses of SDSE infection, including pharyngitis, cellulitis, infective arthritis, vertebral osteomyelitis, and streptococcal toxic shock syndrome (STSS), show substantial overlap with those of GAS [10–16]. Despite the increased clinical importance of SDSE, however, the entire SDSE genome has not yet been sequenced. Knowledge of its entire genome sequence is fundamental to gain insights into the pathogenicity of SDSE. We describe here the entire genome sequence of a Lancefield group G SDSE strain, GGS_124, which had been isolated from a patient with STSS.
Discussion
Comparative analysis of Streptococcus 16S rRNA sequences had indicated that SDSE was more closely related to GBS than to GAS [67, 68]. In contrast, we found that SDSE, which belongs to Lancefield groups C and G [3, 65], is more closely related to GAS than to other sequenced streptococci based on genome wide and gene level comparisons
SDSE is known to cause diseases very similar to those caused by GAS, such as pharyngitis, cellulitis, infective arthritis, vertebral osteomyelitis, and STSS [
10
–
16
]. This similarity may be due, at least in part, to their conservation of a large number of genes for virulence factors. Figure
7
shows a summary of putative virulence factors and proposed virulence functions in SDSE. SDSE shares most of the virulence factor genes of GAS, including streptolysin O, streptokinase, FCT-like regions, NADase, and DRS. However, GGS_124 and probably almost all other SDSEs lack SpeB, superantigens except for SpeG, and hyaluronan synthesis
via hasABC
[
31
]. As
spegg4
, which has about 1% of the mitogenic activity of GAS-derived SpeG, is the only gene encoding a protein homologous to superantigens, and most SDSE isolates do not harbor superantigen-like genes other than
spegg
[
31
,
69
], it is highly unlikely that superantigens play a significant role in the pathogenesis of SDSE infection in humans.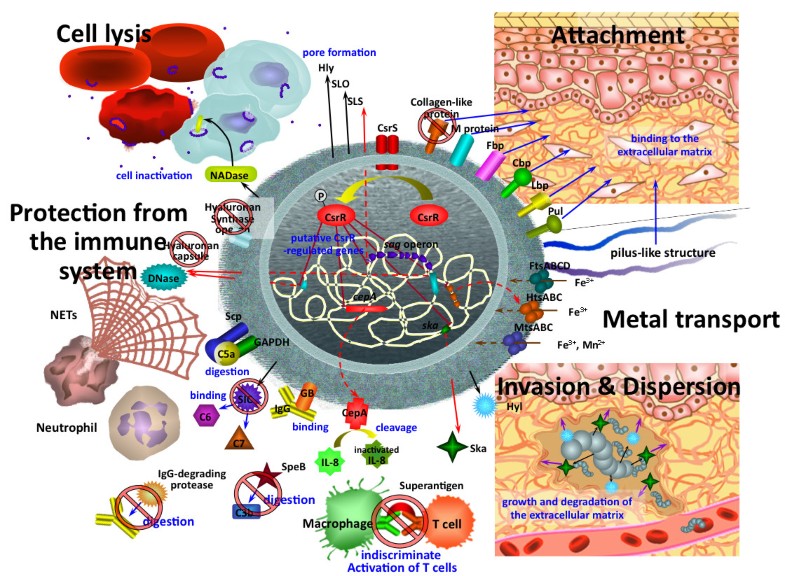 Particular M (or emm) types of GAS have been associated with certain streptococcal diseases [63]. We therefore analyzed the virulence in a mouse model of several SDSE strains bearing different emm-types, but we were unable to find a significant correlation between emm-type of SDSE and virulence. Further studies are needed to provide further insight into the linkage between emm type of SDSE and infectivity in humans.
Streptococcal phages are considered critical in horizontal gene transfer, especially in the transport of virulence factors [28, 70], in Streptococci. Three prophage elements in GGS_124 were found to be homologous to GAS prophages in both nucleotide and amino acid sequences. The positions of prophage insertion were also conserved between GGS_124 and previously sequenced GAS prophages, suggesting that SDSE and GAS share the same phage species, and that horizontal gene transfer between SDSE and GAS has occurred. However, GGS_124 does not contain prophages that encode genes for superantigens, Sla, or MF. These phage encoded genes were also missing from all strains previously analyzed by a GAS microarray [31]. Sdn is an exception, since it was detected in 4 of these 58 SDSE strains [31]. These results showed that SDSE may have some resistance to infection by GAS phages carrying genes encoding virulence factors.
Prokaryotes possess the CRISPR/Cas system, which mediates resistance to infection by foreign DNA, such as viruses [26, 27]. GGS_124 has a CRISPR/Cas system, designated CRISPR1/Cas, whereas the other SDSE isolates analyzed in this study had another CRISPR/Cas system, designated CRISPR2/Cas. We found that SDSE strains usually have a higher total number of spacers than GAS, suggesting that prophage infection of SDSE was restricted to some extent, resulting in a smaller number of virulence factors located in the prophage regions of SDSE. Similar restrictions were observed in SESZ when compared with SESE. For example, the SESE 4047 genome, which contains no CRISPR, contains genes encoding virulence factors in prophage regions. In contrast, SESZ MGCS10565 and H70, which contain 26 and 18 spacers, respectively, do not carry any prophages. Thus, the CRISPR system in streptococci sharing prophages may play a substantial role in the spread of virulence factors among species. Alternatively, these virulence factors may not benefit to SDSE during carriage or disease, such that the integration of these specific phages is not selected for.
Conclusions
We have shown here that SDSE likely acts as a pathogen, based on its genome sequence and close relationship with GAS. As the frequency of isolation of SDSE from patients has increased, it should not be overlooked as a source of infection.
Methods
Bacterial strains
Three Streptococcus dysgalactiae subsp. equisimilis (SDSE) isolates, GGS_124, GGS_117, and GGS_118, were obtained from 3 patients with STSS, and 5 SDSE isolates were isolated from 5 patients with non-STSS (Table 1). All SDSE isolates were classified as Lancefield group G. Streptococcus pyogenes (GAS). NIH9 [71] was used as the SpeB-producing strain.
SDSE infection in mice
All animal experiments were performed according to the guidelines of the Ethics Review Committees of Animal Experiments of Tokyo Women's Medical University and the National Center for Global Health and Medicine. Virulence in mice was determined as described [64]. Briefly, LD50 values were determined by intraperitoneal (i.p.) injection of each SDSE strain into 5 6-7 week old female ddY mice.
Genome sequencing
We obtained draft contig data of GGS_124 from a commercial service (454 Life Sciences, Branford, CT), and the gaps between the contigs were tiled by PCR after closure to validate assembly using specific primers or by primer walking and an ABI 3100 genetic analyzer (Applied Biosystems Inc., Foster City, CA). The percentage of QV40+ bases, an index of the quality of data from pyro-sequencing, was 99.87%. The genome sequence of GGS_124 has been deposited in the DDBJ database (accession no. AP010935).
Genome annotation and bioinformatics
Transfer RNAs (tRNAs), transfer-messenger RNA (tmRNA), and rRNA sequences were predicted using ARAGORN [72]. Coding sequences (CDS) were predicted using in silico Molecular Cloning (In Silico Biology Inc., Yokohama City, Kanagawa, Japan) for selection of optimal start sites. Predicted genes and intergenic regions were compared using the NCBI sequence database http://blast.ncbi.nlm.nih.gov/Blast.cgi, and predicted CDS and start sites were adjusted accordingly. A genome-wide homology search was performed using the discontiguous megaBLAST algorithm http://blast.ncbi.nlm.nih.gov/Blast.cgi with a word size of 11 and rewards and penalties (2, -3) that optimize for alignments of about 85% identity. The phylogenetic tree of all sequenced Streptococcus species was constructed based on CVTree http://tlife.fudan.edu.cn/cvtree/[73]. Secretion signal peptides were predicted using SignalP http://www.cbs.dtu.dk/services/SignalP[74]. Sortases and cell wall sorting signals were predicted with available hidden Markov models using HMMER http://bamics3.cmbi.kun.nl/jos/sortase_substrates/help.html[75]. Clustered, regularly interspaced, short palindromic repeat (CRISPR) spacers were detected using CRISPR Finder http://crispr.u-psud.fr/[76]. The phylogenetic tree of all sequenced Streptococcus was constructed based on the CVTree http://tlife.fudan.edu.cn/cvtree/[73]
Detection and sequencing of CRISPRs and CRISPR-associated protein (Cas) genes in the 8 SDSE strains
CRISPRs and Cas genes in the SDSE strains were detected by conventional PCR using ExTaq (Takara Bio Inc., Otsu, Shiga, Japan) and the primers listed in Additional file 10. Template DNA was isolated as described [64]. The PCR cycling conditions were 94°C for 2 min followed by 30 cycles of 94°C for 30 s, 54°C for 30 s, and 72°C for 4 min, and a final extension at 72°C for 6 min. The amplified CRISPR fragments were sequenced using an ABI 3100 genetic analyzer (Applied Biosystems Inc.). The CRISPR spacers were identified using CRISPR Finder http://crispr.u-psud.fr/[76]. The sequences of CRISPR and the spacers have been deposited in the DDBJ database (accession numbers are listed in Table 2).
Determination of SpeB-like protease activity
SpeB-like protease activity was assayed as described [77], with slight modifications. Briefly, DTT was added to bacterial culture supernatants to a final concentration of 10 mM and incubated at 37°C for 30 min. An equal amount of 2 g/L azocasein was added, and incubation was continued for an Additional 30 min at 37°C. Trichloroacetic acid was added to a final concentration of 5%, and incubation was continued for 15 min at 4°C. After centrifugation, an equal amount of 5 M NaOH was added to the supernatant, and its absorbance at 450 nm was measured.
Distribution of putative virulence factors unique to GGS_124 among the other SDSE
The distribution of putative virulence factors of GGS_124 among SDSE strains was analyzed by conventional PCR using ExTaq (Takara Bio Inc.) and the primers listed in Additional file 10. Template DNA extraction and PCR were performed as described [64].
Declarations
Acknowledgements
The authors thank Mr. Hanasaki and Mr. Shimada for assisting in gap filling of the GGS_124 genome and animal experiments. This work was partly supported by a grant for Research on Emerging and Reemerging Infectious Diseases (H19 Shinkouh-02). T. M. A was supported by International Cooperation Research Grant (21A129) from the Ministry of Health, Labor, and Welfare of Japan.
Authors' Affiliations
(1)
Department of Infectious Diseases, National Center for Global Health and Medicine, Toyama, Shinjuku-ku, Japan
(2)
Graduate School of Infection Control Science, Kitasato University, Shirokane, Minato-ku, Japan
(3)
Department of Microbiology and Immunology, Tokyo Women's Medical University, Shinjuku-ku, Japan
(4)
Department of Animal and Food Hygiene, Obihiro University of Agriculture and Veterinary Medicine, Obihiro, Japan
Copyright
© Shimomura et al; licensee BioMed Central Ltd. 2011
This article is published under license to BioMed Central Ltd. This is an Open Access article distributed under the terms of the Creative Commons Attribution License (http://creativecommons.org/licenses/by/2.0), which permits unrestricted use, distribution, and reproduction in any medium, provided the original work is properly cited.