Research article

Open Access
Unresolved orthology and peculiar coding sequence properties of lamprey genes: the KCNA gene family as test case
Received: 28 October 2010
Accepted: 23 June 2011
Published: 23 June 2011
Abstract
Background
In understanding the evolutionary process of vertebrates, cyclostomes (hagfishes and lamprey) occupy crucial positions. Resolving molecular phylogenetic relationships of cyclostome genes with gnathostomes (jawed vertebrates) genes is indispensable in deciphering both the species tree and gene trees. However, molecular phylogenetic analyses, especially those including lamprey genes, have produced highly discordant results between gene families. To efficiently scrutinize this problem using partial genome assemblies of early vertebrates, we focused on the potassium voltage-gated channel, shaker-related (KCNA) family, whose members are mostly single-exon.
Results
Seven sea lamprey KCNA genes as well as six elephant shark genes were identified, and their orthologies to bony vertebrate subgroups were assessed. In contrast to robustly supported orthology of the elephant shark genes to gnathostome subgroups, clear orthology of any sea lamprey gene could not be established. Notably, sea lamprey KCNA sequences displayed unique codon usage pattern and amino acid composition, probably associated with exceptionally high GC-content in their coding regions. This lamprey-specific property of coding sequences was also observed generally for genes outside this gene family.
Conclusions
Our results suggest that secondary modifications of sequence properties unique to the lamprey lineage may be one of the factors preventing robust orthology assessments of lamprey genes, which deserves further genome-wide validation. The lamprey lineage-specific alteration of protein-coding sequence properties needs to be taken into consideration in tackling the key questions about early vertebrate evolution.
Keywords
Amino Acid CompositionCodon UsageCodon Usage BiasSynonymous Codon UsageRelative Synonymous Codon Usage
Background
For a complete understanding of the evolution of vertebrates, jawless fishes (cyclostomes; hagfishes and lampreys) occupy crucial positions as the most early-branching lineages, which diverged more than 500 million years ago from the gnathostome (jawed vertebrate) lineage [1]. Their phylogenetic relationships with gnathostomes serve as a crucial scaffold on which one can map phenotypic and genotypic changes [2, 3]. More importantly, genome expansions, known as 'two-round whole genome duplications (2R-WGDs)', took place around the divergences of these lineages [4, 5].
It has recently been shown that the 2R-WGDs occurred in the stem lineage leading to vertebrates after the splits of the cephalochordate and urochordate lineages [
6
] before the chondrichthyan lineage branched off [
7
]. Recently, a scenario in which both WGDs occurred before the cyclostome-gnathostome split was suggested [
4
]. However, there are many gene families that do not conform to the expected tree topology in phylogeny reconstructions. Often phylogenetic studies recover basal divergences and exclusive groupings of lamprey sequences with long branches (Figure
1A
; see refs [
8
–
14
] for examples). This feature, observed commonly among different gene families, has also been interpreted as in support of lamprey lineage-specific genome duplication [
15
]. It would appear that methodological biases add to the difficulty in reconstructing the molecular phylogenies, originating from possible peculiar features of lamprey sequences, which might be preventing proper reconstructions of gene family trees.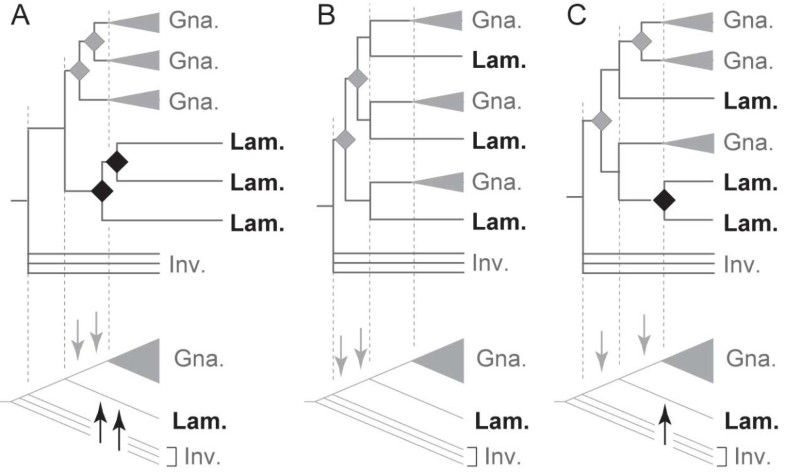 To reveal possible peculiar features of lamprey protein-coding sequences, we focused on the potassium voltage-gated channel, shaker-related subfamily (
KCNA
) [
16
]. Members of this gene family are mostly single-exon genes. Thus, they are particularly ideal candidate genes for this type of analysis involving partial genome sequences that are available for the sea lamprey (
Petromyzon marinus
) and the elephant shark (
Callorhinchus milii
). In tetrapods, the
KCNA
family comprises eight genes, six of which form two tri-gene clusters that were established by tandem duplications followed by a chromosomal duplication (Figure
2
) [
17
]. This chromosomal duplication is thought to be part of the 2R-WGDs [
17
]. It is of interest to assess orthology of lamprey genes based on the available genome assembly in this already established evolutionary framework of the
KCNA
gene family.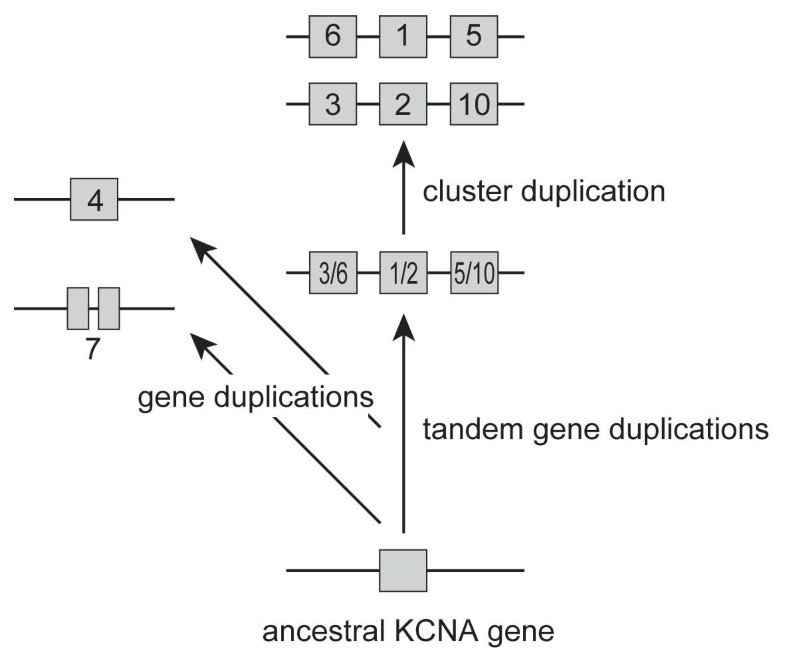 In this study, we identified KCNA genes from partial genome sequences of the sea lamprey and the elephant shark, and investigated their phylogeny and sequence properties. We observed exclusive clustering of lamprey sequences with long branches as in Figure 1A. The supported tree topology did not fit any of possible scenarios supported by the evolutionary pattern of the KCNA gene family documented previously. Notably, our analyses on KCNA and other genes revealed peculiar codon usage bias and amino acid composition unique to the sea lamprey.
Conclusions
Our molecular phylogenetic analysis on the KCNA gene family resulted in low resolution of lamprey gene phylogeny. We identified lamprey's deviated amino acid composition and codon usage pattern from those of jawed vertebrates. It is possible that these are associated with the exceptionally high GC-content in protein-coding regions and frequently observed ambiguous molecular phylogeny of lamprey genes.
Declarations
Acknowledgements
The sea lamprey genomic data were produced by the Genome Institute at Washington University and can be obtained from ftp://genome.wustl.edu/pub/organism/Other_Vertebrates/Petromyzon_marinus/. We thank Maria Anisimova for insightful discussion. This study was supported by the Young Scholar Fund of University of Konstanz to S.K. and grants from the German Research Foundation (DFG) to S. K. (grant No. KU2669/1-1).
Authors' Affiliations
(1)
Laboratory for Zoology and Evolutionary Biology, Department of Biology, University of Konstanz, Konstanz, Germany
(2)
Konstanz Research School Chemical Biology (KoRS-CB), University of Konstanz, Konstanz, Germany
(3)
Bigelow Laboratory for Ocean Sciences, Maine, USA
(4)
Bioinformatics and (eco-) systems biology, VIB, Vrije Universiteit Brussel, Brussels, Belgium
Copyright
© Qiu et al; licensee BioMed Central Ltd. 2011
This article is published under license to BioMed Central Ltd. This is an Open Access article distributed under the terms of the Creative Commons Attribution License (http://creativecommons.org/licenses/by/2.0), which permits unrestricted use, distribution, and reproduction in any medium, provided the original work is properly cited.