Research article

Open Access
RNA-Seq reveals genotype-specific molecular responses to water deficit in eucalyptus
Received: 19 July 2011
Accepted: 2 November 2011
Published: 2 November 2011
Abstract
Background
In a context of climate change, phenotypic plasticity provides long-lived species, such as trees, with the means to adapt to environmental variations occurring within a single generation. In eucalyptus plantations, water availability is a key factor limiting productivity. However, the molecular mechanisms underlying the adaptation of eucalyptus to water shortage remain unclear. In this study, we compared the molecular responses of two commercial eucalyptus hybrids during the dry season. Both hybrids differ in productivity when grown under water deficit.
Results
Pyrosequencing of RNA extracted from shoot apices provided extensive transcriptome coverage - a catalog of 129,993 unigenes (49,748 contigs and 80,245 singletons) was generated from 398 million base pairs, or 1.14 million reads. The pyrosequencing data enriched considerably existing Eucalyptus EST collections, adding 36,985 unigenes not previously represented. Digital analysis of read abundance in 14,460 contigs identified 1,280 that were differentially expressed between the two genotypes, 155 contigs showing differential expression between treatments (irrigated vs. non irrigated conditions during the dry season), and 274 contigs with significant genotype-by-treatment interaction. The more productive genotype displayed a larger set of genes responding to water stress. Moreover, stress signal transduction seemed to involve different pathways in the two genotypes, suggesting that water shortage induces distinct cellular stress cascades. Similarly, the response of functional proteins also varied widely between genotypes: the most productive genotype decreased expression of genes related to photosystem, transport and secondary metabolism, whereas genes related to primary metabolism and cell organisation were over-expressed.
Conclusions
For the most productive genotype, the ability to express a broader set of genes in response to water availability appears to be a key characteristic in the maintenance of biomass growth during the dry season. Its strategy may involve a decrease of photosynthetic activity during the dry season associated with resources reallocation through major changes in the expression of primary metabolism associated genes. Further efforts will be needed to assess the adaptive nature of the genes highlighted in this study.
Keywords
Water Deficit
Soil Water Content
Digital Gene Expression
Watering Regime
Productive Genotype
Background
Planted forests constitute only 7% of the global forested area, but contribute to a significant proportion of overall forest goods and services (e.g. up to 35% of industrial roundwood supply). In the context of climate change, the adaptation of planted forests is essential for a sustainable forestry sector. The adaptation of industrial plantations to present and future environmental conditions (including extreme weather events) depends on several factors, including the genetic diversity of the material used for reforestation and the phenotypic plasticity of individual genotypes. Genetic diversity ensures that forest trees can survive, adapt and evolve under changing environmental conditions [1, 2], whereas phenotypic plasticity constitutes a shorter term response to environmental changes at the individual level of particular importance in long-lived organisms, such as trees [2, 3].
Eucalyptus is one of the key genera among planted trees. The genus is includes the most important hardwood fibre crops species planted worldwide (19 million hectares according to [4]). Several Eucalyptus species grow rapidly and are highly adaptable. These properties led to their introduction worldwide, at latitudes extending from southern Europe to South Africa. In its natural range (Australia and some nearby islands), Eucalyptus are also found in a diverse spectrum of ecological niches. The genetic diversity of Eucalyptus has been studied extensively and remarkable levels of variation have been detected using neutral markers [5–11] and in genes possibly involved in adaptive traits [12–14]. Phenotypic plasticity is also likely to ensure better adaptation of individual genotypes to changing environmental conditions [15] and is of particular importance in clonal forestry.
Ecophysiological studies have shown that water is the principal factor limiting stem growth in Eucalyptus (e.g. [16, 17]). Moreover, some studies have reported that eucalyptus genotypes differ in terms of their capacity for phenotypic modification in response to water deficit [18–20]. Several physiological mechanisms for coping with drought have been described in these species: i) the regulation of transpiration to decrease water loss [21], ii) resource reallocation from the shoot to the root, to increase water uptake [17], and iii) adjustment of osmotic potential [22] or protection against reactive oxygen species, to prevent damage due to stress [20]. Drought tolerance mechanisms have been described in detail at the molecular level for both annual and perennial model plants, such as Arabidopsis[23–25] and Populus[26–28], but little is known about the molecular basis of drought tolerance in Eucalyptus, particularly in field conditions.
Next-generation sequencing (NGS) provides new opportunities for studies of the molecular plasticity in response to water deficit. The high throughput of NGS is particularly useful in non-model organisms for which few genomic resources are available [29]. Moreover, NGS is suitable for transcript profiling, combining the high throughput of serial analysis of gene expression (SAGE) with the functional annotation capacity of EST sequencing [30]. These techniques have been widely used for transcriptome profiling, particularly for studies of biotic [31] and abiotic [24] stress responses, and the characterisation of developmental processes [32]. Considerable sequencing depth can be obtained, making it possible to identify transcriptome expression variation [29].
In plants, the shoot apical meristem (SAM) is a key organ in stem development. The SAM initiates phytomers and regulates shoot growth by integrating several signals, such as hormones (ABA, auxins, cytokinins) and transcription (e.g. homeobox) [33]. When plants are subjected to environmental stimuli, the leaf developmental network is adjusted by changes in shoot apex activation [34]. In Eucalyptus, EST resources have been developed for various tissues, such as roots, leaves and wood-forming tissues [35–38], but a limited number of genomic resources are available for shoot apices, despite the important role of this organ in plant organogenesis.
In this study, we compared transcript profiles in the shoot apices of two eucalyptus genotypes used in industrial plantations, under two watering regimes -- irrigated (IR) versus non-irrigated (NI). The two genotypes differ in their growth rates and ecophysiological characteristics at maturity, with one genotype being more productive and water use-efficient than the other. We used pyrosequencing (Roche 454) to sequence non-normalized cDNA libraries constructed from shoot tip mRNA. After verifying technical reproducibility, we addressed the following questions: i) Are there molecular differences between genotypes, reflected in the contrasting phenotypes, and do these differences affect specific pathways or have a random effect on the transcriptome? ii) Can we detect molecular plasticity in the response to water shortage during the dry season, and which pathways are affected? iii) Does this plasticity differ between genotypes (i.e. is there any genotype-by-environment interaction?), and which genes or pathways reflect these differences?
Methods
Plant material
We compared the response of two eucalyptus genotypes, 1-41 (NCBI Taxonomy ID: 764271) and 18-50 (NCBI Taxonomy ID: 765255), to water shortage during the dry season of 2008. These two genotypes are used in industrial plantations in the Republic of Congo. Hybrid 1-41 (named G1 in the following sections) was obtained by open pollination of E. alba (the male parent is unknown) and the hybrid 18-50 (named G2) was derived from a controlled pollination of E. urophylla (genotype 14-36) by E. grandis (genotype 9-10). These two hybrids differ in their growth rates and water use efficiency (WUE, estimated by isotopic carbon composition) at maturity, G2 being superior than G1.
Field experiment
Trees were vegetatively propagated by rooted cuttings and established in a field experiment in Yanika, Republic of Congo (4°20'S, 11°38'E, 50 m above sea level), in June 2007. Trees were planted in plots of 64 cuttings per genotype and per treatment, including a buffer zone of 40 plants. Two watering regimes were used during the dry season: no irrigation (NI) and irrigation (IR). Trees were watered with sprinklers, to replenish evapotranspiration losses, estimated at 3 mm per day. In order to evaluate the effect of water deficit on above-ground biomass growth and molecular plasticity, plant material was sampled in September 2008, 16 months after the trees were planted. The dry season began approximately on May 15th 2008 -therefore, trees under NI treatment were subjected to four months without rainfall by the time samples were collected.
Soil water content
Volumetric water content (VWC) was measured by time domain reflectometry (TDR; Trase system, Soil moisture, Santa Barbara, CA). Four series of TDR probes per genotype and per treatment were installed horizontally, at six depths (0.15, 0.5, 1, 2, 3 and 4 m). Mean values were calculated from the four replicated measurements at each depth.
Biomass production
We harvested 11 trees per treatment and dissected them into the following compartments: stem, dead branches, living branches and leaves. Each compartment was weighed in the field. Representative subsamples of each compartment were then harvested, and weighed before and after drying at 65 °C to constant weight. Water content was calculated for each of these subsamples and used to estimate total dry biomass for each compartment. Total above-ground biomass (the sum of all the compartment) was analysed by two-way ANOVA, with R (R Development Core Team), according to the following model:
where Xijk is the above-ground biomass in genotype i (G1 or G2), treatment j (NI or IR) and replicate k. a, b and c are the regression coefficients of G, the genotypic effect, T, the treatment effect and G × T the interaction between genotype and treatment, and εijk is the residual.
cDNA synthesis
The experimental design, from tissue sampling to library construction and sequencing, is described in figure
1
. Shoot apices were collected from three trees from each genotype and treatment, and immediately frozen in liquid nitrogen. Two RNA extractions of three apices from each tree were performed, as previously described by Reid
et al
. [
39
]. RNA samples were treated with Turbo RNase-Free DNase (Ambion, Austin, TX, USA) and purified with the RNeasy Plant Mini Kit (Qiagen, Valencia, CA, USA). RNA concentration and quality were analysed with an Agilent Technologies 2100 Bioanalyser (Agilent Technologies, Mississauga, ON, USA) and a ND-1000 Spectrophotometer (NanoDrop, Wilmington, DE, USA). The three RNA preparations per replicate and per condition (corresponding to three trees), were pooled in equal proportions, providing templates for cDNA libraries S1-S8 (figure
1
). Full-length cDNA was obtained from 1 μg of RNA, with the Smart cDNA Library Construction Kit (Clontech, Mountain View, CA, USA), according to the manufacturer's instructions. We amplified the cDNA with PCR Advantage II Polymerase (Clontech, Mountain View, CA, USA), over 16 cycles (7 s at 95 C, 20 s at 66 °C, and 4 min at 72 °C). This cDNA amplification procedure was repeated eight times in separate tubes for each sample, with pooling to give a total of 6 μg of cDNA fragments longer than 1,000 bp quantified with an Agilent Technologies 2100 Bioanalyzer. Eight cDNA libraries (S1-S8) were constructed, giving two biological replicates for the two genotypes (G1, G2) subjected to the two watering regimes (IR, NI).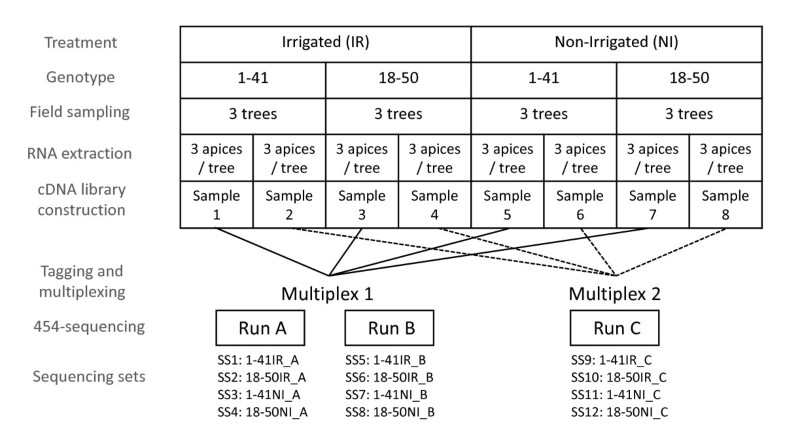 Library construction, 454-sequencing, sequence quality control and assembly
We nebulised 5 μg of each cDNA sample to a mean fragment size of 650 bp and ligated it to an adaptor, according to standard procedures [
40
]. Each cDNA library was tagged with Multiplex Identifiers (MID) barcode adaptors, and two independent multiplexes were created by pooling one sample from each genotype and treatment. Multiplex #1 comprised samples S1, S3, S5 and S7, whereas muliplex #2 comprised samples S2, S4, S6 and S8. One half-run (run A) of sequencing was initially carried out for multiplex #1 on a GS-FLX Titanium platform (454 Life Science, Brandford, CT, USA) at Cogenics (Meylan, France). Two half-runs of sequencing for multiplex #1 (run B) and multiplex #2 (run C) were then performed by Agencourt (Beverly, MA, USA) on a GS-FLX Titanium sequencer. Base calling with GS-FLX System software generated 353,344 high-quality reads for the first half-run and in 785,322 reads for the second complete run. Sequences were deposited at the NCBI short-read archive (SRA) under accession number SRA012867.2 (Figure
2
). The 454-sequencing reads (1,138,666 from this study and 1,041,876 from Novaes
et al
. [
13
]) were screened by cross_match (
http://bozeman.mbt.washington.edu/phrap.docs/phrap.html
) for primers and adaptors and then masked. For each 454-sequencing read, the longest non-masked region was extracted and further trimmed with SeqClean (
http://compbio.dfci.harvard.edu/tgi/
). The shorter regions were discarded to eliminate potential chimeras. Sequences were assembled as previously described [
41
], with TGICL [
42
], using the 12 sets of sequencing data from this study and the four sets of sequencing data obtained for
E. grandis
[accession number SRA001122] by Novaes
et al
. [
13
]. In parallel, all reads were stored in the NG6 system (
http://vm-bioinfo.toulouse.inra.fr/ng6/
, project: BIOGECO eucalyptus) and three kinds of analysis were performed for each of the 16 sequencing sets, as previously described [
41
]: i) BLAST search for
E. coli
, phage and yeast contaminants, ii) read quality analysis and iii) removal of sequences that were too long or too short, sequences with an excess of errors (more than 4% of N), low-complexity sequences and duplicated reads, using Pyrocleaner program. Only unigene elements (UE) resulting from sequences generated in this experiment (the
E.spp
sequencing set) were used for digital gene expression analysis.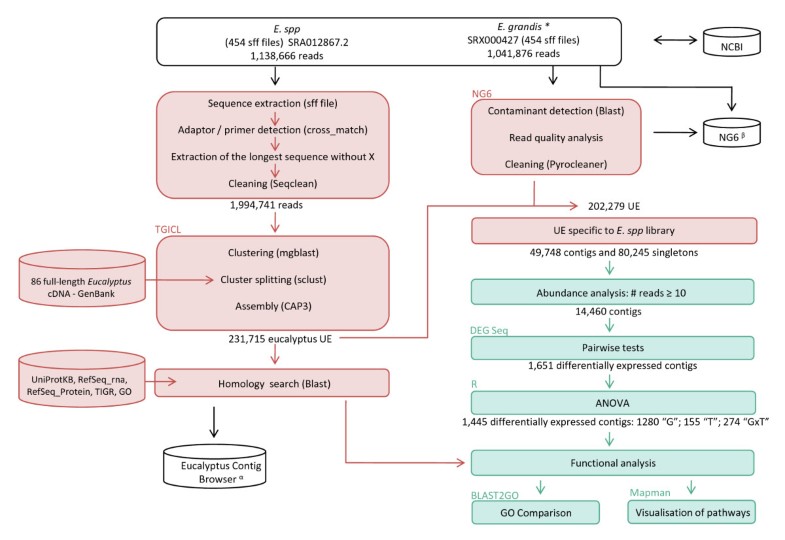 Digital gene expression analysis
Contigs with less than 10 reads for the 12 sequencing sets generated in this study were eliminated from further statistical analyses. For the 14,460 remaining contigs, the numbers of reads per sequencing set and per contig were used to assess gene abundance. Two types of statistical analysis were performed. First, pairwise comparisons were carried out between genotypes (G2 vs. G1 sequencing sets, irrespective of treatment) and between treatments (IR vs. NI sequencing sets, irrespective of genotype). Four additional comparisons were carried out for each genotype and each treatment, as follows: IR vs. NI for genotypes G1 and G2, G1 vs. G2 for treatments IR and NI. Statistical tests, based on the use of the MARS method in the DEGseq package [43] were performed to assess differential expression [43]. Second, two-way analysis of variance (ANOVA) was performed on contigs, making use of the three replicates (run A, B and C) per treatment to estimate random variation and test the genotype (G), treatment (T) and genotype-treatment interaction (GxT) effects. Transcript abundance was normalized by dividing the number of reads by the sequence length of the contigs and the total number of sequences in each sequencing set. Contigs with a q-value <0.05 in the DEGseq test (i.e. after false discovery rate corrections) [44] and with p-values <0.05 after ANOVA were considered to be differentially expressed and were extracted for further analysis. The 14,460 genes analysed were classified into four classes: not significantly differentially expressed (NS), and showing genotype ("G" contigs), treatment ("T" contigs) or genotype × treatment ("GxT" contigs) effects. For the comparison of expression levels, we used log2-transformed fold-changes between contig abundances in the various contrasts obtained in the DEGseq analysis.
Functional annotation of differentially expressed genes
Contigs were assigned a putative function by BLASTX [45], using various public databases: UniProtKB/Swiss-Prot (release 57.1), RefSeq Protein (release 34), Pfam (release 23.0), with an e-value cut-off value of 10e-5. Sequences were also compared to TIGR's assemblies of Arabidopsis_thaliana (release 14), Helianthus_annuus (release 6), Populus (release 4), Picea (release 3) and Vitis vinifera (release 6), with an e-value cut-off of 10e-2. Gene Ontology terms were assigned via the UniprotKB accession and clustered with Blast2GO [46]. The differential distributions of each class of effect (T, G, GxT and NS) between Biological Processes, Molecular Functions and Cellular Components were assessed using Fisher's exact tests, with a significance threshold of 0.05. Pathway analysis was carried out with Mapman [47]. Differentially expressed contigs were assigned to functional categories (or bins) by Mercator (http://mapman.gabipd.org/web/guest/mercator). A dedicated pathway map was created to represent most of these contigs. The Wilcoxon rank sum test was used to identify differentially regulated bins.
Conclusions
We showed that next-generation sequencing is a powerful tool for transcriptome screening: with 398 Mb of sequence, we were able to assemble ESTs into 69,584 contigs, with remaining 80,245 singletons, and to determine the relative abundance of 14,460 contigs each comprising more than 10 reads. Large differences between genotypes, in terms of phenotypic behaviour and transcriptome regulation, were observable. Differences in gene expression between the two genotypes appear to affect the whole transcriptome, rather than specific pathways. The genotype-specific response to water shortage (i.e. GxT effect) was more pronounced than the response common to both genotypes (i.e. T effect). The genes displaying genetically controlled plasticity were found to belong to a number of different pathways essentially related to signal transduction and primary metabolism. The more productive genotype, G2, express a larger set of genes, leading to the triggering of specific molecular responses. Moreover, GxT interaction results principally from a lack of molecular response in genotype G1, together with a strong response of genotype G2 (table 4). The ability to regulate more actively its transcriptome might be a key component in the maintenance of biomass in water deficit conditions.
Finally, although this study provides clues to the way in which different genotypes activate their transcriptomes when subjected to water deficit, more research is required to understand the molecular mechanisms involved during the dry season. First, there is a need to characterize reaction norm in a broader genetic background [75]. Second, epigenetics or post-transcriptional regulation mechanisms that are well known to interfere with abiotic stress responses [76, 77] deserve specific investigations.
Declarations
Acknowledgements and Funding
We thank Andréas Ndeko, André Mabiala, Joël Polidori and Dr. Aubain R. Saya (CRDPI, Rep. of Congo) for setting up the experimental trial. This article is part of the PhD thesis of Emilie Villar, supervised by Jean-Marc Gion and Christophe Plomion. EV was supported by CIRAD. This work was supported by grants from CIRAD, ATP project "Plasticité phénotypique des pérennes sous contrainte hydrique au champ", and the Conseil Régional d'Aquitaine ("ABIOGEN" project no.° Presage 32973). Some of the experiments (RT-qPCR) presented here were performed at the Genome Transcriptome facility of Bordeaux (grants from the Conseil Régional d'Aquitain nos. 20030304002FA and 20040305003FA and from the European Union, FEDER no. 2003227).
Authors' Affiliations
(1)
CIRAD, UMR AGAP, Montpellier Cedex 5, France
(3)
CRDPI, Pointe Noire, Congo
(4)
Plateforme bioinformatique Genotoul, UR875 Biométrie et Intelligence Artificielle, INRA, Castanet-Tolosan, France
(5)
School of Forest Resources and Conservation, University of Florida, Gainesville, USA
(6)
Universidade Federal de Goiás, Goiânia, Brazil
(7)
Université de Bordeaux, Cestas, France
Copyright
© Villar et al; licensee BioMed Central Ltd. 2011
This article is published under license to BioMed Central Ltd. This is an Open Access article distributed under the terms of the Creative Commons Attribution License (http://creativecommons.org/licenses/by/2.0), which permits unrestricted use, distribution, and reproduction in any medium, provided the original work is properly cited.