Research article
Open Access
Defense mechanisms against herbivory in Picea: sequence evolution and expression regulation of gene family members in the phenylpropanoid pathway
Received: 22 July 2011
Accepted: 16 December 2011
Published: 16 December 2011
Abstract
Background
In trees, a substantial amount of carbon is directed towards production of phenolics for development and defense. This metabolic pathway is also a major factor in resistance to insect pathogens in spruce. In such gene families, environmental stimuli may have an important effect on the evolutionary fate of duplicated genes, and different expression patterns may indicate functional diversification.
Results
Gene families in spruce (Picea) have expanded to superfamilies, including O-methyltransferases, cytochrome-P450, and dirigents/classIII-peroxidases. Neo-functionalization of superfamily members from different clades is reflected in expression diversification. Genetical genomics can provide new insights into the genetic basis and evolution of insect resistance in plants. Adopting this approach, we merged genotype data (252 SNPs in a segregating pedigree), gene expression levels (for 428 phenylpropanoid-related genes) and measures of susceptibility to Pissodes stobi, using a partial-diallel crossing-design with white spruce (Picea glauca). Thirty-eight expressed phenylpropanoid-related genes co-segregated with weevil susceptibility, indicating either causative or reactive effects of these genes to weevil resistance. We identified eight regulatory genomic regions with extensive overlap of quantitative trait loci from susceptibility and growth phenotypes (pQTLs) and expression QTL (eQTL) hotspots. In particular, SNPs within two different CCoAOMT loci regulate phenotypic variation from a common set of 24 genes and three resistance traits.
Conclusions
Pest resistance was associated with individual candidate genes as well as with trans-regulatory hotspots along the spruce genome. Our results showed that specific genes within the phenylpropanoid pathway have been duplicated and diversified in the conifer in a process fundamentally different from short-lived angiosperm species. These findings add to the information about the role of the phenylpropanoid pathway in the evolution of plant defense mechanisms against insect pests and provide substantial potential for the functional characterization of several not yet resolved alternative pathways in plant defenses.
Keywords
Quantitative Trait LocusPhenylpropanoidGrowth TraitPhenylpropanoid PathwayResistance Trait
Background
Lignin, the structural component of land plants, is a heteropolymer of coupled phenylpropanoid monomers derived from hydroxycinnamyl alcohols; it is also the second most abundant biopolymer after cellulose on earth. In gymnosperms, 30% of wood dry weight is lignin, in angiosperms this value is up to 25% ([1, 2]). Lignocellulosic polymers are the dominant carbon sink in forest ecosystems and account for approximately 20% of the terrestrial carbon storage [3]. In addition, the phenylpropanoid pathway synthesizes a plethora of specialized plant products (anthocyanins, flavonoids, condensed tannins, stilbenes, soluble and cell wall-bound phenolics, and other polyphenols) with protective functions (antioxidant [4], radical scavenging [5], stress induction [6], UV [7], flavonoids and UV tolerance [8, 9]). The biosynthesis of those phenylpropanoids involves intricate networks [10] as shown by the KEGG pathways http://www.genome.jp/kegg/pathway/map/map00940.html.
The importance of specialized phenolic compounds for plant chemical defense has been the subject of intensive study in angiosperms ([
11
,
12
]), however, knowledge in gymnosperm lineages is sparse. In general, phenolics participate in pre-formed defenses (toxins, cell wall associated compounds) as well as in active defense reactions (antimicrobial phytoalexins). Biosynthesis occurs through a limited number of metabolic pathways (Figure
1A
), however, the extreme structural diversity of compounds found so far (Figure
1B
) is due to biosynthetic enzymes that belong to multi-member gene families. Phenylpropanoid biosynthesis and its genetic basis has been recently reviewed [
13
]. For poplar, gene families involved in phenylpropanoid biosynthesis exhibit an expansion and diversification in comparison to short-lived annuals [
14
], suggesting diversification of chemical defense strategies. The limited number of phenylpropanoid pathway genes functionally characterized in gymnosperm species include those involved in angiosperm lignin biosynthesis (peroxidases:
Picea abies
[
15
], O-methyltransferases:
Pinus taeda
[
16
],
P. sylvestris
[
17
],
P. radiata
[
18
], hydroxycinnamoyl-CoA:shikimate hydroxycinnamoyltransferase:
P. radiata
[
19
], and MYB:
P. taeda
: [
20
]).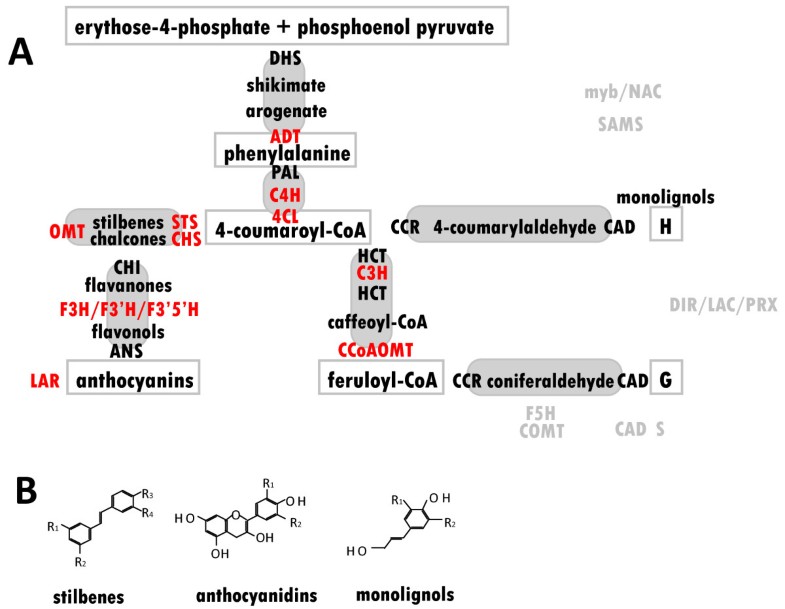 Constitutively present phenolics have high priority as defenses against bark-boring insects in long-lived conifers, but pre-formed defenses are regarded costly for the plant since "assimilates" are diverted. This impacts growth rate and reproduction [21]. Our previous findings (unpublished and [22]) already reflected the biochemical link between growth and established (constitutive) defenses in this important metabolic pathway.
Conifers have extremely large genomes (ca. 20 billion bases), which largely consist of repetitive elements ([23, 24]), but the enormous size of conifer genomes is also likely due to complex gene families that have been significantly enlarged from angiosperm ancestors. These families have structural and regulatory functions related to defense/resistance mechanisms against pests and pathogens (including terpene synthases, cytochromes P450, TIR-NBS-LRR genes, pathogen-resistance genes and dirigents [25–29]). Those multigenic families resulted from duplications of genes that further diverged.
In the plant kingdom, angiosperms are well studied compared to ancient lineages such as mosses, ferns, or gymnosperms [30]. Therefore, we must rely upon known and characterized candidates from angiosperms to gain insight into the evolution of sequence orthologs of conifer phenylpropanoid-like genes. This involves evidence for neofunctionalization, subfunctionalization or neo-subfunctionalization within gene families. Gene duplication is recognized as an important mechanism for adaptive evolution in plants [31]. Duplication allows "neofunctionalization" or the retention of ancestral function by one gene and the origin of new functions by the second gene. Likely, the novel gene function adopted by one copy of the duplicated genes, which now determines their functional differences, is co-opted from a secondary ancestral property already present before the duplication event [32]. The fate of specialized terpene synthases in spruce is one well-studied example that exemplifies how neo-functionalizations account for functional plasticity in a multi-gene family [33].
Another mechanism for maintenance of gene duplicates involves gene conservation using gene-dosage effects and functional redundancy [34]. Moreover, loss of genes and regulation of gene activity through transcript accumulation are other important aspects to consider in gene evolution. Phylogenetic trees are robust for prediction of orthologous genes in the presence of gene losses and varying rates of evolution among the sampled taxa [35]. Hence, in our study of multi-gene families in spruce we employed phylogenetic reconstruction to facilitate gene annotations.
In the present work, we determined the extent of gene co-expression by correlation analysis for 428 EST microarray elements (Additional File 1). The analysis included a number of multi-gene families originating from 26 biosynthetic genes, three structural genes related to the phenylpropanoid pathway, transcription factors NAC and myb (of which few have been characterized as key regulators of secondary wall biosynthesis and phenylpropanoid metabolism [36, 37]), and SAMS (a key enzyme for methylation reactions which are also important in lignin formation [38]) (Additional File 1).
The same ESTs were studied by means of "genetical genomics" to investigate the genetics of defense mechanisms of white spruce against the white pine weevil (Pissodes strobi). Genetical genomics [39] combines gene expression with genotyping to map quantitative trait loci (QTL) for gene expression. This new approach to the study of quantitative genetics allows rapid and direct discovery of genes underlying a trait of interest ("positional candidate genes") or genes closely regulated with the QTL by "genetic co-localization" (co-segregation of transcript variation of genes with the phenotypic trait of interest). For example, due to the genetic as well as environmental and developmental sources of variation, transcript level variation at a gene locus underlying a QTL is highly associated with the total phenotypic variation in the actual quantitative trait [38]. Hence, in systems where the environment shows a strong effect on the phenotype, this approach has advantages over conventional QTL analysis with low resolution that further necessitates positional gene cloning [38].
Discussion
The stem-borer Pissodes strobi damages the host tree by attacking the shoot apical leader of the previous year's growth. The feeding larvae typically consume phloem tissue. In the spruce bark, the secondary phloem and the cambium are very active chemical defense production zones that include secondary metabolites such as the polyphenolics that are abundantly present in the parenchyma. Pre-formed defenses are established co-ordinatedly during the development of secondary xylem in the apical shoot [22].
We studied the complexity of phenylpropanoid-related gene families and gene regulation of individual family members. We found evidence for new pathways in conifer defenses that involve genes without counterparts in modern plants that need to be further investigated. Employing genetical genomics, we showed that this approach is valuable for elucidating interactions between genes that originate from complex families with multiple related sequences. By including weevil resistance and height growth traits in the quantitative analysis, we identified eight genomic regions with extensive accumulation of phenotypic variation from multiple traits coinciding with hotspots of transcript abundance variation. The identified master regulons ranked hierarchically highest among all genotyped loci, since they are likely responsible for massive gene expression variation in the pathway and were linked to changes in the studied phenotypes.
Phenylpropanoid and Related Gene Families in Spruce
Phenylpropanoids fulfill important functions as defense compounds, e.g. simple hydroxycinnamic acids and monolignols or the structurally complex flavonoids, isoflavonoids, and stilbenes. They have overlapping roles as signaling molecules in plant development and plant defense [74]. The conifer phenylpropanoid pathway is characterized by a higher level of complexity compared to angiosperms ([14] and this study) that might include several not yet resolved alternative pathways. The expansion of phenylpropanoid and related genes into multi-gene families serves either the independent regulation of the biosynthesis of different classes of compounds or the gene dosage through massive accumulation of these compounds [74]. For example, we identified several associations with weevil resistance traits for individual members of the NADPH reductase gene family with a range of product specificity of related phenylpropanoid-derived plant defense compounds (Figure 12). We also identified associations for members within two spruce- (or generally conifer-) specific groups massively represented in the OMT superfamily (Figure 10) and the phenylpropanoid P450s (clade of CYP750, Additional File 8), respectively, both with entirely unknown functions (Additional File 1).
Generally, plant specialized metabolism is characterized by gene duplication events and gene diversifications leading to modified/optimized product specificity and modified tissue specific expression [75]. However, it is currently unclear whether adaptive or non-adaptive forces are more important for the maintenance of gene duplicates [34]. In brief, new pathways were established among different plant species by independent recruitment and inactivation of biosynthetic enzymes through downregulation or loss of certain genes of an ancestral pathway [75]. Interestingly, it has been shown that CCoAOMT-suppression in pine, unlike in angiosperms, generates only moderate reduction in lignin due to compensatory reactions that lead to the incorporation of unusual monolignols (catechyl units) [76]. In the O-methyltransferase family (CCoAOMT sequence similarity) we also found one gene with high similarity to functionally characterized catechol-OMT conserved across species of the eukaryotic and prokaryotic kingdoms, but was lacking in the angiosperms (Additional File 12).
In total, 44 positional candidate genes were directly associated with resistance traits (Additional File 1). Positional candidate genes were prominently identified in expanded gene families such as dirigents and peroxidases, for which some members are implicated in downstream reactions of lignan/lignin formation. Plant class III peroxidases are a key multifunctional enzyme family that is involved in diverse developmental and defense processes ([68, 71]). Evidence that certain peroxidases may function in lignin polymerization came from gene misexpression experiments that altered lignin composition [70]. In several gene families of the core lignin pathway, members exist that can function in both stress/elicitor response and developmental lignification [77]. However, given the individual families sizes, phenylpropanoid reductase, CYP750, CHS/STS, and OMT gene families showed the highest proportion of positional candidate genes for resistance. Spruce genes with sequence similarities to COMT (caffeic acid O-methyltransferase) and F5H (ferulate-5-hydroxylase), two enzymes involved in the syringyl (S-) lignin formation in angiosperms, were identified. Due to the lack of these pathways in gymnosperms and to their low sequence similarity, these sequences were annotated as OMTs putatively involved in stilbenoid synthesis and P450s putatively acting in flavonoid synthesis, respectively (see above). It is likely that enzymatic reactions in monolignol/lignin biosynthesis are adopted from conserved ancestral pathways that originally functioned in protection against microbial infection or UV radiation. Interestingly, those reactions emerged in different plant lineages by convergent evolution [78].
Gene Expression Regulation of Gene Family Members in the Phenylpropanoid Pathway
Microarray experiments that aim to elucidate gene expression differences between treatment and control groups usually involve reference or related designs in a small sample set and cross-hybridizations between gene spots with high nucleotide similarity complicate data interpretation. However, the specific statistical procedure employed in genetical genomics that studies large experimental populations of randomized genetic background reduces this effect. Positions of eQTLs locate genomic regions that harbor regulatory elements that control the expression of a single gene or a subset of genes acting in the same pathway. In the case of cis-regulation, the genomic location of the eQTL coincides with the physical location of the regulated gene, while trans-acting eQTLs identify regulatory elements for the gene elsewhere in the genome. Distribution of eQTLs may spread evenly on the genome or appear in clusters or in "hotspots" depending on the genetic architecture of gene interactions. In this way, master regulons involved in multiple traits (i.e., pleiotropic genes) can be identified, and the amount of epistasis from interacting loci can be uncovered [39]. We used this approach to identify spruce genes that are potentially important for constitutive defense mechanisms and to establish resistance against Pissodes strobi.
Apical leaders of 188 Picea glauca individuals were studied for gene expression changes in phenylpropanoid genes prioritized from our 21.8 k spruce EST chip (see Material and Methods for details). Genomic regions with clustered expression and phenotypic trait variation might contain master regulons ([46, 79]). Regions underlying trans- eQTL hotspots have pleiotropic genetic background (Figure 5). Loci that accumulate pQTLs of both growth and resistance traits may be involved in fitness trade-offs. We identified two such eQTL hotspots on the spruce genome (LG 2 and LG 3). The thorough functional analysis of such largely pleiotropic genes is hampered because their knock-out mutants likely exhibit lethal or highly deleterious phenotypes [46]. However, recently, a locus was characterized which conveys plant resistance to a wide spectrum of pathogens and herbivores and at the same time reduces vegetative growth [80]. The dirigents represent a candidate gene family for which some members were associated with both growth and resistance trait variation, e.g., expression variation for PicsiDIR17 (b/d-family) as well as PicsiDIR31 (f-family) mapped onto eQTL hotspots associated with growth traits and resistance traits (Additional File 9).
Phylogeny and the analysis of the underlying gene expression pattern identified functional divergence among members of gene superfamilies. In several cases gene expression of family members was co-regulated with variation in weevil resistance. eQTLs that accumulated at resistance hotspots were generated from diverged gene family members of CCoAOMT (PicglCCoAOMT1, PicglCCoAOMT2, PicglCCoAOMT3, see also below), OMT (AEOMT and group C genes), PRXR (PicabPIPRX, PicabPRX1, PicabPRX2, PicabPRX18, e.g.), CYP450 (CYP75/F3'H, F3'5'H/F3H, CYP750), DIR (a- and f-family, e.g.), the PCBER (LAR, PCBER), and 4CL (acyl-CoA ligase, OPCL, 4CL) (Additional File 9). It has recently been shown that tandem gene duplication and subsequent gene retention is particularly common for biotic stress genes [81]. This finding indicates that the increased rate of gene duplication and diversification offers the potential for adaptive evolution and divergence. Thus, the neo-and subfunctionalizations found in the multi-gene families of the spruce phenylpropanoid pathway are possibly highly important for beneficial phenotypic innovations.
Linkage groups on our spruce QTL map were assigned following [82] and the spruce-loblolly pine comparative mapping project (C. Liewlaksaneeyanawin, pers. comm; Additional File 2). Therefore, valuable cross-species comparisons for QTL positions are available for Pinaceae, e.g., the two bona fide CCoAOMT genes CCoAOMT-1 and CCoAOMT-2 mapped to the spruce LG6 (Additional Files 2 and 9, Figure 5), in synteny with the recently published loblolly pine [83].
Not only did the two bona fide CCoAOMT genes harbor eQTL hotspots but also overlapped with QTL regions for the traits atk_2000, egg_2000, and sum_egg (Figure 5). This suggests a close association of monolignol formation with defense against the stem borer Pissodes strobi. It is known that cell wall-integral lignin provides a physical barrier for invading pests. Specifically, the lignified parenchyma cells are the important pre-formed anatomical structures that are involved in such constitutive defenses [21]. In addition, localized de novo synthesis of lignin with structural similarity to early developmental lignins occurs in response to stress and is associated with wound healing ([84, 85, 6, 86]). At the two CCoAOMT loci, eQTLs were mostly generated from genes of the shikimate pathway, monolignol biosynthesis and downstream condensation reactions, lignan formation, flavonoid biosynthesis, and multifunctional OMT activity. The genomic region harboring the cluster of CCoAOMT genes flags its general importance. We found in our large-scale transcriptomics study that 36% and 53% of the mapped trans-eQTLs generated from 1307 and 992 genes, respectively, were commonly shared between both CCoAOMT loci. Certain gene ontology categories were overrepresented and commonly shared between the two eQTL cluster (secondary metabolic process, response to biotic stimulus, e.g.). This suggests interactions between both CCoAOMT loci and other genes that extend beyond the phenylpropanoid metabolism. Further investigations will substantiate this in detail.
In contrast to CCoAOMT-1 and CCoAOMT-2, association with extensive phenotypic variation is currently unknown for CCoAOMT-3. Yet, the three CCoAOMT genes represent our most comprehensive example of differential gene regulation for duplicated genes (the phylogeny of the family is given in Figure 8). No trans-eQTL from CCoAOMT-1 mapped onto CCoAOMT-2 and vice versa; however, the third CCoAOMT gene exhibited trans-eQTLs at both loci, suggesting a lower regulatory hierarchy for CCoAOMT-3 among all three genes (Figure 8). CCoAOMT-1 expression variation also mapped onto the growth trait associated eQTL hotspot on LG13, and, generally, the transcript abundance of CCoAOMT-1 was increased with higher inherent growth rate in the experimental population (not shown). CCoAOMT-3 is a positional candidate for hgt1999 trait. At locus CCoAOMT-2 eQTLs from ERFs linked to defensive gene expression (ERFs from group IX [87], specifically, transcription repressors (ERF3, ERF4, ERF7 [88])) accumulated (unpublished results). Consequently, CCoAOMT-2 could indeed function in constitutive resistance. The identified regulators (ERFs) were shown to affect important constitutively expressed defense genes such as basic chitinase and glycosyl hydrolase family 17 protein (beta-1,3-glucanase, [88]). The three monolignol biosynthesis genes were likely retained throughout evolution because of their individual importance and their temporally and spatially dependent recruitment for lignin formation: lignin that is constitutively expressed and related to primary processes, lignin that is wound inducible and participates in active defense, or lignin that is deposited for wound healing.
Conclusions
This study describes the genetics of pest resistance and utilizes genetical genomics to elucidate the genetic basis and evolution of phenolics based insect resistance in a commercially valuable conifer tree species. The results add to recent QTL studies that have dissected mechanisms underlying the genetic control of wood traits and volume growth in eucalyptus but were completely lacking testing of biotic stress resistance, and in particular, for conifers [89]. We utilized eQTL mapping to conduct a pre-selection of the candidate genes by testing for correlations with resistance traits. The findings can facilitate research efforts on targeted gene association studies specific to nonstructured conifer populations aimed at resolving the genetic basis of host resistance to herbivory.
Our work also provides a substantial account and perspective of the functional characterization of several unresolved alternative pathways in plant defenses. The subfunctionalization of individual gene family members of the phenylpropanoid pathway was evident at the phylogenetic and at the gene expression level. Using genetical genomics, we confirmed that some candidate genes in this pathway were indeed genetically associated with QTLs for white pine weevil resistance. Weevil resistance was also associated with trans-regulatory hotspots. At such genomic regions, eQTLs were generated by several subfamilies from multimember families like 4CL, CCoAOMT, OMT, CYP450, PPR, DIR, and PRXR. Tandem gene duplication and subsequent gene retention is common for biotic stress genes [81]. Phenylpropanoid metabolism has been identified as a source of tandemly repeated orthologous groups [81]. Based on their tight genetic linkage [83], bona fide CCoAOMT genes in conifers might be tandemly repeated in the genome. In this study we found that all three genes present in the spruce genome are functionally diverged. Thus, in multi-gene families of the phenylpropanoid/lignin pathway individual members can be recruited for plant development and pest resistance, respectively. Neo- and subfunctionalizations in such gene families can be important resources for genetic variation in the perennial. Recently, it was shown that members of the small PAL gene family in the herbaceous annual Arabidopsis can have both distinct and overlapping functions in processes related to growth, development, and responses to environmental stresses [90]. Our results add to the existing literature on the role of the phenylpropanoid pathway in the evolution of conifer defense mechanism against insect pests. Our findings highlight that specific genes within the phenylpropanoid pathway can be duplicated and diversified in long-lived conifers in a process that is fundamentally different from shorter lived angiosperm species.
List of abbreviations
Picgl:

Picea glauca
Picsi:

Picea sitchensis
Pge:

Picea engelmanii
4CL:

4-coumarate-CoA ligase
ADT/PD:

arogenate dehydratase/prephenate dehydratase
C4H:

cinnamate-4-hydroxylase
CAD:

cinnamyl-alcohol dehydrogenase
CCoAOMT:

caffeoyl-CoA 3-O-methyltransferase
CCR:

cinnamoyl-CoA reductase
CHI:

chalcone (flavanone) isomerase
CHS:

chalcone synthase
CM:

chorismate mutase
CS:

chorismate synthase
DAHP:

3-deoxy-D-arabino-heptulosonate 7-phosphate synthase
DFR:

dihydroflavonol 4-reductase
DHQD-SD:

3-dehydroquinate dehydratase/shikimate 5-dehydrogenase
DHQS:

3-dehydroquinate synthase
DIR:

disease resistance-responsive/dirigent
EPSPS:

5-enolpyruvylshikimate-3-phosphate/EPSP synthase
F3'H:

flavonoid 3'-monooxygenase
F5H:

ferulate 5-hydroxylase
FLS:

flavonol synthase
LAC:

laccase
OMT:

O-methyltransferase
OPCL:

oxo-pentenyl-cyclopentane ligase, PAL: phenylalanine ammonia-lyase
PCBER:

phenylcoumaran benzylic ether reductase
PLR:

pinoresinol-lariciresinol reductase
PRXR:

peroxidase
SK:

shikimate kinase
SAMS:

S-adenosyl-methionine synthase
MYB:

myeloblastosis domain
NAC:

nascent polypeptide-associated complex
QTL:

quantitative trait locus
eQTL:

gene expression QTL
pQTL:

phenotypic trait QTL
SNP:

single nucleotide polymorphism
GGM:

graphical Gaussian model
LOD:

logarithm of the odds gives the likelihood ratio between two hypotheses.
Declarations
Acknowledgements and funding
We thank Barry Jaquish (BC Ministry of Forests) as well as Rene Alfaro (Canadian Forest Service) for providing us with original data and previously unpublished data, and Carol Ritland for support throughout the study, Charles Chen for help with R script as well as Joerg Bohlmann for providing resources. We acknowledge Gillian Leung, and Michelle Tang for technical support, Susan Findlay, Tristan Gillan, Jun Zhang, Cherdsak Liewlaksanyannawin, and Claire Cullis for help with sample collection. We acknowledge two anonymous reviewers for very helpful comments. We thank Jessica P. Flores for proofreading. This work was carried out with financial support from Genome British Columbia and Genome Canada.
Authors' Affiliations
(1)
Department of Forest Sciences, University of British Columbia, Vancouver, Canada
(2)
Michael Smith Laboratories, University of British Columbia, Vancouver, Canada
(3)
Department of Statistics, University of British Columbia, Vancouver, Canada
Copyright
© Porth et al; licensee BioMed Central Ltd. 2011
This article is published under license to BioMed Central Ltd. This is an Open Access article distributed under the terms of the Creative Commons Attribution License (http://creativecommons.org/licenses/by/2.0), which permits unrestricted use, distribution, and reproduction in any medium, provided the original work is properly cited.