Research article
Open Access
The phosducin-like protein PhLP1 impacts regulation of glycoside hydrolases and light response in Trichoderma reesei
Received: 2 September 2011
Accepted: 19 December 2011
Published: 19 December 2011
Abstract
Background
In the biotechnological workhorse Trichoderma reesei (Hypocrea jecorina) transcription of cellulase genes as well as efficiency of the secreted cellulase mixture are modulated by light. Components of the heterotrimeric G-protein pathway interact with light-dependent signals, rendering this pathway a key regulator of cellulase gene expression.
Results
As regulators of heterotrimeric G-protein signaling, class I phosducin-like proteins, are assumed to act as co-chaperones for G-protein beta-gamma folding and exert their function in response to light in higher eukaryotes. Our results revealed light responsive transcription of the T. reesei class I phosducin-like protein gene phlp1 and indicate a light dependent function of PhLP1 also in fungi. We showed the functions of PhLP1, GNB1 and GNG1 in the same pathway, with one major output being the regulation of transcription of glycoside hydrolase genes including cellulase genes in T. reesei. We found no direct correlation between the growth rate and global regulation of glycoside hydrolases, which suggests that regulation of growth does not occur only at the level of substrate degradation efficiency.
Additionally, PhLP1, GNB1 and GNG1 are all important for proper regulation of light responsiveness during long term exposure. In their absence, the amount of light regulated genes increased from 2.7% in wild type to 14% in Δphlp1. Besides from the regulation of degradative enzymes, PhLP1 was also found to impact on the transcription of genes involved in sexual development, which was in accordance with decreased efficiency of fruiting body formation in Δphlp1. The lack of GNB1 drastically diminished ascospore discharge in T. reesei.
Conclusions
The heterotrimeric G-protein pathway is crucial for the interconnection of nutrient signaling and light response of T. reesei, with the class I phosducin-like protein PhLP1, GNB1 and GNG1 acting as important nodes, which influence light responsiveness, glycoside hydrolase gene transcription and sexual development.
Keywords
CellulaseGlycoside HydrolaseGlycoside Hydrolase FamilyCellulase GeneFruiting Body Formation
Background
Fungi are exposed to different external abiotic factors during their life cycle. Like almost every organism, fungi can adapt to the abiotic factor light by considerable adjustments of their physiology, including metabolic processes [1–3]. Light has an effect on almost all metabolic pathways in fungi, such as carotenoid metabolism [4], fatty acid metabolism [5], cAMP levels [6], sulfur metabolism [7] and carbohydrate metabolism [8]. It was reported already more than 40 years ago that consuming available nutrients and sensing of light are connected - it depends on the carbon source if light exerts a stimulating effect on growth rates (reviewed in [9]). The number of genes regulated in response to light ranges from only one in Cryptococcus neoformans[10] to several hundred in Neurospora crassa (314 genes; [11, 12]) and Trichoderma atroviride (2.8% of genes; [13]) up to 5% of the whole genome in Aspergillus nidulans[14].
Due to the immobility of a fungus, the signal transduction system is important for survival under changing environmental conditions [15]. Being crucial for successful competition in nature, transmission of nutrient signals can be considered responsible for integration with light signaling, resulting in adjustment of the growth rate in light and darkness to environmental conditions. One prominent mechanism for achievement of this task is the heterotrimeric G-protein signaling pathway [16, 17], which is interconnected with the light response pathway in Trichoderma reesei[18–21].
Trichoderma reesei (Hypocrea jecorina) was discovered in the 1940s and this fungus is most prominent for its ability to produce cellulases. These enzymes are used in various biotechnological processes, such as in the textile industry, food and feed industry [22–26] and heterologous protein production [27]. Despite its long history of use for research and industry, sexual development under laboratory conditions was only recently achieved [28] and only a few details on the mechanism and regulation of mating in T. reesei are available so far [29]. Concerns about the consumption of fossil fuels, the CO2 balance and imminent climate change prompted increased research efforts towards second generation biofuels and hence towards improved cellulase production. The sequence analysis of the genome of T. reesei reveals that the genome comprises 16 hemicellulase genes and nine cellulase genes - surprisingly low numbers for the currently most important cellulase producer worldwide [30]. Induction and regulation of the genes responsible for this industrial application have been studied for decades [31, 32]. However, the impact of signal transduction pathways on biosynthesis of degradative enzymes and their responsiveness to light only recently received attention [21].
Albeit unexpected for an important biotechnological workhorse, several Trichoderma species were used as photomorphogenic models [33] and since the discovery of light modulated cellulase gene expression [34] the interrelationship between metabolic functions and light response became a focus of research. Like many other metabolic processes, the production of cellulases is influenced by light and the light regulatory protein ENVOY as well as the two photoreceptors BLR1 and BLR2 (Blue Light Receptors 1 and 2) in T. reesei[21, 34, 35]. Investigation of the transmission of environmental signals by the G-protein alpha subunits revealed an effect of this signaling pathway on cellulase gene expression. The signals transmitted by both GNA1 and GNA3 have a positive impact on cellulase gene expression, which is dependent on light [18, 20, 21]. The fact that these G alpha subunits are involved in light modulated cellulase gene transcription raises the question, as to how the light signal could be transferred to and/or integrated with the nutrient signal transmitted via the heterotrimeric G-protein pathway. In T. reesei several regulatory mechanisms impacting heterotrimeric G-protein signaling are present [36].
A light-dependent function for phosducin-like proteins has previously been shown in higher eukaryotes: Phosducins (PHDs) were first isolated in photoreceptor cells of the retina of mammals [37, 38], where they act as regulators of G-protein signaling [39–41]. Among the three classes of phosducins and phosducin-like proteins (PhLPs), phosducins of class I play a role in the G beta-gamma binding [42] by acting as co-chaperones in their folding and are required for efficient G-protein signaling [39, 40, 43, 44]. Knock-out mutants of class II phosducins in Saccharomyces cerevisiae were not able to survive, suggesting that class II phosducins are essential for cell growth [45]. PHDs and PhLPs of class III are assumed to play a role in actin folding [46]. In fungi the function of phosducin-like proteins in G-protein beta-gamma assembly was confirmed [47–49]. Disruption of the Cryphonectria parasitica class I phosducin BDM-1 impacts on the accumulation of the G alpha subunit CPG-1 [47] and is a probable casein kinase 2 target [49]. The Aspergillus nidulans phosducin homologue PhnA was shown to be involved in regulation of the sterigmatocystin biosynthesis pathway [48]. Nevertheless, a related function in light response in fungi has not been explored so far. The genome of T. reesei comprises two genes encoding phosducin-like proteins of classes I and II, both of which have orthologues in several other fungi, including Aspergilli and Neurospora[36]. Besides the phosducin-like proteins, also microbial opsins as G-protein coupled receptors can be considered promising candidates for connecting components between nutrient and light signaling [50, 51]. However, in the T. reesei genome no microbial opsins were detected [36].
Our study revealed that class I phosducin-like proteins are involved in transmission of light-dependent signals in fungi. Transcription of phlp1 was responsive to light and PhLP1 acted in the same pathway as the G-protein beta and gamma subunits GNB1 and GNG1. Genome wide transcriptional analysis showed considerable light dependent gene regulation, especially of glycoside hydrolase genes, which was at least in part mediated by PhLP1. We identified a broad positive influence of PhLP1-GNB1-GNG1 on gene expression in light, suggesting sustainment of predominantly nutritional processes by this signaling pathway in light. Moreover, we found that PhLP1 positively regulated transcript levels of the peptide pheromone precursor hpp1 as well as of the homologue of the yeast pheromone transporter gene ste6 and consequently impacted on mating efficiency.
Discussion
The changing conditions between day and night or growth on the surface and in substrate require considerable physiological adjustments, the significance of which is so far poorly understood. Especially the differences in carbon source utilization and expression of the enzymes produced for this task in light and darkness are of utmost interest for both research and industry. In this study we investigated gene expression under conditions triggering production of plant cell wall degrading enzymes, the most important research focus of T. reesei. Constant conditions of illumination are used to reveal an influence of light especially on metabolic processes, while largely avoiding interference with circadian rhythmicity, which would be effective under the more natural conditions of 12:12 light-dark cycles. The analysis of short term light responsiveness of transcription of phlp1, gnb1 and gng1 (15 to 120 minutes of illumination) complemented long term light exposure experiments (72 hours of constant illumination or darkness).
We elucidated the function of an important node between the light response pathway and nutrient signaling. Our results strongly point at a positive effect of the PhLP1-GNB1-GNG1 complex on a broad array of genes in light. While a strong impact of such a central signaling mechanism is not surprising, the huge amount of downregulated (or rather not upregulated) genes in light was unexpected. This finding supports a model in which distinct mechanisms are responsible for regulation of physiological processes in darkness and in light, with PhLP1-GNB1-GNG1 playing an important role for transmission of signals relevant to expression of hydrolytic enzymes and proteins involved in sexual reproduction in light (Figure
11
). It may be even more astonishing that at least 23% of all genes can be regulated in a light dependent manner, as shown for strains lacking one of the signaling genes, an effect which was masked in the parental strain by tight regulation.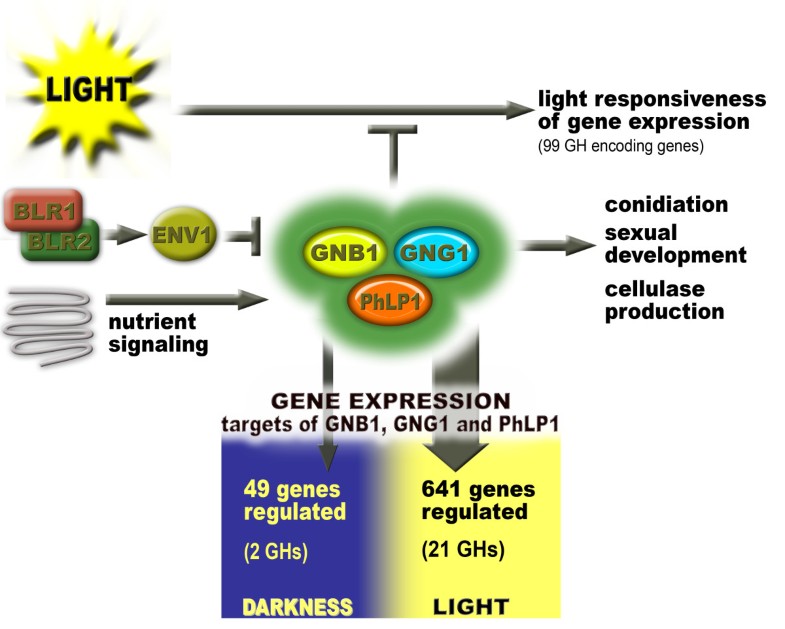 However, our results indicate that the pathway of heterotrimeric G-protein signaling represents an interactive regulatory network for signal transmission: Among the genes not upregulated in light in Δphlp1, Δgnb1 and Δgng1 there were three G-protein coupled receptors and one regulator of G-protein signaling (RGS1). This finding could explain how the different relevance of signals in light and darkness as reported earlier for T. reesei[7, 18, 20, 21] can result in altered regulation of output pathways. Signals integrated at the regulatory level of the G-protein beta and gamma subunits may adjust sensitivity of the organism to environmental signals by regulating the respective receptor. Transmission of a certain set of signals is modulated by an effect on RGS1 by action on the activity of different G-protein alpha subunits [66, 67].
Interestingly, as seen for Δphlp1, Δgnb1 and Δgng1, biomass formation in GNA1QL, a strain that expresses a constitutively activated G-protein alpha subunit (GNA1) is also reduced [20]. Identification of possible target genes of PhLP1-GNB1-GNG1 revealed rgs1 and a GPCR, containing an RGS domain, (TR_81383) as light independent targets. RGS proteins are regulators of G-proteins by activating the GTPase function and thereby control the G alpha activity negatively [17]. In T. reesei the number of genes comprising these functionalities is high (4 RGS-proteins and 3 GprK-type GPCRs; [36]) compared to one RGS-protein in N. crassa[68] or 4 RGS-proteins and one GprK-type GPCR in A. nidulans[69]. In accordance with our results, a study of the phosducin-like protein PhnA in Aspergillus nidulans showed a function of PhnA in regulation of the RGS protein FlbA, which controls the vegetative growth signaling pathway mediated by the G beta and gamma subunits [48]. Since deletion of phlp1, gnb1 or gng1 decreased the abundance of the rgs1 transcript and hence could lead to enhanced activity of GNA1, that is in agreement with our data and the hypothesis raised previously [20, 48] that the growth defect observed upon alteration of GNA1 might at least in part be due to the function of the G-protein beta and gamma subunits.
An interesting question with respect to light dependent regulation of plant cell wall degrading enzymes (mainly glycoside hydrolases) is the correlation between growth rate of the fungus and biosynthesis of extracellular protein. The most elaborate studies on this topic in T. reesei were done under constant (chemostat) fermentation conditions: It was shown that upon growth under carbon limiting conditions with lactose as carbon source, slow growth correlates with high specific rates of extracellular protein synthesis [70]. However, the same study revealed that despite efficient synthesis of the major cellulase CEL7A/CBH1 at low growth rates, the protein secretion capacity limits protein production under these conditions. In terms of physiology, this phenomenon can be explained by the need to use hydrolytic enzymes to increase nutrient supply from insoluble extracellular substrates. Several studies showed an initial increase of extracellular protein production with increasing dilution rate and a decrease after reaching a peak was observed [70–73].
Studies using cellulose as carbon source and shake flasks for cultivation also do not provide a consistently direct correlation between growth rate and transcription of glycoside hydrolase genes: Growth and transcription of cel7a/cbh1 in the wild type strain QM9414 were in accordance with an indirect correlation between growth rate and cellulase transcription, as the lower growth rate of T. reesei in light is correlated with higher transcript levels of cel7a/cbh1[34]. Since growth has been shown to represent an output pathway of light signaling [33] and the T. reesei photoreceptors BLR1 and BLR2 influence growth as well as cellulase gene expression [35], this connection is not surprising.
In the present genome wide study, we found both positive and negative light dependent regulation of an unexpectedly high number of glycoside hydrolases in QM9414 and mutant strains. Having in mind that the difference in growth observed in QM9414 between light and darkness was not similarly clear in the mutant strains, a strict correlation of glycoside hydrolase gene expression with growth rate cannot be proposed from the data of our study. Moreover, the fact that both positive and negative regulation of glycoside hydrolase genes in response to light was observed, refutes the hypothesis that the negative effect of light on the growth rate correlates with a consistently positive effect on transcription of glycoside hydrolase genes. Also, we found decreased, but still light-dependent regulation of transcript abundance of cel7a/cbh1 in Δphlp1, Δgnb1 and Δgng1 (Figure 8A), although growth was less or not at all influenced by light in these strains. Consequently, we propose a model in which PhLP1, GNB1 and GNG1 represent crucial components of the pathway connecting light signaling to regulation of growth, which would explain the uncoupling of cel7a/cbh1 transcription from the growth rate. Alternatively, our data could indicate that the correlation of cel7a/cbh1 transcription with the growth rate is a specific event under the clearly defined conditions used in previous experiments, but not a general phenomenon. Likewise, an extrapolation of these findings to glycoside hydrolases in general would require a consistently indirect correlation of growth rate and transcription of glycoside hydrolase genes, which is clearly not the case. Therefore the assumption that transcription of glycoside hydrolase genes generally increases at lower growth rates is not supported. Our data rather point at a sophisticated adjustment of glycoside hydrolase gene expression by up- and downregulation of certain groups which is triggered by PhLP1, GNB1 and GNG1. While we found growth to be regulated in response to light in any case, we could not obtain conclusive evidence that this might be achieved exclusively by regulation of substrate degradation efficiency (glycoside hydrolase biosynthesis) in T. reesei, but must (also) be governed by other pathways.
The positive influence of PhLP1 on ste6 and hpp1 transcription added another piece of the puzzle to the regulatory mechanisms in G-protein signaling. The decreased fruiting body formation (by 39%) and ascospore discharge (by 86%) in the phlp1 deletion strain corresponds with the lower transcript levels of hpp1 and ste6 in this strain, as it was shown that hpp1 is necessary for male fertility in T. reesei QM9414 [29]. This result reflects a crucial role of PhLP1 in sexual development, which is in accordance with the function of its orthologue in A. nidulans[48]. Nevertheless, the mating defect of the strain lacking GNB1 was even more severe, but with virtually abolished ascospore discharge concerns a different aspect of mating. Although our study was focused on elucidation of the interrelationship between light response and nutrient signaling, the fact that sexual development of T. reesei is dependent on light [28] draws a logical connection of these signaling pathways to sexual development. Accordingly, in Schizosaccharomyces pombe the nutrient regulated G-protein cAMP pathway and the pheromone regulated MAP kinase signaling pathway are interconnected and hence mating is also controlled by the availability of nutrients in this fungus (reviewed in [16]). An involvement of the G-protein beta subunit in sexual development is also known from other fungi. In N. crassa it was shown that the deletion of the gene encoding the G-protein beta subunit GNB-1 results in a female sterile, but male fertile strain with small perithecia and no ascospore ejection [74]. In Aspergillus nidulans lack of the G-beta subunit caused an increase in Hülle cell formation, which supports fruiting body formation, but no cleistothecia could be found [75] and in the basidiomycete Cryptococcus neoformans G-protein beta is required for haploid fruiting and fertility [76].
Conclusions
In summary, with PhLP1-GNB1-GNG1 we could identify a further step in the signaling cascade aimed at light-modulated cellulase gene expression (Figure 11). Thereby the targets among substrate degrading enzymes (glycoside hydrolases) are more widespread than expected. The considerable number of glycoside hydrolases showing differential transcription between light and darkness, which is in many cases subject to regulation by PhLP1-GNB1-GNG1, reflects the high significance of light for fungi also in terms of substrate degradation. Interestingly, also G-protein coupled receptors and regulators of G-protein function (RGS-proteins) are among the targets of PhLP1-GNB1-GNG1 - which can be considered to act somewhat at the downstream end of the G-protein pathway. Hence we conclude that the pathway of heterotrimeric G-protein signaling does not strictly act as a cascade but rather represents an interactive network for signal integration and transmission. A function of PhLP1 and GNB1 also in mating efficiency confirms PhLP1 and its immediate targets as crucial nodes in adjusting the physiology of T. reesei to the central determinants of life in nature: the rotation of earth, acquisition of nutrients and reproduction.
Declarations
Acknowledgements
We thank Sabine Domnanich for technical assistance. Our work was supported by grants from the Austrian Science fund (FWF) P21072 and V152-B20 to MS.
Authors' Affiliations
(1)
Research Area of Gene Technology and Applied Biochemistry, Institute for Chemical Engineering, Vienna University of Technology, Wien, Austria
Copyright
© Tisch et al; licensee BioMed Central Ltd. 2011
This article is published under license to BioMed Central Ltd. This is an Open Access article distributed under the terms of the Creative Commons Attribution License (http://creativecommons.org/licenses/by/2.0), which permits unrestricted use, distribution, and reproduction in any medium, provided the original work is properly cited.