Research article
Open Access
The mining of toxin-like polypeptides from EST database by single residue distribution analysis
Received: 16 August 2010
Accepted: 31 January 2011
Published: 31 January 2011
Abstract
Background
Novel high throughput sequencing technologies require permanent development of bioinformatics data processing methods. Among them, rapid and reliable identification of encoded proteins plays a pivotal role. To search for particular protein families, the amino acid sequence motifs suitable for selective screening of nucleotide sequence databases may be used. In this work, we suggest a novel method for simplified representation of protein amino acid sequences named Single Residue Distribution Analysis, which is applicable both for homology search and database screening.
Results
Using the procedure developed, a search for amino acid sequence motifs in sea anemone polypeptides was performed, and 14 different motifs with broad and low specificity were discriminated. The adequacy of motifs for mining toxin-like sequences was confirmed by their ability to identify 100% toxin-like anemone polypeptides in the reference polypeptide database. The employment of novel motifs for the search of polypeptide toxins in Anemonia viridis EST dataset allowed us to identify 89 putative toxin precursors. The translated and modified ESTs were scanned using a special algorithm. In addition to direct comparison with the motifs developed, the putative signal peptides were predicted and homology with known structures was examined.
Conclusions
The suggested method may be used to retrieve structures of interest from the EST databases using simple amino acid sequence motifs as templates. The efficiency of the procedure for directed search of polypeptides is higher than that of most currently used methods. Analysis of 39939 ESTs of sea anemone Anemonia viridis resulted in identification of five protein precursors of earlier described toxins, discovery of 43 novel polypeptide toxins, and prediction of 39 putative polypeptide toxin sequences. In addition, two precursors of novel peptides presumably displaying neuronal function were disclosed.
Keywords
Database ScreeningPolypeptide PatternAmino Acid Sequence MotifToxin SequencePolypeptide Toxin
Background
Expressed sequence tag (EST) analysis is widely used in molecular biology. This analysis comprises the transcriptome of a given tissue at a given time. These data are deposited in a specialized resource at the National Center for Biotechnology Information (NCBI) - dbEST [1]. The EST databases are used to address different problems [2–6].
The EST database analysis requires the development of novel methods and software for data processing. The standard procedure includes processing of the biological material, production of clones, construction of libraries, and data analysis, from grouping in contigs to gene annotation and microarray design [7]. Special program modules facilitating different stages of analysis, such as those for preprocessing of data [8–10] and software for combining sequences in contigs and their annotation, have been developed [11–13]. To improve the quality of initial data processing, the results of different scanning methods can be combined from homology search of a nucleotide consensus sequence, homology search of deduced protein sequences and involvement of reference databases of known organisms [14–17].
The strategy of bioinformatics to database analysis remains the same, variety of diverse crude sequences combined by cluster analysis in contigs should be subjected to alignment search tools and function classification by gene ontologies. It gives good results although is not always optimum. Earlier, analysis of the EST database from spider venomous glands showed [18] that the conventional approach including the preprocessing of the original data and formation of contigs decreased the efficiency of identification of rare polypeptide toxins. The recommended search procedure of scanning translated sequences against characteristic toxin structural motifs proved more effective. Another alternative consists in the use of search queries created from the alignment of known proteins families for database screening. Thus, 83 new peptides were found, which were not earlier discovered in the EST databases of different aphid species [19]. A family of new proteins from corals with a Cys-rich beta-defensin motif was identified as well [20].
Identification of short polypeptides in EST datasets is especially challenging since they may be aligned only with highly homologous proteins. They are synthesized as precursors, which are consequently processed into mature polypeptides. The enzymes involved in maturation recognize specific regulatory amino acid motifs, which help to identify precursor proteins in EST databases [18, 19, 21].
Polypeptide toxins from natural venoms are of considerable scientific and practical interest. They may be used for designing drugs of new generation [22]. Venom of a single spider contains hundreds of polypeptides of similar three-dimensional structure but divergent biological activity. In toxins, the mature peptide domain is highly variable, while the signal peptide and the propeptide domain are conserved [23, 24]. The specificity of action on different cellular receptors depends on the unique combination of variable amino acid residues in the toxin molecule. Using a common scaffold, venomous animals actively change amino acid residues in the spatial loops of toxins thus adjusting the structure of a novel toxin molecule to novel receptor types. This array of polypeptide toxins in venoms is called a natural combinatorial library [25–27].
Homologous polypeptides in a combinatorial library may differ by point mutations or deletions of single amino acid residues. During contig formation such mutations may be considered as sequencing errors and can be ignored. Our method is devoid of such limitations. Instead of the whole EST dataset annotation and search for all possible homologous sequences, we suggest to consider the bank as a "black box", from which the necessary information may be recovered. The criterion for selection of necessary sequences in each particular case depends on the aim of the research and the structural characteristics of the proteins of interest.
To make queries in the EST database and to search for structural homology, we suggest to use single residue distribution analysis (SRDA) earlier developed for classification of spider toxins [28]. In this work, we demonstrate the simplicity and efficacy of SRDA for identifying polypeptide toxins in the EST database of sea anemone Anemonia viridis.
Methods
SRDA
In many proteins the position of certain (key) amino acid residues in the polypeptide chain is conserved. The arrangement of these residues may be described by a polypeptide pattern, in which the key residues are separated by numbers corresponding to the number of nonconserved amino acids between the key amino acids (see Figure
1
).

For successful analysis, the choice of the key amino acid is of crucial importance. In polypeptide toxins, the structure-forming cysteine residues play this role, for other proteins, some other residues, e.g. lysine, may be as much important (see Figure 1). Sometimes it is necessary to find a specific residues distribution not in the whole protein sequences, but in the most conserved or other interesting sequence fragments. It is advised to start key residue mining in training data sets of limited size. Several amino acids in the polypeptide sequence may be selected for polypeptide pattern construction; however, in this case, the polypeptide pattern will be more complicated. If more than three key amino acid residues are chosen, analysis of their arrangement becomes too complicated. It is necessary to know the position of breaks in the amino acid sequences corresponding to stop codons in protein-coding genes. Figure 1 clearly demonstrates that the distribution of Cys residues in the sequence analyzed by SRDA ("C") differs considerably from that of SRDA ("C.") taking into account termination symbols. For scanning A. viridis EST database, the position of termination codons was always taken into consideration.
The flowchart of the analysis is presented in Figure
2
. The EST database sequences were translated in six frames prior to search, whereupon the deduced amino acid sequences were converted into polypeptide pattern. The SRDA procedure with key cysteine residues and the termination codons was used. The converted database, which contained only identifiers and six associated simplified structure variants (polypeptide patterns), formed the basis for retrieval of novel polypeptide toxins.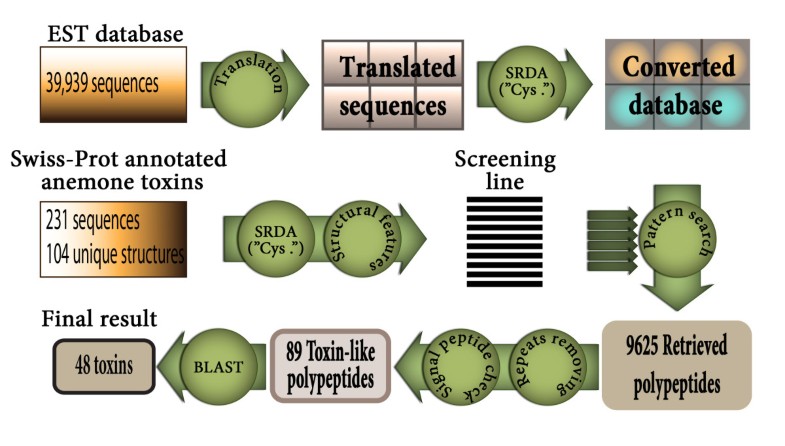 To search for sequences of interest, a correctly formulated query is necessary. Queries also in pattern format (screening line in Figure 2) were based on amino acid sequences of anemone toxins after analysis of homology between their simplified structures.
At subsequent stages, from the converted database, amino acid sequences that satisfy each query were selected. Using the identifier, the necessary clones and open reading frames in the original EST database were correlated. As a result, a set of amino acid sequences was formed. Identical sequences, namely identical mature peptide domains without taking into account variations in the signal peptide and propeptide regions, were excluded from analysis. To identify the mature peptide domain, an earlier developed algorithm was used [21, 29]. The anemone toxins are secreted polypeptides; therefore only sequences with signal peptides were selected. Signal peptide cleavage sites were detected using both neural networks and Hidden Markov Models trained on eukaryotes using the online-tool SignalP http://www.cbs.dtu.dk/services/SignalP[30]. To ensure that the identified structures were new, homology search in the non-redundant protein sequence database by blastp and PSI-BLAST http://blast.ncbi.nlm.nih.gov/Blast was carried out [31].
Data for analyses
To search for toxin structures, the EST database created for the Mediterranean anemone A. viridis was used [32]. The original data containing 39939 ESTs was obtained from the NCBI server and converted in the table format for Microsoft Excel.
To formulate queries, amino acid sequences of anemone toxins using NCBI database were retrieved. 231 amino acid sequences were deposited in the database to February 1, 2010. All precursor sequences were converted into the mature toxin forms; identical and hypothetical sequences were excluded from analysis. Anemone toxin sequences deduced from databases of A. viridis were also excluded. The final number of toxin sequences was 104.
The reference database for review of the developed algorithms and queries was formed from amino acid sequences deposited in the NCBI database. To retrieve toxin sequences, the query "toxin" was used. The search was restricted to the Animal Kingdom. As a result, 10903 sequences were retrieved.
Computation
EST database analysis was performed on a personal computer using an operating system WindowsXP with installed MS Office 2003. Analyzed sequences in FASTA format were exported into the MS Excel editor with security level allowed macro commands execution (see additional file 1). Translation, SRDA and homology search in the converted database were carry out using special functions on VBA language for use in MS Excel (see additional file 2). Multiple alignments of toxin sequences were carried out with MegAlign program (DNASTAR Inc.).
Conclusions
The SRDA of A. viridis EST database showed that this method is effective for rapid retrieval of sequences from the bulk of bioinformatics data. The correct formulation of query plays the crucial role in the outcome of database screening and requires small additional study. The key residues, whose arrangement we wish to fix in the polypeptide pattern, should be selected on the basis of their structural or functional significance. The introduction of termination signals considerably decreases false positive results.
Using the procedure developed, we identified both new sequences and sequences showing high homology to already described toxins. For two known toxins, the precursor structures were determined. All retrieved sequences formed families of homologous peptides that differ by single or multiple amino acid substitutions, providing additional evidence for the combinatorial principle of natural venom formation. In addition to 23 earlier reported polypeptide toxins in sea anemone A. viridis, we discovered 43 novel sequences. Besides toxins, we also found short peptides with regulatory neuronal function, whose role is still to be investigated, and several groups of toxin-like polypeptides.
Simplification of queries and the database itself reduces the time of analysis as compared to methods based on the search for complete amino acid sequences. The procedure developed may be used for scanning newly generated databases or as a complementation to traditionally used approaches. It is suitable not only for retrieval of polypeptide toxins but for finding any type of amino acid sequences once their structural motifs have been established.
Declarations
Acknowledgements
This work was financially supported by the Russian Foundation for Basic Research (antimicrobial peptides from natural venoms project) and the program of the Russian Academy of Sciences "Molecular and Cell Biology" (analgesic polypeptides project). SK and EG acknowledge Prof. Roman Efremov (Shemyakin-Ovchinnikov Institute) for reading and criticism of the manuscript.
Authors' Affiliations
(1)
Shemyakin-Ovchinnikov Institute of Bioorganic Chemistry, Russian Academy of Sciences ul., Moscow, Russia
Copyright
© Kozlov and Grishin; licensee BioMed Central Ltd. 2011
This article is published under license to BioMed Central Ltd. This is an Open Access article distributed under the terms of the Creative Commons Attribution License (http://creativecommons.org/licenses/by/2.0), which permits unrestricted use, distribution, and reproduction in any medium, provided the original work is properly cited.