Research article
Open Access
Unique core genomes of the bacterial family vibrionaceae: insights into niche adaptation and speciation
Received: 23 November 2011
Accepted: 12 March 2012
Published: 10 May 2012
Abstract
Background
The criteria for defining bacterial species and even the concept of bacterial species itself are under debate, and the discussion is apparently intensifying as more genome sequence data is becoming available. However, it is still unclear how the new advances in genomics should be used most efficiently to address this question. In this study we identify genes that are common to any group of genomes in our dataset, to determine whether genes specific to a particular taxon exist and to investigate their potential role in adaptation of bacteria to their specific niche. These genes were named unique core genes. Additionally, we investigate the existence and importance of unique core genes that are found in isolates of phylogenetically non-coherent groups. These groups of isolates, that share a genetic feature without sharing a closest common ancestor, are termed genophyletic groups.
Results
The bacterial family Vibrionaceae was used as the model, and we compiled and compared genome sequences of 64 different isolates. Using the software orthoMCL we determined clusters of homologous genes among the investigated genome sequences. We used multilocus sequence analysis to build a host phylogeny and mapped the numbers of unique core genes of all distinct groups of isolates onto the tree. The results show that unique core genes are more likely to be found in monophyletic groups of isolates. Genophyletic groups of isolates, in contrast, are less common especially for large groups of isolate. The subsequent annotation of unique core genes that are present in genophyletic groups indicate a high degree of horizontally transferred genes. Finally, the annotation of the unique core genes of Vibrio cholerae revealed genes involved in aerotaxis and biosynthesis of the iron-chelator vibriobactin.
Conclusion
The presented work indicates that genes specific for any taxon inside the bacterial family Vibrionaceae exist. These unique core genes encode conserved metabolic functions that can shed light on the adaptation of a species to its ecological niche. Additionally, our study suggests that unique core genes can be used to aid classification of bacteria and contribute to a bacterial species definition on a genomic level. Furthermore, these genes may be of importance in clinical diagnostics and drug development.
Keywords
Horizontal Gene TransferMonophyletic GroupEnterobactinBacterial FamilyUnique Core
Background
The separation of bacteria into discrete taxa is still a matter of controversy in biological systematics. Notably a universal definition of bacterial species, as it exists for eukaryotes, is an issue of ongoing debate. The ability of bacteria to acquire genes horizontally, as well as the ability to lose vast numbers of genes when adapting to a specific niche, raises the question if such a definition even exists [1–3].
One concept from the early years of genomics is the
differential genome comparison
where genomes are compared as "bags of genes" [
4
] to identify differences in the gene content of related isolates. It was hypothesized that the genes found in only one species or isolate might play an important role in the development of a specific phenotype [
5
]. However, one problem in the beginning of the genomic era was a clear prevalence of sequencing projects that focussed on bacterial pathogens. This limited the possibility to determine genetic features that are present in all representatives of one taxon, given that only a small fraction of the bacterial diversity is represented by pathogenic strains. But new time- and cost efficient sequencing technologies made it possible to sequence high numbers of non-pathogenic isolates, covering the entire spectrum of the genetic diversity of a taxon. In 2005 Tettelin
et al.
tried to describe a species by building its so called
pan-genome
[
6
]. They defined the pan-genome of multiple bacterial genomes as a union of three distinct sets of genes: genes found in all investigated genomes (core genome), genes found in just one isolate (unique genes) and genes found in more than one but not all members of the investigated group (accessory genome). Subsequent pan-genome studies revealed that high numbers of core-genes exist for all investigated taxa, whether species, genus or family [
7
–
11
]. Thus, using the pan-genome terminology, shared phenotypical traits should be reflected by genes included in the core-genome of a group of bacteria [
12
]. Furthermore, picking up the idea of differential genome comparison, phenotypical traits that are specific to a group of bacteria, phylogenetically coherent or not, should be reflected by its
unique
core genome, i.e., core genes that are unique to this group in comparison to other, closely related organisms (Figure
1
). It seems legitimate to assume that these unique core genes exist for certain groups of bacteria. But the question remains whether these genetic traits follow a phylogeny, i.e., are found in phylogenetically coherent groups of organisms, or whether they are distributed over isolates of various taxonomic clades without a close common ancestor. Horizontal gene transfer (HGT) as well as the loss of genes may lead to the same pheontype in a phylogenetically diverse group of isolates. In this article, we will term groups of isolates that share a genetic trait or phenotype but have no closest common ancestor
genophyletic
groups in comparison to monophyletic groups, where all isolates are derived from a closest common ancester (Figure
1
B). For pathogenic bacteria the
distributed genome hypothesis
states that HGT is a major driving force in evolution of these phenotypes, indicating that unique core genes of pathogens may frequently be found for genophyletic groups [
13
]. However, a recently published phylogenomics study also states the existence of unique core genes for all investigated monophyletic groups of bacteria [
14
].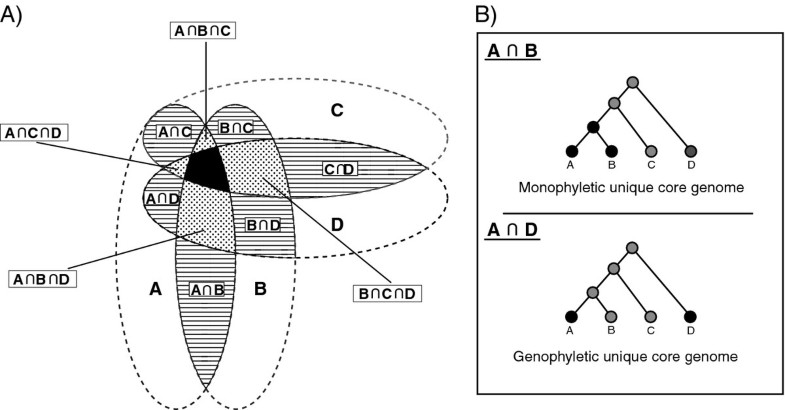 xIn the presented study we compared 64 Vibrionaceae genomes to address the question whether unique core genes exists inside this bacterial family and whether they appear more often in monophyletic than in genophyletic groups. Given that unique core genes exist, the cellular processes these genes are involved in, can provide knowledge about niche adaptation and development of specific phenotypes. In case of unique core genomes of monophyletic groups, these genes may also provide a way to rapidly classify bacteria into different species as proposed by Dutilh et al.[14] which is of particular interest not only for taxonomists but for the development of clinical and diagnostic tests. Additonally, they are promissing targets for the development of vaccines and antibiotics specific for a discrete group of bacterial organisms.
For our analysis we chose the family Vibrionaceae of gamma-proteobacteria because it is a diverse group that currently encloses 130 species from seven genera, including Vibrio Aliivibrio and Photobacterium, and they are typically abundant in aquatic environments (i.e., in oceans, in freshwaters and in brackish waters) [15]. Historically, representatives of the Vibrionaceae family have attracted considerable attention because of their abilities to cause serious diseases in humans (e.g., V. cholerae Vibrio parahaemolyticus and Vibrio vulnificus), for example after consumption of undercooked seafood or intake of contaminated water. Despite the infamous reputation of Vibrionaceae, the majority of these bacteria are normally harmless to healthy humans animals and play important roles in their natural habitats, for example in the regeneration of nutrients.
Conclusions
It is widely accepted that adaptation to a specific niche affects genome structure and gene content. The genomic changes may occur through rearrangement of genes and regulatory elements, changes in transcriptional regulation or by HGT and loss of genes. It was recently shown that gene loss and HGT play an important role in the genomes of highly specialized bacteria when adapting to the metabolism of a new host [1, 39]. Our results support these findings and additionally indicate that HGT is the main reason for genetic features that are shared among isolates that do not share a closest common ancestor. Nevertheless, our findings show that unique genetic traits are more likely to be shared among monophyletic than among genophyletic groups of isolates. Thus, even if bacterial diversity can mostly be described as ä continous spectrum of genotypic variation" [40] we hypothesize that functional sub-systems exist that discretize this spectrum to an extent, where taxonomical demarcations are possible. This was also recently suggested for other bacterial taxa [14]. Therefore, one cornerstone in a genome-based species definition will be the identification of common and unique functional elements present in monophyletic groups of organisms, with respect to their close relatives. Furthermore, our results revealed that the genes identified to be part of the unique core genome of V. cholerae are likely to play an important role in adaptation of this species to its specific ecological niche. Future studies may also investigate the importance of unique core genes of higher taxa, e.g. genera or other monophyletic groups, to examine their role in bacterial taxonomy and evolution. One crucial step in these studies will be the choice of appropriate parameters for homology clustering and determination of uniqueness of genomic traits. This was also discussed for pan-genome analysis' where the chosen percent identity cut-off can greatly influence the outcome of a study [41].
Author's contributions
TK performed the computational analysis and interpretation of the data and drafted the manuscript. AG supervised the annotation of 35 sample genomes and contributed to the manuscript. EH contributed in data gathering, data analysis and the manuscript. NPW contributed to the design of the study and to the manuscript. PH supervised the study, contributed to the interpretation of the data and helped with drafting the manuscript. All authors read and approved the final manuscript.
Declarations
Acknowledgements
This study was founded by the University of Tromsø¸, Norway. The authors thank Thasso Griebel from the University of Jena for the help in construction of the phylogenetic trees. Furthermore, the authors thank Debra Milton, University of Umeå for providing access to the V. anguillarum str. NB10 genome sequence.
Authors' Affiliations
(1)
Department of Chemistry, Faculty of Science and Technology, The Norwegian Structural Biology Centre, University of Tromsø, Tromsø, Norway
(2)
Center for Biotechnology (CeBiTec), Institute for Bioinformatics, Bielefeld University, Bielefeld, Germany
Copyright
© Kahlke et al.; licensee BioMed Central Ltd. 2012
This article is published under license to BioMed Central Ltd. This is an Open Access article distributed under the terms of the Creative Commons Attribution License (http://creativecommons.org/licenses/by/2.0), which permits unrestricted use, distribution, and reproduction in any medium, provided the original work is properly cited.