Research article
Open Access
Expression profiling reveals Spot 42 small RNA as a key regulator in the central metabolism of Aliivibrio salmonicida
Received: 8 September 2011
Accepted: 24 January 2012
Published: 24 January 2012
Abstract
Background
Spot 42 was discovered in Escherichia coli nearly 40 years ago as an abundant, small and unstable RNA. Its biological role has remained obscure until recently, and is today implicated in having broader roles in the central and secondary metabolism. Spot 42 is encoded by the spf gene. The gene is ubiquitous in the Vibrionaceae family of gamma-proteobacteria. One member of this family, Aliivibrio salmonicida, causes cold-water vibriosis in farmed Atlantic salmon. Its genome encodes Spot 42 with 84% identity to E. coli Spot 42.
Results
We generated a A. salmonicida spf deletion mutant. We then used microarray and Northern blot analyses to monitor global effects on the transcriptome in order to provide insights into the biological roles of Spot 42 in this bacterium. In the presence of glucose, we found a surprisingly large number of ≥ 2X differentially expressed genes, and several major cellular processes were affected. A gene encoding a pirin-like protein showed an on/off expression pattern in the presence/absence of Spot 42, which suggests that Spot 42 plays a key regulatory role in the central metabolism by regulating the switch between fermentation and respiration. Interestingly, we discovered an sRNA named VSsrna24, which is encoded immediately downstream of spf. This new sRNA has an expression pattern opposite to that of Spot 42, and its expression is repressed by glucose.
Conclusions
We hypothesize that Spot 42 plays a key role in the central metabolism, in part by regulating the pyruvat dehydrogenase enzyme complex via pirin.
Keywords
Northern Blot AnalysisdppBsRNA GenePotential Biological RoleExternal Stress Factor
Background
Bacteria contain a class of regulatory non-coding (nc) RNAs that are transcribed in trans from distinct promoters [1]. They are typically between 50 and 200 nt in size [2] and have become known as bacterial small RNAs, or sRNAs. The majority of known sRNA genes are located in intergenic regions, but it is becoming increasingly evident that a relatively large number of RNAs are also being transcribed from within protein coding regions, but from the opposite strand (i.e., anti-sense RNAs). Even though their roles are still mostly unknown, it is likely that anti-sense RNAs also play important roles in gene regulation. cis-encoded anti-sense RNAs share extensive complementarity to their messenger RNA (mRNA) target, whereas trans-encoded RNAs typically show limited complementarity [1]. Although cis-encoded RNA regulators can be encoded from within their mRNA target, they are typically located in front of protein coding regions as part of the mRNA. Here they change the expression of the corresponding protein by binding small metabolites (i.e., riboswitches) [3].
sRNAs typically bind to the 5' end of mRNAs through short imperfect base-paring and induce degradation of itself and the target [1]. Other mechanisms, like direct interaction with proteins to modulate their activities or increase stability of mRNAs, also occur. Finding the function and/or mechanism of sRNAs can however be a daunting task, and the Spot 42 sRNA represents a striking example. It was first described as an unstable RNA species of 109 nt in Escherichia coli that accumulated under growth in the presence of glucose (i.e., when adenosine 3', 5'-cyclic monophosphate (cAMP) is low) [4]. During growth with a non-glucose carbon source (i.e., when cAMP concentrations are high), the Spot 42 concentrations were found to be significantly lower. Later experiments showed that over-expression of Spot 42 (~10 fold increase) resulted in impaired growth and lowered ability to adapt to shifts to richer media or shift from glucose to succinate as the carbon source [5]. Also, deletion of the gene that encodes Spot 42, i.e., spf (sp ot f ourty-two), resulted in viable spf null mutants, which indicated that the Spot 42 RNA is non-essential [6]. The direct responsiveness of Spot 42 levels to glucose and cAMP is due to repression of spf by a cAMP-CRP (cAMP-receptor protein) complex [7, 8]. It was unclear for some years if the function of Spot 42 was mediated through the 109 nt RNA itself or through a 14 amino acids long peptide that is hypothetically encoded from within the sRNA. This controversy was settled by Rice et al. [9]. They used a filter binding assay and other methods to show that Spot 42 bound very inefficiently and nonproductive to purified 70S ribosomes, and concluded that Spot 42 function is mediated by the RNA itself. Later, the proximity of spf to polA (encodes DNA polymerase I) lead Dahlberg and co-workers to test whether the products of these genes could influence each other [7, 8], and they found that reduction in Spot 42 levels, either by deletion of spf or by manipulating the growth conditions, both resulted in reduction in DNA pol A activity. The underlying mechanism remains however unknown. The first direct Spot 42 target was discovered by Møller et al. [10], who showed that the sRNA can bind specifically by base pairing with a short complementary region of the translation initiation region of galK (encodes a galactokinase), which is the third gene of the galactose operon (galETKM). The Spot 42-binding region overlaps with the galK Shine-Dalgarno region, thereby blocking ribosome binding. Spot 42 is therefore responsible for a discoordinate regulation of the gal operon. Finally, in a recent work Beisel and Storz [11] demonstrated with microarray analysis and reporter fusions that Spot 42 plays a broader role in metabolism by regulating at least fourteen operons dominated by genes involved in uptake and catabolism of non-favored carbon sources. Several of these operons are regulated by both Spot 42 and CRP, and these two regulators can therefore be considered as participating in a feed-forward loop.
In this study, we used our model bacterium Aliivibrio salmonicida, which belongs to the Vibrionaceae family of gamma-proteobacteria, to further address the biological roles of Spot 42. When we started the project, galK was the only known Spot 42 target. Interestingly, we found that A. salmonicida naturally lacks the gal operon, but contains a highly conserved spf gene, and we therefore considered this bacterium as an excellent model for studying Spot 42 roles other than in galK regulation. Even though other Spot 42 targets have since been proposed [11], our study is still valid, and our goal remains the same, i.e., to identify all biological roles of Spot 42. We generated an A. salmonicida spf deletion mutant and used microarray and Northern blot analyses to find more clues to its function. Deletion of spf has a surprisingly large effect on the transcriptome, with the most dramatic effect on expression of a pirin-like protein gene. In the process, we also discovered a neighboring sRNA, named VSsrna24, which is encoded from the same intergenic region (IGR) and 262 nt downstream of spf. Interestingly, this RNA is expressed in a pattern opposite to that of Spot 42, and its expression is repressed by glucose.
Conclusions
We have studied potential biological roles of a
A. salmonicida
Spot 42 homolog and discovered a neighboring sRNA, named VSsrna24. The expression of Spot 42 is similar to that in
E. coli
, i.e., expression is repressed by cAMP and activated by glucose. Expression of VSsrna24 is, in contrast, repressed by glucose but unaffected by cAMP. A microarray analysis revealed that deletion of
spf
affects a wide range of cellular processes and the expression of a surprisingly large number of genes. After addition of glucose at mid exponential growth phase (i.e., when Spot 42 is highly expressed in the wild-type strain), the most differentially upregulated gene in the
spf
deletion mutant was VSAL_I1200, which encodes a pirin protein with 21% identity and 45% similarity to the
E. coli
pirin. Other notable results are upregulation of many genes involved in motility and chemotaxis, and downregulation of predicted sRNA genes and foreign DNAs. Expression of Spot 42, VSsrna24, Qrr, RyhB and pirin were validated by Northern blot analysis. Figure
5
shows a hypothesis of the main findings. It should be stressed that it should be regarded as a hypothesis that must be tested further, and solid evidence can come from e.g., gel mobility shift assay or fusion-reporter assays to address potential interactions between Spot 42 and potential mRNA targets, or complementation assay to restore Spot 42 functions.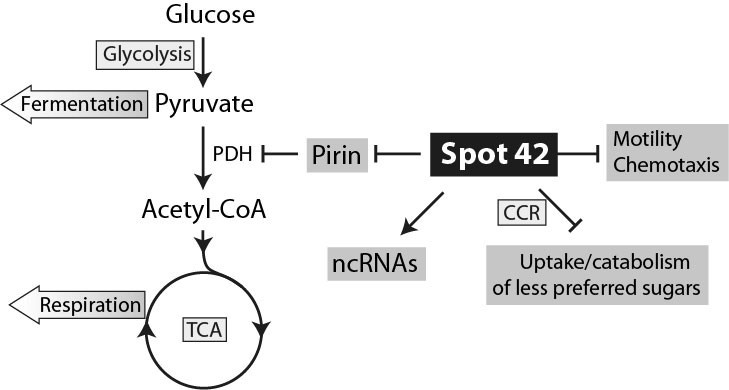 The majority of bacterial regulatory RNAs, like sRNAs, probably remain to be identified. Eighty-seven sRNAs are known in E. coli [2], whereas the corresponding number is much lower for other bacteria. Once identified, finding the function and targets of each sRNA represents a formidable task. In general, the current knowledge on sRNA function is therefore limited. Although one or a few targets have been identified for a given sRNA, it is likely that many additional targets remain to be found. For example, in E. coli, the transcript of the multi-cistronic gal operon was for many years the only known Spot 42 target [10], but a recent microarray analysis in which over-expression of spf with an isopropyl β-D-thiogalactopyranoside (IPTG)-inducible promoter was used, suggests many additional targets [11]. The list of targets is enriched in genes involved in sugar transport (dppB, IldP, nanC, nanT, srlA and xylF) or sugar catabolism (ebgC, fucI, fucK and galK). We have used a knock-out approach to find overexpressed genes that could be potential Spot 42 targets in A. salmonicida. Interestingly, the majority of genes that corresponds to mRNA targets in E. coli are apparently not present (i.e., they produce no significant hits in BLASTP searches) in the A. salmonicida genome (i.e., IldP, nanC, srlA, ebgC, fucI, galK and gsp). Also, apparent homologs of the remaining E. coli targets were in general not significantly differentially expressed in our dataset. These results suggest that there are significant differences in Spot 42 regulation between E. coli and A. salmonicida.
Perhaps our most intriguing finding is that A. salmonicida Spot 42 appears to directly or indirectly regulate the levels of pirin mRNA. This is in agreement with its currently known role in carbohydrate metabolism, and that the level of Spot 42 is repressed by cAMP and activated by glucose. We are also pursuing potential roles of the neighboring sRNA, named VSsrna24. Its expression is repressed by glucose, and we suspect that this sRNA also could have important roles in carbohydrate metabolism.
Declarations
Acknowledgements
This work was funded by grants from the Norwegian Research Council and the University of Tromsø. We wish to thank Brian Tjaden (Wellesley College) for help with sRNA target predictions, Henrik Nielsen (University of Copenhagen) for providing RNA protocols, Debra Milton for kindly providing the knock-out system, Sunniva K. Thode for assistance with microarray analysis, The Microarray Resource Centre in Tromsø (MRCT) for offering facilities and equipment to run the microarray experiments, and finally Hilde Hansen for her generous help with knock-out constructions.
Authors' Affiliations
(1)
Department of chemistry, Faculty of science and technology, University of Tromsø, Tromsø, Norway
(2)
The Norwegian Structural Biology Centre, University of Tromsø, Tromsø, Norway
(3)
Institute of Clinical Medicine, University of Tromsø, Tromsø, Norway
Copyright
© Hansen et al; licensee BioMed Central Ltd. 2012
This article is published under license to BioMed Central Ltd. This is an Open Access article distributed under the terms of the Creative Commons Attribution License (http://creativecommons.org/licenses/by/2.0), which permits unrestricted use, distribution, and reproduction in any medium, provided the original work is properly cited.