Research article

Open Access
Personal receptor repertoires: olfaction as a model
Received: 3 May 2012
Accepted: 26 July 2012
Published: 21 August 2012
Abstract
Background
Information on nucleotide diversity along completely sequenced human genomes has increased tremendously over the last few years. This makes it possible to reassess the diversity status of distinct receptor proteins in different human individuals. To this end, we focused on the complete inventory of human olfactory receptor coding regions as a model for personal receptor repertoires.
Results
By performing data-mining from public and private sources we scored genetic variations in 413 intact OR loci, for which one or more individuals had an intact open reading frame. Using 1000 Genomes Project haplotypes, we identified a total of 4069 full-length polypeptide variants encoded by these OR loci, average of ~10 per locus, constituting a lower limit for the effective human OR repertoire. Each individual is found to harbor as many as 600 OR allelic variants, ~50% higher than the locus count. Because OR neuronal expression is allelically excluded, this has direct effect on smell perception diversity of the species. We further identified 244 OR segregating pseudogenes (SPGs), loci showing both intact and pseudogene forms in the population, twenty-six of which are annotatively "resurrected" from a pseudogene status in the reference genome. Using a custom SNP microarray we validated 150 SPGs in a cohort of 468 individuals, with every individual genome averaging 36 disrupted sequence variations, 15 in homozygote form. Finally, we generated a multi-source compendium of 63 OR loci harboring deletion Copy Number Variations (CNVs). Our combined data suggest that 271 of the 413 intact OR loci (66%) are affected by nonfunctional SNPs/indels and/or CNVs.
Conclusions
These results portray a case of unusually high genetic diversity, and suggest that individual humans have a highly personalized inventory of functional olfactory receptors, a conclusion that might apply to other receptor multigene families.
Keywords
Olfactory receptorGenetic polymorphismHaplotypesSingle nucleotide polymorphismCopy number variationOlfactionGene family
Background
Olfaction, the sense of smell, is a versatile and sensitive mechanism for detecting and discriminating thousands of volatile odorants. Olfactory recognition is mediated by large repertoires of olfactory receptors (ORs), which activate a G-protein-mediated transduction cascade, located in the cilia of olfactory sensory neurons [1, 2]. The human OR repertoire has 851 loci, encompassing 78 genomic clusters and 57 singleton loci, residing on all but two human chromosomes [3–6]. Each sensory cell expresses a single allele of a single OR locus, thus transmitting a molecularly defined signal to the brain [7–10]. A single OR gene may recognize more than a single odorant molecule [11–15]. A widely accepted working hypothesis is that allelic variants of OR genes may harbor different functional characteristics and hence, may generate different odorant sensitivity phenotypes in different members of the human population [16–18].
Human ORs encompass a high number of pseudogenes, whereby more than 50% of the loci annotated as nonfunctional due to frame-disrupting mutations [3, 5, 6, 19]. Primates are less dependent than mouse and dog on olfactory cues, which appears to have resulted in a gradual gene loss process along this lineage [20–22]. Similar OR repertoire diminutions have been reported in other mammals [23]. In higher apes, the gene loss has remarkably accelerated in humans [24]. Such diminution of the functional OR repertoire in humans is an ongoing evolutionary process, as demonstrated by the past identification of OR genes that segregate between intact and pseudogene forms [25, 26], and by more recent surveys showing an enrichment of loss-of-function OR alleles [27, 28]. It was shown that every human individual is characterized by a different combination of such segregating pseudogenes (SPGs), constituting a pronounced genotypic diversity in the population, including ethnogeographic differences [26]. More recently, using a high-resolution microarray applied to 20 individuals [29], and a read-depth-based Copy Number Variation (CNV) genotyping algorithm [30], we showed a wide range of copy-number values across individuals, ranging from zero to nine copies. These results are in-line with other surveys which found a significant enrichment of ORs in CNV regions [31, 32]. CNVs involving deletions (copy numbers of 0 or 1) were shown to affect 56 intact OR loci, 14% of the human OR gene repertoire [30].
Cell-surface receptors are often characterized by several haplotypic alleles in the population, sometimes with different functional properties. A prominent example is the group of the major histocompatibility proteins with varying specificities towards antigenic peptides [33, 34]. Other examples include the taste receptor TAS38, underlying responsiveness to the bitter compound phenylthiocarbamide (PTC) [35, 36], the melanocortin 1 receptor (MC1R), affecting human skin and hair pigmentation [37], and the green opsin OPN1MW, mediating red-green color vision discrimination [38]. Likewise, in the olfactory system, two protein haplotypes of the olfactory receptor OR7D4 were shown to manifest large difference in sensing the steroid odorant androstenone [39, 40].
Some missense haplotypic alleles can be nonfunctional, due to a substitution of key amino acids governing protein folding or interaction with signal transduction components. A continuous spectrum of functionality among missense haplotypes may be quantified by algorithms such SIFT [41] or PolyPhen [42]. An analogous algorithm, Classifier for Olfactory Receptor Pseudogenes (CORP) [43], was previously used to identify 30 SNP variations for which one of the alleles is likely inactive [26], with a broader estimate of as many as 135 functionally inactive missense alleles in the reference genome [43].
Here, we performed scrutiny of publicly available data to create a comprehensive catalog of genetic variability in the human OR repertoire. This includes a compendium of all available missense haplotypes of OR proteins and a dramatically expanded list of OR segregating pseudogenes. Our work creates a framework for understanding the evolution and function of OR genes, and a necessary infrastructure for genotype-phenotype association studies for smell deficits. It further highlights the utility of the olfactory system as a model for personalized gene repertoires.
Results
Numerous allelic variants in intact ORs
Nonfunctional variations
We next focused on the analysis of nonfunctional variations that eliminate specific members of the OR allele repertoire in a given person, hence are excellent candidates for underlying inter-individual odorant threshold differences [
18
,
49
]. First, we analyzed small events, i.e. stop SNPs and indels (up to 84 bases) that result in frame disruption, as derived from 6 different data sources (Additional file
1
: Table S1 and Figure S3). Among the 387 OR loci annotated as intact genes in the reference genome we identified 218 cases for which at least one nonfunctional allele was seen. In addition, among the 464 ORs defined as pseudogene in the reference genome, we identified 26 ORs that harbor an intact allele in at least one person, and may be considered as "resurrected" from fixed pseudogene status (Additional file
4
). Thus, among 413 thus defined intact loci, a total of 244 loci (59%) show segregation between intact and nonfunctional alleles (segregating pseudogenes, Figure
6
). This provides a major enhancement relative to our previously published set of 31 segregating pseudogenes [
25
]. When analyzing 145 subjects from the 1000 Genome Project for which both SNPs and indels are available, we found that every human individual has 21 ± 4 deletion heterozygotes and 11 ± 2 loci that are homozygously disrupted.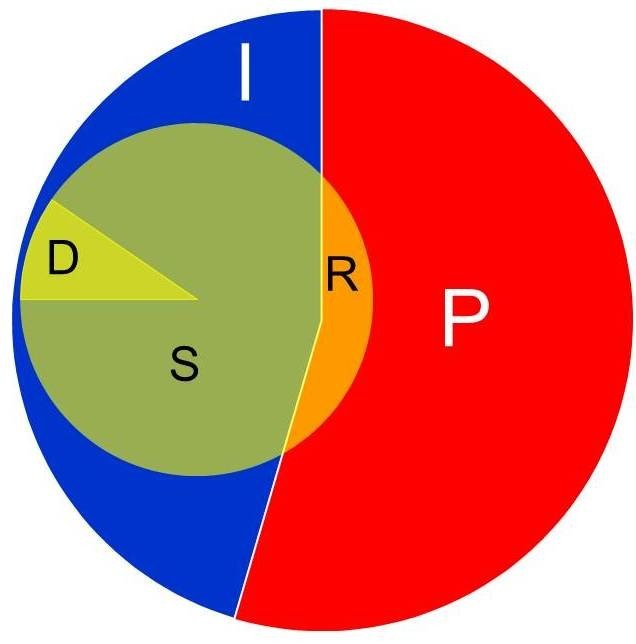 We performed experimental validation for 68 nonfunctional SNPs (stop gain, stop loss, and loss of initiator methionine) and 200 frame-disrupting indels (Additional file 4). For this we designed a custom SNP array (Illumina GoldenGate) that included the total of 268 nonfunctional variations. These were genotyped in a cohort of 468 individuals of two ethnicities, providing validation for 184 of the variations, as compared to a most probable value of validation of 197 ± 2 based on the cohort size and specific minor allele frequencies (validation rate of 93.4%). The number of nonfunctional SNPs per individual (heterozygous and homozygous) thus discovered is shown in Additional file 1: Figure S4. A significant correlation was seen between the allele frequencies in the 1000 Genomes Project data and our validation sets (Additional file 1: Figure S5).
Deletion CNVs
We further performed integration of biallelic deletion CNVs for all OR loci, utilizing five different data sources (Additional file
1
: Table S1). This revealed 63 such CNV events (Figure
7
A, Additional file
5
). This brings the total number of loci that harbor a nonfunctional allele in the examined populations to 271 (Figure
6
). As previously seen for segregating pseudogenes [
26
], here too we observe a great inter-individual variation in the combinations of OR loci affected by deletion CNVs (Figure
7
B).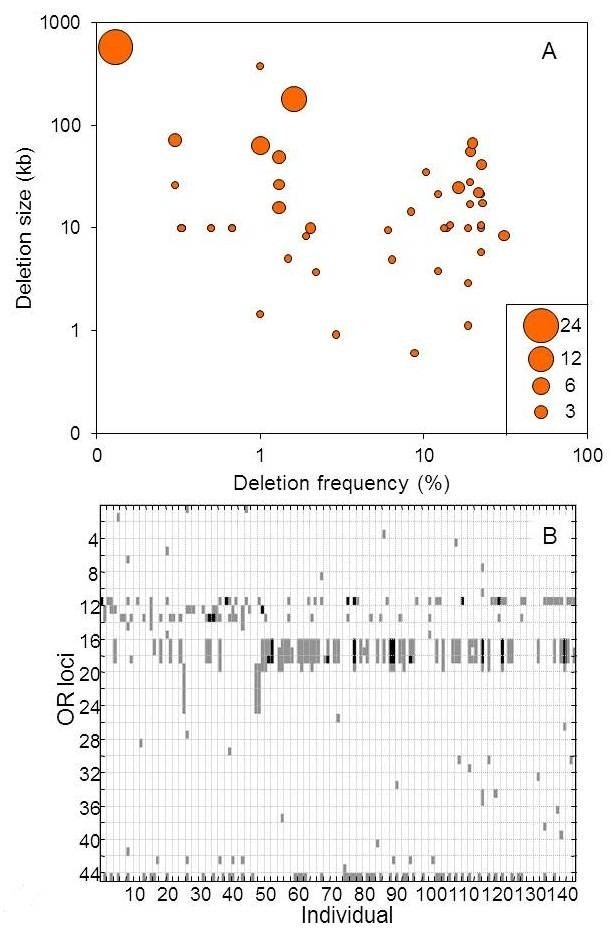 The combined variation results of the deletion CNVs with the SPG genotypes strongly reinforce the notion that practically every individual in the human population has a different combination of intact and inactive alleles (Figure
8
). Using a phasing procedure (see methods), we could assign deletion locus haplotypes to 177 ORs, which in some cases harbor more than one event on a given chromosome, and in others create compound heterozygosity for two deletion types (Figure
9
and Additional file
1
: Figure S6). Using this combined view we find that, on average, every individual genome carries a disrupted allele at 35 ± 4 loci, of which 11 ± 3 are homozygously affected (Additional file
1
: Figure S7). Because every olfactory sensory neuron expresses a single allele at an OR locus, heterozygosly deleted SPGs might have a phenotypic outcome. The personalized repertoire of intact and inactivated ORs significantly differs among ethnic groups (Figure
10
A), and such differences are dominated by a subset of OR loci, representing both class I and class II ORs, that manifest a relatively large inter-group variation (Figure
10
B, Additional file
1
: Table S2). There is however no significant difference in homozygous deletion alleles among the different populations (Additional file
1
: Figure S6).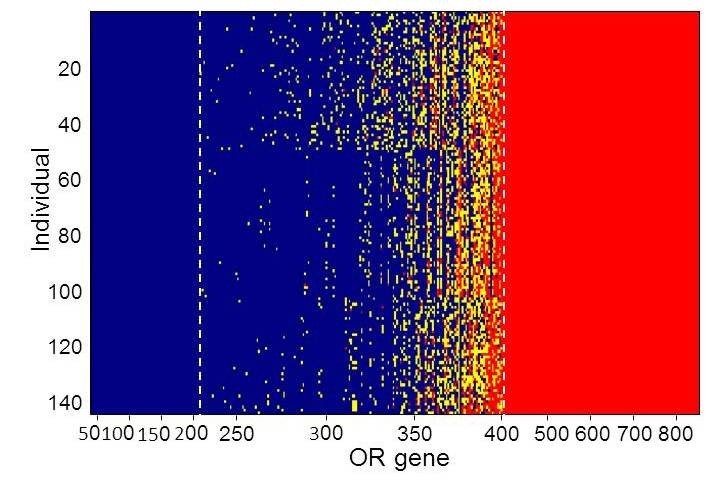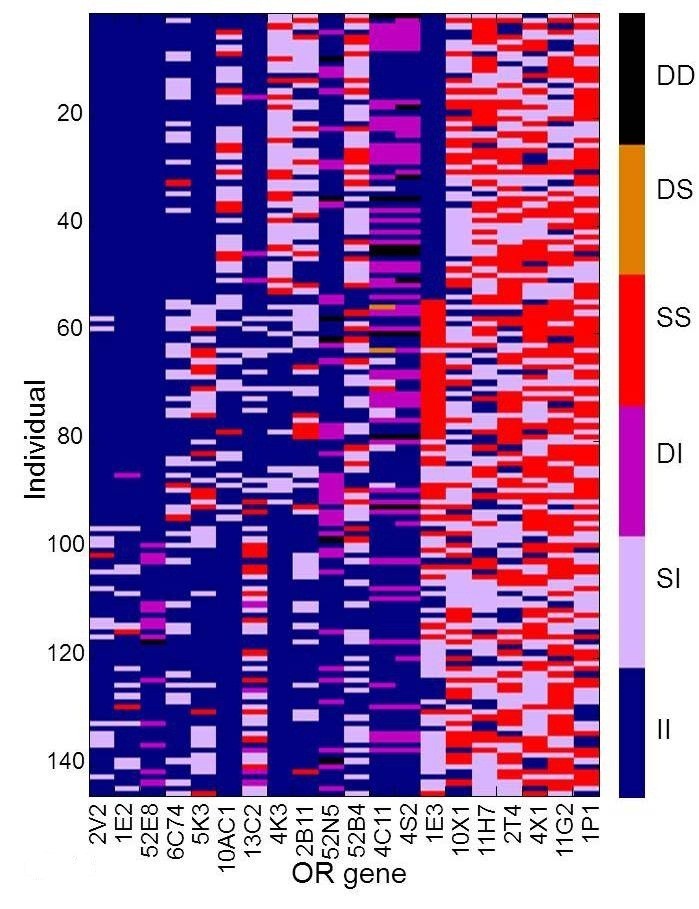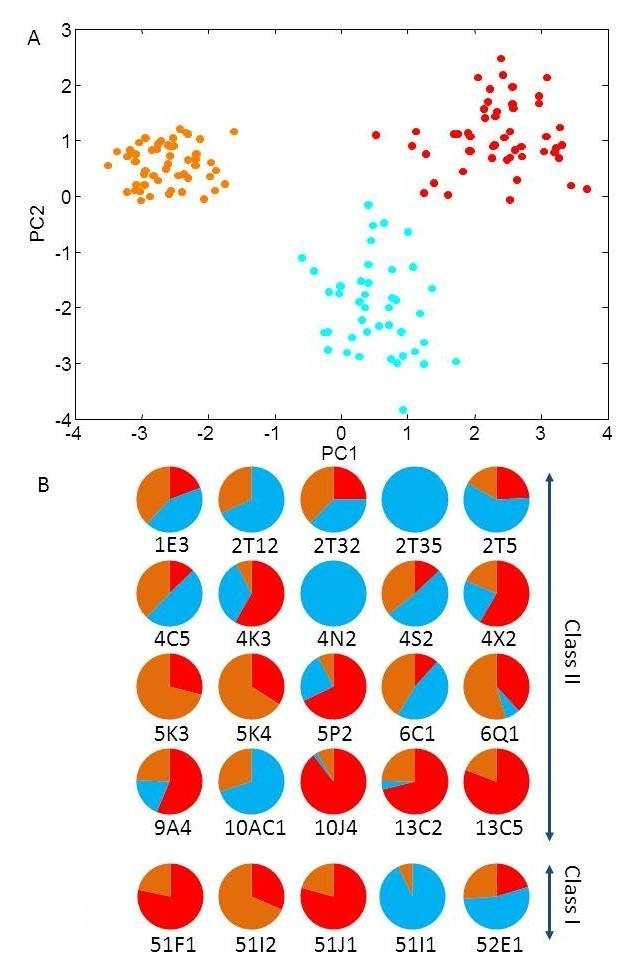 OR Evolution
We asked whether OR genes harbor an unusually high frequency of missense variations. For this, we compared the number of non-synonymous SNPs in two gene sets. The first was 387 OR genes defined as intact in the reference genome, and the second control set constituted 581 protein-coding genes that (like ORs) have a single coding exon. The latter included non-OR G-protein coupled receptors, keratin associated proteins, protocadherins and histones. ORs were found to have 7.7 ± 4.3 missense SNPs per open reading frame, while the controls had 2.2 times less such SNPs (3.5 ± 4.3, p<2.2X10
-16
Wilcoxon rank sum test with continuity correction, Figure
11
A). This was confirmed in a second test set of 15,425 protein coding genes (all GeneCards coding SNPs [
50
,
51
] Figure
11
C, p<2.2X10
-16
). Synonymous SNP counts showed a much smaller, though significant, difference between ORs and controls (Figure
11
B, p = 1.465X10
-13
and Figure
11
D, p = 0.00789). We note that OR genes and pseudogenes show a similar propensity of non-synonymous SNPs (Figure
11
E), with a slight, statistically significant excess in intact ORs (p = 0.001149). The simplest interpretation is that on average ORs may neutrally accumulate genetic variations, mainly due to less stringent purifying selection as compared to non-ORs [
31
,
32
].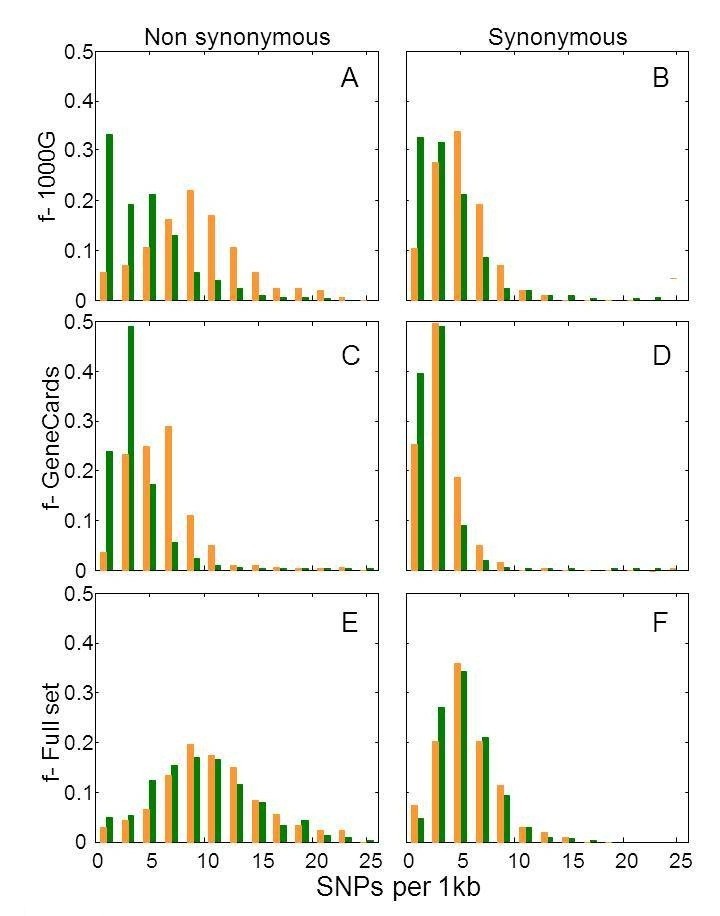 We asked whether some of the OR genes accrue variations in a non-neutral fashion by examining the ratio of polymorphic non-synonymous substitutions per non-synonymous site to polymorphic synonymous substitutions per synonymous site (pN/pS) [
52
,
53
], whereby a value near one would suggest neutrality. While for most ORs the results are consistent with neutrality, there is significant enrichment in the high pN/pS region of the distribution in ORs compared to controls, consistent with selection (Figure
12
and Additional file
1
: Figure S8). A subclass of the ORs with pN/pS>1.5 also have a positive value of Tajima's D (Figure
12
A) suggesting balancing selection. We asked whether the subgroup of fast evolving ORs (with pN/pS>1.5) is enriched with "evolutionary young" genes, defined as those lacking one-to-one orthology relationships with the chimpanzee orthologs [
29
]. We find that no such enrichment occurs, as among 47 fast evolving ORs, the fraction of evolutionary young genes is 12.8%, while for all other ORs the fraction is 17.1%. We further note that a relatively small subgroup of 57 ORs (16.8%) in our dataset (in all three populations) show evidence for strong purifying selection (Tajima's D<−0.5 and pN/pS <0.5, Figure
12
). This low count as compared to 40.5% in controls, is likely related to the tendency of ORs to evolve towards higher inter-individual diversity [
54
]. Thus, for the specific receptors showing this evolutionary pattern (Additional file
1
: Table S3), such sequence conservation may indicate functional importance, e.g. recognition of essential odorants essential for the species as a whole.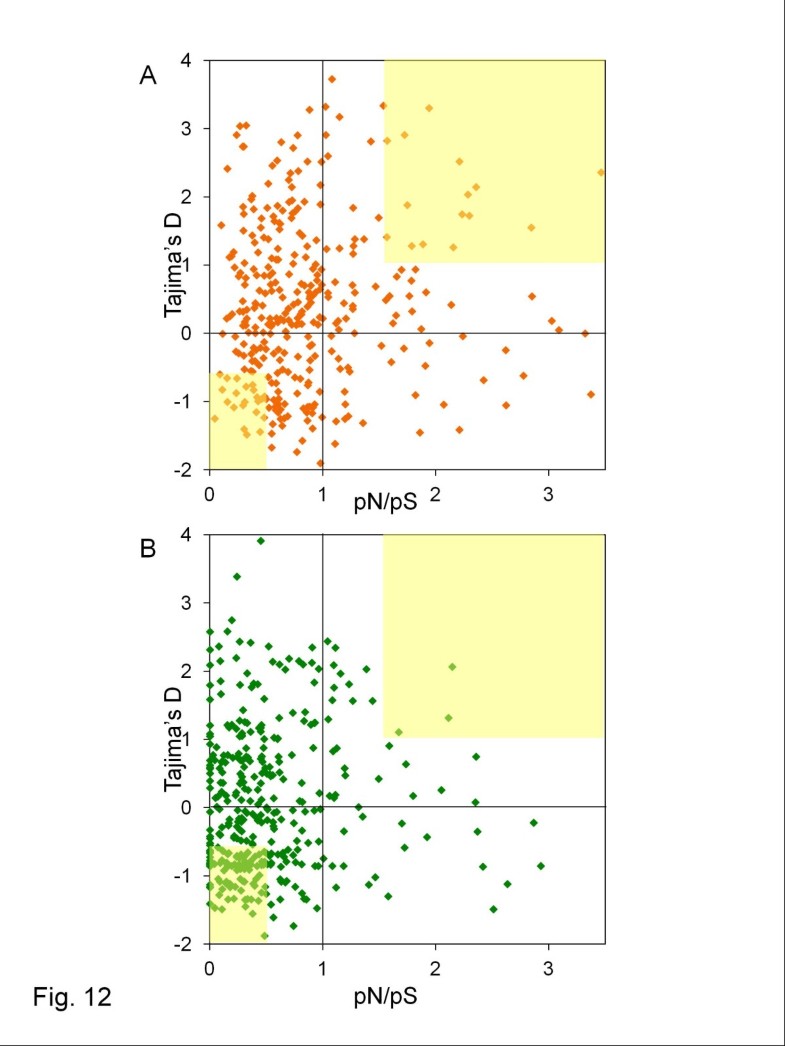 Conclusions
We used data mining strategies to generate a comprehensive compendium of genomic variations in the inventory of human OR coding regions. Our analyses suggest that the effective size of the functional human OR repertoire is much higher than the number of intact loci, implying considerable enhancement of the potential of human smell perception diversity. Importantly, using both data-mining and experimental verification we show that more than two thirds of human OR loci segregate between an intact and inactivated alleles. These results portray a case of unusually high genetic diversity, and suggest that individual humans have a highly personalized "barcodes" of functional olfactory receptors, a conclusion that likely applies to other receptor multigene families as well.
Abbreviations
OR:

Olfactory receptor
SPG:

Segregating pseudogene
CNV:

Copy number variation
SNP:

Single nucleotide polymorphism
CORP:

Classifier for Olfactory Receptor Pseudogenes
pN/pS:

The ratio of polymorphic non-synonymous substitutions per non-synonymous site to polymorphic synonymous substitutions per synonymous site.
Declarations
Acknowledgments
We are grateful to E.E. Eichler, J.M. Kidd and M. Malig (University of Washington, Seatle, WA, USA) for providing access to fosmid clone reagents under the auspices of the Structural Variation Project; H. Lehrach (Max Plank Institute for Molecular Genetics, Berlin, Germany) for sequencing of OR genes; R. Radtke, A. Husain, S. Sinha, M. Mikati, W. Gallentine, D. Attix, J. McEvoy, E. Cirulli, V. Dixon, N. Walley, K. Linney, E. Heinzen, A. Need, J.P. McEvoy, J. Silver, M. Silver and D. Goldstein (Duke University, Durham NC, USA) for their role in collecting samples used in this study; D. Reed and A. Knaapila (Monell Chemical Senses Center, Philadelphia PA, USA) for collecting some of the samples studied in the work; Y. Hasin-Brumshtein for validating some of the nonfunctional variations; J. Korbel (EMBL, Heidelberg, Germany) for preferred access to the 1000 Genomes Project data and for fruitful discussions.
The work on the fosmid clone reagent (E.E. Eichler's group) was supported by National Institutes of Health Grant HG004120 to E.E.E. Sample collection in D. Goldstein's group was funded in part by NIMH Grant RC2MH089915. Support to DL was from NIDCD/NIH grant 5-R01-DC000298-18 and the Crown Human Genome Center at the Weizmann Institute of Science.
Authors' Affiliations
(1)
Department of Molecular Genetics, Weizmann Institute of Science, Rehovot, Israel
(2)
Institute of Bioengineering, School of Life Sciences, École Polytechnique Fédérale de Lausanne, Lausanne, Switzerland
(3)
Genome Biology Unit. European Molecular Biology Laboratory, Heidelberg, Germany
(4)
Monell Chemical Senses Center, Philadelphia, USA
(5)
Center for Human Genome Variation, Duke University School of Medicine, Durham, United States of America
Copyright
© Olender et al.; licensee BioMed Central Ltd. 2012
This article is published under license to BioMed Central Ltd. This is an Open Access article distributed under the terms of the Creative Commons Attribution License (http://creativecommons.org/licenses/by/2.0), which permits unrestricted use, distribution, and reproduction in any medium, provided the original work is properly cited.