Research article

Open Access
Analysis of a comprehensive dataset of diversity generating retroelements generated by the program DiGReF
Received: 16 May 2012
Accepted: 18 August 2012
Published: 28 August 2012
Abstract
Background
Diversity Generating Retroelements (DGRs) are genetic cassettes that can introduce tremendous diversity into a short, defined region of the genome. They achieve hypermutation through replacement of the variable region with a strongly mutated cDNA copy generated by the element-encoded reverse transcriptase. In contrast to "selfish" retroelements such as group II introns and retrotransposons, DGRs impart an advantage to their host by increasing its adaptive potential. DGRs were discovered in a bacteriophage, but since then additional examples have been identified in some bacterial genomes.
Results
Here we present the program DiGReF that allowed us to comprehensively screen available databases for DGRs. We identified 155 DGRs which are found in all major classes of bacteria, though exhibiting sporadic distribution across species. Phylogenetic analysis and sequence comparison showed that DGRs move between genomes by associating with various mobile elements such as phages, transposons and plasmids. The DGR cassettes exhibit high flexibility in the arrangement of their components and easily acquire additional paralogous target genes. Surprisingly, the genomic data alone provide new insights into the molecular mechanism of DGRs. Most notably, our data suggest that the template RNA is transcribed separately from the rest of the element.
Conclusions
DiGReF is a valuable tool to detect DGRs in genome data. Its output allows comprehensive analysis of various aspects of DGR biology, thus deepening our understanding of the role DGRs play in prokaryotic genome plasticity, from the global down to the molecular level.
Keywords
DGR
Diversity-generating retroelement
Targeted mutagenesis
Prokaryote evolution
Horizontal gene transfer
Reverse transcriptase
DiGReF
Background
Living organisms utilize many mechanisms to ensure fidelity of replication and to reduce the mutation rate. However, in some circumstances, an increased mutation rate can be beneficial. In particular, pathogenic organisms are often subjected to selection for diversity to overcome host defenses and/or increase host range. For example, mutator mutants lose the mismatch repair system[1], which affects the entire genome. Alternatively, changes in the copy number of simple repeats at bacterial contingency loci can generate high frequencies of mutations in particular genes[2], but result in a limited range of potential mutations. Diversity generating retroelements (DGRs) can generate a much greater range of localized diversity. The first DGR was discovered in a Bordetella phage, where it affects tail fibers and, thus, host range[3]. Since then, DGRs have been discovered in a variety of phage and bacterial systems[4–6].
DGRs include a gene encoding a reverse transcriptase (RT) as well as a template repeat (TR) and a variable repeat (VR) (Figure
1
). The VR is expected to lie within a protein coding region, so that mutagenesis results in an altered protein sequence (the tail fiber protein in the case of the
Bordetella
phage). In the known DGRs, the TR/VR repeats are about 120 bp long. The sequence of the TR can be copied in an error-prone fashion to the VR resulting in the generation of diversity. A hallmark of DGRs is the exclusive mutation of sites that correspond to adenine residues in the respective template repeat. There is convincing experimental evidence that mutagenesis occurs through reverse transcription of a cDNA from a transcript containing the TR[
3
,
7
]. This process is thought to resemble the target-primed reverse transcription mechanism also employed by group II introns and non-LTR retrotransposons. However, instead of the "copy and paste" mechanism of these classical retroelements, DGRs use a "copy and replace" strategy. Since the system does not self-inactivate, it is able to generate continuous localized mutagenesis. Although recently a specific structure in the DNA close to the VR has been identified as a crucial targeting determinant[
8
], the exact steps of the exchange of the genomic DNA for the newly generated cDNA are still unclear. The reason for the A-specific nature of the base changes is also unknown. The RTs associated with DGRs seem to belong to a unique clade most closely related to group II intron RTs[
4
]. The best investigated DGR includes a second small protein encoded by the
atd
gene, which is important for mutagenesis. However, the function of the protein and whether such a protein is required for all DGRs is unclear. DGRs occur in a taxonomically diverse range of bacteria and phages[
5
,
6
]. Little is known of their evolution, including whether they have evolved via horizontal gene transfer (HGT) and how they acquire new target proteins.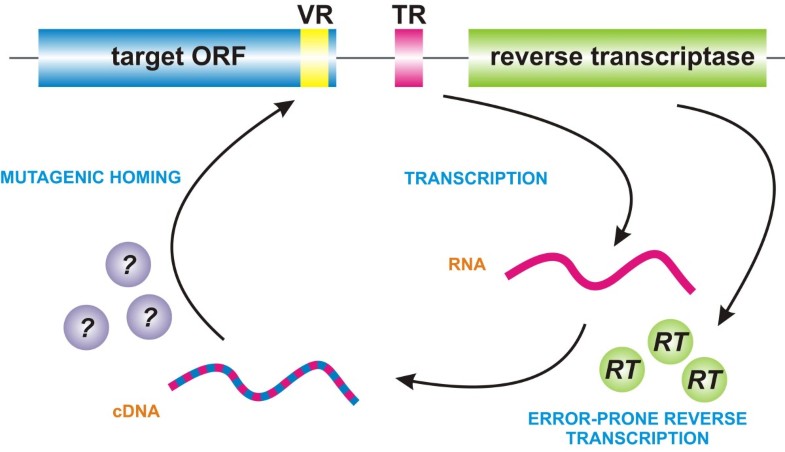 The DGR characteristics described above have been mainly derived from investigation of a single element, the Bordetella phage DGR, and supported by sequence comparison with a small number of related elements. However, a systematic and comprehensive assessment of the prevalence, distribution, and structure of these retroelements has been lacking. In this paper, we present a Perl program that identified 155 potential DGRs in public DNA sequence databases, the largest set described so far. Having subjected this dataset to careful quality control, we used it to examine several aspects of DGR mechanism and evolution. We found that DGR cassettes have a rather homogenous length of 2–5 kb, but are highly tolerant to permutations of their components and expansion with up to three additional VRs. TR and VR can even be on a different DNA strand to the corresponding RT gene. Thus, unlike in group II introns and retrotransposons, the RT mRNA and the template RNA are not necessarily the same molecule. DGR RTs, though highly divergent, form a phylogenetic clade that is characterized by a (I/V/L)GxxxSQ motif in RT domain 4. This motif seems largely necessary and sufficient to predict DGR association and may explain the observed restriction of mutagenesis to adenine bases. DGRs can be found in all major classes of bacteria, but exhibit sporadic phylogenetic distribution. Several lines of evidence point to horizontal gene transfer as the main propagation mechanism of DGRs. However, DGRs do not use a single vector for their dispersal, but "hitchhike" with various mobile elements, e.g. phages, transposons and plasmids.
Conclusion
The program DiGReF is designed to easily and automatically search for DGRs. With this program, we were able to reliably identify all previously described DGR sequences, but in addition, we found over 100 new cassette structures that show the typical features of DGRs. Changing the search parameters allowed us to identify new structural DGR types. Currently, the program is mainly limited by incomplete or misassembled sequence data, but allows facile constant surveillance of newly sequenced genomes for DGRs.
Moreover, the modular nature of DiGReF and its flexible output (e.g. in graphical format) greatly facilitate the downstream analysis of various aspects of DGRs. In this work we have analyzed repeat length, nucleotide substitution patterns, RT phylogenetics, cassette structure and interspecies transfer of DGRs, but the program output also offers the possibility to address other questions pertaining to DGR function. For example, the program can be adapted to extract the target ORFs of DGRs. Although the crucial role of DGRs in phage tropism switching is well understood, the function of these elements in bacteria is still unclear. Many target ORFs are located in the membrane, belong to the FGE-sulfatase superfamily and assume a Clec-type fold[31, 32], but their exact function is unknown. A systematic large scale comparison of the target proteins may provide insights into which proteins are good targets for DGRs and help to define their biological role. Similarly, DiGReF facilitates the search for accessory proteins and allows detailed analysis of integration determinants such as the IMH region (initiator of mutagenic homing) or the hairpin/cruciform structure downstream of the VR that is required for target site recognition in a subset of DGRs[8]. Thus the software will be a valuable tool for obtaining deeper insights into the function of these unique intriguing retroelements.
Abbreviations
DGR:

Diversity g enerating r etroelement
DiGReF:

Diversity g enerating retroelement finder
RT:

Reverse transcriptase
TR:

Template repeat
VR:

Variable region
ORF:

Open reading frame
A:

C, T, G: Adenine, cytosine, thymine, guanine
B:

C, T, or G.
Declarations
Acknowledgements
We would like to thank F. Kauff for valuable advice and assistance with the phylogenetic analysis, and A. Solem for critically reading the manuscript. This work has been supported by a grant from the EU-FP7 programme (Marie Curie International Reintegration grant PIRG05-GA-2009-248023) to N.Z.
Authors' Affiliations
(1)
Department of Molecular Genetics, University of Kaiserslautern, Kaiserslautern, Germany
(2)
Department of Genetics, University of Kaiserslautern, Kaiserslautern, Germany
(3)
Department of Biology - Group of Molecular Genetics, University of Kaiserslautern, Kaiserslautern, Germany
Copyright
© Schillinger et al.; licensee BioMed Central Ltd. 2012
This article is published under license to BioMed Central Ltd. This is an Open Access article distributed under the terms of the Creative Commons Attribution License (http://creativecommons.org/licenses/by/2.0), which permits unrestricted use, distribution, and reproduction in any medium, provided the original work is properly cited.