Methodology article
Open Access
Normalization of a chromosomal contact map
Received: 6 April 2012
Accepted: 21 August 2012
Published: 30 August 2012
Abstract
Background
Chromatin organization has been increasingly studied in relation with its important influence on DNA-related metabolic processes such as replication or regulation of gene expression. Since its original design ten years ago, capture of chromosome conformation (3C) has become an essential tool to investigate the overall conformation of chromosomes. It relies on the capture of long-range trans and cis interactions of chromosomal segments whose relative proportions in the final bank reflect their frequencies of interactions, hence their spatial proximity in a population of cells. The recent coupling of 3C with deep sequencing approaches now allows the generation of high resolution genome-wide chromosomal contact maps. Different protocols have been used to generate such maps in various organisms. This includes mammals, drosophila and yeast. The massive amount of raw data generated by the genomic 3C has to be carefully processed to alleviate the various biases and byproducts generated by the experiments. Our study aims at proposing a simple normalization procedure to minimize the influence of these unwanted but inevitable events on the final results.
Results
Careful analysis of the raw data generated previously for budding yeast S. cerevisiae led to the identification of three main biases affecting the final datasets, including a previously unknown bias resulting from the circularization of DNA molecules. We then developed a simple normalization procedure to process the data and allow the generation of a normalized, highly contrasted, chromosomal contact map for S. cerevisiae. The same method was then extended to the first human genome contact map. Using the normalized data, we revisited the preferential interactions originally described between subsets of discrete chromosomal features. Notably, the detection of preferential interactions between tRNA in yeast and CTCF, PolII binding sites in human can vary with the normalization procedure used.
Conclusions
We quantitatively reanalyzed the genomic 3C data obtained for S. cerevisiae, identified some of the biases inherent to the technique and proposed a simple normalization procedure to analyse them. Such an approach can be easily generalized for genomic 3C experiments in other organisms. More experiments and analysis will be necessary to reach optimal resolution and accuracies of the maps generated through these approaches. Working with cell population presenting highest levels of homogeneity will prove useful in this regards.
Keywords
Preferential InteractionGenomic ElementSpindle Pole BodyGenomic DistanceReceiver Operating Curve Analysis
Background
Chromosomes from both eukaryotes and prokaryotes not only convey information through their linear DNA sequence but also contribute to the regulation of a number of DNA-related metabolic processes through their three dimensional arrangements[1–3]. Since an original publication by Dekker and co-workers ten years ago, chromosome conformation capture (3C) technique and its derivatives have become essential to the investigation of chromosome organization[4–6]; for a brief overview of the various techniques published so far see[7]. The general principles of these protocols remain the same and rely on formaldehyde fixation to capture long-range trans and cis chromosomal interactions in living cells. The crosslinked cells are incubated with a restriction enzyme that will cut the DNA in a number of restriction fragments (RFs). Because of the crosslink, several RFs can be covalently linked within molecular complexes. A ligation step in diluted conditions will favor ligation events between RFs trapped within the same complex. After a decrosslinking step, the resulting 3C template consists in a collection of ligation products of two specific RFs, whose relative abundance (after normalization) reflects the frequency with which these two chromatin segments were crosslinked in the population. The exhaustive analysis of this collection enables the generation of chromosomal contact maps, that allows deciphering the average positioning of loci of interest with respects with each others within the nucleus. In the past few years, quantification of the abundance of ligation products has evolved from semi-quantitative PCR[4] to deep-sequencing techniques[8]. The later approach now enables genome-wide analysis of chromosome organization. A typical result of such experiment is the number of times each pair of RF is sequenced at the final step. These numbers are then arranged in a symmetric matrix representing all the possible pairs of RFs from the genome, generating a genome-wide contact map. Those matrices represent the relative frequency of physical interaction for each RF in the genome with all of the other RFs. Different experimental protocols have been used so far, and genome-wide contact maps have been obtained for Lymphoblastoid cells[8, 9], mouse[10, 11], Schizosaccharomyces pombe[12], S. cerevisiae[13, 14], and fruit fly[15].
3C derived experiments are likely to generate biases given the complexity of the protocols, and necessitate a dedicated effort to experimentally identify and limit the generation of byproducts at each step[
16
]. However, it appears impossible to entirely prevent unwanted DNA molecules to be present in the final banks, and subsequently in the sequence data. Therefore, these data need to be carefully processed in order to identify these sequences, and limit the introduction of biases in the final analysis. Although not necessarily rewarding, such (re-)processing is essential not only to accurately analyze the data from a specific experiment but also to provide important feedback for the design of future experiments. For instance, GC content and RF lengths induced biases present in the Hi-C databank of the Human genome were recently identified[
17
]; see also[
18
]. Here, we have reassessed the genomic 3C data from the experimental protocol used to obtain the first comprehensive dataset in
S. cerevisiae
in a pioneering study published recently (Figure
1A
;[
13
]). Using HindIII as 3C restriction enzyme, the interactions between 4454 sites along the 12 Mbp yeast genome were mapped and a symmetric matrix of 4454 rows per 4454 columns was generated. A number of interesting features, some of them expected, such as centromere clustering resulting from the Rabl configuration, and others less obvious, such as early replication origins clustering, were identified from this matrix[
13
]. Interestingly, the re-analysis of the raw data obtained through this protocol lead to the characterization of a number of events and biases unidentified before. Back-and-forth comparison between these biases and the protocol steps allowed us to identify the different sources for these events.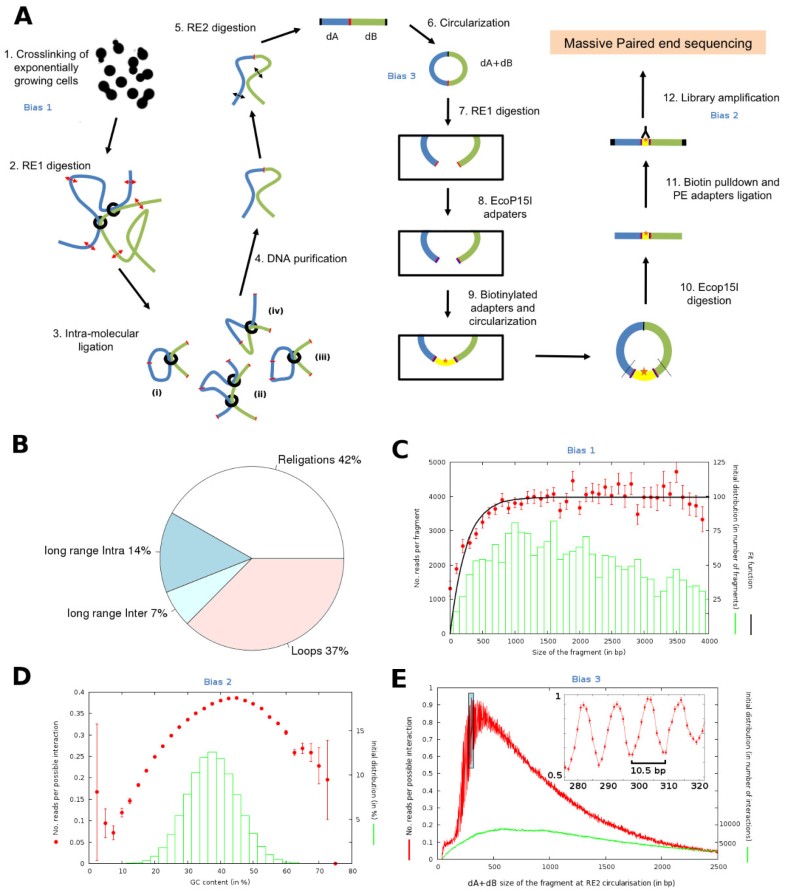 Having properly identified and quantified all these biases, we developed a normalization procedure which allows us to correct the data for all those biases at one time. Overall, and as expected from the original analysis, the conclusions drawn from the corrected maps do not differ significantly from the original publication. However, the corrected map gives a more contrasted view of chromosomal contacts, and present sharper features when it comes to preferential interactions between telomeres or chromosomal arms. It also ponders some of the conclusions drawn regarding clustering of specific genetics elements, which will be discussed. We then used this approach on the genomic 3C (Hi-C) human dataset obtained by Dekker and co-workers[8] and showed that proper normalisation is a prerequisite to assess relevant contacts. The methodology described here allows for an efficient and simple analysis of chromosomal contact-maps, and is potentially of great convenience to any team interested to use similar approach.
Conclusions
The method described above consists in an easy and convenient way to normalize and represent genomic 3C data. It is worth recalling that before doing any normalization procedure, one has to identify the products and filter out all those that do not correspond to what is expected from the experimental protocol. It represents here more than 90% of the total reads. Depending on the protocol used, the biases in the data will vary, generating an extra number of reads that should not be used in the analysis. Among those identified in the present study, the original circularization bias is certainly of importance for any experimental protocol involving a similar step. While increasing contrast and visibility of the Rabl yeast genome organization, the procedure described here confirms the preferential interactions of specific elements, such as early replication origins. However, it also revealed that what could appear like enrichment in interactions between other elements has to be carefully interpreted.
The SCN normalization procedure proposed here will be helpful once higher density contact maps of S. cerevisiae become available, and can be conveniently adapted to any other organisms. Increasing the resolution of these contact-maps will likely reveal more features, and can be addressed either through alternative protocols addressing the "invisible" zones of the genome (for instance by increasing the length of the sequenced reads or using various restriction enzymes), or through increasing the number of reads.
Author's contributions
AC, RK and JM designed the analysis. AC and HMN performed the analysis. AC, HMN, MM, RK and JM interpreted the data. AC, RK and JM wrote the manuscript. All authors read and approved the final manuscript.
Declarations
Acknowledgements
The research that led to these results was funded by ANR PIRIBIO grant ANR-09-PIRI-0024. MM is the recipient of an Association pour la Recherche sur le Cancer fellowship (20100600373). This project receives funding from the European Research Council under the 7th Framework Program (FP7/2007-2013) / ERC grant agreement 260822 to RK.
Authors' Affiliations
(1)
LPTMC, UMR 7600, Paris, France
(2)
Institut Pasteur, Groupe Imagerie et Modélisation, Department of Cellular Biology and Infection, Paris, France
(3)
CNRS, URA2582, Paris, France
(4)
University Pierre et Marie Curie, Cellule Pasteur, Paris, France
(5)
Institut Pasteur, Spatial regulation of genomes group, Department of Genomes and Genetics, Paris, France
(6)
CNRS, UMR3525, Paris, France
Copyright
© Cournac et al.; licensee BioMed Central Ltd. 2012
This article is published under license to BioMed Central Ltd. This is an Open Access article distributed under the terms of the Creative Commons Attribution License (http://creativecommons.org/licenses/by/2.0), which permits unrestricted use, distribution, and reproduction in any medium, provided the original work is properly cited.