NG6: Integrated next generation sequencing storage and processing environment
Received: 25 June 2012
Accepted: 30 August 2012
Published: 9 September 2012
Abstract
Background
Next generation sequencing platforms are now well implanted in sequencing centres and some laboratories. Upcoming smaller scale machines such as the 454 junior from Roche or the MiSeq from Illumina will increase the number of laboratories hosting a sequencer. In such a context, it is important to provide these teams with an easily manageable environment to store and process the produced reads.
Results
We describe a user-friendly information system able to manage large sets of sequencing data. It includes, on one hand, a workflow environment already containing pipelines adapted to different input formats (sff, fasta, fastq and qseq), different sequencers (Roche 454, Illumina HiSeq) and various analyses (quality control, assembly, alignment, diversity studies,…) and, on the other hand, a secured web site giving access to the results. The connected user will be able to download raw and processed data and browse through the analysis result statistics. The provided workflows can easily be modified or extended and new ones can be added. Ergatis is used as a workflow building, running and monitoring system. The analyses can be run locally or in a cluster environment using Sun Grid Engine.
Conclusions
NG6 is a complete information system designed to answer the needs of a sequencing platform. It provides a user-friendly interface to process, store and download high-throughput sequencing data.
Keywords
Laboratory Information Management SystemCluster EnvironmentGenomic PlatformErgatis ComponentProject Administrator
Background
Sequencer manufacturers follow different objectives using different platforms [1]. In the first place they release upgrades of second generation platforms producing more data with updated hardware and sequencing kits. This lowers the sequencing cost per base pair but often focuses these machines on medium or large projects. In the second place, they introduce new laboratory scale platforms such as the Illumina MiSeq or the Roche Junior which target smaller projects. And last, they work on the third generation machines which will not depend on amplified material and therefore get rid of some biases. The first two machines types which are already marketed today associated with a larger scope of sequencing protocols, enabling new studies, push towards more sequencing projects and more users.
Once the sequencing is done, the largest part of the work and the longest time period of the project are dedicated to data analysis. Therefore it is important to provide the new smaller production units and the laboratories in which the projects are conducted with efficient and user-friendly processing environments, enabling quality control and routine analysis. These pieces of software should have several features such as access control, metadata storage on the produced reads, quality control including known bias verification and standard analysis. NG6 was developed to match these goals and to be as flexible as possible, in order to follow sequencing technologies upgrades.
Laboratory information management systems (LIMS) are often focused on the traceability of the biological material. Some of them, such as PIMS [2] or even SLIMS [3], have included extensions to monitor the sequencing process. However few of the open-source LIMS also provide the data processing environment. This feature is present in the galaxy [4] sample tracking module. It is based on the galaxy workflow engine and provides users with an interface to create and track sequencing requests. Once the sequences have been produced, the user can transfer its data files, build and run workflows to process them.
NG6 is an extensible sequencing provider oriented LIMS. It includes read quality control and first level analysis processes which ease the data validation made jointly by the sequencing facility staff and the end-users. It provides a secured user-friendly interface to visualize and download the raw sequences files and the analysis results.
Implementation
NG6 can be split into two distinct parts: the pipelines and the web site (Figure
1
). The pipelines gather a set of analyses adapted to the produced sequences. They can only be accessed and launched by the sequencing facility team. The pipelines are running in Ergatis [
5
]: a workflow management system able to iterate through multiple inputs in order to run them at the same time on a computer farm. These jobs perform analysis and save the analysis results in the NG6 database and directories. The web site part, presenting the results has been implemented as a typo3 [
6
] extension.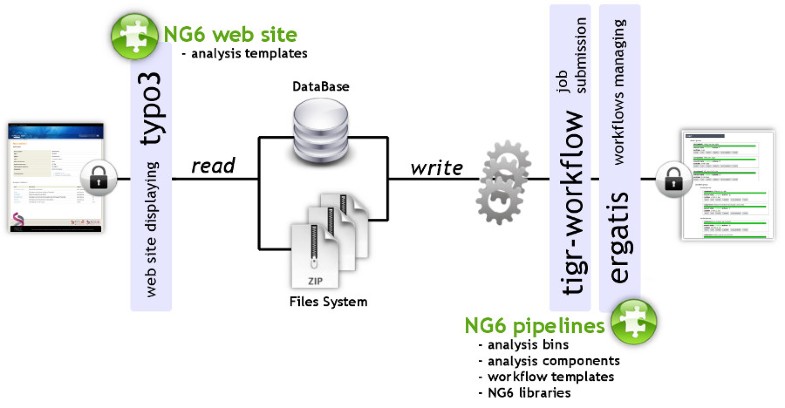 NG6 uses three data types: project, run and analysis. A project is a collection of runs and analysis. A run contains one or several raw files which can be used as inputs of different analysis. A project is owned by a user group and only users within this group are allowed to browse and download data related to this project.
Results and discussion
NG6 has been in production since September 2009 at the genomic platform of GenoToul [20] and stores more than 950 runs corresponding to 96 projects and using 5 TB on the hard drive. The system stores Illumina and Roche 454 runs produced by different sequencer versions. Pipelines are configured and launched by the genomic platform staff for one year.
Assessing the quality of the produced reads is an important task for a sequencing center. Making it automatic saves a lot of time. Displaying the analysis results within a user-friendly interface eases the discussions with the end-users.
Other read analysis environments are available to biologists. The most popular today is Galaxy. We have chosen to implement our own system because Galaxy and NG6 target different aims and focus on different users. Galaxy aims at simplifying data processing for researchers. It includes modules processing sequencing data. NG6 is a sequencing provider focused LIMS gathering specialized pipelines and website.
Conclusions
NG6 is an information system providing a set of automated analysis pipelines built to process NGS (Next Generation Sequencing) data which can be executed locally or in a cluster environment. It is built upon well documented and extensively used components such as ergatis and typo3. The current version of NG6 offers several pipelines but some others are under-construction: RNAseq using tophat [21] and cufflinks [22] and miRNA expression analysis.
Availability and requirements
The NG6 code is freely available on the web. To ease the installation, the package and all its dependencies are also available as a virtual machine. Installing and maintaining the system would require expertise in Linux system administration. The project is hosted in a forge environment in order to open it to the developers community.
· Project name: ng6
· Project home page: https://mulcyber.toulouse.inra.fr/plugins/mediawiki/wiki/ng6/index.php/Main_Page
· Operating system(s): Platform independent
· Programming language: Python/PHP
· Other requirements: VMWare or VirualBox
· License: GNU GPL
· Any restrictions to use by non-academics: none
Declarations
Acknowledgements
We would like to acknowledge the GenoToul genomic platform and the CBiB platform of Bordeaux for providing us useful feedback on the system and for pointing out us features worth developing. We thank the reviewers for their insightful and constructive comments.
Authors' Affiliations
(1)
Plate-forme bio-informatique Genotoul, INRA, Biométrie et Intelligence Artificielle, Castanet-Tolosan, France
(2)
Plate-forme genomique Genotoul, INRA, Génétique Cellulaire, Castanet-Tolosan, France
Copyright
© Mariette et al.; licensee BioMed Central Ltd. 2012
This article is published under license to BioMed Central Ltd. This is an Open Access article distributed under the terms of the Creative Commons Attribution License (http://creativecommons.org/licenses/by/2.0), which permits unrestricted use, distribution, and reproduction in any medium, provided the original work is properly cited.