Research article

Open Access
Eukaryotic genomes may exhibit up to 10 generic classes of gene promoters
Received: 13 May 2012
Accepted: 13 September 2012
Published: 28 September 2012
Abstract
Background
The main function of gene promoters appears to be the integration of different gene products in their biological pathways in order to maintain homeostasis. Generally, promoters have been classified in two major classes, namely TATA and CpG. Nevertheless, many genes using the same combinatorial formation of transcription factors have different gene expression patterns. Accordingly, we tried to ask ourselves some fundamental questions: Why certain genes have an overall predisposition for higher gene expression levels than others? What causes such a predisposition? Is there a structural relationship of these sequences in different tissues? Is there a strong phylogenetic relationship between promoters of closely related species?
Results
In order to gain valuable insights into different promoter regions, we obtained a series of image-based patterns which allowed us to identify 10 generic classes of promoters. A comprehensive analysis was undertaken for promoter sequences from Arabidopsis thaliana, Drosophila melanogaster, Homo sapiens and Oryza sativa, and a more extensive analysis of tissue-specific promoters in humans. We observed a clear preference for these species to use certain classes of promoters for specific biological processes. Moreover, in humans, we found that different tissues use distinct classes of promoters, reflecting an emerging promoter network. Depending on the tissue type, comparisons made between these classes of promoters reveal a complementarity between their patterns whereas some other classes of promoters have been observed to occur in competition. Furthermore, we also noticed the existence of some transitional states between these classes of promoters that may explain certain evolutionary mechanisms, which suggest a possible predisposition for specific levels of gene expression and perhaps for a different number of factors responsible for triggering gene expression. Our conclusions are based on comprehensive data from three different databases and a new computer model whose core is using Kappa index of coincidence.
Conclusions
To fully understand the connections between gene promoters and gene expression, we analyzed thousands of promoter sequences using our Kappa Index of Coincidence method and a specialized Optical Character Recognition (OCR) neural network. Under our criteria, 10 classes of promoters were detected. In addition, the existence of "transitional" promoters suggests that there is an evolutionary weighted continuum between classes, depending perhaps upon changes in their gene products.
Keywords
Gene promotersPromoter classesEukaryotic genomesPromoter patternsKappa index of coincidencePromoter network
Background
Promoters have guided evolution for millions of years. It appears that they were the main engine responsible for the integration of different mutations favorable for the environmental conditions[1]. Promoters are critical regions for gene regulation in complex genomes and are located upstream of TSS (Transcription Start Site). A typical promoter region is composed of a core promoter and regulatory domains[2, 3]. The structure of a promoter is recognized by the presence of known promoter elements, such as TATA box, GC-box, CCAAT-box, BRE and INR box[4–12]. Therefore, accurate recognition of a promoter structure relies on a comprehensive list of promoter elements. Nevertheless, using these promoter elements for classification has proven to be difficult and perhaps even disadvantageous for different functional correlations between promoter sequences. From an evolutionary standpoint, within non-coding regulatory regions, nucleotides can change their order more frequently and these binding sites often become very small and instable[13]. Previously, approaches towards promoter classification include motif sequences and other structural parameters, such as DNA curvature, bendability, stability, nucleosome positioning or comparison of various DNA sequences[14–19]. Currently, promoters from vertebrates are classified into two major classes, namely TATA and CpG types while in mammals there is a subclassification in TATA box–enriched and CpG-rich promoters[20]. In order to investigate possible interactions between different biological processes, we found that an overall correlation between DNA sequence features among promoter regions may be an alternative method. In this context, we have chosen a different approach to classify promoter sequences by using two-dimensional patterns obtained through Kappa Index of Coincidence (Kappa IC) and (C + G)% values[21–24]. This classification it is mainly done by considering the shape and density of these promoter patterns. In this study, we explore the structural properties of these patterns and we search for correlations between promoter sequences of several different species. Genome sequencing has led to the development of many bioinformatic methods for accurate recognition and extraction of promoter sequences. A number of experimental approaches to compile TSSs on a genome-wide scale have been developed including the Eukaryotic Promoter Database[25, 26] and PlantProm Database[27]. We used these databases and focused our attention on 20,597 promoter sequences from Arabidopsis thaliana, Drosophila melanogaster, Homo sapiens and Oryza sativa. In humans we were also interested in promoters of genes that are expressed preferentially in certain tissues. Several studies converged on characterizing patterns of tissue specific gene expression, including TiGER (Tissue-specific Gene Expression and Regulation) database[28–30], which contains comprehensive information about human tissue-specific gene expression profiles. We have used TiGER database list of tissue-specific genes to determine the proportion of each promoter class in 30 tissues. This allowed us to identify certain relations between promoter sequences and different biological processes.
Results
We first investigated if some promoter patterns occur more often then others. Secondly we determined which of these patterns are more common in certain species and whether their distribution may have some evolutionary implications. In the third analysis we examined the distribution of these promoter classes among human tissues.
Discussion
Generally, both EPD and PlantProm DB define the TSS as the furthest 5 position in the genome which can be aligned with the 5 end of a cDNA from the corresponding gene[
25
]. However, many human genes are transcribed from multiple promoters, often involving alternative first exons. EPD considers the most frequent cDNA 5 end as the TSS and applies a specialized algorithm to discover multiple promoters for a given gene, whereas PlantProm DB contains plant promoters based on published TSS mapping data[
27
]. Using a smaller number of promoters from EPD, we have also made an analysis for
Bos taurus
,
Gallus gallus
,
Mus musculus
,
Rattus norvegicus
and
Xenopus laevis
which showed a distribution close to that of
Homo sapiens
(Additional file
7
: Figure S15A-E online). Therefore, promoter distributions (Figure
3A
) seem to be characteristic for all vertebrates rather than a special property of human promoters. However, more significant differences were especially observed in
Gallus gallus
, where the average Kappa IC values exceed that of other vertebrates (Additional file
7
: Figure S15B online). On a visual inspection, promoter patterns from
Arabidopsis thaliana
and
Drosophila melanogaster
have a more narrow shape than those from
Oryza sativa
and
Homo sapiens
, which suggests a different distribution of point mutations between these species, resulting perhaps from a difference in nucleosome organization. Furthermore, in our experiments we have found that an even distribution of mutations across different promoter sequences fails to change the shape of their patterns, which strengthened our hypothesis (Additional file
8
: Figure S16A-D). We also noticed that even for shorter promoter sequences (ie. Arabidopsis - PlantProm DB - 251b promoter sequences), promoter patterns retain their properties. Curiously, sliding windows situated at greater distances from TSS do not seem to make a crucial difference in the pattern shape. The majority of defining characteristics seem to be close to TSS. We further made a distribution across promoters of known orthologous genes (Figure
9A
-D). We used HomoloGene[
47
] to extract 500 bp genomic regions upstream of INS orthologous genes from 7 species, HIS1 orthologous genes from 9 species and CNOT7 orthologous genes from 12 species (Additional file
1
). We confronted these genomic regions with EPD promoters in order to ensure their accuracy. As expected, their distribution (Figure
9A
) retained the same species-specific boundaries (Figure
3A
-D) and their promoter patterns comply with existing phylogenetic relationships (Figure
9B
-D). For tests performed on human tissues we used a list of genes from TiGER (Tissue-specific Gene Expression). For each gene in this list we searched the corresponding promoter in the Eukaryotic Promoter Database. It was shown that these classes of promoters are preferentially present in certain tissues while other classes of promoters are present in all tissues (Additional file
4
: Figure S11 online). Only six out of ten classes of promoters are present in all 30 tissues (Figure
7
). Moreover, it was noted that in certain tissues some classes of promoters can occur in a complementary manner, whereas other classes of promoters can appear in competition (Additional file
4
: Figure S12A-AS online). On comparisons made between three promoter classes, other types of promoter relations can unfold. For instance, in tissues from brain, eye or lung, the values for AT-less and AT-spike promoters appear to exhibit a relative complementarity to those from muscle, whereas the number of CG-spike promoters remains proportional to their relative values (Figure
7B
). These parallel behaviors and the tissue-preferential distribution of these promoters suggest that certain promoter classes are preferred for specific biological functions. Therefore, these promoter patterns seem to explain the relationship between their genes in certain biological pathways rather than their gene-specific function. This observation implies that promoters located in transitional states may perhaps reflect signatures of some of the latest evolutionary changes of a species. Biological tissues are complex structures, containing different cell types. Accordingly, 'tissue specific' stands as a relative term and does not imply that a particular gene is expressed only in a specific tissue or cell type. To determine whether a gene is predominantly expressed in a certain tissue, TiGER defined the Expression Enrichment (EE) as the ratio between observed expression level in that tissue versus averaged expression level across 30 tissues. They further defined a gene as 'tissue specific' if it had an EE in a particular tissue larger than 5 and a P-value <10
-3.5
[
30
]. Although "tissue specific" is a relative term and refers to genes predominantly expressed in different tissues, the fundamental tissue-tissue interactions are reflected in our promoter pattern analysis (Additional file
4
).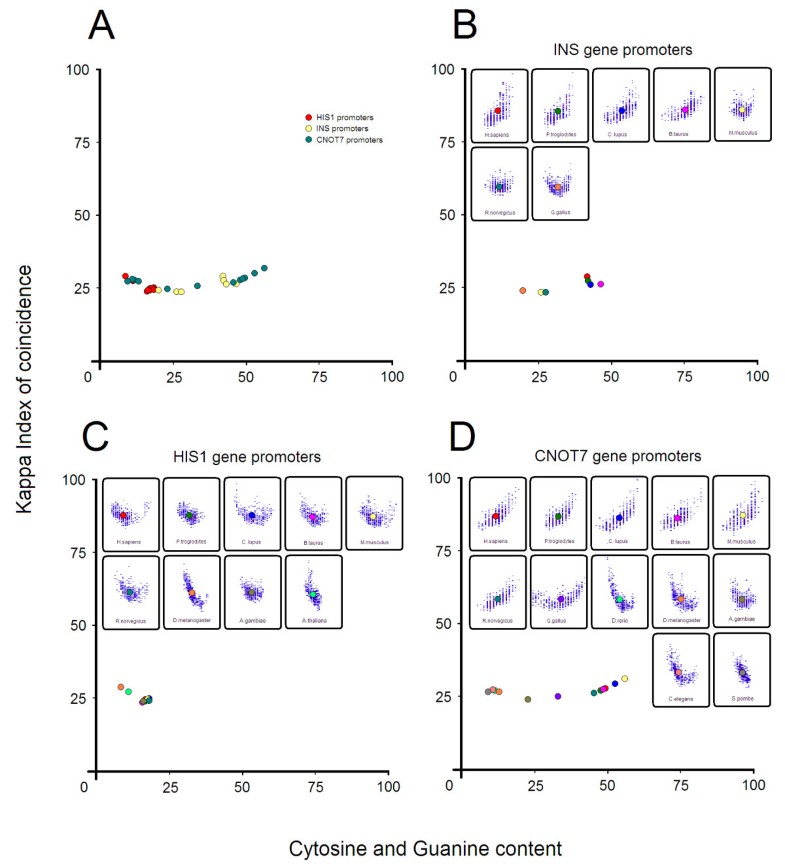 Conclusions
A comparative analysis was undertaken for 20,586 promoters from the Arabidopsis thaliana, Drosophila melanogaster, Homo sapiens and Oryza sativa (Additional file2), and an analysis based on tissue-specific gene expression profiles in humans (Additional file4). Following the analysis, 10 general classes of promoters have emerged. We used promoter sequences from two databases - the Eukaryotic Promoter Database and PlantProm Database. We showed that existing methods used in cryptography, such as Kappa Index of Coincidence, can be adapted for many types of analysis in molecular genetics, perhaps to highlight certain new features of DNA sequences. Our supplemental data files allow re-analysis of our data. We also provide an animation that displays several hundred promoter patterns in succession and ordered according to their class (Additional file9). We consider a possible subdivision of these promoter patterns in subclasses, between 2 up to 4 subclasses for each major class. Furthermore, our observations suggest the existence of a network between these promoter classes. In the near future we wish to merge the information related to these classes of promoters with other available data in gene regulatory networks, in order to form a better understanding of the relationship between some genetic factors and their pathological implications.
Methods
Promoter datasets
The Eukaryotic Promoter Database and PlantProm Database provide a collection of eukaryotic promoters for which the transcription start site (TSS) has been determined experimentally (Additional file1). We downloaded and tested 20,586 gene promoters from The Eukaryotic Promoter Database (6,649 gene promoters - Oryza sativa, 1,922 gene promoters - Drosophila Melanogaster and 8,512 gene promoters - Homo sapiens) and PlantProm Database (3,503 gene promoters - Arabidopsis thaliana). We were mainly interested in the regions flanking the putative TSS. From Eukaryotic Promoter Database we extracted promoter segments ranging from -499b to 100b, relative to the TSS. From PlantProm DB we used promoter segments ranging from 200 bp upstream and 51 bp downstream of the TSS.
Tissue-specific datasets
We used a publicly available list of 6,534 tissue-specific gene names (under Tissue-Specific Genes based on Expressed Sequence Tags (ESTs)) from the TiGER database (gene names were sorted and redundancy was removed - Additional file10) and we searched for their promoters in the Eukaryotic Promoter Database in which we found 2,369 promoters. We generated 2,369 promoter patterns and we sorted them in order to highlight their proportion in each tissue (Additional file11).
Promoter patterns
We used Visual Basic to develop a software program for promoter analysis - called PromKappa (Promoter analysis by Kappa), and a software program for sorting promoter patterns - called PromNN (Promoter analysis by Neural Network). The source code implementation of these programs are attached to our Additional file3. Promoter patterns were generated by PromKappa program. We used sliding window approach to extract two types of values: Kappa IC and (C + G)%. A sliding window with a step of 1 and a window size of 30 nt, allowed us to detail the structure of known promoters. Kappa Index of Coincidence values were plotted on a graph against (C + G)% values, which form a recognizable pattern composed from clusters of various sizes on the Y-axis (Figure1A-J). The X-coordinate of each point was represented by a (C + G)% value and the Y-coordinate was represented by a corresponding Kappa IC value. As can be expected, by using a large window size we obtained smooth promoter patterns, whereas a small window size generated sharp and distinguishable characteristics of promoters which have been easily categorized.
Promoter analysis
We conducted three types of analysis. Initially, for each promoter sequence we generated a graph, representing a promoter pattern. In total, we generated 20,586 graphs (Additional file12). These graphs were saved in BMP (Bitmap Image File) format and were sorted by their shape and density using a neural network. In the second analysis, the center of each pattern was plotted on a graph designed to show the distribution of promoters for each species. We used a color scheme to highlight the denser surfaces. Red areas represent clusters of similar promoters while blue areas represent unique or rare promoters (Figure3A-D). For the third analysis, we measured the specificity of each promoter class among thirty tissues by using 2,369 promoters (Figure7A,B).
Pattern recognition and sorting
We have been able to demarcate promoter sequences into ten classes by using the maximum number (≥100) of appearances of similar promoter patterns. To determine the biological characteristics of promoter sequences, we have resorted to machine learning methods. All patterns were analyzed and sorted by PromNN, a pattern recognizer program using 93,264 artificial neurons and a single layer perceptron. It has the ability to learn patterns and classify them into specified classes. We used supervised learning to train the neural network by using 200 input patterns (20 of each class of promoters, 5 from each species - Additional file13). PromNN recognized ten promoter classes and provided information about the match score and match percentage for each promoter pattern.
Cytosine and guanine content
We extracted C + G values from each sliding window considering the nucleotide frequencies from the entire promoter sequence. In the first stage, to determine the (C + G)% content for the entire promoter sequence we used the formula:
Where "TOT" (total) designates the promoter sequence.
CG
TOT
represents the percentage of cytosine and guanine of the entire promoter,
(A + T +
C + G)
TOT
represents the sum of occurrences of A, T, C and G, and
(C + G)
TOT
represents the sum of occurrences of C and G. In the next stage we used the value of
CG
TOT
to calculate the (C + G)% content from the sliding window (SW):
Where CG SW represents the percentage of cytosine and guanine from the sliding window. In this stage, CG SW value is relative to CG TOT . The expression (A + T + C + G) TOT represents the sum of occurrences of A, T, C and G from the sliding window sequence. (C + G) SW represents the sum of C and G occurrences in the sliding window sequence. Nevertheless, in our implementation we also included the option to extract CG SW values without considering CG TOT .
Kappa Index of Coincidence
The Index of coincidence principle is based on letter frequency distributions and has been used for the analysis of natural-language plaintext in cryptanalysis. Kappa Index of Coincidence is a form of Index of Coincidence used for matching two text strings. Nevertheless, we managed to adapt Kappa IC for the analysis of a single DNA sequence. Here, Kappa IC is used for calculating the level of "randomization" of a DNA sequence. By extracting Kappa IC and C + G content from a sliding window we have been able to measure the localized values along each promoter sequence. Kappa IC is sensitive to various degrees of sequence organization such as simple sequence repeats (SSRs) or short tandem repeats (STRs). The formula for Kappa IC is shown below, where sequences
A
and
B
have the same length
N
. Only if an
A[i]
nucleotide from sequence A matches the
B[i]
correspondent from sequence
B
, then ∑ is incremented by 1.
With small changes, the same method for measuring the Index of Coincidence has been applied for only one sequence, in which the sequence was actually compared with itself, as shown below in the algorithm implementation.
function KIC(A)
T = 0
N = length(A) - 1
  for u = 1 to N
  B = A[u + 1] … A[N]
    for i = 1 to length(B)
    If A[i] = B[i] then C = C + 1
    next i
  T = T + (C / length(B) × 100)
  C = 0
next u
  IC = Round((T / N), 2)
end function
Where N is the length of the sliding window, A represents the sliding window content, B contains all variants of sequences generated from A (from u + 1 to N), C counts the number of coincidences occurring between sequence B and sequence A, and T variable counts the total number of coincidences found between sequences of B and the sequence A.
Declarations
Acknowledgments
This work was supported by a grant of the Romanian National Authority for Scientific Research, CNCS-UEFISCDI, project number PN-II-ID-PCE-2011-3-0429.
Authors' Affiliations
(1)
Institute of Genetics, University of Bucharest, Bucharest, Romania
(2)
National Institute of Diabetes, Nutrition and Metabolic Diseases "N.C. Paulescu", Bucharest, Romania
Copyright
© Gagniuc and Ionescu-Tirgoviste; licensee BioMed Central Ltd. 2012
This article is published under license to BioMed Central Ltd. This is an Open Access article distributed under the terms of the Creative Commons Attribution License (http://creativecommons.org/licenses/by/2.0), which permits unrestricted use, distribution, and reproduction in any medium, provided the original work is properly cited.