Research article
Open Access
Gene alterations at Drosophila inversion breakpoints provide prima facie evidence for natural selection as an explanation for rapid chromosomal evolution
Received: 24 August 2011
Accepted: 1 February 2012
Published: 1 February 2012
Abstract
Background
Chromosomal inversions have been pervasive during the evolution of the genus Drosophila, but there is significant variation between lineages in the rate of rearrangement fixation. D. mojavensis, an ecological specialist adapted to a cactophilic niche under extreme desert conditions, is a chromosomally derived species with ten fixed inversions, five of them not present in any other species.
Results
In order to explore the causes of the rapid chromosomal evolution in D. mojavensis, we identified and characterized all breakpoints of seven inversions fixed in chromosome 2, the most dynamic one. One of the inversions presents unequivocal evidence for its generation by ectopic recombination between transposon copies and another two harbor inverted duplications of non-repetitive DNA at the two breakpoints and were likely generated by staggered single-strand breaks and repair by non-homologous end joining. Four out of 14 breakpoints lay in the intergenic region between preexisting duplicated genes, suggesting an adaptive advantage of separating previously tightly linked duplicates. Four out of 14 breakpoints are associated with transposed genes, suggesting these breakpoints are fragile regions. Finally two inversions contain novel genes at their breakpoints and another three show alterations of genes at breakpoints with potential adaptive significance.
Conclusions
D. mojavensis chromosomal inversions were generated by multiple mechanisms, an observation that does not provide support for increased mutation rate as explanation for rapid chromosomal evolution. On the other hand, we have found a number of gene alterations at the breakpoints with putative adaptive consequences that directly point to natural selection as the cause of D. mojavensis rapid chromosomal evolution.
Keywords
Inversion breakpointsmutation ratechromosomal evolutiontransposable elementsgene duplicationgene transpositionposition effects
Background
Chromosomal inversions are a common feature of genome evolution in many groups of animals and may play a significant role in adaptation, speciation and sex chromosome evolution [1–4]. The rate of rearrangement fixation varies significantly within and between animal groups [2, 5]. The genus Drosophila shows one of the highest rates in all eukaryotes [6–8] at least partially because special cytological mechanisms in Diptera allow heterozygotes for paracentric inversions to circumvent the production of aneuploid gametes [1]. A striking extent of variation in rearrangement rate has been reported among different Drosophila lineages [6, 9–12]. For instance, the fixation rate of inversions is higher in the Sophophora subgenus than in the Drosophila subgenus [10]. Also particular lineages such as D. miranda or D. yakuba exhibit an unusually rapid rate of chromosomal evolution [9, 11]. Four factors may contribute to the variation among lineages in the rate of chromosomal rearrangement: generation time, population size, mutation rate and fitness effects of rearrangements. However, the actual reason for such variation is unclear and different studies invoke different explanations [9–12].
Chromosomal inversions can be generated by two major mechanisms. The first of them is ectopic recombination (or non-allelic homologous recombination, NAHR) between transposable elements (TEs) [13–15], segmental duplications [16, 17] or short repeat sequences [18]. When ectopic recombination occurs between two copies of a TE inserted in opposite orientation at two different chromosomal sites, the resulting inverted chromosomal segment will be flanked by two chimeric TE copies bounded by exchanged target site duplications (TSD) [14, 15]. The second mechanism is chromosomal breakage and erroneous repair of the free ends by non-homologous end-joining (NHEJ) [19]. Breakages can be simple double-strand breaks (DSB) or staggered single-strand breaks (SSB). In the second case, the consequence is the generation of inverted duplications at both sides of the inverted segment [11, 20]. Thus, inversions generated in this way can be recognized by duplicated DNA segments (originally single-copy) in inverted orientation flanking the inverted chromosomal segment. The relative contribution of the two mechanisms to the generation of natural Drosophila inversions is not yet clear. In Dipterans, clear-cut evidence for the implication of TEs in their generation has been found for a few polymorphic inversions [15, 21–23] but has never been found for fixed inversions [6, 11, 24, 25]. On the other hand, breakage and repair by NHEJ may be the prevalent mechanism in D. melanogaster and its close relatives [11].
Several explanations have been put forward for the spread of inversions in populations [3]. Although in principle inversions could be neutral or underdominant and spread by genetic drift, this is probably unusual in Drosophila species given their elevated effective population size, of the order of 106[26, 27]. The traditional explanation for the adaptive significance of inversions is based on their recombination-reducing effect [28] that keeps together alleles at loci with epistatic effects on fitness, the "coadaptation" hypothesis [29]. An alternative model proposes that inversions capture a set of locally adapted genes and protect them from recombination with immigrant chromosomes [4, 30]. Finally, inversions may spread in populations due to the direct mutational effects associated with their breakpoints, the "position effect" hypothesis [31]. This latter hypothesis has received so far little attention [32] but the relatively high gene density and compact structure of Drosophila genome (> 90% of euchromatin has functional annotations) [33, 34] make position effects most likely. Available genomic sequences [35] provide the opportunity to investigate the structure of inversion breakpoints and ascertain their functional consequences.
Drosophila mojavensis has been an excellent model for the study of the genetics of ecological adaptation and speciation for more than fifty years [36–38] and it is now a useful model for genomic studies as the complete genome sequence is available [35, 39]. D. mojavensis is a cactophilic species in the repleta group endemic to the deserts of the Southwestern USA and Northwestern Mexico, chiefly the Sonoran Desert (Arizona, Baja California and Sonora) the Mojave Desert and Santa Catalina Island in southern California. Natural populations are genetically differentiated and use different primary host plants, Stenocereus gummosus (pitaya agria) in Baja California, Stenocereus thurberi (organ pipe) in Arizona and Sonora, Ferocactus cylindraceous (California barrel) in Southern California and Opuntia spp. on Santa Catalina Island [40–42]. The ecological conditions of the Sonoran Desert are extreme (dry, arid and hot according to Köppen classification [43]) as attested by the fact that only four Drosophila species are endemic [41]. Accordingly, D. mojavensis is unusually thermotolerant and desiccation resistant [44–47]. In addition, D. mojavensis is the exclusive inhabitant of its chief host plants over most of its distribution range, in part because they contain large amounts of unusual lipids and triterpene glycosides that make them unsuitable for other Drosophila species [48, 49].
The salivary gland chromosomes of
D. mojavensis
and its close relatives
D. arizonae
and
D. navojoa
were cytologically analyzed and the
D. mojavensis
standard chromosomal arrangement seemingly contain ten fixed inversions compared to Primitive I (the ancestor of the
repleta
group), one in chromosome X (
Xe
), seven in chromosome 2 (
2c
, 2
f
, 2
g
, 2
h
, 2
q
, 2
r
and 2
s
) and two on chromosome 3 (
3a
and
3d
) [
50
,
51
]. Five inversions (
3d, Xe, 2q, 2r
and
2s
) are exclusive to
D. mojavensis
whereas the rest are shared by other cactophilic Drosophila of the
mulleri
complex (see Figure
1
). Thus,
D. mojavensis
is a chromosomally derived species that contains the highest number of fixed inversions in the entire
mulleri
complex [
52
]. Only one of
D. mojavensis
inversions (Xe) has been previously characterized at the molecular level [
53
]. Here we characterize all inversions fixed in
D. mojavensis
chromosome 2, the most dynamic of the five major chromosomes, and explore the causes of its rapid chromosomal evolution. Using comparative mapping of BAC-end sequences from
D. buzzatii
onto the
D. mojavensis
genome (see Figure
1
), we identify the breakpoint regions of all inversions. We then annotate them by comparison with the genome of
D. virilis
, the closest relative with a sequenced genome [
35
] that represents the ancestral (non-inverted) arrangement. Our results provide information on the multiple causes that generated these inversions, reveal unreported associations of inversion breakpoints with duplicated and transposed genes, and shed light on the functional consequences of
D. mojavensis
inversions. Overall, our results suggest that rapid chromosomal evolution in
D. mojavensis
is not due to an increase in the rate of inversion generation but to its adaptation to the extremely harsh environment of the Sonoran Desert that was accompanied by strong natural selection.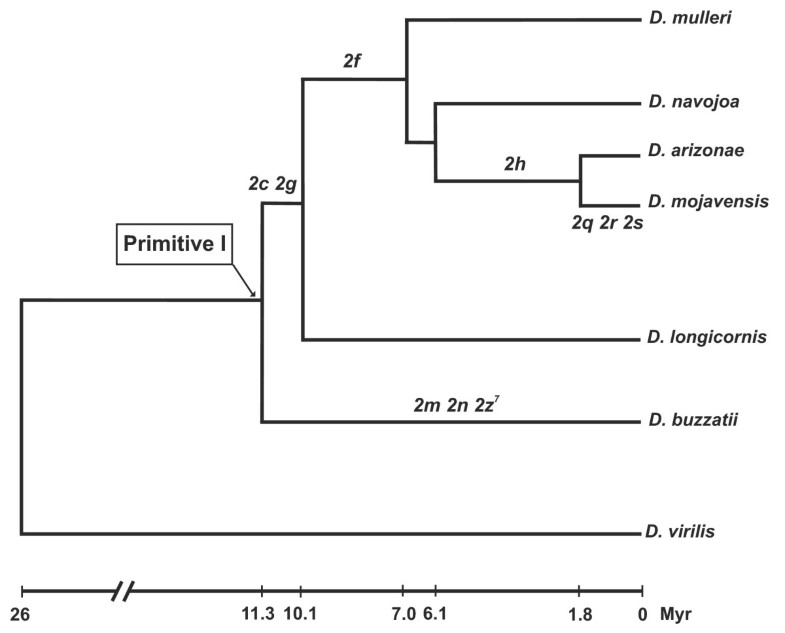 Discussion
In this study, we investigated the rapid chromosomal evolution of the D. mojavensis lineage that has fixed ten paracentric inversions since the repleta group ancestor, ~12 mya (Figure 1). Using D. buzzatii BAC-end sequences [54] and the genome sequences of D. mojavensis and D. virilis[35] we mapped, identified, annotated and analyzed all breakpoints of the seven inversions fixed in D. mojavensis chromosome 2, the most dynamic element. The results corroborated previous cytological analyses [51] and allowed us to provide significant information on the causes and consequences of these structural changes.
One hypothesis that may explain an accelerated chromosomal evolution rate is an increased mutation rate that generates more rearrangements per generation. This possibility was invoked to explain the high rate of chromosomal rearrangement between D. miranda and D. pseudoobscura[9]. Because inversions may be generated by TEs (see Introduction), one possible cause of high mutation rate is an increased transpositional activity. Therefore, it has been suggested that variation in transpositional activity of TEs might contribute to variation in rates of rearrangement fixation [12]. However, an increased mutation rate could also be due to the presence of other causes, both intrinsic and extrinsic (e.g. clastogenic chemicals or ionizing radiation). Overall, our results do not support this hypothesis because the inversions fixed in D. mojavensis seem the result of multiple generation mechanisms. We found direct evidence for the implication of transposon BuT5 in the generation of inversion 2s and only circumstantial evidence for the implication of the transposons BuT5 and Galileo in inversions 2c and 2r, respectively. Inversions 2h and 2q harbor inverted duplications of non-repetitive DNA at the two breakpoints and were likely generated by staggered single-strand breaks and repair by non-homologous end joining. Finally, no definitive conclusion can be drawn about the generation of inversions 2f and 2g. It could be argued that the latter inversions might have been generated by TEs but subsequent changes in the breakpoint regions hindered our ability to find conclusive evidence for their implication. TE copies might have excised and move to other locations after generating the inversion (a hypothesis known as "hit-and-run" [24]), or be deleted due to the high rate of loss of nonfunctional DNA in Drosophila [90, 91]. However, in the absence of supporting evidence we think that such inference is unwarranted.
In any case, the generation of inversion 2s by transposon BuT5 is a significant finding because, in Dipterans, the implication of TEs in the generation of chromosomal inversions has been demonstrated for a few polymorphic rearrangements but never for fixed inversions (see Introduction). BuT5 is a MITE with unusual features [N. Rius, A. Delprat and A. Ruiz, personal communication]. It was discovered in D. buzzatii[65] but is present in the genome of most repleta group species, implying that it was probably already present in the ancestor ~16 mya [N. Rius, A. Delprat and A. Ruiz, personal communication]. In D. mojavensis is relatively abundant and transpositionally active but copy density in the dynamic chromosome 2 is not significantly higher than in the rest of chromosomes. These observations do not support the increased mutation hypothesis.
A second explanation for accelerated chromosomal evolution is an increase of the species' population size because the rate of fixation of selectively advantageous rearrangements is a direct function of population size [26]. The high rate of chromosomal evolution of the D. yakuba lineage in comparison with the D. melanogaster lineage was attributed to differences in population size [11]. The effective population size of D. mojavensis has been estimated as ~106 yet there is variation between populations in Baja California and Mainland Sonora [92, 93]. However, there is no reason to assume that this is an unusually high figure. Population size of D. arizonae, its closest relative (Figure 1), is seemingly higher (or at least not lower) than that of D. mojavensis[92, 93]. In contrast to D. mojavensis, which is fixed for five species-specific inversions, D. arizonae has only one [51]. Therefore, population size does not provide an adequate explanation for D. mojavensis rapid chromosomal evolution.
The third hypothesis is strong natural selection in a new environment that increases the number of fixed inversions. D. mojavensis is the only mulleri complex species inhabiting the Sonoran Desert. Other species of this complex, including its closest relatives D. arizonae and D. navojoa (Figure 1), live in less harsh environments of central and southern Mexico. Thus it must be presumed that adaptation to the extreme conditions of the Sonoran desert and to the exclusive host plants exploited by D. mojavensis must have required many adaptive genetic changes. Chromosomal inversions in Drosophila have been considered for decades as adaptive devices that spread in natural populations driven by natural selection (see Introduction). In fact there is ample evidence for the adaptive significance of polymorphic inversions (those that are segregating within species) but no such evidence has been provided for fixed inversions (those that appear as interspecific differences). We have found a variety of gene alterations at the breakpoints of D. mojavensis chromosome inversions and propose that these alterations contributed to their adaptive value. Overall, strong natural selection in a new harsh environment seems the most plausible cause for D. mojavensis rapid chromosomal evolution.
The alterations associated with the breakpoints of five D. mojavensis inversions include two gene gains (Dmoj\GI23123 and Dmoj\GI22075) and three putative alterations of gene structure and/or expression regulation (Table 1). We discuss these effects in turn. In D. mojavensis two new genes were generated associated to inversions 2q and 2h. As a consequence of the generation mechanism, staggered breakage and NHEJ repair, duplications of single-copy DNA were present at the breakpoints of these inversions at the onset. In the case of inversion 2q this duplication included gene CG1208 (except for its first exon and upstream sequences, see Figure 6). The novel gene Dmoj\GI22075 is shorter than the original gene CG1208 but retains a MFS domain and could function as a sugar transmembrane transporter (if a new promoter has been recruited). In the case of inversion 2h the duplicated segment included originally three genes (see Additional file 3). Only one gene (Dmoj\GI23123) seems to have survived. This gene is related to pasha (a gene involved in primary microRNA processing and gene silencing by miRNA) and according to modENCODE data, it is expressed. We suggest that novel genes might have contributed to the adaptive value of these inversions. Novel genes are widely recognized as a source of new functions [94] but inversion-associated duplication has not been considered a molecular mechanism that can generate new genes until very recently and only in prokaryotes [20].
The two most recent inversions, 2r and 2s, that are exclusive to D. mojavensis, show putative alterations of structure and/or expression of heat shock protein (Hsp) genes. Hsp genes encode intra-cellular chaperones for other proteins and have been established as potential candidates for thermotolerance [95]. Hsp family harbors genes constitutively or inducibley expressed [96]. Heat-inducible genes are regulated by heat shock factor (HSF), which binds to HSE sequences [97] whereas other heat shock genes have an Hsf-independent regulation [98]. The distal breakpoint of inversion 2r separated two previously linked and very similar Hsp68 genes (Figure 5). One of them, Hsp68a, remained in its original location but suffered a radical change in structure and sequence. It may have acquired a new function and expression pattern or may be in the process of becoming a pseudogene. The other gene, Hsp68b, apparently kept its HSE regulatory elements but was relocated to a completely new chromatin environment and is now found near a ~90-kb block composed of Histone genes and TEs. It is difficult to imagine that the expression of this gene has not been affected by these changes. Genes of the heat- inducible Hsp70 family (to which Hsp68 belongs) are positively related to thermotolerance but overexpression has survival costs and it seems that Hsp70 concentration has an intermediate optimum [44, 99]. Some African populations of D. melanogaster with an exceptional thermotolerance show decreased levels of Hsp70 expression, caused by the insertion of TEs in one of the promoter regions of the Hsp70Ba gene [100]. In D. mojavensis an altered expression of Hsp68 genes could contribute to its exceptional thermotolerance. On the other hand, the proximal breakpoint of inversion 2s was located upstream of CG10375, a gene with a DnaJ domain that likely belongs to the constitutively expressed Hsp40 family. In D. melanogaster, hsp40 is up-regulated in mutants lacking HSF [98] and probably has an essential role in thermotolerance [101]. Thus the changes induced by inversion 2s and BuT5 insertion in the promoter of CG10375 likely conferred an adaptive advantage to D. mojavensis by increasing its thermotolerance. It can be hypothesized that the alterations of the heat inducible Hsp68 genes caused by inversion 2r and the putative positive effect on the expression level of the constitutive gene CG10375 caused by inversion 2s were in some way related and jointly contributed to the D. mojavensis unusual thermotolerance. This hypothesis might explain the rapid and exclusive fixation of both inversions in the D. mojavensis lineage.
By no means do we imply that the alterations unveiled at the breakpoints are the only cause of the D. mojavensis inversion adaptive significance. Inversions are not simple point mutations but complex structural changes involving hundreds of loci that may suffer further mutations along their evolutionary trajectory. Therefore we consider that the multiple explanations for the adaptive spread of inversions (see Introduction) are not mutually exclusive alternatives. This means that different inversions may be successful for different reasons but also that a single inversion may increase in frequency for different reasons along its trajectory. For instance, an inversion could gain an initial drive because of the alterations it causes at the breakpoints and incorporate afterwards interacting mutations that led to coadaptation or that increase local adaptation that further propel the inversion towards fixation. The molecular explanations for the role of chromosomal inversions in adaptation and speciation are only beginning to be disentangled.
Conclusions
The breakpoint characterization of seven inversions fixed in D. mojavensis has provided significant information on the causes and consequences of these rearrangements. Multiple generation mechanisms seem to have acted in this lineage, an observation that does not support a mutational explanation for D. mojavensis rapid chromosomal evolution. On the other hand, we have found a set of alterations at the inversion breakpoints with potential adaptive significance, including novel genes and changes in structure and/or expression of adjacent genes. Overall, our results are consistent with natural selection as an explanation for the rapid chromosomal evolution in this specialist organism living under extreme ecological conditions.
Methods
In order to map and characterize the breakpoints of D. mojavensis chromosome 2 inversions we used a three-step approach: (1) End sequencing of a set of BAC clones from D. buzzatii chromosome 2; (2) Mapping of the resulting BAC-end sequences (BES) onto the D. mojavensis genome in order to determine the number and chromosomal span of the inversions fixed during the divergence of the two lineages; (3) Identification and annotation of the breakpoint regions using the D. virilis genome as representative of the parental (non-inverted) genome. Chromosome 2 of D. mojavensis differs by 42 chromosomal inversions from the homologous element in D. virilis[6]. The use of the D. buzzatii BES allowed us to identify and characterize those inversions fixed in the D. mojavensis lineage after its divergence from the repleta group ancestor (see Figure 1).
Declarations
Acknowledgements
We thank Esther Betrán, Andrew Clark, Alejandra Delprat, Bill Etges, Nuria Rius and two anonymous reviewers for useful comments on a previous version of the manuscript. This work was supported by a grant (BFU2008-04988) to AR and a FPI doctoral fellowship (BES-2009-021560) to YG from the Ministerio de Ciencia e Innovación, Spain.
Authors' Affiliations
(1)
Departament de Genètica i de Microbiologia, Universitat Autònoma de Barcelona, Bellaterra, Spain
Copyright
© Guillén and Ruiz; licensee BioMed Central Ltd. 2012
This article is published under license to BioMed Central Ltd. This is an Open Access article distributed under the terms of the Creative Commons Attribution License (http://creativecommons.org/licenses/by/2.0), which permits unrestricted use, distribution, and reproduction in any medium, provided the original work is properly cited.