Research article
Open Access
Divergence of the SigB regulon and pathogenesis of the Bacillus cereus sensu lato group
Received: 25 June 2012
Accepted: 10 October 2012
Published: 22 October 2012
Abstract
Background
The Bacillus cereus sensu lato group currently includes seven species (B. cereus, B. anthracis, B. mycoides, B. pseudomycoides, B. thuringiensis, B. weihenstephanensis and B. cytotoxicus) that recent phylogenetic and phylogenomic analyses suggest are likely a single species, despite their varied phenotypes. Although horizontal gene transfer and insertion-deletion events are clearly important for promoting divergence among these genomes, recent studies have demonstrated that a major basis for phenotypic diversity in these organisms may be differential regulation of the highly similar gene content shared by these organisms. To explore this hypothesis, we used an in silico approach to evaluate the relationship of pathogenic potential and the divergence of the SigB-dependent general stress response within the B. cereus sensu lato group, since SigB has been demonstrated to support pathogenesis in Bacillus, Listeria and Staphylococcus species.
Results
During the divergence of these organisms from a common "SigB-less" ancestor, the placement of SigB promoters at varied locations in the B. cereus sensu lato genomes predict alternative structures for the SigB regulon in different organisms. Predicted promoter changes suggesting differential transcriptional control of a common gene pool predominate over evidence of indels or horizontal gene transfer for explaining SigB regulon divergence.
Conclusions
Four lineages of the SigB regulon have arisen that encompass different gene contents and suggest different strategies for supporting pathogenesis. This is consistent with the hypothesis that divergence within the B. cereus sensu lato group rests in part on alternative strategies for regulation of a common gene pool.
Keywords
Microbial evolutionGeneralized stress responseSigB sigma factor
Background
The genus Bacillus is a heterogeneous group of Gram-positive heterotrophic aerobic or facultative anaerobic bacilli that form environmentally resistant, metabolically inert spores[1]. These soil-borne organisms are ubiquitous, and occupy surprisingly diverse environments[2, 3]. Within this large genus, the B. cereus sensu lato group consists of seven species B. anthracis (Ba), B. cereus (Bc), B. mycoides, B. pseudomycoides, B. thuringiensis (Bt), B. weihenstephanensis (Bw) and B. cytotoxicus, based on classical microbial taxonomy[4, 5]. More recent molecular phylogenies and comparative genome sequence analysis indicate that these organisms should more accurately be viewed as a single species[6, 7] despite their phenotypic diversity. Indeed, the various species of the Bc sensu lato group are phylogenetically interspersed among one another in several phylogenies[8–10]. Although the population has a clonal character, there do not appear to be clonal lineages that are species-specific, with the exception of the Ba lineage[11]. Some Bc sensu lato organisms are thermophiles[12], while Bw is a psychrophile[4]. Nevertheless, most Bc sensu lato isolates are mesophiles, found in a breadth of locales including the soil, on plant surfaces and the mammalian gastrointestinal microflora[13]. Some Bc sensu lato members appear to be nonpathogenic, while others cause diverse disease ranging from food poisoning (intoxication without colonization) to gastroenteritis[13], endophthalmitis[14], tissue abscesses[15, 16], and aggressively invasive systemic disease, including anthrax[3]. Bt strains can cause disease in insects[17, 18] and possibly nematodes[19–21], while some Bc strains are part of the normal insect gut flora[13, 22].
Thus, these organisms appear to have arisen from a common ancestor to display impressive phenotypic diversity while nevertheless occupying a close phylogenetic space. What mechanisms produced this dichotomy? Horizontal gene transfer (HGT), mobile genetic elements, and the routine processes of insertion/deletion (indel) formation have typically been invoked to explain the diversity in these organisms[23, 24]. Clearly, the presence of mobile genetic elements such as the virulence plasmids pXO1 and pXO2 in the Ba lineage, and the Cry toxin plasmids in various Bt strains, are essential for the signature phenotypes of these organisms[3, 25]. On the other hand, it is unclear how much of the phenotypic diversity in these organisms can be explained by these mechanisms. As a whole, Bc sensu lato organisms have an extremely high degree of chromosomal synteny[26], and whole genome comparisons between these organisms reveal a highly similar gene content[26, 27]. Han et al.[27] suggested "that differential regulation [of gene content] modulates virulence rather than simple acquisition of virulence factor genes", a conclusion confirmed by other studies[28]. This proposition is consistent with observations that the most evolutionarily flexible portions of the bacterial genome are regulatory sequences and transcriptional networks[29–31].
We decided to explore the divergence within the Bc sensu lato group by examining the divergence of the SigB regulons in these organisms. The sigB locus encodes an alternative sigma factor with orthologs confined to the Bacillus, Staphylococcus and Listeria genera[32]. In each of these, the SigB protein is responsible for transcriptionally activating the generalized stress response when induced by a variety of stressors, including heat, osmolarity, organic solvents, low pH or cell-wall active antibiotics[33–35]. In these organisms, SigB appears to control virulence-related functions including biofilm formation and invasion[36, 37]. Some data that suggest that components of the SigB-mediated stress response vary between strains of Listeria and of S. aureus in a lineage-dependent manner[38–40]. This suggests that part of the evolutionary differentiation that occurred within these genera included divergence of the structure of the SigB-controlled regulons.
The divergence of the SigB regulon in the Bc sensu lato group appears to be similar. Lapidus et al.[4] observed that B. cytotoxicus [formerly Bc biovar cytotoxis[41]] is likely the most similar of the Bc sensu lato organisms to the nearest common ancestor of the group, based on comparative genome analysis and 16S rRNA phylogeny. Our whole genome single-gene phylogeny[7] supports the placement of B. cytotoxicus at the base of the phylogeny of the Bc sensu lato group. Important in the present context, the B. cytotoxicus genome lacks the entire SigB operon[4], including the SigB gene and the primary regulatory loci that control SigB activity, RsbV (anti-sigB antagonist) and RsbW (anti-sigB factor). Consequently, the B. cytotoxicus genome does not encode either the sigma factor or associated SigB regulatory genes, and cannot mount a SigB-activated stress response. Lapidus et al. suggested that an organism similar to B. cytotoxicus was likely the ancestor of the remainder of the Bc sensu lato lineage, which arose after receiving the SigB operon during an HGT event. Consistent with this, we were unable to find convincing evidence of SigB binding sites in the B. cytotoxicus genome that correspond to SigB promoters in other members of the Bc sensu lato group (see below). An alternative explanation, that B. cytotoxicus had lost the SigB operon and other genomic information during streamlining of a larger genome[42, 43], is less likely. In that instance, we expect that detectable remnants of the SigB regulon (e.g., SigB promoters, pseudogenes) would remain in the B. cytotoxicus genome. Thus, the introduction of an intact SigB operon into a B. cytotoxicus-like ancestor, likely by HGT as suggested by Lapidus et al., appears to have set the stage for the emergence of the SigB-controlled stress response regulon in the entire Bc sensu lato group. From this perspective, the B. cytotoxicus genome therefore is a convenient lens through which to view the appearance and divergence of the SigB regulon in the remainder of the Bc sensu lato group. Exploiting experimental data derived from Bc strain ATCC14579[44, 45], we used an in silico approach to predict and compare the SigB regulons of the completed genomes of 20 members of the Bc sensu lato group. Not surprisingly, protein coding sequence indels play an important role in the divergence of these regulons. However, changes in promoter sequence between members of the Bc sensu lato group that 're-purpose' conserved genes into/out of the SigB regulon appear to be more common than indel formation for remodeling the structure of this regulon during divergence. Four different lineages of the SigB regulon appear to have arisen during this process. One lineage appears to carry the core SigB regulon that arose after the emergence of these organisms from a B. cytotoxicus-like ancestor. This lineage appears to have given rise to three additional groups that each appropriated different genes from a common gene pool into the SigB regulon, suggesting different strategies for the support of pathogenesis by the SigB-mediated generalized stress response.
Conclusions
Evolution of the SigB regulon and pathogenesis of the Bc sensu lato group
This sample size is admittedly small, and so the generalizations leading to these hypotheses require further exploration. Nevertheless, the hypotheses drawn from this heat map and cluster analyses are provocative. The simplest interpretation of the accumulated data (Figure
4
) suggests that a Clade B-like organism arose first from a
B. cytotoxicus
-like progenitor after receiving the SigB operon during an HGT event. Following this, a nascent core SigB regulon was assembled by the addition of SigB promoters to TUs from the
B. cytotoxicus
-like progenitor. Other genes were added to the core regulon by a combination of HGT and gene duplication/divergence, both events accompanied by SigB promoter assignment. Clade A and Clades C/D organisms subsequently diverged from this common Clade B-like organism by the addition of gene clusters 5 and 3a/4a/b, respectively, to the SigB core regulon. These additions occurred primarily by the assignment of SigB promoters to genes from a common gene pool, while the appearance of new genes, presumably by HGT or gene duplication, appears to be a much less common event. The TUs augmenting the SigB regulon of Clade A organisms may enhance the basal pathogenic potential of this clade, but may also make these organisms more capable of competing in the soil or other microbial consortia. Clades C/D organisms are invasive pathogens; we hypothesize that the augmentation to the SigB core regulon in these organisms is important for supporting this phenotype. Note also that some of the Clade D organisms have been referred to as 'anthrax-like' bacteria[
27
,
87
], despite the tight clonality of the
Ba
phylogeny that excludes these organisms. The close similarity of the SigB regulon of Clade C and D organisms suggests a functional relationship between these two groups that may be important for their similar pathogenic potential.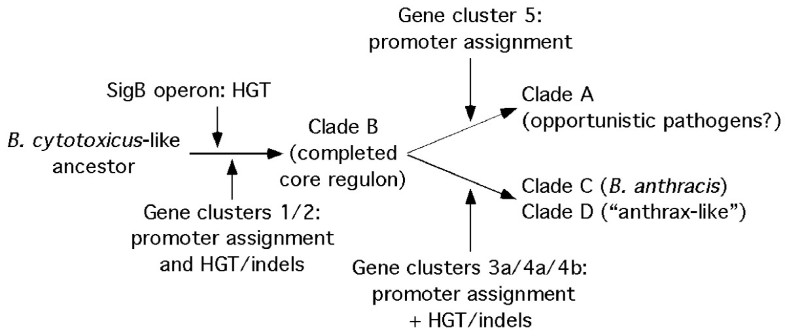 Abbreviations
Ba :

Bacillus anthracis
Bc :

Bacillus cereus
Bw :

Bacillus weihenstephanensis
HGT:

Horizontal gene transfer
TU:

Transcriptional unit
HMM:

Hidden Markov Model
PWM:

Position Weight Matrix
CL:

Cardiolipin
PBP-2B:

Penicillin binding protein 2B
SLH:

S-layer homology.
Declarations
Acknowledgments
The authors wish to thank Lydgia Jackson, Inimary Toby, Michelle Callegan and Jimmy Ballard for suggestions during the preparation of this manuscript. These studies were supported by Grant # P20RR016478 from the National Institute of General Medical Sciences (NIGMS), a component of the National Institutes of Health (NIH).
Authors' Affiliations
(1)
Department of Microbiology and Immunology, Oklahoma University Health Sciences Center, Oklahoma City, USA
Copyright
© Scott and Dyer; licensee BioMed Central Ltd. 2012
This article is published under license to BioMed Central Ltd. This is an Open Access article distributed under the terms of the Creative Commons Attribution License (http://creativecommons.org/licenses/by/2.0), which permits unrestricted use, distribution, and reproduction in any medium, provided the original work is properly cited.