Research article

Open Access
Alterations in gene expression in Caenorhabditis elegans associated with organophosphate pesticide intoxication and recovery
Received: 4 December 2012
Accepted: 20 April 2013
Published: 30 April 2013
Abstract
Background
The principal toxicity of acute organophosphate (OP) pesticide poisoning is the disruption of neurotransmission through inhibition of acetylcholinesterase (AChE). However, other mechanisms leading to persistent effects and neurodegeneration remain controversial and difficult to detect. Because Caenorhabditis elegans is relatively resistant to OP lethality—particularly through the inhibition of AChE—studies in this nematode provide an opportunity to observe alterations in global gene expression following OP exposure that cannot be readily observed in less resistant organisms.
Results
We exposed cultures of worms in axenic, defined medium to dichlorvos under three exposure protocols. In the first, worms were exposed continuously throughout the experiment. In the second and third, the worms were exposed for either 2 or 8 h, the dichlorvos was washed out of the culture, and the worms were allowed to recover. We then analyzed gene expression using whole genome microarrays from RNA obtained from worms sampled at multiple time points throughout the exposure. The worms showed a time-dependent increase in the expression of genes involved in stress responses. Early in the exposure, the predominant effect was on metabolic processes, while at later times, an immune-like response and cellular repair mechanisms dominated the expression pattern. Following removal of dichlorvos, the gene expression in the worms appeared to relatively rapidly return to steady-state levels.
Conclusion
The changes in gene expression observed in the worms following exposure to dichlorvos point towards two potential mechanisms of toxicity: inhibition of AChE and mitochondrial disruption.
Keywords
Caenorhabditis elegansOrganophosphate pesticide intoxicationGene expressionDichlorvosAcetylcholinesterase inhibitionMitochondrial disruptionDichlorvos-induced developmental delay
Background
Because organophosphate (OP) pesticides are widely used for the control of agricultural pests and of arthropod disease vectors commercially, residentially, and institutionally, large numbers of people throughout the world are routinely exposed to OPs, many at toxic levels. It has been estimated that there may be as many as three million poisonings and 200,000 deaths per year from OP exposure worldwide [1].
All OPs exert their primary effects as acetylcholinesterase (AChE) inhibitors. Both short term and long-term adverse effects of AChE inhibitor exposure have been described, ranging from acutely life-threatening conditions to subtle, long term behavioral deficits. However, the consequences of low level exposure and the nature and mechanism of persistent effects are poorly understood and, in many cases, controversial (see below).
Without intervention, high-dose, acute exposures to OPs and other AChE inhibitors result in death from respiratory failure; less severe exposures may cause excessive salivation, lacrimation, and urination, as well as diaphoresis, gastrointestinal motility, and emesis followed by paralysis [2]. People and animals that recover from acute exposures to many of these compounds may present with a delayed syndrome; organophosphate induced delayed polyneuropathy (OPIDP), characterized by the appearance of numbness, weakness, and parathesia in the limbs, and degeneration of peripheral nerve and central nervous system myelin sheaths 7–21 days after exposure [3–5]. A so-called intermediate syndrome, which presents 24–96 h after exposure, has been identified and is characterized by weakness of the neck, proximal limb, and respiratory musculature. This syndrome is believed to result from acetylcholine receptor desensitization [4, 5]. The occurrence of persistent neurological and neuropsychiatric effects after low level exposure and of developmental neuro-behavioral effects has also been described [6–8]. These effects remain controversial, however, [4, 6, 9] because of the difficulty in obtaining persuasive evidence of low-level and transient exposures to these compounds [10].
In an effort to resolve some of the issues surrounding acute, transient, and low-level exposures to OPs, we have undertaken studies tracking both development of and recovery from OP intoxication at the global gene expression level using the genomic model organism Caenorhabditis elegans and Affymetrix whole genome C. elegans GeneChip microarrays. C. elegans shows substantial similarity to mammals in the relevant biochemistry and genomics. The acute toxicity of the commercial OPs, including dichlorvos, results from inhibition of acetylcholinesterase in vertebrates [11], and this mechanism appears to be the same in worms as well [12]. In contrast to mammals, however, the nematode possesses four AChE genes rather than a single alternatively spliced gene [13]. Mutations in at least 18 C. elegans genes have been shown to confer resistance to the OP-like carbamate pesticide aldicarb, and all these resistance genes are known—or plausibly believed—to be involved in acetylcholine metabolism, secretion, or recycling [14]. The C. elegans genome also contains a close homolog of the vertebrate secondary OP target, neuropathy target esterase (NTE) [15]. Impairment of NTE function is thought to underlie OPIDP [3, 5, 16].
In previous work, we found that C. elegans is relatively resistant to OP lethality [17] but incurred developmental abnormalities after 24 h in high concentrations of the AChE inhibitors aldicarb (a carbamate), fenamiphos, and dichlorvos (OPs; unpublished observations). The abnormalities included malformed cuticles, severe anatomical disorganization, and protruding vulvae, suggesting that the OPs also target molecules other than AChE. A large number of non-AChE and non-NTE targets have been proposed in humans and other vertebrates, including nicotinic, muscarinic, and cannabinoid receptors, kinases, and carboxylesterases in addition to AChE and NTE [4, 5, 11]. The potent neurotoxicity of the OPs, however, has made it difficult to study "off-target" effects.
We chose to perform the present studies with dichlorvos in order to maintain comparability with previous work and also because dichlorvos is known to reversibly inactivate AChE [18]. We reasoned that it might be possible to wash dichlorvos out of the worm culture so that the worms' recovery from acute intoxication could be followed. While it is unlikely that C. elegans experiences a syndrome like OPIDP because of the brevity of its life-span and the shortness of its neurons [16], OPIDP has been described in humans following dichlorvos exposure [19]. This raises the possibility that the consequences of NTE inhibition by dichlorvos might nevertheless be observable in C. elegans at the gene expression level. As noted above, we have observed developmental abnormalities in worms exposed to dichlorvos suggesting that there could be undiscovered targets for OPs in C. elegans.
Because
C. elegans
is relatively resistant to OP lethality, yet shows substantial similarity to mammals in the principal biochemical systems targeted by OPs, we conjectured that it might be possible to highlight non-cholinergic effects from OP exposures in the worm that are difficult to discern using animal models less resistant to OPs. We either exposed synchronized L3/L4 stage
C. elegans
cultures to dichlorvos or washed the dichlorvos out of the culture to allow the worms to recover (Figure
1
). We harvested worms at several time points and performed an analysis of global gene expression. In these studies, we have elucidated perturbations in key pathways related to energy metabolism, innate immunity, and cellular damage resulting from OP exposure.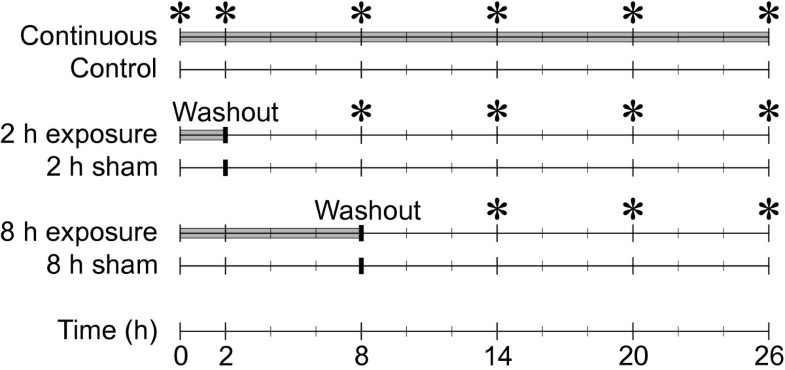 Table 1
Behavior of C. elegans following dichlorvos exposure
Dichlorvos (μM)

Continuous exposure

4 h wash-out

Reduced movement

24 h

3 h post washout

20 h post washout

15.0

10 min

immobile

reduced motility

motility returned to control levels

3.0

40 min

immobile

reduced motility

motility returned to control levels

0.6

4 h

sluggish

motility returned to control levels

motility returned to control levels

0.12

NOE

NOE

NOE

NOE
Results and discussion
Organophosphate (OP) pesticides are commonly used and may account for as many as three million poisonings and 200,000 deaths per year worldwide [1]. The principal mechanism of acute toxicity, inhibition of acetylcholinesterase (AChE), has been well studied, yet little is known about the cause of "off-target" effects, including persistent and delayed neurological effects. To investigate off-target effects, we chose the nematode, C. elegans, because of its resistance to lethality from AChE inhibition. Range-finding experiments were performed to determine suitable exposure concentrations, and worms were exposed to two concentrations dichlorvos. In a subset of the cultures, the toxicant was removed to examine recovery specific mechanisms. Gene expression changes were monitored throughout the course of the experiment using whole genome microarrays. A striking consequence of the exposure was delayed development (see below), which complicated analysis because of the interplay between developmentally-regulated events and toxicant-induced expression changes. In general, the worms showed time-dependent responses to the toxicant, which progressively intensified. The major effects of the exposure included metabolic disruption, and innate immunity-like and cellular repair responses.
Conclusion
Upon exposure to dichlorvos, worms show a time-dependent response with progressive delays in development, alterations in metabolism, increased cellular repair, and alterations in innate immunity functions. Early in the course of the exposure, the effects appear to be primarily related to energy metabolism. As the exposure progresses, the changes in the metabolic pathways become more pronounced, and there is increased perturbation of immune responses. At the latest times, repair processes have been activated that are presumably a response to damaged nerve and muscles cells. Upon removal of the toxicant, gene expression quickly returns to baseline, with the only lingering effect being a synchronized delay in developmental gene expression. This delay in development is the single largest effect on the worms and is evident as early as 8 h after treatment.
There are several potential mechanisms by which dichlorvos is mediating toxicity in C. elegans. Inhibition of AChE is likely a key player as many of the perturbed processes involve neuronal signaling, and the observed behavior changes are consistent with increased accumulation of acetylcholine. The observed changes in the expression of genes involved in energy metabolism suggest that dichlorvos is disrupting mitochondrial function, which has been shown to be a mechanism for neuronal degeneration [54]. Calcium homeostasis is potentially another process perturbed by dichlorvos exposure, but it is unclear whether dichlorvos directly or indirectly perturbs calcium homeostasis.
Through this work, we have identified key genes and pathways responding to dichlorvos toxicity (Figure
10
). The primary mechanisms appear to be inhibition of AChE and depletion of energy reserves possibly through mitochondrial dysfunction. We have also shown the resilience of the worms by their recovery after removal of the toxicant. This work provides insight into the detailed process of dichlorvos intoxication and sets the groundwork for future efforts.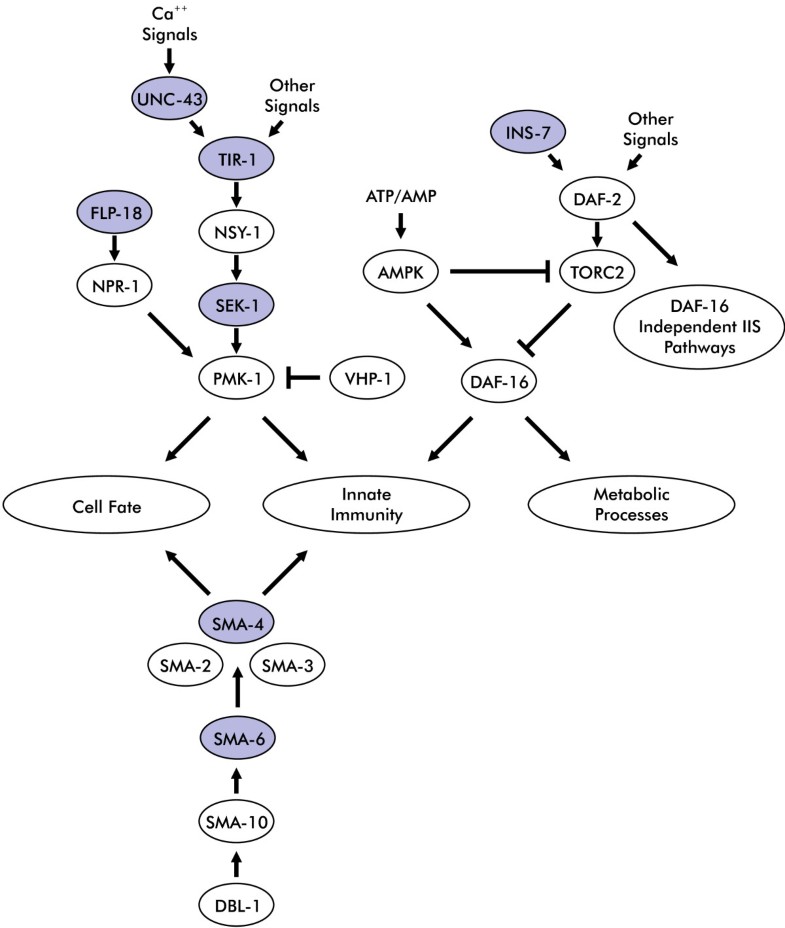 Abbreviations
AChE:

Acetylcholinesterase
ANCOVA:

Analysis of covariance
ANOVA:

Analysis of variance
AQL:

ACEDB Query Language
FDR:

False discovery rate
LOEL:

Lowest observed effect level
NTE:

Neuropathy target esterase
OP:

Organophosphate
OPIDP:

Organophosphate induced delayed polyneuropathy
ROS:

Reactive oxygen species
Declarations
Acknowledgements
The authors and the US Army Center for Environmental Health Research wish to thank the following individuals for their support and assistance: Debbie French for testing CeHR medium; Martin Nau and other members of Dr. Maryanne Vahey's laboratory for microarray processing; Dr. Maryanne Vahey, of the Division of Retrovirology, Walter Reed Army Institute of Research for very generous research support; Alan Rosencrance for quantitative analysis of dichlorvos stocks and media. The research was supported in part by an Army Independent Laboratory Innovative Research award to DAJ and JAL and by the Military Operational Medicine Research Program of the US Army Medical Research and Materiel Command.
Opinions, interpretations, conclusions, and recommendations are those of the authors and are not necessarily endorsed by the U.S. Army. Citations of commercial organizations or trade names in this report do not constitute an official Department of the Army endorsement or approval of the products or services of these organizations.
Authors' Affiliations
(1)
US Army Center for Environmental Health Research, Fort Detrick, USA
(2)
The MITRE Corporation, McLean, USA
(3)
Excet Inc, Fort Detrick, USA
Copyright
© Lewis et al.; licensee BioMed Central Ltd. 2013
This article is published under license to BioMed Central Ltd. This is an Open Access article distributed under the terms of the Creative Commons Attribution License (http://creativecommons.org/licenses/by/2.0), which permits unrestricted use, distribution, and reproduction in any medium, provided the original work is properly cited.