Research article

Open Access
Genetic parameters and genome-wide association study of hyperpigmentation of the visceral peritoneum in chickens
Received: 1 February 2013
Accepted: 7 May 2013
Published: 16 May 2013
Abstract
Background
Hyperpigmentation of the visceral peritoneum (HVP) has recently garnered much attention in the poultry industry because of the possible risk to the health of affected animals and the damage it causes to the appearance of commercial chicken carcasses. However, the heritable characters of HVP remain unclear. The objective of this study was to investigate the genetic parameters of HVP by genome-wide association study (GWAS) in chickens.
Results
HVP was found to be influenced by genetic factors, with a heritability score of 0.33. HVP had positive genetic correlations with growth and carcass traits, such as leg muscle weight (rg = 0.34), but had negative genetic correlations with immune traits, such as the antibody response to Newcastle disease virus (rg = −0.42). The GWAS for HVP using 39,833 single nucleotide polymorphisms indicated the genetic factors associated with HVP displayed an additive effect rather than a dominance effect. In addition, we determined that three genomic regions, involving the 50.5–54.0 Mb region of chicken (Gallus gallus) chromosome 1 (GGA1), the 58.5–60.5 Mb region of GGA1, and the 10.5–12.0 Mb region of GGA20, were strongly associated (P < 6.28 × 10-7) with HVP in chickens. Variants in these regions explained >50% of additive genetic variance for HVP. This study also confirmed that expression of BMP7, which codes for a bone morphogenetic protein and is located in one of the candidate regions, was significantly higher in the visceral peritoneum of Huiyang Beard chickens with HVP than in that of chickens without pigmentation (P < 0.05).
Conclusions
HVP is a quantitative trait with moderate heritability. Genomic variants resulting in HVP were identified on GGA1 and GGA20, and expression of the BMP7 gene appears to be upregulated in HVP-affected chickens. Findings from this study should be used as a basis for further functional validation of candidate genes involved in HVP.
Keywords
Newcastle Disease Virus
Single Nucleotide Polymorphism Marker
Visceral Peritoneum
Significant Single Nucleotide Polymorphism
Immune Trait
Background
Pigmentation is widespread amongst both plants and animals, and plays important roles in photosynthesis (in plants), camouflage, sex selection, and protection from sunburn. However, abnormal pigmentation in humans and other animals, including hyperpigmentation (e.g. chloasma [
1
] and melanoma [
2
,
3
]) and the absence of pigmentation (e.g. albinism [
4
] and vitiligo [
5
,
6
]), can pose serious health risks. Most pigmentation phenotype variants are affected by genetic factors in both humans [
7
–
9
] and animals [
10
–
17
]. In chickens, a mutation of the melanocortin 1 receptor (
MC1R
) gene causes extended dark feathers [
15
], and a complex genomic rearrangement on chicken (
Gallus gallus
) chromosome 20 (GGA20) determines dermal hyperpigmentation [
14
]. However, these studies have mainly focused on pigmentation of the retina, skin, hair, and feathers. Pigmentation of other tissues, including muscular and visceral membranes, is also very important. Recently, more attention has been paid to the hyperpigmentation of the visceral peritoneum (HVP) in chickens, especially the colored chicken breeds, because it affects the carcass appearance of commercial chickens, resulting in economic losses, and may be associated with certain diseases, including melanomas [
18
]. HVP is similar to fibromelanosis, but the pigmentation is limited to the chicken peritoneum, so it may be peritoneal fibrosis. It is characterized by intense pigmentation of connective tissue in the visceral peritoneum, which results in a dark blue appearance through the skin of the chicken abdomen, and a black connective tissue layer when the skin is removed (Figure
1
). A preliminary study showed that HVP was caused by an abnormal distribution of melanin, and that the number of chickens with HVP can increase in cold and humid environments (unpublished data). HVP is distinct from fibromelanosis, which results from a complex genomic rearrangement involving the endothelin 3 (
EDN3
) locus [
14
]. In fact, the genetic causes of HVP remain unknown.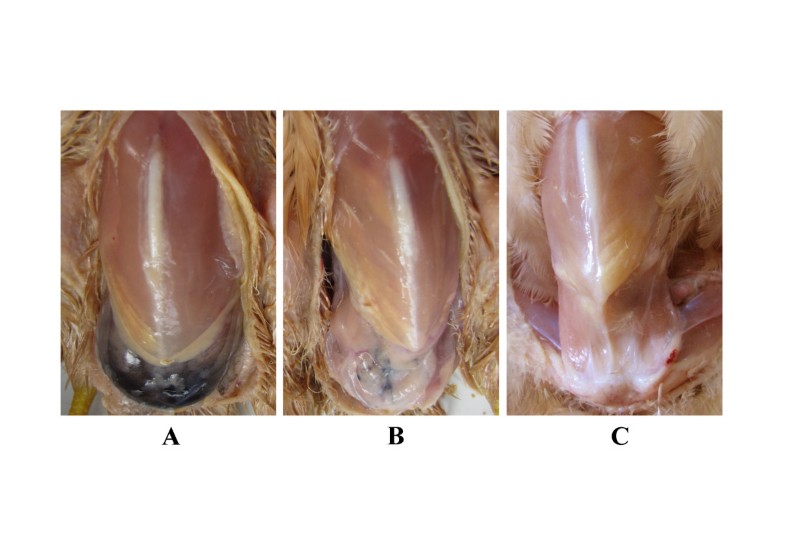 The development of molecular tools and strategies has allowed the investigation of the genetic basis of HVP. Genome-wide association studies (GWAS) have become an important strategy for investigating the genetic basis of many human diseases, including diabetes, breast cancer, pancreatic cancer, and hypertension, amongst others (http://www.genome.gov/GWAStudies). Livestock breeders have begun to implement GWAS to map economically important quantitative trait loci (QTLs) [19–22]. Significant loci linked to chicken growth traits have been mapped to GGA1 and GGA4 by GWAS [23, 24]. Therefore, if HVP is influenced by a major genetic factor, GWAS may be able to dissect its genetic basis.
In this study, we estimated the genetic parameters of HVP to illustrate the inheritance of HVP, and carried out a GWAS analysis of HVP using the chicken 60K single nucleotide polymorphism (SNP) panel in a commercial chicken population with a rich diversity of HVP.
Discussion
Interestingly, chickens with HVP showed no reduction in body weight, and were actually associated with improved production efficiency. This finding deviated from our hypothesis that HVP was likely associated with disease phenotypes, which could decrease chicken growth. However, HVP-affected birds still had greater health risks because of the observed negative genetic correlations with immune traits (Table 1). The birds with HVP had decreased antibody responses, indicating that they may be more likely to suffer from pathogen infections. In addition, the birds with HVP had larger heterophil counts, resulting in higher heterophil to lymphocyte ratios (H/L). High H/L values in chickens are associated with decreased tolerance of environmental stress [25]. Taken together, our results indicated that birds with HVP should grow faster in a favorable environment, but stressful environmental conditions would more adversely affect the development and growth of birds with HVP compared with those of normal birds. We therefore inferred that the increased emergence of birds with HVP indirectly results from the selection of birds with higher production efficiency in the modern broiler industry.
During our investigation of HVP in chickens, we did not observe this HVP phenomenon in fast-growing birds with white feathers, such as Ross 308 broilers; HVP appeared to be limited to colored chicken breeds, such as Huiyang Beard chickens (unpublished data). The lack of the HVP phenotype in Ross 308 broilers may result from interference of the white dominance or recessive locus with the pigmentation in the abdominal septa of areolar connective tissues. A white recessive locus with a retroviral insertion in the tyrosinase (TYR) gene changes the expression of TYR to interrupt melanin biosynthesis [11, 26, 27], while a white dominance locus with a mutation in the premelanosome protein gene alters melanosome shape to influence pigmentation [10, 28]. In addition, birds with runting and stunting syndrome (RSS) usually also have the HVP phenotype in Chinese farms (personal communication). One of reasons behind RSS may be the fact that birds with HVP have less resistance to pathogens and environmental stress, such as cold temperatures. Therefore, HVP may be one of the traits that mirror non-balance allocation of energy between production and immunity during chicken growth. However, this hypothesis required further experimental validation.
A GWAS was implemented for HVP in this study to attempt to validate the above hypotheses. GWAS are useful for exploring the genetic basis of some special appearance traits, such as pigmentation [29, 30]. This was the first study aimed at uncovering the genetic basis of pigmentation of connective tissues in chickens based on a high-density SNP chip panel. We hoped that the findings would increase the genetic knowledge of HVP, and allow us to validate potential HVP candidate genes.
The GWAS identified 20 SNP markers that were significantly (P < 6.28 × 10-7) associated with HVP (Table 2). Based on the extent of LD on GGA1 (Additional file 1: Figure S1), these SNP markers were determined to belong to three different QTLs. The detection of more than one QTL indicates that the causal genes or mutations in these QTLs can affect the same pathway or gene to generate the same phenotype. The MAP3K7IP1, HIPK2, and BMP7 genes were the closest loci to the most significant SNP marker in each of the three QTL regions. MAP3K7IP1, HIPK2, and BMP7 genes are not traditional pigmentation genes, which are generally considered to include MC1R, TYR, tyrosinase-related protein 1, microphthalmia-associated transcription factor (MITF), agouti signaling protein, SRY (sex determining region Y)-box 10 (SOX10), myosin VA (heavy chain 12, myoxin), solute carrier family 45, and member 2 [8, 31, 32]. Therefore, we hypothesized that HVP does not directly result from mutations in the traditional pigmentation genes, but originates from the upstream genes that can indirectly change pigmentation pathways. GWAS of human pigmentation traits have produced some similar results [33]. Previous studies also suggested that MAP3K7IP1, HIPK2, and BMP7 could influence some pigmentation pathways. For example, Liang et al. found that down-regulation of HIPK2 expression suppressed the expression of MITF, resulting in melanocyte differentiation suppression by increasing C-terminal binding protein 2 levels [34]. BMP7 could inhibit normal melanocyte growth and tumor growth of human uveal melanomas [35, 36], and could inhibit metastasis by inducing mesenchymal-to-epithelial transition in melanoma cells [37]. However, evidence indicates that BMP7 is upregulated in the development of melanoma [38, 39]. This study also found that upregulation of BMP7 was associated with HVP in Huiyang Beard chickens (Figure 3). In addition, BMP7 could affect pheomelanin generation by interacting with proopiomelanocortin in brown adipocyte differentiation and thermogenesis [32, 40].
More interestingly, the MAP3K7 gene was found to be a node linking the MAP3K7IP1, HIPK2, and BMP7 genes according to the pathway maps involving these genes in the KEGG, GenMAPP, and BioCarta databases (Additional file 2: Figure S2). MAP3K7 can also interact with many genes affecting melanocyte development [31, 32], such as MITF [41], KIT ligand, B-cell leukemia/lymphoma 2 [42, 43], lymphoid enhancer binding factor 1 [44], and epidermal growth factor receptor [45, 46]. MAP3K7IP1 is one of the MAP3K7 binding proteins. The MAP3K7IP1 protein interacts with and thus activates MAP3K7 kinase, and may also function as a mediator between TGF-β receptors and MAP3K7 [47–49], suggesting that MAP3K7IP1 can influence the function of the downstream genes of the pathways involving in MAP3K7. Besides the interaction of MAP3K7IP1 and MAP3K7, BMP7 also contacts MAP3K7 in some pathways. Yamaguchi et al. reported that BMP7 activated MAPK signaling through MAP3K7 [50]. Blank et al. verified that BMP7 activated the JNK signaling pathway, and MAP3K7 was required for BMP7-mediated JNK activation [51]. In addition, BMP7 could activate MAP3K7 and enhance Wnt-dependent transcription [52]. Expression of BMP7 was indeed consistent with that of MAP3K7 in this study (Figure 3). It is possible that a specific mutation upregulates expression of BMP7 to result in MAP3K7 upregulation in Huiyang Beard chickens with HVP. Additionally, the MAP3K7-HIPK2 pathway can inhibit c-Myb activity upon Wnt-1 stimulation, affecting the immune response, because c-Myb plays an essential role in the proliferation of immature hematopoietic cells and early T-cell development [53–55]. This is consistent with the fact that this study identified a strong genetic relationship between HVP and the antibody response to Newcastle disease virus (rg = −0.42, Table 1). Importantly, MAP3K7 participates in several pathways related to the immune response, such as the B cell receptor signaling pathway, the toll-like receptor signaling pathway and the IL-6 signaling pathway (http://www.wikipathways.org/index.php/WikiPathways). These findings indicate that MAP3K7IP1, HIPK2, and BMP7 could be candidate genes for HVP, and might affect the development of HVP by regulating the expression of the MAP3K7 gene. Further studies are needed to validate this hypothesis.
Conclusions
HVP was found to be a quantitative trait with moderate heritability. Three independent QTLs for HVP were detected by GWAS on GGA1 and GGA20, and the BMP7 gene was identified as a likely candidate gene for HVP.
Declarations
Acknowledgments
The authors would like to thank Dr Zheya Sheng (College of Biological Science, China Agricultural University, Beijing, China) for her technical assistance in handling the SNP genotyping data and Dr Yang Da (Department of Animal Science, University of Minnesota, Saint Paul, Minnesota, USA) for his technical support with GWAS. This study was supported by grants from the Guangdong Key Scientific and Technological Projects (Grant No. 2011A020201007), the National Natural Science Foundation of China (Grant No. U0831003), and the Earmarked Fund for Modern Agro-industry Technology Research System (nycytx-42).
Authors' Affiliations
(1)
Institute of Animal Science, Guangdong Academy of Agricultural Sciences, Guangzhou, China
(2)
State Key Laboratory for Agro-Biotechnology, China Agricultural University, Beijing, China
(3)
State Key Laboratory of Livestock and Poultry Breeding, Guangzhou, China
Copyright
© Luo et al.; licensee BioMed Central Ltd. 2013
This article is published under license to BioMed Central Ltd. This is an Open Access article distributed under the terms of the Creative Commons Attribution License (http://creativecommons.org/licenses/by/2.0), which permits unrestricted use, distribution, and reproduction in any medium, provided the original work is properly cited.