Research article

Open Access
Transcriptomic and proteomic analysis of a compatible tomato-aphid interaction reveals a predominant salicylic acid-dependent plant response
Received: 19 April 2013
Accepted: 26 July 2013
Published: 29 July 2013
Abstract
Background
Aphids are among the most destructive pests in temperate climates, causing significant damage on several crops including tomato. We carried out a transcriptomic and proteomic study to get insights into the molecular mechanisms and dynamics of the tomato response to the Macrosyphum euphorbiae aphid.
Results
The time course analysis of aphid infestation indicated a complex, dynamic pattern of gene expression. Several biological functions were affected and genes related to the stress and defence response were the most represented. The Gene Ontology categories of the differentially expressed genes (899) and identified proteins (57) indicated that the tomato response is characterized by an increased oxidative stress accompanied by the production of proteins involved in the detoxification of oxygen radicals. Aphids elicit a defense reaction based on the cross-communication of different hormone-related signaling pathways such as those related to the salicylic acid (SA), jasmonic acid (JA), ethylene and brassinosteroids. Among them, the SA-signaling pathway and stress-responsive SA-dependent genes play a dominant role. Furthermore, tomato response is characterized by a reduced accumulation of photosynthetic proteins and a modification of the expression of various cell wall related genes.
Conclusions
Our work allowed a more comprehensive understanding of the signaling events and the defense dynamics of the tomato response to aphids in a compatible interaction and, based on experimental data, a model of the tomato–aphid molecular interaction was proposed. Considering the rapid advancement of tomato genomics, this information will be important for the development of new protection strategies.
Keywords
Solanum lycopersicum
Macrosiphum euphorbiae
Plant-insect interactions
Defense
Salicylic acid
Jasmonic acid
Background
The investigation of plant defense mechanism offers interesting information about genes suitable to control agricultural pests[1]. Studies on crop plants, for which an increasing number of genomic sequencing projects have been completed, are essential to translate the knowledge gained on model species into indications useful to select superior genotypes and to develop more efficient control strategies.
Aphids (Hemiptera: Aphididae) are the largest group of phloem-feeders and among the most destructive insect pests of cultivated plants in temperate regions[2]. These insects have a unique feeding strategy and impose a distinctive stress on plants, being able to directly and indirectly damage crops by removing photoassimilates and introducing viruses. Most aphids feed on contents of vascular tissues by inserting piercing mouthparts (i.e. the stylet) hence, causing a limited mechanical damage. However, aphids have the ability to manipulate host plant physiology and to introduce effectors that alter defense signaling[3, 4]. Differently from caterpillars, aphids establish a prolonged interaction with the attacked plant tissue. Currently, little is known on how aphids can feed for an extended period of time from a single sieve element, despite the ability of plants to quickly repair damaged tissues. For all these reasons, it is widely accepted that plant response to phloem-feeding aphids is distinct from that to chewing insects, which crush leaf tissue, and to thrips and spider mites, which ingest the content of individual cells[5, 6].
The signs and symptoms of aphid attack can be diverse, and vary according to the plant species (and the tissue attacked), to the aphid species and biotype, and their combination[6]. Therefore, it is likely that host molecular response is specific for a certain plant-aphid interaction. Plant-aphid interaction has been studied mainly at the transcriptional level, while proteomic data are only available for wheat attacked by cereal aphids[7]. Overall, it is believed that aphids trigger in plants responses that overlap with those related to wounding and fungal pathogens[8–10]. Transcriptional profiling pointed out variations related to Reactive Oxygen Species (ROS) generation or scavenging, primary metabolism, cell wall fortification and synthesis of secondary metabolites[10–15]. In different interactions it has been observed that plants activate the jasmonic acid (JA)- and/or salicilic acid (SA)-dependent pathways, which should regulate aphid defense genes through their antagonistic or synergistic cross-communication. For instance, the expression of SA-responsive genes increases substantially following the attack of Myzus persicae on aphid-susceptible Arabidopsis and celery, and of Schizaphis graminum on aphid-susceptible sorghum, while changes in JA-dependent mRNA levels were more limited[9–12]. Moreover, the induction of the SA-pathway in aphid-resistant wheat challenged by Diuraphis noxia also supports a predominant role of this molecule in the resistance mechanism[16]. However, gene expression profiling indicated that both SA- and JA-responsive genes were substantially induced in Arabidopsis by Brevicorynae brassicae or M. persicae attack[17, 18]. These apparent discrepancies may be partly explained considering that in a compatible interaction, phloem-feeders may antagonize the innate plant wound responses to make the plant a more suitable host[5]. Currently, the effect of SA induction on aphid performance in compatible interactions, as well as its antagonism with the JA pathway, have not been fully elucidated (reviewed in[1]).
Towards this aim, we studied at the transcriptional and proteomic level the defense response of tomato plants (Solanum lycopersicum) against the potato aphid (Macrosiphum euphorbiae), a polyphagous pest of remarkable economic importance[19]. In tomato, symptoms include mild leaf curling, chlorosis and necrosis, resulting in defoliation and significant yield loss when pest population density is high[19]. In the present work, a time-course transcriptomic analysis based on microarrays was carried out to investigate tomato responses during a compatible interaction. In addition, to achieve a more detailed understanding of the tomato response, we performed a proteomic analysis by 2-D electrophoresis combined with MS technology. Our work provided the first combined analysis of the tomato-aphids molecular interaction.
Discussions
Our study generated extensive data on the expression of a large number of tomato genes and proteins during critical periods of infection with aphids and it provides the first insight into the dynamics of the response to M. euphorbiae attack. We analyzed plants at the early stage of infestation, before the development of visible symptoms, and interestingly, the biological processes and molecular pathways affected by aphid feeding were consistent with changes in other plant-aphid interactions[43–45]. However, in the present work a considerable number of tomato genes has been for the first time related to aphid response, thus providing new knowledge on the overlap and interaction between signal transduction pathways and defense response elicited by aphids in tomato.
Even if aphids are able to establish a long-lasting intimate interaction with plant cells, the tomato reaction was clearly variable during the course of the infestation. The number of differentially expressed genes considerably increased from 24 h to 48 h, reaching also the higher magnitude of expression, and declined at 96 h. This trend may be explained considering that a multifaceted defense response is costly for the plant, which should try to balance defense induction and impact on fitness traits following probing and establishment of a feeding site. Furthermore, in a compatible plant-insect interaction, it is likely that the reduced magnitude of the response at the last stage is the result of plant reprogramming the injured leaf to handle the progression of a successful infestation, along with an active aphid deception of tomato defense[46, 47].
For a more integrative view of the tomato-aphid interaction, the transcript profiling was complemented by a proteomic study. We confidently identified 57 proteins that were differentially expressed after insect attack. These proteins belong to a set of biological processes that covered the functional groups of the transcriptional analysis. For instance, response to stress and alteration in photosynthesis were the most abundant categories. The little overlap between trancscriptomic and proteomic data is in accordance to other combined studies in plants[48, 49]. A likely explanation is related to the features of the proteomic approach[50]. The set of protein spots identified as quantitatively altered by aphids should not be considered comprehensive and other differentially expressed proteins (e.g. transcriprion factors) may have not been detected in 2-D gels due to low concentration and poor solubility in our experimental conditions. Finally, these discrepancies can be due to the post-transcriptional and post-translational events that might be enhanced during tomato defense response to aphid damage[51].
Based on the transcriptomic and the proteomic data, we propose a model to depict the main components involved in aphid response in tomato (Figure
7
). Our data indicated that, at the early stage of infestation,
M
.
euphorbiae
triggers the induction of receptors (e.g. lectin kinase receptors) responsive to wounding and to oligogalacturonic acids signals[
52
], but also of genes coding for receptors (e.g. RLKs and LRR-RLKs) that play a central role in signaling following recognition of fungal pathogens[
53
]. Among others, aphid attack induced a strong activation of a NBS-LRR gene. These proteins detect the presence of disease-causing bacteria, viruses, or fungi by recognizing specific pathogen- or plant-derived effectors[
54
]. The data strongly support a model in which plants perceive aphids due to tissue damage and to a gene-for-gene recognition of aphid-derived elicitors[
2
]. Currently, it is not known if
M
.
euphorbiae
, as other aphids, delivers effectors[
4
], yet the concurrent activation of different receptors would explain why
M
.
euphorbiae
elicits in tomato a signaling cascade overlapping wounding and pathogen response.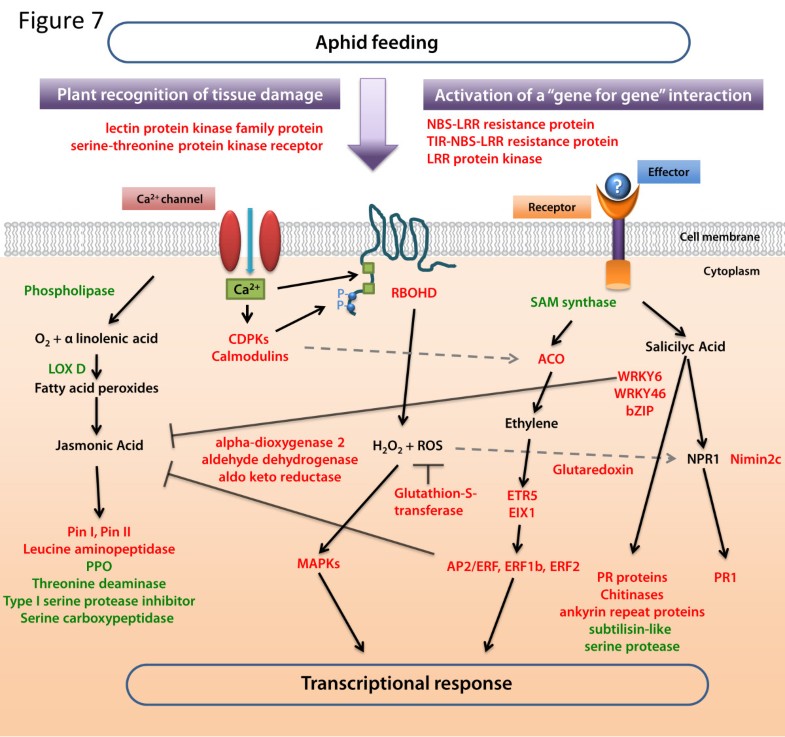 Tomato should perceive aphids essentially through cell membrane receptors and subsequently, the signal transduction exploits various cellular messengers, principally ROS, calcium and stress hormones[14, 44, 55]. Both transcriptomic and proteomic data indicated differences in genes related to ROS responsive or metabolizing systems (e.g. metallothionein, l-ascorbate oxidase homolog, Respiratory Burst Oxidase-like Protein). In addition, the results underlined the down-regulation of genes associated with the polyamine metabolism, molecules involved in various physiological events such as development, senescence and stress responses including oxidative stresses[56]. Down-regulation of all those genes following potato aphid infestation would also allow the plant to maintain high H2O2 levels that can damage the insect midgut[11]. On the other hand, the induction of ROS detoxifying enzymes (e.g. glutaredoxin, glutathione-s-transferase, aldo-keto reductase, α-DOX), represents an effort of tomato cells to keep ROS levels below toxicity. Among these genes, peroxidases showed the higher expression levels, as also reported for the barley-Diuraphis noxia interaction[45], showing that these enzymes are an important component of the plant reaction to aphids. The tomato response includes genes coding for calcium-dependent kinases (CDPK1, CDPK2, CDPK3) and calcium-binding proteins (Calmodulin-binding protein, Calmodulin-like protein), further confirming the involvement of this ubiquitous intracellular messenger in signal transduction in tomato[10, 16]. In addition, the concurrent up- and down-regulation of genes coding for calcium binding proteins is consistent with an elaborate role of calcium in plant-aphid interaction, since its concentration is at the core of the molecular sabotage that aphids carry out to avoid sieve-plate occlusion[57]. Calcium and ROS signaling should be associated through the regulation of RBOHD expression[58]. NADPH oxidases are key plasmalemma-bound enzymes for stress-induced ROS production in plants[58, 59]. The presence of EF-hand calcium-binding motifs in the up-regulated tomato RBOH protein suggests that aphid-induced Ca2+ influxes should affect NADPH oxidase activity through the phosphorylation of the N-terminal region of the protein by CDPKs[60]. The recognition of aphid feeding by tomato receptors triggers the defense reaction through an interplay of different stress-related phytohormones. What is the contribution of JA and SA to plant defenses against aphids, and which of these hormones has the predominant role is not yet clear. Growing evidence underlines the importance of JA-dependent defenses to hamper aphid infestation[17, 61]. For instance, jasmonate application improves aphid resistance in different plant species[11, 62, 63]. Furthermore, aphid population growth is boosted or suppressed in Arabidopsis mutants impaired or enhanced in the JA pathway, respectively[64, 65]. Different studies also emphasize the contribution of SA to plant defenses against aphids and it has also been proposed that the SA pathway has a significant role in aphid-resistant genotypes, primarily by promoting antibiosis or repellence[9, 66, 67]. While SA does not seem to be as important as JA in Arabidopsis, only recently, it has been observed that the JA-dependent responses do not significantly contribute to antibiotic defenses against aphids in tomato, while basal resistance is dependent on SA accumulation[68]. Our data showed that several genes responding to SA were up-regulated, whereas a lower number of genes associated to JA biosynthesis, wounding as well as JA-regulated genes were either repressed or showed mild changes in their expression level. Our work stressed the prevailing involvement of SA during the establishment of a tomato-aphid compatible interaction, along with a possible antagonistic crosstalk between the SA- and JA-signaling pathways. Under this perspective, the overexpression of genes involved in ethylene synthesis and signaling (ACO, ERF1b, ERF2, AP2/ERF transcription factor, ETR5) should play a dual role. On one hand it has a synergistic effect by additively improving induced responses[69, 70]. In parallel, the overexpression of Ethylene Responsive Factor genes should also restrain the JA-pathway[71, 72]. This is also supported by the overexpression of harpin-related genes. It has been proposed that stimulation of plants by harpin separates the roles of Et and JA in plant-aphid defense, by promoting Et and SA and suppressing JA signaling[73]. Finally, the induction of genes involved in brassinosteroid synthesis and signaling indicates that this hormone is also involved in the tomato defense response to aphids, most likely by contributing to antagonize the JA pathway[74]. Taken together, the data imply that tomato uses a composite interplay of plant hormones to modulate a JA-independent inducible defense in a compatible aphid interaction[75].
The tomato transcriptional reconfiguration relies in a number of TFs, and a pivotal role is played by WRKY proteins. As some of these proteins mediate the cross-talk between JA-mediated and SA-mediated signals during plant defense, it is reasonable to speculate that the WRKY genes that are continuously overexpressed during the aphid infestation, are involved in the antagonist interaction between SA and JA, as reported for the WRKY70 in Arabidopsis[22, 76].
Although the number of differentially expressed genes and proteins that can directly affect aphid performance was low in percentage, the tomato response includes changes in cell structure and plant metabolism that can successfully limit aphid infestation, as also observed in other interactions[12, 13, 45, 55]. It is likely that the downregulation of genes involved in the catabolism of cell wall components is a cost-effective strengthening strategy of the cell wall structure. On the other hand, the down-regulation of the Glucan endo-1 3-beta-glucosidase 5 (Gns5), which plays a key role in callose decomposition, may be indicative of the plant's effort to favor sieve tube occlusions, preventing phloem ingestion. Callose deposition is essential to occlude injured sieve elements and avoid sap loss[77]. Hence, the observed pattern of expression suggests that the tomato defense strategy will provide a barrier to the insect stylet and puncturing and it will also limit food supplies to aphids.
Transcriptomic and proteomic data showed a consistent reduction in the category 'photosynthesis'. The transcriptional downregulation of photosynthetic-related genes appears to be a kind of universal adaptive response of plants to biotic stress, which may be compensated by a slower turnover of many photosynthetic proteins[78]. Our data showed that downregulation is seen also at the protein level, indicating that in tomato the induction of a multi-component defense response to aphids requires repression of other cellular functions to ensure metabolic balance[78]. However, protein profiling revealed an increased accumulation of some photosynthesis-related proteins, such as two proteins of PSII system (OEE1 e OEE2) and the Ferredoxin protein. This up-regulation may be related to the role of these proteins in defense, rather than a response of photosynthesis per se. The OEE2 is a downstream protein of the AtGRP-3/WAK1 signaling pathway complex involved in the SA-dependent defense response in Arabidopsis[79]. Similarly, OEE1 exhibits properties and enzyme-modulating activities of a thioredoxin, and it may act protecting cells from the oxygen radicals formed in response to abiotic and biotic stress[80]. Other down-regulated genes and proteins are involved in plant metabolism. Aphids are able to alter the source–sink relationships into the plant by the ingestion of great volumes of phloem sap to fulfill their nutritional requirements[81]. Hence, the negative regulation of genes associated with the primary metabolism may be a strategy adopted by tomato to limit the plant resources assimilation from M. euphorbiae. This is also in accordance with the down regulation of different genes involved in carbohydrate and water transport. For instance, genes coding for Aquaporin-like proteins were down-regulated, as in Citrus sinensis plants after H. coagulata feeding[82]. On the other hand, different genes associated with amino acid and nitrogen translocation were found to be up-regulated. M. euphorbiae is expected to modify nitrogen allocation in tomato plants by competing with plant sinks and altering the amino acid composition of the phloem sap[83, 84]. The observed deregulation confirms that aphids are able to extensively manipulate plant physiology in relation to their nutrition status[1, 85]. From a metabolic perspective, our data indicated that tomato response presumably allows energy reallocation to prioritize specific defense responses, while modulating other important functions to indirectly reduce aphid performance.
Conclusion
Despite the relevant economic impact, not much is known about the molecular recognition and response of tomato plants, and more generally of Solanaceae crops, to aphids. Our study provided a detailed overview of the transcriptomic and proteomic responses of tomato to aphids and led to a more comprehensive understanding of the signaling events and the defense dynamics. Different molecular cues, including those associated to tissue damage and elicitor recognition, lead to a complex, dynamic pattern of expression, in which distinct groups of similarly behaving transcripts were observed. Early events of the response support a gene-for-gene interaction and sensing of a wound-induced damage. The Gene Ontology categories of the identified genes and proteins indicated that the local response is characterized by an increased oxidative stress accompanied by the production of proteins involved in the detoxification of oxygen radicals. Aphids elicit a defense reaction that involves different hormones, with the SA-signaling pathway and stress-responsive SA-dependent genes playing a dominant role. The wound-inducible JA pathway was not strikingly affected, although some JA-dependent genes coding for anti-nutritive proteins were up- or down-regulated. Finally, tomato response is characterized by a reduced investment in photosynthetic proteins and a modification of the expression of various cell wall-related genes.
The identification of genes involved in aphid defense, provides a reference line for the screening of tomato genomic resources, eventually impacting other economically important Solanaceae crops. In the future, targeted functional studies should follow to elucidate the role of the here presented genes in the tomato defense, essential for the development of rational strategies to enhance a durable broad-spectrum resistance to aphids in tomato.
Abbreviations
2-DE:

Two-dimensional gel electrophoresis
ABA:

Abscissic acid
CDPK:

Calcium dependent protein kinase
Et:

Ethylene
GO:

Gene ontology
JA:

Jasmonic acid
LRR:

Leucin rich repeat
MALDI:

Matrix-assisted laser desorption/ionization
MS:

Mass spectrometry
NADPH:

Reduced nicotinamide adenine dinucleotide phosphate
NBS:

Nucleotide binding site
PPO:

Polyphenol oxidase
PPR:

Pentatricopeptide repeat-containing
PR:

Pathogenesis related
RLK:

Receptor like kinase
ROS:

Reactive oxygen specie(s)
SA:

Salicilic acid
SAR:

Systemic acquired resistance
TOF:

Time of flight
Declarations
Acknowledgements
This research activity was supported by the F.A.R.O. project, Università degli Studi di Napoli e Compagnia San Paolo. The transcriptomic study was partially supported by the P.O.N. Ricerca e Competitività (2007–2013) Genopompro project. The proteomic study was partially supported by grants from the Italian Ministry of Economy and Finance (Progetto Innovazione e Sviluppo del Mezzogiorno - Conoscenze Integrate per Sostenibilità ed Innovazione del Made in Italy Agroalimentare" - Legge n. 191/2009). We thank Adele Cataldo for her technical support throughout the project.
Authors' Affiliations
(1)
Dipartimento di Agraria, Università degli Studi di Napoli Federico II, Portici, Italy
(2)
Università degli Studi del Sannio, Benevento, Italy
(3)
Istituto per il Sistema Produzione Animale in Ambiente Mediterraneo-CNR, Napoli, Italy
Copyright
© Coppola et al.; licensee BioMed Central Ltd. 2013
This article is published under license to BioMed Central Ltd. This is an Open Access article distributed under the terms of the Creative Commons Attribution License (http://creativecommons.org/licenses/by/2.0), which permits unrestricted use, distribution, and reproduction in any medium, provided the original work is properly cited.