Research article

Open Access
Reductive evolution and the loss of PDC/PAS domains from the genus Staphylococcus
Received: 17 December 2012
Accepted: 25 July 2013
Published: 31 July 2013
Abstract
Background
The Per-Arnt-Sim (PAS) domain represents a ubiquitous structural fold that is involved in bacterial sensing and adaptation systems, including several virulence related functions. Although PAS domains and the subclass of PhoQ-DcuS-CitA (PDC) domains have a common structure, there is limited amino acid sequence similarity. To gain greater insight into the evolution of PDC/PAS domains present in the bacterial kingdom and staphylococci in specific, the PDC/PAS domains from the genomic sequences of 48 bacteria, representing 5 phyla, were identified using the sensitive search method based on HMM-to-HMM comparisons (HHblits).
Results
A total of 1,007 PAS domains and 686 PDC domains distributed over 1,174 proteins were identified. For 28 Gram-positive bacteria, the distribution, organization, and molecular evolution of PDC/PAS domains were analyzed in greater detail, with a special emphasis on the genus Staphylococcus. Compared to other bacteria the staphylococci have relatively fewer proteins (6–9) containing PDC/PAS domains. As a general rule, the staphylococcal genomes examined in this study contain a core group of seven PDC/PAS domain-containing proteins consisting of WalK, SrrB, PhoR, ArlS, HssS, NreB, and GdpP. The exceptions to this rule are: 1) S. saprophyticus lacks the core NreB protein; 2) S. carnosus has two additional PAS domain containing proteins; 3) S. epidermidis, S. aureus, and S. pseudintermedius have an additional protein with two PDC domains that is predicted to code for a sensor histidine kinase; 4) S. lugdunensis has an additional PDC containing protein predicted to be a sensor histidine kinase.
Conclusions
This comprehensive analysis demonstrates that variation in PDC/PAS domains among bacteria has limited correlations to the genome size or pathogenicity; however, our analysis established that bacteria having a motile phase in their life cycle have significantly more PDC/PAS-containing proteins. In addition, our analysis revealed a tremendous amount of variation in the number of PDC/PAS-containing proteins within genera. This variation extended to the Staphylococcus genus, which had between 6 and 9 PDC/PAS proteins and some of these appear to be previously undescribed signaling proteins. This latter point is important because most staphylococcal proteins that contain PDC/PAS domains regulate virulence factor synthesis or antibiotic resistance.
Keywords
Staphylococcus
PAS domain
Molecular evolution
Phylogeny
Background
Basic cellular functions (e.g., DNA replication and transcription) are regulated in response to environmental and nutritional signals. For this reason, sensing and transduction of these extracellular and intracellular signals is of critical importance for survival. Many of the signaling and regulatory proteins involved in responding to environmental cues have a modular composition of specialized domains [1, 2]. One of these specialized domains is the Per-Arnt-Sim (PAS) domain, which is distributed throughout all genera of life. PAS domains are identified by particular patterns of secondary structures and they have important roles as sensory modules for environmental and nutritional signals, such as voltage, gases, light, metabolites or redox potential [3–5]. In addition to regulating physiological processes, several PAS domain containing proteins are involved in regulating virulence determinants in pathogenic bacteria [6–10]. The wide-distribution of PAS domains, the diversity of signals they transduce, and the array of regulatory pathways in which they are involved are reflected in their extremely divergent amino acid sequences [11–13]. Our interest in PAS domain-containing proteins is due to their involvement in sensing and responding to changes in concentrations of dicarboxylic acids [14].
Bacterial survival depends on their ability to regulate transcription of genes in response to changing environmental and nutritional conditions. In pathogenic bacteria, the response to changes in nutritional or environmental conditions often includes activating transcription of virulence genes [15]. The genus Staphylococcus includes both pathogenic and non-pathogenic species that live in diverse environmental conditions such as the anterior nares (i.e., S. aureus), the skin (i.e., S. epidermidis), and in dry sausages (i.e., S. carnosus) [16]. The medical and economic importance of staphylococci has generated considerable interest in how these bacteria "sense" and respond to changes in their environment. In part, the medical interest stems from a desire to control staphylococcal infections, while the commercial interests involve understanding the role of primary and secondary metabolites in flavoring fermented meats. This interest in environmental sensing and the importance of PAS domains in regulating responses to environmental and nutritional signals led us to examine eight genomes of seven staphylococcal species for the presence of PAS domains. Specifically, we wanted to identify potential dicarboxylic acid sensing proteins that could link changes in tricarboxylic acid cycle activity to transcriptional alterations that affect virulence factor synthesis [15]. To gain insight into the potential functions and evolutionary relationships of these domains, we compared the staphylococcal PAS domains to those of a diverse group (47 different species) of bacteria representing five phyla.
PAS domains are typically between 100–120 amino acids in length; however, some are larger [
4
,
11
,
17
]. The core of a PAS domain is a five stranded β-sheet, and interspersed within this core are α-helices that provide ligand/signal specificity [
4
,
18
]. The position of α-helices can vary depending on the cellular location; specifically, cytoplasmic PAS domains have an α-2β-4α-3β topology (Figure
1
A) and extracytoplasmic PAS domains have a 3α-2β-1/2α-3β-α topology (Figure
1
B) [
13
,
18
,
19
]. These extracytoplasmic PAS domains are typified by the PhoQ, DcuS, and CitA proteins, and are referred to as PDC domains [
20
].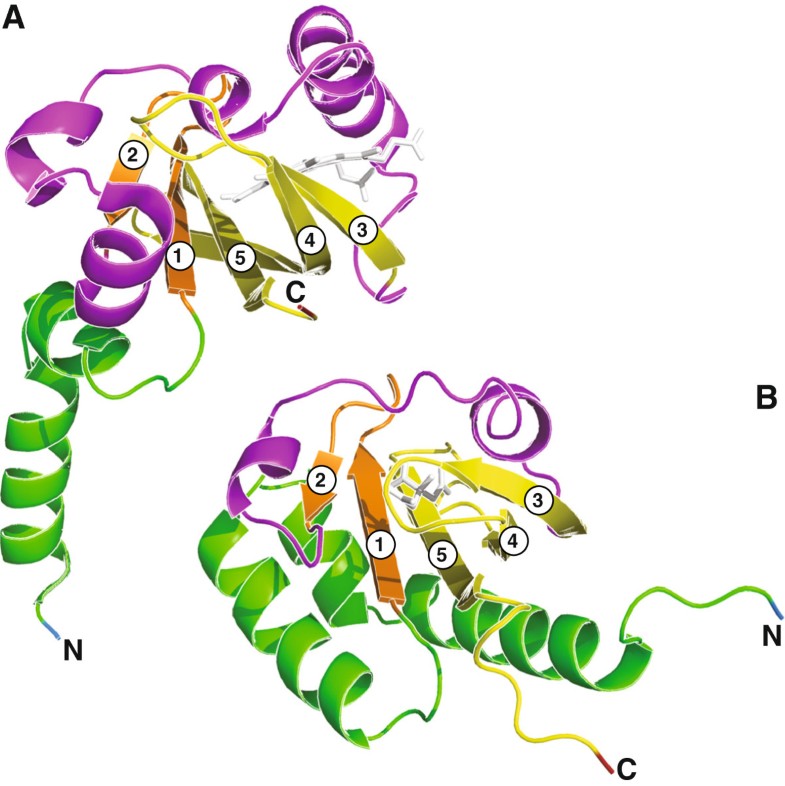 PAS domains share less than 20% amino acid sequence identity [4, 11–13]; hence, identifying PDC/PAS domain containing proteins across diverse genomes has been difficult. Taylor and Zhulin [4] used position-specific iterative BLAST (PSI-BLAST) [23] to identify 68 PAS-containing proteins from eleven bacterial genomes. Of the eleven genomes, only six were found to have PAS-containing proteins and several of these proteins included multiple PAS domains. An analysis of sixteen bacterial species using PSI-BLAST similarity search revealed a wide distribution of small-molecule binding domains, including PAS domains, in signal transducing proteins, transporters, and enzymes [1]. In a search of PAS domain containing proteins in two genomes of Cyanobacteria (i.e., Nostoc punctiforme and Anabena sp.), Narikawa et al.[24] used profile hidden Markov models (HMMs) to identify a total of 323 PAS domains. More recently, using the fold and function assignment system (FFAS) algorithm [25], Chang et al.[19] found that eleven out of thirteen sensor kinases in the Bacillus subtilis genome possessed PDC domains.
In order to expand our understanding of PDC and PAS domain distribution in bacteria and their evolutionary history, we chose to use more sensitive search methods, on a more diverse array of bacterial genomes. Specifically, we used the recently developed sensitive search method based on HMM-to-HMM comparisons (HHblits) [26]. Using this approach, we identified a total of 1,174 PDC/PAS domain containing proteins (for brevity, we call them PDC/PAS proteins henceforth) in 48 diverse bacterial genomes, including both Gram-negative and Gram-positive bacteria. The number of PDC/PAS proteins varied across these genomes (ranging from 3 to 98 proteins) and more PAS domains (1,007) were identified than PDC domains (686). Interestingly, the number of PDC/PAS proteins also varied among the eight staphylococcal genomes; as an example, Staphylococcus saprophyticus had six PDC/PAS proteins, while Staphylococcus carnosus had nine. Lastly, these data provided an opportunity to examine the evolution and function of staphylococcal PDC/PAS proteins.
Conclusions
Bacterial evolution has led to huge variations in the number of PDC/PAS proteins within all genera. Several hypotheses have been put forth to explain this variation as associated with pathogen status, genome size, or the presence of electron transport proteins. Undoubtedly, all of these bacterial traits contribute to variation in the number of PDC/PAS proteins; however, our analysis suggests that the number of PDC/PAS domains correlates to bacterial motility. This observation partially explains the selective loss of PDC/PAS domains in the genus Staphylococcus after its divergence from the genus Bacillus.
Methods
Bacterial genomes
48

bacterial genomes from the National Center for Biotechnology and Information (NCBI) [53] were chosen so as to include pathogenic and non-pathogenic bacteria, commensal bacteria, and saprophytes (Table 1). Of the 48 genomes, 32 are from Gram-positive bacteria belonging to the Firmicute and Actinobacteria phyla and representing 14 genera (Clostridium, Streptococcus, Enterococcus, Listeria, Lactobacillus, Lactococcus, Bacillus, Staphylococcus, Mycobacterium, Corynebacterium, Micrococcus, Streptomyces, Macrococcus, and Bifidobacterium). For the detailed study of staphylococci, the genomes of seven different species and two strains of Staphylococcus aureus subsp. aureus (i.e., COL and USA300 TCH1516) were selected. In addition, sixteen Gram-negative bacterial genomes representing Alpha, Gamma, and Epsilon proteobacteria, two Spirochaetes (Leptospira and Treponema), and two Cyanobacteria (Synechococcus and Nostoc) were included in the analysis.
PDC/PAS domain search methods
Due to the extreme divergence (< 20% identity) of PDC/PAS domain sequences, sequence similarity search methods such as Basic Local Alignment Search Tool (BLAST) [23, 54] or FASTA [55] are minimally effective at identifying PDC/PAS proteins. Profile or profile HMM methods such as PSI-BLAST [23] and HMMER [56] have been more successful at identifying PDC/PAS proteins (e.g., [24]). More recently, HMM-to-HMM comparisons were used by Chang et al.[19] to identify PDC domains in Bacillus subtilis. In order to increase the likelihood of identifying PDC/PAS proteins as thoroughly as possible, we chose to use HHblits (HH-suite 2.0.14) [26], the current state-of-the-art method. Although HHblits is in general highly sensitive, due to its use of prefilters and discretization of database HMMs [26], occasionally some sequences can be missed by HHblits. In order to complement the results of HHblits, we also used HHsearch (ver. 1.5.1) [57]. Both packages were downloaded [58] and installed on a local Linux server. The methods require profile HMMs constructed from queries (PDC/PAS domain sequences) as well as from protein sequences included in the bacterial genome databases. Secondary structure information of each sequence was also added to the HMMs. Additional details of the search methods are described in the following sections.
PDC/PAS domain queries
3D-structural information from 86 PDC/PAS domain sequences (60 PAS and 26 PDC domains; see in Additional file 3: Table S2) were downloaded from the Protein Data Bank (PDB) [59, 60]. These structures represented eight bacterial phyla that contained proteins with diverse ligand affinities. When proteins have multiple domains, PAS or PDC domains were extracted and used as queries individually.
Preparation of HMM queries and HMM databases
In order to perform HMM-to-HMM comparisons, both query sequences and protein sequences in each bacterial genome needed to be converted to HMMs. For HHblits, this was done by using the programs hhblits, addss.pl, and hhmake, all using the default settings. The program hhblits was used to iteratively search the non-redundant database (nr20, included in the HH-suite 2.0.14) with a protein sequence from the queries or from the bacterial genomes. The options were set as default, except to perform three iterations with the E-value threshold for inclusion at 0.001. From each iteration, sequences within the inclusion threshold were added to the query or to its multiple sequence alignment (MSA). The script addss.pl was then used to incorporate the secondary structure information predicted by PSIPRED (ver. 3.2) [61] to the MSA generated for each protein sequence. Finally, the program hhmake was used to generate the HMM from each MSA. To generate the final HHblits databases for the bacterial genome data sets, the program hhblitsdb.pl was also used. For HHsearch, the overall process taken was similar to what described for HHblits. In order to build MSAs for query sequences, the program builali.pl was used, which runs PSI-BLAST (ver. 2.2.17; inclusion E-value threshold = 0.001 and 8 iterations) against the filtered NCBI non-redundant protein database obtained from HHsearch 1.5.1.
PDC/PAS domain sequence search against bacterial genomes
The PDC/PAS domain sequence search was done with hhblits and hhsearch programs using each domain HMM query against each bacterial HMM database prepared above. The same settings were used for iteration numbers and inclusion E-value thresholds. For both HHblits and HHsearch, the hits were considered as significant based on the E-value threshold of 1, 95% probability (this is "the probability of template to be a true positive" calculated by HHblits), and the length of aligned HMM regions to be 90 amino acids. Since known PDC/PAS domains are 100–140 amino acid long (see Additional file 3: Table S2), 90 amino acids cover 65-90% of the domain. This alignment coverage gave us sufficiently strong search results. When HHblits did not give a significant hit but HHsearch did, the hit by HHsearch was also included. In some cases, we also found significant hits shorter than 90 amino acids whose E-values and probabilities were within our threshold. We examined these cases for a) their alignment quality, b) if PAS/PDC topology is recognized from the entire protein, and c) if their orthologs in other species have a PAS/PDC domain. We identified 11 cases to be positive based on these further analyses. These HHsearch-based as well as short PAS/PDC domains are marked in (Additional file 1: Table S1). All bacterial protein HMM databases and query HMMs used for this study are available from: http://bioinfolab.unl.edu/emlab/PAS_PDC.
Classification of PDC/PAS domains
All the significant PDC/PAS domains identified from HHblits and HHsearch were classified based on their significant similarities with either PAS or PDC query. As described before, PAS and PDC domains are defined, respectively, with α-2β-4α-3β and 3α-2β-1/2α-3β-α topologies (see the examples in Additional file 4: Figures S2 and S3). All our identified hits within the threshold followed these secondary structure patterns. Note that GAF domains (named for their presence in cyclic GMP-specific phosphodiesterase, adenylyl cyclase, and FhlA), for example, share a similar folding pattern (α-3β-α-β-α-2β-α); however, using a conservative threshold with HHblits/HHsearch, our results do not include GAF-domain containing proteins. All identified PAS and PDC domains are listed in (Additional file 1: Table S1). For convenience, we labeled all PDC/PAS proteins using abbreviations of species name and numbers (e.g., Cd.1 for the first protein of Clostridium difficile). All PDC and PAS domains of each protein are then numbered in the order of their occurrence (e.g., Cd.1.1 and Cd.1.2 for the two PAS domains identified in the protein Cd.1). These domain names are used in all alignments and phylogenies.
Multiple sequence alignment
All identified PAS and PDC domains were individually aligned using PRALINE [62]. BLOSUM45 amino acid substitution matrix, open and extension gap penalties of 12 and 1, respectively, PSI-BLAST against the protein non-redundant database with 3 iterations and E-value threshold = 0.01, DSSP structural features, and PSIPRED secondary structure prediction were chosen from the options. The MSAs of all identified PAS and PDC domains with their predicted secondary structures are available from: http://bioinfolab.unl.edu/emlab/PAS_PDC.
For bacterial 16S ribosomal DNA (rDNA) sequences, the alignment was generated using MAFFT v6.847b [63] with the L-INS-i algorithm. This MSA is also available from our website.
Phylogenetic tree reconstruction
The maximum-likelihood phylogenies for the PAS and PDC domains were reconstructed using RAxML version 7.0.4 [64]. All the options were set to default except for PROTGAMMAJTT for the –m option, which estimates the gamma model for rate heterogeneity and uses the JTT amino acid substitution model. We also used two other phylogenetic methods, FastTree (ver. 2.1.4) [65] and Neighbor-Joining (PHYLIP 3.69) [66]. For both methods, the options for the gamma model of rate heterogeneity and the JTT amino acid substitution model were used. Bootstrap analysis was done with 1000 pseudoreplicates for all phylogenetic analyses. The program consense from the PHYLIP package was used to estimate the consensus phylogeny as well as the bootstrap values. In addition to bootstrap supporting values, we also calculated the supporting values for internal branches by three phylogenetic methods (3 as the highest support). For the 16S rDNA phylogeny, the maximum-likelihood phylogeny was reconstructed using PhyML version 3.0 [67]. All options were set to default except for estimating the gamma distribution parameter. Bootstrap analysis was done with 1000 pseudoreplicates.
Ortholog and gene ontology analysis of Staphylococcus proteins
Orthology of all PDC/PAS proteins identified from Staphylococcus genomes was determined using reciprocal best-hit analysis in a BLAST similarity search. In this analysis, an unknown PDC/PAS protein from a Staphylococcus species was first used as a query for a protein similarity search using the blastp program against the S. aureus COL genome. The top hit protein in S. aureus was then used as the blastp search query against the original Staphylococcus genome. If the top hit from this second search was the original query protein, the query protein in the original species and the S. aureus protein are bi-directional or reciprocal best hits and considered to be coded by orthologous genes. When the S. aureus ortholog was not identified as a known gene, reciprocal blast analysis was performed also using other Staphylococcus genomes. Besides orthology analysis, functions of Staphylococcus PDC/PAS proteins were also inferred by BLAST similarity search against the Gene Ontology database using AmiGo [68, 69].
Statistical analyses
All statistical analyses were done using JMP v10.0.2 (SAS Institute Inc.). Our dataset included eight genomes of closely related Staphylococcus species; hence, there was a possibility that over-representation of staphylococcal genomes could skew our data analysis. To address this possibility, all statistical analyses were done twice; once using the entire data set from all 48 bacterial genomes, and once using the data from only 43 bacterial genomes, which had only three representatives from the eight Staphylococcus genomes: S. aureus TCH1516, S. saprophyticus, and S. carnosus.
Declarations
Acknowledgements
GAS was supported by funds provided through the Hatch Act to the University of Nebraska Institute of Agriculture and Natural Resources and by funds provided through the NIH (AI087668). This work was completed utilizing the Holland Computing Center of the University of Nebraska. We would like to thank the reviewers for their helpful suggestions on improving our manuscript.
Authors' Affiliations
(1)
Department of Computer Science and Engineering, University of Nebraska, Lincoln, USA
(2)
School of Veterinary Medicine and Biomedical Sciences, University of Nebraska, Lincoln, USA
(3)
School of Biological Sciences, University of Nebraska, Lincoln, USA
(4)
Department of Statistics, University of Nebraska, Lincoln, USA
(5)
School of Biological Sciences and Center for Plant Science Innovation, University of Nebraska, Lincoln, USA
Copyright
© Shah et al.; licensee BioMed Central Ltd. 2013
This article is published under license to BioMed Central Ltd. This is an Open Access article distributed under the terms of the Creative Commons Attribution License (http://creativecommons.org/licenses/by/2.0), which permits unrestricted use, distribution, and reproduction in any medium, provided the original work is properly cited.