Research article
Open Access
Global transcriptome analysis of AtPAP2 - overexpressing Arabidopsisthalianawith elevated ATP
Received: 16 April 2013
Accepted: 19 October 2013
Published: 1 November 2013
Abstract
Background
AtPAP2 is a purple acid phosphatase that is targeted to both chloroplasts and mitochondria. Over-expression (OE) lines of AtPAP2 grew faster, produced more seeds, and contained higher leaf sucrose and glucose contents. The present study aimed to determine how high energy status affects leaf and root transcriptomes.
Results
ATP and ADP levels in the OE lines are 30-50% and 20-50% higher than in the wild-type (WT) plants. Global transcriptome analyses indicated that transcriptional regulation does play a role in sucrose and starch metabolism, nitrogen, potassium and iron uptake, amino acids and secondary metabolites metabolism when there is an ample supply of energy. While the transcript abundance of genes encoding protein components of photosystem I (PS I), photosystem II (PS II) and light harvesting complex I (LHCI) were unaltered, changes in transcript abundance for genes encoding proteins of LHCII are significant. The gene expressions of most enzymes of the Calvin cycle, glycolysis and the tricarboxylic acid (TCA) cycle were unaltered, as these enzymes are known to be regulated by light/redox status or allosteric modulation by the products (e.g. citrate, ATP/ADP ratio), but not at the level of transcription.
Conclusions
AtPAP2 overexpression resulted in a widespread reprogramming of the transcriptome in the transgenic plants, which is characterized by changes in the carbon, nitrogen, potassium, and iron metabolism. The fast-growing AtPAP2 OE lines provide an interesting tool for studying the regulation of energy system in plant.
Keywords
ChloroplastMitochondriaLHCRedoxPhotosystemTranscriptomes
Background
Purple acid phosphatases (PAPs) catalyze the hydrolysis of phosphoric acid esters and anhydrides [1]. In higher plants, PAPs are mostly related to the Pi response [2, 3]. The only PAP that has been shown to affect carbon metabolism is AtPAP2, which is targeted to both chloroplasts and mitochondria by an additional transmembrane motif at the C-terminus compared to other related proteins [4]. PAPs with a transmembrane motif at their C-termini are conserved in green plants, including the smallest free-living photosynthetic eukaryote, Ostreococcus tauri[5]. Transgenic Arabidopsis thaliana overexpressing AtPAP2 grew faster, produced more seeds and contained higher leaf sucrose content (up to 30%) [6]. Transgenic Camelina sativa overexpressing AtPAP2 also grew faster and produced more seeds [7]. The pleiotropic growth-promoting effect of AtPAP2 is dependent on its C-terminal dual-targeting sequence [6].
Chloroplasts and mitochondria are two key organelles involved in energy metabolism in plant cells and how AtPAP2 affects the biology of these two organelles and supplies more energy for growth remains unknown. To study the impact of AtPAP2 overexpression on the energy status of plants, the levels of ATP and ADP in the leaves of 20-day-old AtPAP2 OE Arabidopsis were measured and compared with those of WT plants. The transcriptomes of leaves and roots were also compared. AtPAP2 overexpression resulted in a widespread changes of the transcriptome in the transgenic plants, which may reflect the impact of changes in energy supply that feed back to alter transcriptional programmes.
Discussion
Metabolomics analysis showed that AtPAP2 OE lines contained higher level of ATP (Table 1) and higher malate, citrate, fumarate and sucrose [6]. The fast growth, high seed yield and high sucrose phenotypes imply that the energy harvesting system of the OE lines may be more efficient, as the cell sizes and cell densities of the OE lines did not differ significantly compared to WT (data not shown).
The high ATP and sucrose contents of the OE lines must be generated by a higher output from the photosystems. Plant harvests light energy by PS I and PS II. In the leaves of both OE lines, while the mRNA transcripts of the genes of PS I and PS II core proteins and LHCI did not change significantly, many transcripts of the mobile LHCII components were altered (Additional file
8
a). How could overexpression of AtPAP2 cause changes in the expressions of
Lhcb
genes? A possible explanation is that AtPAP2 overexpression triggers the regulation of redox-dependent retrograde signaling [
31
]. The expression of
Lhcb
genes are regulated by the redox state of the plastoquinone (PQ) pool [
32
]. PQ reduction suppresses
Lhcb
family gene expression to avoid absorption of excess light energy [
31
]. In addition,
Lhcb
genes could also be repressed by high sugar levels [
33
]. In addition to
Lhcb
genes, the upregulation of
PGRL1B
, a key component of the PGRL1-dependent CEF supercomplex [
34
] and the downregulation of
FNR2
were also significant, whether these changes can lead to a higher output of ATP from the photosystems would be an interesting subject for future studies (Figure
5
). Photosynthesis also supplies reducing powers and many biological pathways are redox-regulated. The transcription levels of all thioredoxins were not significantly changed in both leaves and roots, and among the many Fd- and Trx-regulated enzymes in chloroplasts, only the transcriptions of
NiR
and
G6PD4
were specifically down- and up-regulated in both leaves and roots, respectively. This is reasonable because the activities of these proteins can be instantly regulated by the redox status (e.g. availability of light) instead of transcriptional regulation, which is more time-consuming. Our data indicates that the activities of NiR and G6PD4 are subject to both redox and transcriptional regulations.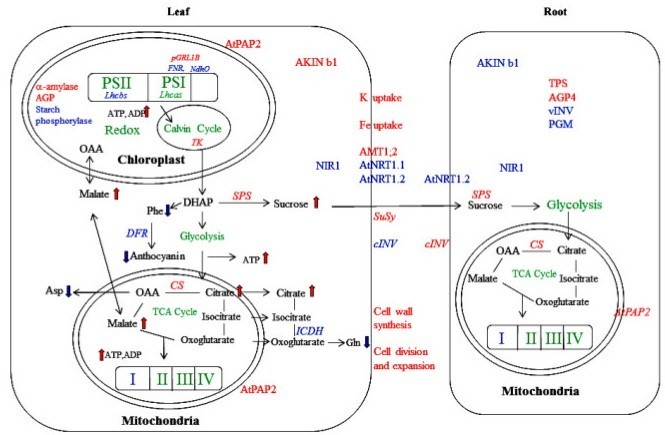 Generally, if there is a higher output of ATP from chloroplasts, the demand of ATP production in mitochondria would be less. The increase in organic acids in leaves is consistent with the changes observed in the transcriptome in this study. The transcript of the cytosolic ICDH (AT1G65930) was strongly suppressed in the leaves of OE lines, which could account for the high citrate content in the OE lines [35]. Previous studies have shown that alterations of carboxylic acids can lead to alterations in photosynthesis and enhanced growth [36–38]. One mechanism shown to operate on altering organic acids is an effect on stomatal aperture, and increased growth by 25% [36]. Furthermore the role of citrate and malate in signaling changes in the transcriptome has been recently elucidated [39], showing interactions with hormone biosynthetic pathways such as gibberellin biosynthesis. Thus, overall the changes observed appear to mimic a reduction in carbon flow through the TCA cycle, which leads to an increase in sucrose and photosynthesis. Furthermore the changes due to increased levels of citrate, interact with hormone, ion (Fe2+ and Ca2+) and biotic defense pathways [39].
TCA metabolites are the substrates of various biomolecules. The OE lines contain a lower level of aspartate family amino acids (Asn, Asp, Lys, Met, Thr) than the WT, which could be caused by a higher capacity for malate production in the chloroplast. If excess malate is produced at the expense of OAA, the sole precursor of Asp family amino acids, and leads to a lower level of precursors of these amino acids. All of the above correlates with the results of metabolites analysis [6].
The fast-growing phenotypes of the AtPAP2 OE lines are dependent on the targeting of AtPAP2 to chloroplasts and mitochondria. While there are significant changes in energy harvesting and conversion processes related to chloroplasts' functions (photosystem, starch and sucrose metabolism), the expression of most genes involved in catabolism, including glycolysis, TCA cycle and mitochondria respiratory chain, are unaltered in the OE lines. Similarly, the activities of many enzymes in these pathways are regulated by the energy status (e.g. ATP/ADP ratio, citrate, etc.) through allosteric regulation. Our data indicated that transcriptional regulation is not a major control mechanism of these pathways in the current study. Higher levels of energy production in chloroplasts would also alleviate the need for oxidative phosphorylation in mitochondria, which might cause the downregulation of the gene expression of Complex I components (Additional file 10). It would be interesting to measure the activity of Complex I in the OE lines. Reduced activity of Complex I may lower the rate of consumption of carbon, allocating more carbon to be used for anabolism and growth.
Leaves and roots are the source and sink of sucrose and energy and thus their carbon flows are different. Since the leaves of OE lines produced more sucrose, the supply of sucrose to roots would be increased. The changes in transcription profiles in the roots of OE lines thus likely reflect the impacts of higher sucrose supply. Cell wall invertase (cwINV) is a sucrose-cleavage enzyme and is responsible for hydrolyzing apoplastic sucrose. As shown in Figure 5, the transcription of a cwINV gene (AT3G13790) was downregulated in leaves but the transcription of another cwINV gene (AT3G13784, FC > 1.57 in OE21) was upregulated in roots. Furthermore, the transcriptions of two sucrose synthase (SuSy) genes were upregulated in leaves but not in roots. SuSy is a sucrose-cleavage enzyme which supplies hexose skeletons for cell wall synthesis. Their differential expression may affect the growth rates of leaves and roots. It is also true for the differential expression of certain genes of the starch synthesis pathway. Nonetheless, an SPS gene (AtSPS2F, AT5G11110) and a citrate synthase - like gene (AT2G11270) were upregulated in both leaves and roots, while a phosphoglucomutase (AT5G51820) was downregulated in both tissues.
Overall, the transcriptomic responses to AtPAP2 overexpression were consistent with the growth phenotypes and metabolite analysis [6]. A considerable amount of specific genes related to photosynthesis, sucrose metabolism, nitrogen metabolism and amino acid anabolism were significantly altered. A summary combining the transcriptome and metabolome for depicting the mechanisms responding to AtPAP2 overexpression is proposed (Figure 5). AtPAP2 overexpression may reprogram the photosystems and thus supply more ATP and carbon skeletons for sucrose and malate syntheses. The higher supply of malate causes the accumulation of organic acids, such as citrate and furmarate. The higher energy supply subsequently causes the alteration of many transcripts and metabolites.
Conclusions
This study reported the global changes in transcriptome of source (leaves) and sink (roots) tissues when there are plenty supply of energy and sucrose. Overexpression of AtPAP2 enhances ATP production and sucrose synthesis in leaves, which provide more carbon skeleton for the roots. There are more than 30,000 genes in the genome of Arabidopsis and many gene families contain multiple members with highly homologous sequences or redundant functions. Our results reported the genes that are subject to transcriptional regulation when the energy status of the plant is elevated. Many scientists have attempted to enhance plant growth and yield by altering starch, sucrose, chloroplast or mitochondrial metabolism [40–43]. Other attempts included manipulation of transcription factors and hormones [44]. This study shows that alterations of other components feed into these pathways, and the identification of regulators or proteins that sense of mediate switches in metabolism offer an attractive avenue to increase biomass accumulation.
Declarations
Acknowledgements
This project was supported by the Initiatives for Clean Energy and Environment (ICEE) of the University of Hong Kong, the General Research Fund (HKU772710M) and the Innovation and Technology Fund (ITS158/09 and Funding Support to Partner State Key Laboratories in Hong Kong) of the HKSAR, China.
Authors' Affiliations
(1)
School of Biological Sciences, the University of Hong Kong, Pokfulam, China
(2)
Australian Research Council Centre of Excellence in Plant Energy Biology, University of Western Australia, Crawley, Australia
(3)
Botany Department, School of Life Science, La Trobe University, BundooraVictoria, Australia
(4)
National Laboratory of Plant Molecular Genetics and National Center for Plant Gene Research (Shanghai), Institute of Plant Physiology & Ecology, Shanghai Institutes for Biological Sciences, Chinese Academy of Sciences, Shanghai, China
(5)
Partner State Key Laboratory of Agrobiotechnology, The Chinese University of Hong Kong, Shatin, China
Copyright
© Sun et al.; licensee BioMed Central Ltd. 2013
This article is published under license to BioMed Central Ltd. This is an open access article distributed under the terms of the Creative Commons Attribution License (http://creativecommons.org/licenses/by/2.0), which permits unrestricted use, distribution, and reproduction in any medium, provided the original work is properly cited.