A novel in silicoreverse-transcriptomics-based identification and blood-based validation of a panel of sub-type specific biomarkers in lung cancer
BMC Genomics
2013
14(Suppl 6):S5
Published: 25 October 2013
Abstract
Lung cancer accounts for the highest number of cancer-related deaths worldwide. Early diagnosis significantly increases the disease-free survival rate and a large amount of effort has been expended in screening trials and the development of early molecular diagnostics. However, a gold standard diagnostic strategy is not yet available. Here, based on miRNA expression profile in lung cancer and using a novel in silico reverse-transcriptomics approach, followed by analysis of the interactome; we have identified potential transcription factor (TF) markers that would facilitate diagnosis of subtype specific lung cancer. A subset of seven TF markers has been used in a microarray screen and was then validated by blood-based qPCR using stage-II and IV non-small cell lung carcinomas (NSCLC). Our results suggest that overexpression of HMGA1, E2F6, IRF1, and TFDP1 and downregulation or no expression of SUV39H1, RBL1, and HNRPD in blood is suitable for diagnosis of lung adenocarcinoma and squamous cell carcinoma sub-types of NSCLC. Here, E2F6 was, for the first time, found to be upregulated in NSCLC blood samples. The miRNA-TF-miRNA interaction based molecular mechanisms of these seven markers in NSCLC revealed that HMGA1 and TFDP1 play vital roles in lung cancer tumorigenesis. The strategy developed in this work is applicable to any other cancer or disease and can assist in the identification of potential biomarkers.
Keywords
Lung CancerSquamous Cell CarcinomaSmall Cell Lung CancerNSCLC SampleSkin Squamous Cell Carcinoma
Introduction
Lung cancer is the leading cause among cancer related deaths worldwide, constituting 17% of new cancer cases and 23% of deaths from cancer. Although N. American and European countries show a slow decline in death rates due to lung cancer, deaths due to this form of cancer are increasing considerably in Asian and African countries [1]. Lung cancer is mainly divided into two subtypes, small cell lung cancer (SCLC), which accounts for 10-15% of all cases and non-small cell lung cancer (NSCLC, 85-90%). The latter group is further histologically subdivided into four categories; adenocarcinoma, squamous cell carcinoma, large cell carcinoma and 'others', for example cancers of neuroendocrine origin [2]. The overall 5-year survival rate for NSCLC ranges from 9% to 15% [3]. The high mortality from lung cancer is due a combination of lack of reliable early diagnostic tools [3, 4] along with a poor arsenal of lung cancer regimens for stage I lung cancer, whose survival rate is also surprisingly low [5].
Numerous studies have utilized different "-omics"-based approaches to identify molecular signatures in lung cancer with diagnostic or prognostic value while using minimally invasive processes. Some of these are as follows: 34 miRNA signatures [6], expression profiles of 11 miRNAs (miR-106a, miR-15b, miR-27b, miR-142-3p, miR-26b, miR-182, miR-126, let7g, let-7i and miR-30e-5p) from serum [7], 7 miRNA signatures [8], overexpression of six snoRNAs [9], and expression of 3 miRs (miR-205, miR-210 and miR-708) in sputum [10]. Additional signatures and markers have also been reported from the plasma proteome [11, 12], the salivary proteome [13], the serum epigenome [14], sputum-based genomics [15], and blood-based gene expression studies [16]. However, none of these have progressed sufficiently to provide the necessary specificity and sensitivity required for clinical implementation.
microRNAs (miRNAs/miRs) are involved in a variety of biological processes, including cell cycle regulation, cell differentiation, development, metabolism, and aging [17]. They have also been shown to be aberrantly expressed in several cancers [18]. Lung cancer is no exception to this and miRNA signatures have been suggested to be useful in diagnosis, prognosis, and therapy [7, 19–21]. miRNAs regulate posttranscriptional gene expression and a single miRNA can regulate up to 200 mRNAs including those for transcription factors (TFs) [22]. Because miRNA transcription is under the regulation of TFs, intriguing feed-back and feed-forward regulatory loops can be formed among TFs and miRNAs [17].
In this study we have developed a novel in silico reverse-transcriptomics strategy followed by interactome analysis to identify the sub-type specific diagnostic TF markers in lung cancer. The approach is novel as the sub-type specific TF markers were identified starting with experimentally validated miRNA profiles in lung cancer. We have also attempted to provide a molecular insight during the early events in lung cancer.
Discussion
In this work we have identified key transcription factors that can be useful biomarkers in diagnosis of lung cancer using an in silico reverse-transcriptomics approach. In this novel approach, starting with deregulated miRNAs in lung cancers we have identified transcription factors that can act as biomarkers, even for sub-type specific lung cancers. Out of several putative markers we identified, 7 NSCLC specific markers were validated. We found that E2F6, HMGA1, IRF1, and TFDP1 were upregulated and RBL1, SUV39H1, and HNRPD were downregulated or aberrantly expressed in adenocarcinoma and squamous cell carcinoma, which are the sub-types of NSCLC.
HMGA1 (High mobility group AT-hook 1) is an oncogene that is induced by Wnt/beta-catenin pathway and which positively regulates cell proliferation in gastric cancer [34]. By downregulating E-cadherin and upregulating expression of TWIST1, it enhances epithelial-mesenchymal transition and metastasis in colon cancer [35]. Upregulation of HMGA1 in glioblastoma positively correlates with malignancy, angiogenesis, and invasion [36]. In lung cancer, it is also overexpressed and increased nuclear expression correlates with poor survival in lung adenocarcinomas [37, 38]. By upregulating PI3K and MMP2, it promotes cell migration and invasion [37, 39] and by activating miR-222 oncomiR, it induces PPP2R2A mediated AKT signaling in NSCLC [40]. Therefore, upregulation of HMGA1 plays a significant role in tumor progression in NSCLC. In our study, we also observed that HMGA1 was upregulated in NSCLC supporting the previous findings.
TFDP1 (Transcription factor Dp-1) is a candidate oncogene that positively regulates S-phase entry and inhibits apoptosis in cooperation with E2F1 [41]. It is amplified and overexpressed in breast cancer [42] and upregulation of TFDP1 positively correlates with tumor size and progression of hepatocellular carcinomas [43] and increased cell viability in lung cancer [44]. In our observation, TFDP1 was overexpressed in all lung adenocarcinomas and squamous cell carcinomas, which supports the previous findings of Lu et al. (2000) in a SCLC cell line [45].
In our study, we observed IRF1 (Interferon regulatory factor 1) was upregulated in all NSCLC samples tested, although it had been shown to be downregulated in lung cancer in a previous study [46]. IRF1 inhibits G1-S cell cycle progression through P53 and p21 mediated pathways [46] and may act as a tumor-suppressor gene. This finding is supported by the findings that it is downregulated in gastric [47] and recurrent breast cancers [48]. However, IRF1 may not always act as a tumor-suppressor, as there is a report that it is upregulated in skin squamous cell carcinoma [49]. Therefore, our observation of upregulated IRF1 in NSCLC samples requires further attention to explore the precise role of this TF in various cancers.
E2F6 (E2F transcription factor 6) inhibits entry into S phase of cells stimulated to exit G0 [50] and inhibits apoptosis through E2F1 [51]. It may therefore play a role in cell proliferation and cell survival. There is no report about this protein's expression pattern in any cancer. Here, we have, for the first time, observed that E2F6 was upregulated in all of our tested NSCLC samples. This finding supports E2F6's putative role in tumorigenesis and shows that it may be a novel marker for NSCLC.
SUV39H1 (Suppressor of variegation 3-9 homolog 1) is a histone methyltransferase that inhibits inflammatory responses by downregulating interleukin-6 production [52]. SUV39H1 inhibits the expression of CCND1 and may thereby negatively regulate cell proliferation [53]. However, its overexpression induces cell migration in breast and colon cancers [54] and negatively regulates apoptosis in a lung cancer model [55]. The expression level of SUV39H1 inversely correlates with stage, prognosis, and disease free survival in oral squamous cell carcinoma [56] and breast cancer [57]. Therefore, SUV39H1 may also have oncogenic properties. Although SUV39H1 was significantly upregulated in adenocarcinoma and squamous cell carcinoma tissue samples in our microarray analysis, supporting its positive role in tumorigenesis, it was found to be downregulated in blood samples in our qPCR validation. Therefore, SUV39H1 expression differs in lung cancer tissue and blood samples.
RBL1 (Retinoblastoma-like 1 (p107)) inhibits cell proliferation through G1 arrest [58] and positively regulates epidermal differentiation [59]. RBL1 is downregulated and inversely correlates with the histological grade of squamous cell carcinomas and adenocarcinomas [60]. Our qPCR validation shows downregulation in all squamous cell carcinoma and adenocarcinoma samples, which supports the previous findings and RBL1's function in tumors.
HNRPD/AUF1 is a RNA-binding protein that both positively and negatively regulates neoplastic gene regulatory networks in cancer depending on the type of neoplasm [61]. It binds to destabilize p21 mRNA and thereby inhibits its anti-apoptotic activity [62]. Although in our blood-based qPCR analysis AUF1 was downregulated in all NSCLC samples, it has been reported to be upregulated in HCC [63] and experimental murine lung cancer [64]. It has been patented to aid in the prediction of survival in lung cancer in a gene expression panel of biomarkers (US 20100267574).
miRNA-markerTFs correlation
: The seven identified TFs that are aberrantly expressed in both the squamous cell carcinoma and adenocarcinoma were plotted for their interactions with miRNAs and other key TFs to obtain more insight into these markers in lung cancer pathogenesis (Figure
1
, Steps-14-15). The miRNA-TF-Cancer relationships were gathered from the miReg [
17
], miR2Disease [
23
], miRWalk [
25
], miRecords [
26
], TransmiR [
31
], CircuitsDB [
32
], and miRDB [
65
] databases. The interaction map is represented in Figure
6
.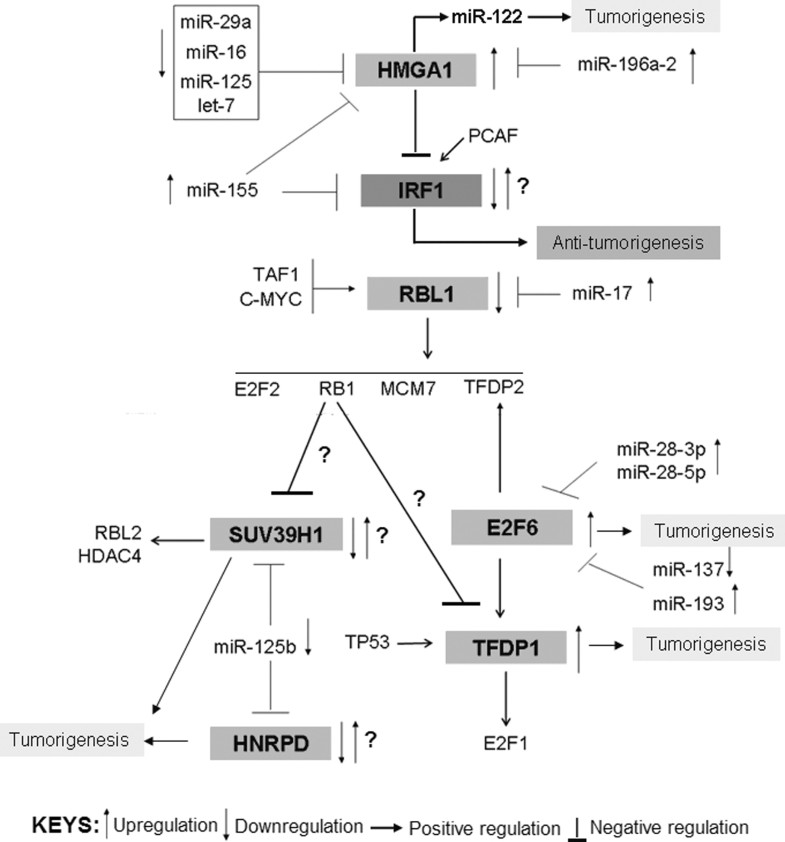 The network clearly shows meaningful relationships between the TFs and miRNAs in lung cancer. The interactions show that the tumor suppressor miRNAs (miR-29a, miR-16, miR-125, and let-7) that could target the oncogene HMGA1 are downregulated. Upregulation of HMGA1 induces expression of oncogenic miR-122. Another two pro-oncogenic miRNAs that can also target HMGA1, miR-196a-2 and miR-155, are upregulated in lung cancers [66, 67]. We observed that HMGA1 may inhibit the putative tumor-suppressor IRF1 (as per the interaction network) and that the miR-155 pro-oncomiR directly targeted IRF1. Therefore, in this network, HMGA1 is the key TF that positively regulates lung tumorigenesis through upregulation of miR-122 and perhaps by downregulation of IRF1. However, we found that IRF1 is upregulated in the samples so that the IRF1-HMGA1 interactions need further attention.
Tumor suppressor RBL1 is a target of the miR-17 oncomiR [68]. Furthermore, as per the interaction network, RBL1 is activated by TAF1 and cMYC, and regulates expression of E2F2, RB1, MCM7, and TFDP2. It thereby regulates the cell cycle and cell proliferation. Therefore, RBL1 downregulation and upregulation of miR-17 provide a meaningful mechanism in lung cancer tumorigenesis [66, 69].
The common pathway (of both NSCLC and SCLC) related genes HNRPD, E2F6, TFDP1, and SUV39H1 also showed the expected TF-miRNA relationship in the interaction map represented in Figure 6 based on the available experimental evidence. The literature shows that HNRPD and SUV39H1 may have positive roles in tumorigenesis [55, 56, 64]. Although in our blood-based qPCR, HNRPD and SUV39H1 are downregulated, they are reported to be upregulated in a mouse model of lung cancer [63], consistent with the tissue-based microarray analysis in our lung cancer samples. The involvement of HNRPD and SUV39H1 is further supported by reports that the tumor suppressor miR-125 is downregulated in both NSCLC and SCLC [70, 71]. Furthermore, the tumor suppressor protein RB1 is downregulated in lung cancer [66] and may inhibit SUV39H1.
The other two markers, E2F6 and TFDP1, are upregulated in all of our blood samples. While two pro-oncogenic miRNAs, miR-28 and miR-193, are upregulated [40] the putative tumor-suppressor, miR-137, is downregulated in lung cancers [72, 73]. All three of these miRNAs target E2F6 [74, 75]. Furthermore, E2F6 putatively upregulates TFDP1 and is downregulated by RB1. It is also found from the interaction map that E2F6 inhibition by two upregulated pro-oncomiRs (miR-28 and miR-193) is not sufficient, as the E2F6 was found to be upregulated in lung cancer. Further, E2F6 has been reported to upregulate oncogene TFDP1 and to positively regulate cell proliferation and cell survival through E2F1 [41]. Additionally, downregulation of RB1 in lung cancer is not able to repress TFDP1 activity, and therefore, in lung cancer, tumorigenesis is mediated through upregulation of E2F6 and TFDP1. However, the role of SUV39H1 and HNRPD requires further exploration.
Conclusion
In this analysis, using an integrated reverse-transcriptomics-based bioinformatics approach, we have identified key transcription factors that may be useful in developing subtype specific biomarkers in lung cancer. Our proposed seven markers also have high potential to be used in lung cancer diagnostics for NSCLC subtypes. Of course, additional experimental validation in independent sets of patients is required to establish the diagnostic accuracy of this panel and we are currently conducting those experiments. The miRNA-TF-miRNA relationships with these seven miRNAs show meaningful associations with these TFs in lung cancer pathogenesis. The novel strategy developed in this research is powerful and can be applicable to identify molecular mechanisms and markers in other cancers as well.
Funding
This work was carried out without any grant. VA had funding from CNPq and FAPEMIG.
Conflict of interest
Authors declare no conflict of interest.
Declarations
Declarations
Publication for this article has been funded by NSF 1158608.
This article has been published as part of BMC Genomics Volume 14 Supplement 6, 2013: Proceedings of the International Conference of the Brazilian Association for Bioinformatics and Computational Biology (X-meeting 2012). The full contents of the supplement are available online at http://www.biomedcentral.com/bmcgenomics/supplements/14/S6.
Authors' Affiliations
(1)
Centre for Genomics and Applied Gene Technology, Institute of Integrative Omics and Applied Biotechnology (IIOAB), Nonakuri, Purba Medinipur, India
(2)
School of Biotechnology, Devi Ahilya University, Indore, India
(3)
Department of Molecular and Clinical Cancer Medicine, University of Liverpool, Liverpool, UK
(4)
Medical Oncology Department, Complejo Hospitalario Universitario, Santiago de Compostela, A Coruña, Spain
(5)
Nuclear Medicine Service, Complejo Hospitalario Universitario. Fundación Tejerina, Santiago de Compostela, A Coruña, Spain
(6)
Molecular Oncology and Imaging Program, Complejo Hospitalario Universitario, Santiago de Compostela, A Coruña, Spain
(7)
Institute of Molecular and Experimental Medicine, Cardiff University, Cardiff, UK
(8)
Instituto de Ciências Biológicas, Universidade Federal do Pará, Belém, PA, Brazil
(9)
Laboratorio de Genetica Celular e Molecular, Departmento de Biologia Geral, Instituto de Ciencias Biologics, Universidade Federal de Minas Gerais CP 486, Belo Horizonte, Minas Gerais, Brazil
(10)
Department of Psychiatry and Mcknight Brain Institute, College of Medicine, University of Florida, Gainesville, USA
(11)
Department of Computer Science and Center for the Study of Biological Complexity, Virginia Commonwealth University, Richmond, USA
Copyright
© Barh et al.; licensee BioMed Central Ltd. 2013
This article is published under license to BioMed Central Ltd. This is an open access article distributed under the terms of the Creative Commons Attribution License (http://creativecommons.org/licenses/by/2.0), which permits unrestricted use, distribution, and reproduction in any medium, provided the original work is properly cited.