Research article

Open Access
Comparison of environmental and isolate Sulfobacillus genomes reveals diverse carbon, sulfur, nitrogen, and hydrogen metabolisms
Received: 28 August 2014
Accepted: 27 November 2014
Published: 15 December 2014
Abstract
Background
Bacteria of the genus Sulfobacillus are found worldwide as members of microbial communities that accelerate sulfide mineral dissolution in acid mine drainage environments (AMD), acid-rock drainage environments (ARD), as well as in industrial bioleaching operations. Despite their frequent identification in these environments, their role in biogeochemical cycling is poorly understood.
Results
Here we report draft genomes of five species of the Sulfobacillus genus (AMDSBA1-5) reconstructed by cultivation-independent sequencing of biofilms sampled from the Richmond Mine (Iron Mountain, CA). Three of these species (AMDSBA2, AMDSBA3, and AMDSBA4) have no cultured representatives while AMDSBA1 is a strain of S. benefaciens, and AMDSBA5 a strain of S. thermosulfidooxidans. We analyzed the diversity of energy conservation and central carbon metabolisms for these genomes and previously published Sulfobacillus genomes. Pathways of sulfur oxidation vary considerably across the genus, including the number and type of subunits of putative heterodisulfide reductase complexes likely involved in sulfur oxidation. The number and type of nickel-iron hydrogenase proteins varied across the genus, as does the presence of different central carbon pathways. Only the AMDSBA3 genome encodes a dissimilatory nitrate reducatase and only the AMDSBA5 and S. thermosulfidooxidans genomes encode assimilatory nitrate reductases. Within the genus, AMDSBA4 is unusual in that its electron transport chain includes a cytochrome bc type complex, a unique cytochrome c oxidase, and two distinct succinate dehydrogenase complexes.
Conclusions
Overall, the results significantly expand our understanding of carbon, sulfur, nitrogen, and hydrogen metabolism within the Sulfobacillus genus.
Keywords
Acid Mine DrainageLipoic AcidQuinone OxidoreductaseTetrathionateQuinol Oxidase
Background
Species of the Sulfobacillus genus are Gram-positive spore forming bacteria belonging to the order Clostridiales, and are found globally in acidic environments such as thermal springs [1], hydrothermal vents [2], solfatara fields [3], and acid mine drainage (AMD) environments [4]. Sulfobacillus species are also frequently found in industrial reactors used in bioleaching operations [5]. As such, an understanding of their physiology is of both environmental and biotechnological importance.
In the AMD environment of the Richmond Mine (Iron Mountain, CA) Sulfobacillus are members of acidophilic, metal-tolerant microbial consortia that promote sulfide-mineral dissolution. In contrast to the dominant iron-oxidizing Leptospirillum bacteria, or certain members of the heterotrophic Thermoplasmatales archaea, Sulfobacillus generally appear in much lower relative abundances, having been identified only through 16S rRNA clone libraries, fluorescent in situ hybridization [6–8], and as unresolved fragments assembled from metagenomic sequence information [9]. As their namesake implies, they are likely key players in sulfur cycling, yet relatively little is known about their metabolic pathways or how these vary across the Sulfobacillus genus.
Key features of Sulfobacillus metabolism have been described for several isolated Sulfobacillus species—S. sibiricus[10], S. thermotolerans[11], S. acidophilus[1], S. thermosulfidooxidans[12], and S. benefaciens[13]. Each is a facultative anaerobe capable of assimilation of organic and inorganic forms of carbon, deriving energy from aerobic oxidation of iron and various sulfur species (e.g., tetrathionate and elemental sulfur), as well as from ferric iron respiration [10, 11, 14, 15], and possibly fermentation [15]. Other phenotypic differences such as metal tolerance, temperature tolerance, and use of different carbon compounds set these organisms apart [5, 11, 13]. Genomes for two of these species—S. acidophilus and S. thermosulfidooxidans—have been previously reported [2, 16–18] and an additional S. thermosulfidooxidans genome is deposited in the publicly available "Integrated Microbial Genomes and Metagenomes" (IMG) database [19]. Here we present five new draft genomes of Sulfobacillus organisms assembled from metagenomic data. We analyze these genomes in the context of the previously published genomes of Sulfobacillus isolates, and describe key elements of carbon, sulfur, nitrogen, and hydrogen metabolism. In addition to illuminating the metabolic potential of a strain of S. benefaciens, and three other novel Sulfobacillus spp., this work provides one of the first genome-inferred reconstructions of Gram-positive, acidophilic sulfur oxidation pathways, and highlights both conserved and divergent metabolisms found in organisms of the Sulfobacillus genus.
Methods
DNA was collected from the 5way site at Iron Mountain Mine [20] and extracted as previously described [21]. This sample is referred to as '5way fungal streamer,' and comprised the majority of sequencing information used in the genome assembly. Briefly, 4–5 ml of frozen biofilm was washed and thawed with cold acidified 0.9% NaCl (pH 1.0, H2SO4), homogenized with a 16 G needle in cold pH 7.0 phosphate buffered saline, and finally ground in a mortar and pestle in liquid nitrogen. The powdered biofilm pellets were then extracted with a PowerSoil DNA isolation kit (MoBio Laboratories, Carlsbad, CA, USA). Illumina library preparation sequencing was carried out according to JGI protocols [21, 22].
Three flow cells of Illumina HiSeq were used to obtain ~90 million paired-end 76 bp reads (8.46 Gb). An additional overlapping paired-end library was sequenced to generate longer sequence reads. The initial paired-end reads were merged using SeqPrep [23] into ~32 million long reads (6.17 Gb) with a median length of 194 bp. Reads from 17 additional previously published metagenomic datasets were used to assist binning and assembly [24].
Discussion
Analysis of the
Sulfobacillus
genomes illuminates metabolic pathways used in various transformations of carbon, nitrogen, and sulfur metabolism (summarized Figure
5
and Additional file
5
: Table S2). Moreover, potential new metabolisms not yet observed in isolate cultures are potentially encoded within these genomes, including hydrogen oxidation and nitrate reduction.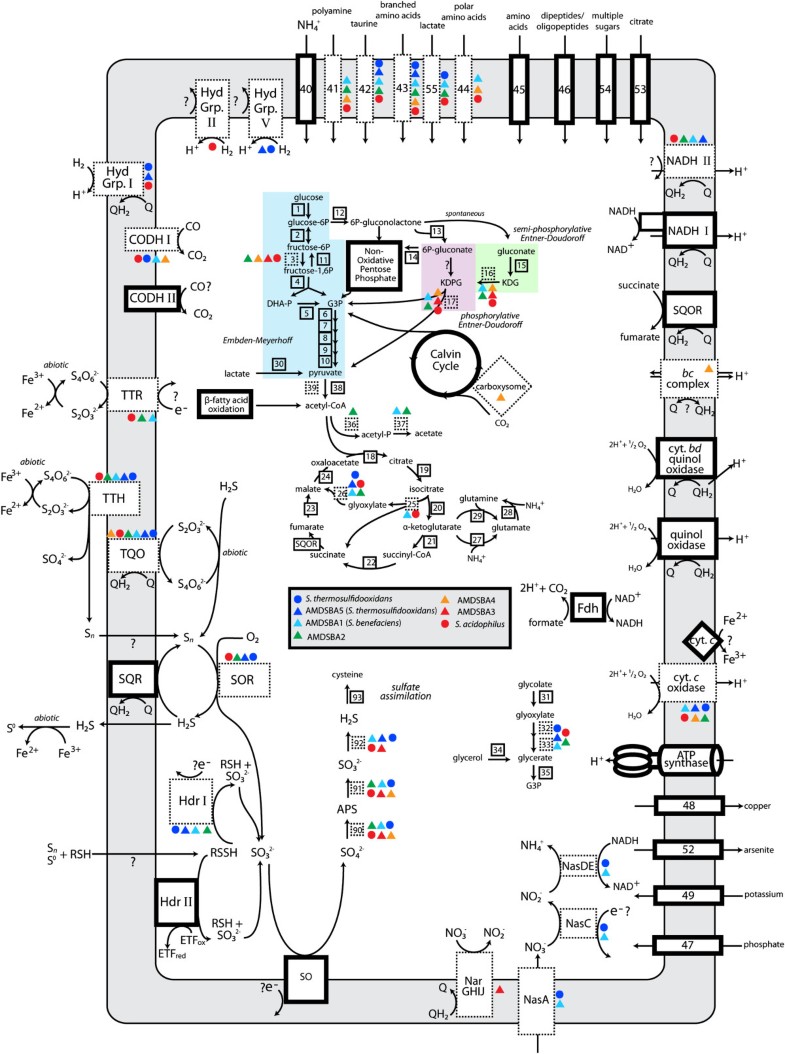 Carbon fixation via the Calvin cycle is a well-described characteristic of Sulfobacillus species [114], and type I RuBisCO genes were identified in all Sulfobacillus genomes. It has been noted that Sulfobacillus growth rates increase when they are cultivated in the presence of yeast extract and simple sugars [102, 137]. Optimum growth under mixotrophic conditions using inorganic electron donors (usually ferrous iron) and organic carbon (usually glucose or yeast extract) is widely observed [102, 138–140]. To our knowledge, only one isolated strain (S. acidophilus NAL) is capable of purely heterotrophic growth, although growth rates are greatly decreased [1]. In another strain of S. acidophilus (ALV), it was estimated that about 20% of cellular carbon was derived from CO2 fixation during growth on glucose [139].
Prior work demonstrated that glucose consumption proceeded via the oxidative pentose phosphate pathway [139], and that enzymes of the Entner-Doudoroff pathway (6-phosphogluconate dehydratase and 2-keto-3-deoxy-6-phosphogluconate aldolase) were not present. While our results are consistent with the absence of 6-phosphogluconate dehydratase in all genomes studied here, the 2-keto-3-deoxy-6-phosphogluconate aldolase was found in several AMDSBA genomes as well as in the genomes of S. acidophilus strains TPY and NAL—allowing for a complete semi-phosphorylative Entner-Doudoroff pathway. The presence of this enzyme in S. acidophilus NAL may be a key component contributing to its ability to grow heterotrophically.Across all genomes analyzed here, only two of the enzymes involved in sulfur oxidation were conserved: sulfide:quinone oxidoreductases (SQR) and the heterodisulfide reductase cluster II (Hdr II). While the Hdr II proteins were only present in a single copy amongst all genomes, the SQR proteins were found in between three and six copies for all organisms except AMDSBA1, which contained only one copy (Figure 3). Although the precise reason for the multiple copies of the SQR is unclear, it suggests the importance of sulfide oxidation for many of these organisms.
Sulfide, along with sulfite, can be formed aerobically through a disproportionation reaction of elemental sulfur with sulfur oxygenase (SOR). The subsequent oxidation of sulfide by sulfide:quinone reductase (SQR) allows for the disproportionation reaction of SOR to be coupled to the electron transport chain. While all organisms contain SQR proteins, AMDSBA1, AMDSBA3 and AMDSBA4 lack the SOR proteins necessary to disproportionate sulfur. For these organisms, the source of hydrogen sulfide is unclear, although it may be derived from anaerobic sulfur disproportionation. In this pathway, electrons from sulfane oxidation at the heterodisulfide reductase complex could be used to reduce sulfur, as was proposed for A. ferroxidans[99].
Hydrogen utilization, to our knowledge, has also never been experimentally observed in any Sulfobacillus species. The presence of several different uptake hydrogenase complexes, however, suggests that hydrogen may be an important source of low-potential electrons for these organisms. In the AMDSBA genomes, only AMDSBA5 contained hydrogenases and these complexes may be a key component of niche specialization for AMDSBA5 in the Richmond Mine. The source of hydrogen, however, is unclear, although flammable and odorless bubbles of gas have been observed to be trapped within the biofilms found in the mine (unpublished observations).
Thiosulfate has also been detected in sediments as well as in solutions within the Richmond Mine [141]. Thiosulfate is predicted to be the first aqueous reaction product of pyrite oxidation [8, 60]. However, because thiosulfate is readily oxidized by ferric iron in acidic media, it is predicted to be found only on the surface of pyritic sediments in the presence of ferric iron. Indeed, thiosulfate was found in bulk solution only in highly reduced conditions essentially devoid of Fe3+[141]. The availability of thiosulfate may explain why Sulfobacillus spp. are found so infrequently in the floating biofilms of the Richmond Mine, and are sometimes associated with the sediment or as members of submerged biofilms [7]. Tetrathionate, formed by the oxidation of thiosulfate by ferric iron, is far more stable at acidic pH [142], and thus it is surprising that it was not detected in AMD solutions in the Richmond Mine [8]. The absence of tetrathionate, however, can be explained if it is rapidly oxidized by Sulfobacillus organisms.
Amongst all of the genomes analyzed here, AMDSBA4 is unique in many respects. In addition to the putative carboxysome proteins, AMDSBA4 possesses the only bc complex amongst all of the Sulfobacillus. This is significant as the bc complex has been implicated in reverse electron transport during aerobic iron oxidation in Acidothiobacillus and Leptospirillum species [94]. Furthermore, a second succinate dehydrogenase and a unique cytochrome c-oxidase suggest that there may be many distinct aspects of electron transport in AMDSBA4 that warrant further investigation.
Conclusions
The genomic comparisons presented here advance our understanding of the metabolic potential within the genus Sulfobacillus and demonstrate diverse ecological strategies for these organisms. Pathways involved in inorganic sulfur, hydrogen, and nitrogen metabolisms are distributed unevenly amongst species, suggesting key differences in energy metabolism that may be foundational to niche differentiation. Common to all Sulfobacillus genomes, however, is a high degree of metabolic versatility, enabling these species to survive in a wide range of acidic environments and adapt to changing biogeochemical conditions. Information gained from this study will help unravel the ecological function of these organisms and their interactions with other organisms in both natural and industrial environments.
Availability of supporting data
Raw reads were deposited in the NCBI Sequence Read Archive under accession number SRA:SRR191843. Genomes are available at http://ggkbase.berkeley.edu/.
Declarations
Acknowledgements
This study was supported by the Genome Sciences Program in Carbon Cycling (contract DE-SC0004665), and Knowledgebase (DE-AC02-05CH11231) programs of the U.S. Department of Energy, Office of Science, Office of Biological and Environmental Research as well as the The Danish Council for Independent Research in Natural Sciences (FNU grant no. 11–107935). Sequence data of S. thermosulfidooxidans AT-1 (DSM 9293) were produced by the US Department of Energy Joint Genome Institute http://www.jgi.doe.gov/. We thank the late T. W. Arman (Iron Mountain Mines, Inc.) and R. Sugarek for access to the Richmond Mine and R. Carver and M. Jones for on-site assistance.
Authors' Affiliations
(1)
Department of Earth and Planetary Science, University of California, Berkeley, USA
(2)
Physical Biosciences Division, Lawrence Berkeley National Lab, Berkeley, USA
(3)
Section for Infection Microbiology, Department of Systems Biology, Technical University of Denmark, Lyngby, Denmark
Copyright
© Justice et al.; licensee BioMed Central. 2014
This article is published under license to BioMed Central Ltd. This is an Open Access article distributed under the terms of the Creative Commons Attribution License (http://creativecommons.org/licenses/by/4.0), which permits unrestricted use, distribution, and reproduction in any medium, provided the original work is properly credited. The Creative Commons Public Domain Dedication waiver (http://creativecommons.org/publicdomain/zero/1.0/) applies to the data made available in this article, unless otherwise stated.