HelicoBase: a Helicobacter genomic resource and analysis platform
Received: 9 January 2014
Accepted: 9 July 2014
Published: 16 July 2014
Abstract
Background
Helicobacter is a genus of Gram-negative bacteria, possessing a characteristic helical shape that has been associated with a wide spectrum of human diseases. Although much research has been done on Helicobacter and many genomes have been sequenced, currently there is no specialized Helicobacter genomic resource and analysis platform to facilitate analysis of these genomes. With the increasing number of Helicobacter genomes being sequenced, comparative genomic analysis on members of this species will provide further insights on their taxonomy, phylogeny, pathogenicity and other information that may contribute to better management of diseases caused by Helicobacter pathogens.
Description
To facilitate the ongoing research on Helicobacter, a specialized central repository and analysis platform for the Helicobacter research community is needed to host the fast-growing amount of genomic data and facilitate the analysis of these data, particularly comparative analysis. Here we present HelicoBase, a user-friendly Helicobacter resource platform with diverse functionality for the analysis of Helicobacter genomic data for the Helicobacter research communities. HelicoBase hosts a total of 13 species and 166 genome sequences of Helicobacter spp. Genome annotations such as gene/protein sequences, protein function and sub-cellular localisation are also included. Our web implementation supports diverse query types and seamless searching of annotations using an AJAX-based real-time searching system. JBrowse is also incorporated to allow rapid and seamless browsing of Helicobacter genomes and annotations. Advanced bioinformatics analysis tools consisting of standard BLAST for similarity search, VFDB BLAST for sequence similarity search against the Virulence Factor Database (VFDB), Pairwise Genome Comparison (PGC) tool for comparative genomic analysis, and a newly designed Pathogenomics Profiling Tool (PathoProT) for comparative pathogenomic analysis are also included to facilitate the analysis of Helicobacter genomic data.
Conclusions
HelicoBase offers access to a range of genomic resources as well as tools for the analysis of Helicobacter genome data. HelicoBase can be accessed at http://helicobacter.um.edu.my.
Keywords
HelicoBase Helicobacter Genomic resourcesPairwise genome comparison toolPathogenomics profiling toolComparative analysis
Background
Helicobacter is a genus of Gram-negative bacteria possessing a characteristic spiral shape [1]. In the past, they were classified as members of the Campylobacter genus, but the Helicobacter genus has been recognized since 1989; currently with 29 known species (H. acinonychis, H. anseris, H. aurati, H. bilis, H. bizzozeronii, H. brantae, H. canadensis, H. canis, H. cetorum, H. cholecystus, H. cinaedi, H. cynogastricus, H. felis, H. fennelliae, H. ganmani, H. hepaticus, H. mesocricetorum, H. marmotae, H. muridarum, H. mustelae, H. pametensis, H. pullorum, H. pylori, H. rappini, H. rodentium, H. salomonis, H. trogontum, H. typhlonius, H. winghamensis) [2, 3]. Helicobacter species have been found living in the lining of the upper gastrointestinal tract, as well as the liver of some birds and mammals [4]. Helicobacter bacteria can be isolated from feces, saliva and dental plaque of some infected people which is consistent with known transmission routes [5–7]. The most widely known and well-studied species of the genus is H. pylori, a human pathogen which infects up to half of the human population [8]. In general, most patients with H. pylori infections do not have specific clinical symptoms or signs [9]. However, acute infection may appear as acute gastritis which may further develop into chronic gastritis if no treatment is given [10]. H. pylori is also strongly associated with peptic ulcers, duodenitis and stomach cancer [11]. H. pylori is a genetically diverse species that has co-evolved with the human race since their migration out of Africa 60,000 years ago [12], and subsequent geographic separation plus founder effects have resulted in distinct populations of bacterial strains that are specific for various geographical regions. In all, 7 populations and 3 subpopulations have been described: hpEurope (isolated from Europe, the Middle East, India and Iran), hpNEAfrica (isolated in Northeast Africa), hpAfrica1 (isolated from countries in Western Africa and South Africa), hpAfrica2 (so far only isolated from South Africa), hpAsia2 (isolated from Northern India and among isolates from Bangladesh, Thailand and Malaysia), hpSahul (from Australian Aboriginals and Papua New Guineans) and hpEastAsia with the subpopulations hspEAsia (from East Asians), hspMaori (from Taiwanese Aboriginals, Melanesians and Polynesians) and hspAmerind (Native Americans) [13–17].
With advances in next-generation sequencing technologies, many genomes of Helicobacter isolates have been sequenced by many laboratories [18–22]. The availability of these genome sequences from different sources has made it possible to get a deeper understanding of Helicobacter at the genomic level, for example through genome-wide comparative analyses. Such comparative analysis will have a profound impact on understanding the evolution, biology, diversity, evolution and pathogenicity of the Helicobacter spp. which may be useful in successfully managing Helicobacter-caused diseases.
Many specialized genomic databases or resources have been developed and published for well-studied human pathogens such as Pseudomonas Genome database [23, 24], Burkholderia Genome Database [25], Cyanobacteria Gene Annotation Database (CYORF) [26] and Mycobacterium abscessus Genome and Annotation Database (MabsBase) [27]. But no such specialized genomic database is available for Helicobacter spp. despite the wealth of available data. Microbial Genome Database for Comparative Analysis (MBGD) [28] and the Integrated Microbial Genomes (IMG) system [29] do provide a wide array of microbial genomes including some Helicobacter strains for comparative genomics, but lack the virulence factor perspective for comparative pathogenomics. Another concern regarding most of the existing biological databases is their lack of user-friendly web interfaces, for example, allowing real-time and fast querying and browsing of genomic data.
To facilitate Helicobacter research, we have developed a specialized Helicobacter resource and analysis platform for the storage of the rapidly increasing genomic data of Helicobacter, which presents the data in a useful manner that is easy to access, and enables the analysis of these genomic data, particularly in the field of comparative genomics. The aims of HelicoBase are to provide a comprehensive set of genomic data and a set of useful analysis tools with diverse functionality for data analysis. For instance, HelicoBase is powered by two newly designed tools: PGC for pairwise genome comparison and PathoProT for comparative pathogenomics analysis. The AJAX-based real-time search feature and JBrowse [30] have also been integrated into HelicoBase to allow rapid and seamless searching and browsing of the Helicobacter genomic data and annotations. Here we provide an overview and describe some key features of HelicoBase.
Construction and content
HelicoBase has much useful functionality as shown in Figure
1
. In the homepage, users can view the latest news & conferences, blogs & information, and the most recent papers related to
Helicobacter
spp. that we manually compiled from different sources. By clicking on the 'Browse' hyperlink on the homepage, users can browse general information on different
Helicobacter
species (Table
1
), where each species is linked, e.g. through the "View Strains" button, to a table showing all available strains (either draft or complete genome) and associated strain information like genome size, GC content, number of contigs, CDSs, number of tRNAs and number of rRNAs. Each species has a 'Details' button which directs users to the list of all RAST-predicted Open Reading Frames (ORFs). Useful ORF information is provided including ORF ID, ORF type, functional classification, contig ID, start position and stop position. If users want more information about a specific ORF, they can click on the "Detail" button provided for the ORF. This will direct users to an ORF details page with information like subcellular localization, hydrophobicity, molecular weight, and amino acid and nucleotide sequences of the ORF of interest. JBrowse is integrated into the ORF details page, allowing users to visualize and browse around the genomic location of the ORF. All these annotation details and sequence data for the selected ORF can be downloaded in the same page as CSV and FASTA files, respectively. Furthermore, users can also download the whole-genome annotations and sequences through the provided 'Download' page.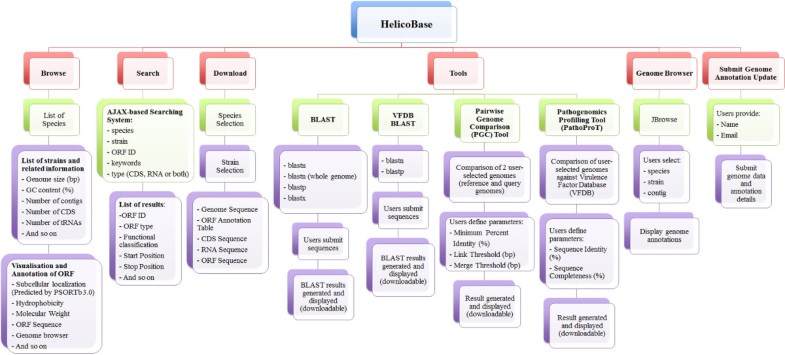 Table 1
List of Helicobacter species and genomes in HelicoBase
| # | Species | Number of draft genomes | Number of complete genomes |
| --- | --- | --- | --- |
| 1 | H. acinonychis | 0 | 1 |
| 2 | H. bilis | 1 | 0 |
| 3 | H. bizzozeronii | 1 | 1 |
| 4 | H. canadensis | 2 | 0 |
| 5 | H. cetorum | 0 | 2 |
| 6 | H. cinaedi | 1 | 1 |
| 7 | H. felis | 0 | 1 |
| 8 | H. hepaticus | 0 | 1 |
| 9 | H. mustelae | 0 | 1 |
| 10 | H. pullorum | 1 | 0 |
| 11 | H. pylori | 106 | 43 |
| 12 | H. suis | 2 | 0 |
| 13 | H. winghamensis | 1 | 0 |
HelicoBase currently accumulates a total of 166 genome sequences from 13 Helicobacter species, which were downloaded and compiled from the National Center for Biotechnology Information (NCBI) [31, 32]. To have consistent annotations for comparative analyses, we re-annotate all genomes with the Rapid Annotation using Subsystem Technology (RAST) pipeline [33]. RAST has been successfully tested in annotating both complete and draft genomes of archaea and bacteria in the recent review by Liu et al. [34]. Using this well-established pipeline, functional elements like protein-encoding genes, rRNAs, tRNAs and pseudogenes can be predicted in each Helicobacter genome. All genome annotations were stored in our MySQL database. Currently HelicoBase has stored 280,550 coding sequences (CDSs), 6,683 rRNAs and 5,965 tRNA genes predicted in all 166 genomes of the 13 Helicobacter species. Among annotations generated by RAST include ORF type, functional classification, chromosomal position, nucleotide length, amino acid length and strand. Other annotations like subcellular localisation, hydrophobicity and molecular weight of the RAST-predicted proteins are also provided. For subcellular localization prediction, we used PSORTb version 3.0, a well-established software to determine the subcellular localization of putative proteins for prokaryotes [35]. In HelicoBase, the 280,550 RAST-predicted CDSs were categorised by PSORTb into 5 different categories such as cytoplasmic, cytoplasmic membrane, extracellular, outer membrane and periplasmic (Additional file 1: Figure S1).
Real-time data searching feature
With advances in next-generation sequencing technologies and bioinformatics, it is anticipated that the data in HelicoBase will considerably increase as more genomes are sequenced in the future. Therefore, a user-friendly interface allowing users to rapidly search a massive amount of genomic data is vital. To give the
Helicobacter
research community a user-friendly and seamless search experience, we have implemented a powerful real-time AJAX-based search system in the "Search" page on the homepage. Users can search for an ORF by using different parameters including species name, strain, ORF ID, keywords of functional classification and type of sequence (Figure
2
). Furthermore, when users type in the search keywords, the system will rapidly retrieve the matches from HelicoBase in a real-time manner. This will help users to get the right keywords and will speed up their searching, which is vital in searching a huge database.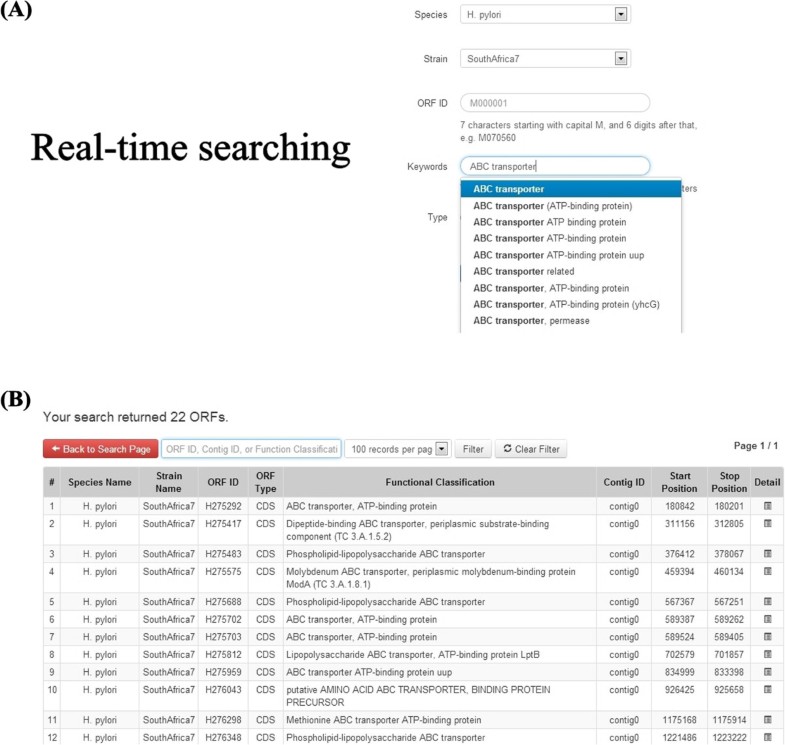 Discussion and conclusion
With advances in high-throughput sequencing technologies, it is imperative that the abundant data generated can be easily accessible for analysis. With HelicoBase we aim to provide a one-stop resource platform that will make it easy to access and analyse whole-genome genomic data and information for Helicobacter spp. through an organised and user-friendly interface. PGC and PathoProT are some of the bioinformatics tools for comparative analysis implemented in HelicoBase which allow researchers to conveniently assimilate and explore the data in an intuitive manner.
HelicoBase will be updated from time to time as more genome sequences of Helicobacter spp. become available. To accelerate the development of HelicoBase, we encourage researchers to email us at girg@um.edu.my if they would like to share their annotations and related data with us. Suggestions on improving HelicoBase are most welcome.
Availability and requirements
HelicoBase is available online at http://helicobacter.um.edu.my. All sequences and annotations described in this paper can be downloaded from that site.
Declarations
Acknowledgements
We would like to thank Professor Dr Robert White (Department of Physiology, Development and Neuroscience, University of Cambridge) for his assistance in proofreading the manuscript. We also thank Amir Hessam Yazdi for providing IT support in this project. Special thanks to Aini Mohamed Yusoff for helping us to compile the genome sequences.
Funding
This project was funded by University of Malaya and Ministry of Education (MOHE), Malaysia under the High Impact Research (HIR) grant UM.C/HIR/MOHE/08.
Authors' Affiliations
(1)
Genome Informatics Research Laboratory, High Impact Research (HIR) Building, University of Malaya, Kuala Lumpur, Malaysia
(2)
Department of Oral Biology and Biomedical Sciences, University of Malaya, Kuala Lumpur, Malaysia
(3)
Faculty of Medicine and Health Sciences, University Putra Malaysia, SerdangSelangor Darul Ehsan, Malaysia
(4)
Faculty of Computer Science and Information Technology, University of Malaya, Kuala Lumpur, Malaysia
(5)
Department of Medical Microbiology, Faculty of Medicine Building, University of Malaya, Kuala Lumpur, Malaysia
Copyright
© Choo et al.; licensee BioMed Central Ltd. 2014
This article is published under license to BioMed Central Ltd. This is an Open Access article distributed under the terms of the Creative Commons Attribution License (http://creativecommons.org/licenses/by/2.0), which permits unrestricted use, distribution, and reproduction in any medium, provided the original work is properly credited. The Creative Commons Public Domain Dedication waiver (http://creativecommons.org/publicdomain/zero/1.0/) applies to the data made available in this article, unless otherwise stated.