Research article
Open Access
Mating system shifts and transposable element evolution in the plant genus Capsella
Received: 4 November 2013
Accepted: 10 July 2014
Published: 16 July 2014
Abstract
Background
Despite having predominately deleterious fitness effects, transposable elements (TEs) are major constituents of eukaryote genomes in general and of plant genomes in particular. Although the proportion of the genome made up of TEs varies at least four-fold across plants, the relative importance of the evolutionary forces shaping variation in TE abundance and distributions across taxa remains unclear. Under several theoretical models, mating system plays an important role in governing the evolutionary dynamics of TEs. Here, we use the recently sequenced Capsella rubella reference genome and short-read whole genome sequencing of multiple individuals to quantify abundance, genome distributions, and population frequencies of TEs in three recently diverged species of differing mating system, two self-compatible species (C. rubella and C. orientalis) and their self-incompatible outcrossing relative, C. grandiflora.
Results
We detect different dynamics of TE evolution in our two self-compatible species; C. rubella shows a small increase in transposon copy number, while C. orientalis shows a substantial decrease relative to C. grandiflora. The direction of this change in copy number is genome wide and consistent across transposon classes. For insertions near genes, however, we detect the highest abundances in C. grandiflora. Finally, we also find differences in the population frequency distributions across the three species.
Conclusion
Overall, our results suggest that the evolution of selfing may have different effects on TE evolution on a short and on a long timescale. Moreover, cross-species comparisons of transposon abundance are sensitive to reference genome bias, and efforts to control for this bias are key when making comparisons across species.
Keywords
Transposable elementsMating systemBrassicaceae Capsella Reference genome bias
Background
In plants, transposable element (TE) abundance ranges from around 20% in the compact Arabidopsis thaliana genome [1] to over 80% in the maize genome [2]. Although it has long been clear that TE content varies enormously across taxa, the extent of, and evolutionary reasons for, TE variation among closely related species is less clear [3, 4]. Where whole genome sequences are available, comparisons have been limited to two species [5–8] and where more species were compared, analyses were typically restricted to one or a few TE families [9–15]. Until recently, the lack of large-scale genomic data for closely related species has precluded comprehensive tests. This problem is rapidly diminishing with the increase in available whole genome sequences, allowing theoretical models to be tested across genomes and across species at a scale not previously possible [7, 16–18].
According to several models, mating system is expected to play an important role in driving the evolutionary dynamics of TEs [19, 20]. There are two main reasons for this. First, the spread of TEs may be inhibited by a lack of outcrossing [21–24]. Second, self-regulation of transposition is more likely to evolve in selfers than in outcrossers and host-silencing mechanisms are more likely to spread to fixation with greater linkage to the active element [25]. Therefore, all else being equal, outcrossing species are predicted to maintain a higher abundance of TEs than selfing species. Alternatively, the expected reduction in the effective population size (Ne) in selfers relative to outcrossers [26, 27] and the associated reduction in the efficacy of selection may lead to fewer TEs in the genomes of outcrossers [9, 28]. Furthermore, if selection is mainly due to chromosomal rearrangements caused by between-element (ectopic) recombination, lower heterozygosity in selfers may lead to relaxed selection and as a consequence TE accumulation [9, 24, 29]. Empirical evidence to date, while limited, provides some support in favour of TE loss following the evolution of selfing [19]. In particular, the Arabidopsis thaliana genome has consistently fewer insertions in comparison with its outcrossing congener A. lyrata[6, 30, 31], which may partly be driven by more efficient host silencing via small RNAs [32]. Moreover, there is some evidence suggesting smaller genome sizes in selfers compared with related outcrossers [19, 33] (but see [34]). However, whether the evolution of selfing will generally result in an increase or decrease in TE copy number, and the timescale over which TE abundance evolves, remains unclear.
The plant genus
Capsella
provides a promising system to study interspecific variation in TE abundance and distribution.
Capsella
, which diverged from
Arabidopsis
somewhere between 6 and 20 million years ago [
35
–
37
], is a relatively small genus within the mustard family (Brassicaceae). Furthermore, the members of the genus vary in mating system ([
38
]; Figure
1
). The sequencing of the genome of the self-compatible
Capsella rubella
and comparisons with its self-incompatible closest relative
C. grandiflora
suggested that
C. rubella
has experienced a global reduction in the efficacy of natural selection on non-synonymous polymorphisms, but without evidence for major shifts in transposable element abundance during the less than 200,000 years since divergence [
39
].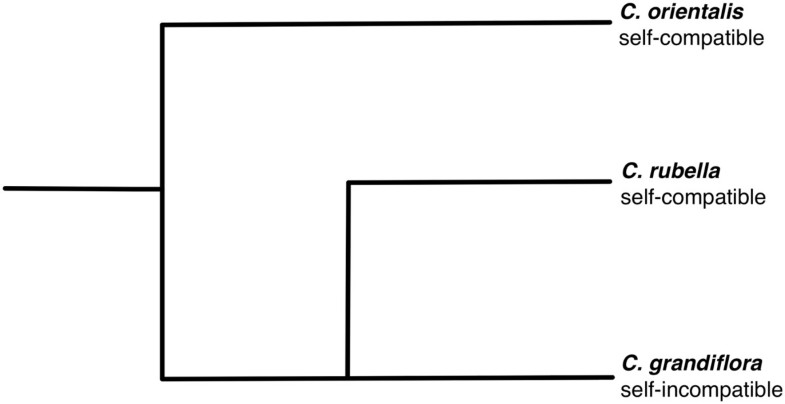 Here, we expand the mating system comparisons to population samples from three characterized Capsella species, two self-compatible species and one self-incompatible outcrosser. Self-compatible species have evolved at least twice through the divergence from a self-incompatible outcrossing ancestor similar to C. grandilflora (2n = 2x = 16), resulting in the recent C. rubella (2n = 2x = 16; divergence time 50–200, 000 years [40, 41]) and C. orientalis (2n = 2x = 16; divergence time unknown, but believed to be older than C. rubella[38]). C. grandiflora is geographically restricted to a glacial refugium in northern Greece and has a stable effective population size (Ne ~ 600,000), with relatively little population structure [42, 43]. C. rubella spans the Mediterranean region, while C. orientalis stretches from the far eastern parts of Europe, through the South Urals and western Mongolia to northwestern China [38]. The effective selfing rate in C. rubella has been estimated to be 0.90–0.97 [42]. Although the selfing rate in C. orientalis has not been quantified, very low allozyme variability suggests that the species is predominately selfing [38]. For an extensive review of the evolutionary history of the genus, see [38]. We quantify abundance, population frequencies, and genome wide distributions of TEs across the three species and use the results to examine whether the variation is consistent with the effects of mating system outlined above. We also discuss the residual uncertainty of using the reference genome of one species in a comparative study of TE abundance and distribution, and steps that may be taken to address the issue.
Discussion
Here, we report results from a whole genome study of TE abundance and distributions in multiple individuals in three species from the plant genus Capsella. Comparing population samples from the outcrosser C. grandiflora to two of its self-compatible relatives allows us to begin to empirically dissect the population and genome wide effects of a mating system shift in driving TE evolution.
The evolution of selfing does not appear to have had the same effect in the two self-compatible Capsella species. Perhaps the most striking result of this study is the consistently lower TE copy numbers in the self-compatible C. orientalis. This reduction is apparent for all families and in both centromeric regions and along chromosome arms (Figure 3), as well as for recent insertions near genes (Figure 4). Furthermore, C. orientalis shows a detectable absence of rare and an excess of common TE insertions (Figure 5). The present transposition rate thus appears to be very low in C. orientalis. TE accumulation is known to be a key driver of genome size evolution in plants [3, 48] and this reduction in transposition rate may in part explain why C. orientalis has the smallest genome in the genus [38].
In contrast to C. orientalis, C. rubella does not appear to be TE poorer than C. grandiflora. Instead, there is a trend of an increase in copy number, which seems to be due to higher accumulation in centromeric regions (Figure 3), although this observation may also be due to poorer mapping of the other species in these regions. However, when we consider only insertions near genes, which are where recent insertions tend to reside, C. grandiflora has a higher abundance than C. rubella (Figure 4). Capsella rubella also has the highest excess of rare insertions, although this trend is most pronounced along the chromosome arms (Figure 5). This may reflect an increase in transposition rate or be a product of the recent population bottleneck C. rubella experienced in conjunction with the evolution of selfing [40, 49].
What would determine whether selfing leads to a net accumulation or loss of TEs? One important factor is likely to be the age of the selfing lineage [19]. As outlined in the Introduction, selfing will reduce the effective population size and this reduction following the shift to selfing may initially result in an increase in fixation rates compared to the outcrossing relative. However, over time, the lack of outcrossing means that any new (deleterious) insertion that arises in either lineage will have a harder time spreading in the selfing lineage. As a consequence, we may observe different effects on selfing in a young and an old lineage. Here, we detected fewer TEs in C. orientalis, but a slight increase in C. rubella. Capsella orientalis diverged from C. grandiflora before C. rubella did, suggesting that it may have been self-fertilizing for longer. It is important to note, however, that the speciation event and the evolution of selfing may not have occurred simultaneously. This, for example, is the case in A. thaliana[50–53], where the evolution of selfing apparently occurred a long time after the speciation event. Although the shift to self-fertilization can occur both within a lineage and in conjunction with a speciation event, recent work by Goldberg and Igić indicate that the shift is ten times as likely to be associated with a speciation event than to occur within a lineage [54]. While it is not clear whether the evolution of selfing in C. orientalis coincided with the speciation event as it did in C. rubella[40], the very recent origin of C. rubella and the very low species wide allozyme variability in C. orientalis[38] suggest that C. orientalis may have been selfing longer than C. rubella. Proper dating of the origin selfing in C. orientalis should be the focus of future work.
We undertook several approaches to control for reference genome bias in copy number estimation. There is a clear effect of such bias in that the relative copy-number difference estimated depends strongly on which reference genome is being used for mapping. On the one hand, the C. rubella genome is by far the highest-quality reference genome, and in most cases we detect the highest copy numbers using this genome as the reference (compare Figure 3 with Additional file 2: Figure S2). However, taking this approach may also maximize the bias, causing an exaggerated assessment of copy number differences between species. Nevertheless, the patterns observed, particularly with our bias-free mapping to the N. paniculata genome, do suggest that our general conclusions may be robust to assembly and mapping differences. Ultimately, long-read data integrated with higher-quality assemblies of all Capsella species will be important for validating the results reported here.
Conclusions
Taken together our results suggest that the effects of mating system on transposon evolution may vary from case to case. A candidate factor determining the direction of the effect may the age of the selfing lineage. Finally, cross-species comparisons of transposon abundance are sensitive to reference genome bias and caution must be applied when using re-sequencing approaches.
Availability of supporting data
The datasets supporting the results of this article are available for download. De novo assemblies are available on CoGe (https://genomevolution.org/CoGe/) for C. orientalis (Genome ID 24033), C. grandiflora (Genome ID 24068), and N. paniculata (Genome ID 24067). Paired-end sequences are available on the Sequence Read Archive (http://www.ncbi.nlm.nih.gov/sra) for C. orientalis (Accession number SRP041585), C. grandiflora (Accession number SRP044121), and C. rubella (Accession number PRJEB6689).
Declarations
Acknowledgements
We thank A.D. Cutter, S.C.H Barrett, J.D. Hollister, and A.E. Platts for comments and discussion. Comments from two anonymous reviewers greatly improved the manuscript. J.A.Å is supported by a Junior Fellowship from Massey College, S.I.W. by a Natural Sciences and Engineering Research Council (NSERC) Accelerator Award, D.K by a Human Frontier Science Program Long-term Fellowship, and D.W by a Gottfried Wilhelm Leibniz Award from the German Research Foundation and the Max Planck Society.
Authors' Affiliations
(1)
Department of Ecology and Evolutionary Biology, University of Toronto, Toronto, Canada
(2)
Department of Molecular Biology, Max Planck Institute for Developmental Biology, Tübingen, Germany
(3)
Department of Botany, University of Osnabrück, Osnabrück, Germany
Copyright
© Ågren et al.; licensee BioMed Central Ltd. 2014
This article is published under license to BioMed Central Ltd. This is an Open Access article distributed under the terms of the Creative Commons Attribution License (http://creativecommons.org/licenses/by/2.0), which permits unrestricted use, distribution, and reproduction in any medium, provided the original work is properly credited. The Creative Commons Public Domain Dedication waiver (http://creativecommons.org/publicdomain/zero/1.0/) applies to the data made available in this article, unless otherwise stated.