Methodology article
Open Access
All-Food-Seq (AFS): a quantifiable screen for species in biological samples by deep DNA sequencing
Received: 23 July 2013
Accepted: 24 July 2014
Published: 31 July 2014
Abstract
Background
DNA-based methods like PCR efficiently identify and quantify the taxon composition of complex biological materials, but are limited to detecting species targeted by the choice of the primer assay. We show here how untargeted deep sequencing of foodstuff total genomic DNA, followed by bioinformatic analysis of sequence reads, facilitates highly accurate identification of species from all kingdoms of life, at the same time enabling quantitative measurement of the main ingredients and detection of unanticipated food components.
Results
Sequence data simulation and real-case Illumina sequencing of DNA from reference sausages composed of mammalian (pig, cow, horse, sheep) and avian (chicken, turkey) species are able to quantify material correctly at the 1% discrimination level via a read counting approach. An additional metagenomic step facilitates identification of traces from animal, plant and microbial DNA including unexpected species, which is prospectively important for the detection of allergens and pathogens.
Conclusions
Our data suggest that deep sequencing of total genomic DNA from samples of heterogeneous taxon composition promises to be a valuable screening tool for reference species identification and quantification in biosurveillance applications like food testing, potentially alleviating some of the problems in taxon representation and quantification associated with targeted PCR-based approaches.
Keywords
IlluminaNext-generation sequencingReal-time PCRSpecies identificationMetagenomics
Background
Biosurveillance is a necessary task to monitor food for human consumption and pharmaceutical drugs, subsumed as "biologicals", which typically consist of complex mixtures of processed biological material. Since the species origin of such products is often unclear, there is a concern about fraud, health risks and violation of ethical/religious principles, as best illustrated by the 2013 European horse meat case (for a further bizarre example see: http://www.bbc.com/news/world-asia-17980177). Therefore, food and drug legislation demands producers to provide a proper declaration of ingredients, e.g. by naming species components of food products [1, 2]. To ensure correct declaration, accurate and efficient analytical methods of foodstuff analysis have been developed, mostly based on the detection of species on the DNA level by PCR [3, 4]. Such DNA-based tests are considered superior to protein-based methods, when processed material has to be analyzed [5]. Real-time PCR assays, often based on fast-evolving gene regions from the abundant mitochondrial genome, now facilitate a multiplex detection of many bird, fish and mammalian taxa [6–9]. Such assays sometimes even allow for discrimination of taxa as closely related as cow and water buffalo [10]. The main shortcoming of PCR-based detection methods is, however, that they inherently target only DNA from species to which the PCR primers bind efficiently. This caveat also holds true in principle for barcoding methods that rely on the PCR amplification and subsequent massively parallel next-generation sequencing of amplicons from variable genomic or cell organelle DNA regions (e.g. 16S rDNA, rDNA-ITS or mitochondrial COI [11]). Barcoding methods have been shown to very efficiently identify taxa within environmental or food-derived metagenomic samples in a qualitative way [12–15], but require separate assays to address the different domains of life. In addition, quantification of components by barcode sequencing has proven problematic due to taxonomic biases induced by the varying primer binding efficiencies across taxa ([13–16]; and references therein). Species quantification by sequencing of organellar PCR amplicons is also critical, as the absolute number of mitochondrial genomes per cell is highly fluctuating already between different tissues (e.g. eight-fold within different human cell types [17]). In contrast, sequence analysis of total genomic DNA isolated from food offers in principle the possibility to detect species in a totally unbiased way, enabling e.g. the detection of fraud through admixture of undeclared 'exotic' taxa or the presence of health risks by microbial contamination [4]. In the field of gene expression analysis, NGS sequencing facilitates a robust quantitative analysis of RNA molecules through digitally counting sequence reads obtained from the cDNA population of a tissue [18, 19]. The sensitivity and dynamic range of read counting equals or supersedes other quantitative DNA analytical methods like microarrays or SAGE [20, 21]. From a technical perspective, species identification based on the whole-genome sequencing should also be feasible since the large, non-protein-coding part of eucaryotic genomes evolves rather quickly and strongly conserved gene exons constitute only a minor proportion, e.g. roughly 1.5% of a mammalian genome [22]. Therefore, even closely related food-relevant taxa such as goat and sheep or turkey and chicken should be distinguishable in a total genomic comparison. Intraspecific polymorphism in foodstuff species ranges between 0.5 to 5 nucleotides per 1,000 bp in horse, swine and chicken, respectively [23–26], which should not substantially affect species discrimination.
Here we show that deep sequencing of total DNA derived from foodstuff material can readily identify and quantify species components with high accuracy by a single experimental assay. Sequence reads are assigned to species by mapping [27, 28] to publicly available reference genome sequences, which steadily grow in number, as exemplified by the Genome10k Project (https://genome10k.soe.ucsc.edu). At the same time, reads of "unexpected" species origin are readily detected by a metagenomic analysis based on DNA sequence database searching.
Methods
The bioinformatics pipeline
Sequence reads of 100 bp, either obtained by simulation (see below) or by Illumina sequencing of DNA from sausage meat (see below), were initially mapped against reference genomes using the algorithms BWA (V 0.7.0; [
29
]) or CUSHAW [
30
] resulting in a SAM file for each mapping. Reference genomes in our pilot analysis comprised the species
Bos taurus
,
Bubalus bubalis, Equus caballus, Escherichia coli, Gallus gallus, Glycine max, Homo sapiens, Listeria seeligeri, Meleagris gallopavo, Mus musculus, Neisseria gonorrhoeae, Oryctolagus cuniculus, Oryza sativa, Ovis aries, Rattus norvegicus, Shigella boydii, Sus scrofa, Triticum aestivum
and
Zea mays
(for details see Additional file
1
). Reference genome taxa were mostly chosen either because of their foodstuff relevance or matches obtained in the metagenomic analyses step of our pipeline. Others (like human or rat) were primarily included to serve as negative controls to judge the extent of false positive read assignments. It is clear that for a broader screening many more reference genomes could have been used. The practical upper limit for the number of reference genomes clearly depends on computer power and scales linearly with time. The BWA mappings were executed by allowing 0, 1, 2 or 3 mismatches, depending on the respective approach (see below). For the downstream analysis of the mapping results we utilized SAMtools (V 0.1.18; [
31
]) and a set of self-implemented Perl scripts.After the mapping step, we identified three sets of sequence reads (Figure
1
). The first set contained reads mapping to just one genome ("unique reads"). Assigning these reads to a genome and quantifying them by counting was a straightforward task. More challenging were reads, which covered conserved sequence regions within genomes and therefore simultaneously hit at least two different genomes ("multi-mapped reads"), even under conditions of the highest mapping stringency. Since these conserved reads cannot be assigned with any certainty to one specific genome, we distributed them to the respective candidate genomes in the proportion previously calculated from the unique reads. By this means, the multi-mapped reads could additively be used to improve the values of the quantitative analysis.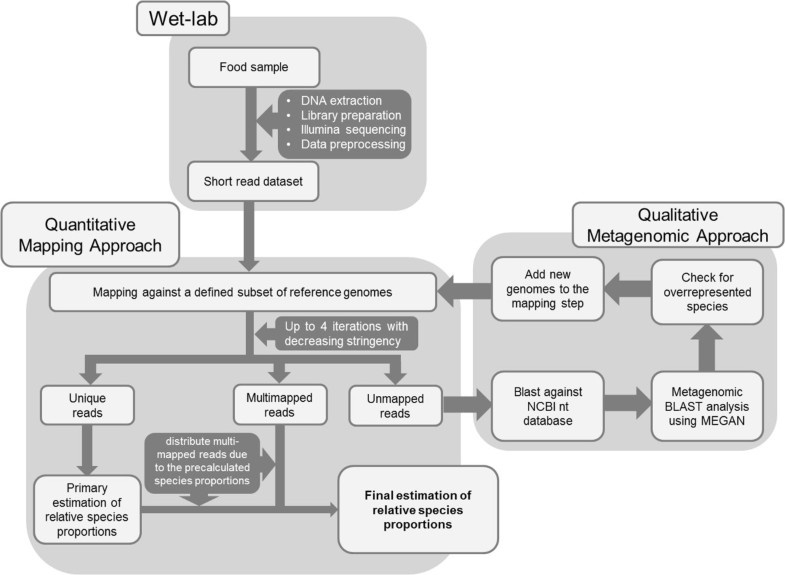 A 3rd category, so-called "unmapped reads", were collected and forwarded to up to three further rounds of mapping, each of which allows one more mismatch than the previous round (i.e. in round 4 we had a matching stringency of 97%). We then calculated the proportions of species material from all reads, which were unambiguously assigned at this step. To account for the different quality (i.e. completeness) of the reference genomes, as indicated by different numbers of positions denoted by Ns in the genome drafts, our initial quantitative estimates were corrected by a genome quality factor f = (n + c)/c, where n is the number of ambiguous nucleotides and c is the total number of nucleotides in the reference genome. Further normalization should in principle be necessary to adjust for largely different genome sizes, e.g. when comparing birds and mammals which differ roughly 3-fold in DNA content [32, 33]. However, our quantification of a sample containing avian material (Additional file 2) indicated that such normalization might be unnecessary, possibly due to the correlation of smaller genome size with a smaller nucleus and cell size [34] leading to a compensatory denser packaging of cells per gram avian tissue.
In our pipeline, we subsequently tried to identify the origin of still unmapped reads by BLASTN (V 2.2.25) database searching [35] against the NCBI nucleotide database (nr/nt). Since our query sequences were short 100 bp reads, we used a word size of 11, set the BLAST e-value to 100 according to MEGAN's "how to use BLAST" tutorial [36], and accepted the best three hits for further analysis. Furthermore, we set BLAST's "–I" option to add the gi number to the default BLAST output files. Otherwise, default BLASTN settings were used. BLASTN results were then visualized by the metagenomic analysis tool MEGAN4 (V 4.70.4). This tool parses BLAST output files and assigns the results to species or, if this is not possible, taxonomic groups of higher rank according to the NCBI taxonomy database. To filter out false-positives, caused by low complexity repeats (e.g. microsatellites) or highly conserved regions, we set MEGAN's LCA parameters to Min complexity = 0.44, Min Score = 75.0, Top percent = 1.0 and turned on the percent identity filter. To limit the analysis to the most relevant results, taxa were somewhat arbitrarily only accepted for visualization in our pilot study, if more than 50 reads were assigned to this taxon. BLAST results were then visualized as a phylogenetic tree and quantified using Excel. For species attracting more than a threshold number of the unmapped reads in the BLAST step, a return to the read mapping procedure would be reasonable to infer more exactly the proportion of this taxon. This, of course, requires the availability of the respective reference genome, the list of which is gradually increasing.
Dataset simulation and calculation
As a proof of principle, we simulated records of Illumina sequence data by randomly extracting 100 bp long sequences from downloaded genome sequences, which were subsequently tagged by their origin (Additional file 1). Random errors were introduced into the simulated reads at a 1% rate. Next, we compiled mixed datasets for testing the read-mapping pipeline, by randomly sampling subsets of these simulated sequence reads. For simplicity at this testing stage, we did not perform iterative mapping at different stringencies, but allowed only one mismatch in the mapping process. We also did not apply the genome quality factor.
Illumina sequencing of DNA from a sausage calibration sample
Total genomic DNA was extracted from 200 mg of the homogenized calibration sausages "KalD" (type "boiled sausage") [37] and "KLyoA" (type "Lyoner") [9] by the Wizard Plus Miniprep DNA purification system (Promega, Madison, USA). DNA was eluted in 50 μl elution buffer according to the supplier's manual. Illumina sequencing library preparation was conducted on 1.5 μg of total DNA by StarSEQ (Mainz, Germany) using the TruSeq DNA Sample Preparation Kit v.2 (Illumina, San Diego, USA). Sequencing was performed on an Illumina HiSeq 2000 instrument (100 bp paired-end reads) for KalD and on a MiSeq instrument (50 bp single reads) for KLyoA. We used the FASTX toolkit (http://hannonlab.cshl.edu/fastx_toolkit/index.html) for adapter clipping and quality filtering. Reads shorter than 50 bp (KalD) or 20 bp (KLyoA) were discarded.
Hardware for bioinformatical analyses
For the sake of speed, mappings using BWA were preferentially performed on one node (containing 4 CPUs with 16 cores each running at 2.1 GHz) of the Mogon Linux-Cluster at University of Mainz. Each iterative mapping (4 rounds, 0 to 3 mismatches) with 1 mio paired-end reads took about 45 minutes. Mapping on a standard PC (4 × 2.67 GHz, 16 GB RAM) consumed 3 hrs of time using 12 reference genomes (30 Gbp size) and 100,000 reads. The BLAST steps of the pipeline were run on the University of Mainz Central Computing Linux-Cluster Lc2 (Suse Linux Enterprise Server 10 SP2, 132 nodes containing 2 CPUs with 8 cores each running at 2.7 GHz). Blast requests (single-threaded) were split up to 1000 separate jobs, which reduced runtime to less than 2 hours for 200,000 queries. The MEGAN program was subsequently run on a standard personal computer (PC) with 8 GB RAM and Windows OS.
Conclusion
AFS has the potential to be a valuable method for routine testing of food material and other biosurveillance applications, offering an attractive combination of unbiased screening for all types of ingredients and the possibility of simultaneously obtaining quantifiable results. Since deep DNA sequencing has already revolutionized biological and medical research, it may find its way into routine diagnostics soon. AFS implementation currently requires elaborate knowledge of genomes and bioinformatics, but several strategies are conceivable to further simplify and standardize the approach.
Abbreviations
AFS:

All food sequencing
KalD:

Kalibrator D
KLyoA:

Kalibrator Lyoner A
GPUs:

Graphics processing units
NGS:

Next-generation sequencing.
Declarations
Acknowledgements
We gratefully acknowledge funding by the Johannes Gutenberg University of Mainz Center for Computational Sciences (SRFN; to TH and BS), the JGU Mainz intramural funding program and the Ministry of Justice and for Consumer Safety Rhineland-Palatinate, Germany (to TH). The authors also thank Dr. Steffen Rapp (JGU Mainz) and Dr. Sven Bikar (GENterprise & StarSEQ GmbH, Mainz) for operation of the Illumina sequencers.
Authors' Affiliations
(1)
Institute of Molecular Genetics, Johannes Gutenberg University Mainz, Mainz, Germany
(2)
Institute of Computer Science, Johannes Gutenberg University Mainz, Mainz, Germany
(3)
Official Food Control Authority of the Canton Zürich, Zürich, Switzerland
Copyright
© Ripp et al.; licensee BioMed Central Ltd. 2014
This article is published under license to BioMed Central Ltd. This is an Open Access article distributed under the terms of the Creative Commons Attribution License (http://creativecommons.org/licenses/by/2.0), which permits unrestricted use, distribution, and reproduction in any medium, provided the original work is properly credited.