Production of a reference transcriptome and transcriptomic database (EdwardsiellaBase) for the lined sea anemone, Edwardsiella lineata, a parasitic cnidarian
Received: 18 July 2013
Accepted: 11 December 2013
Published: 28 January 2014
Abstract
Background
The lined sea anemone Edwardsiella lineata is an informative model system for evolutionary-developmental studies of parasitism. In this species, it is possible to compare alternate developmental pathways leading from a larva to either a free-living polyp or a vermiform parasite that inhabits the mesoglea of a ctenophore host. Additionally, E. lineata is confamilial with the model cnidarian Nematostella vectensis, providing an opportunity for comparative genomic, molecular and organismal studies.
Description
We generated a reference transcriptome for E. lineata via high-throughput sequencing of RNA isolated from five developmental stages (parasite; parasite-to-larva transition; larva; larva-to-adult transition; adult). The transcriptome comprises 90,440 contigs assembled from >15 billion nucleotides of DNA sequence. Using a molecular clock approach, we estimated the divergence between E. lineata and N. vectensis at 215–364 million years ago. Based on gene ontology and metabolic pathway analyses and gene family surveys (bHLH-PAS, deiodinases, Fox genes, LIM homeodomains, minicollagens, nuclear receptors, Sox genes, and Wnts), the transcriptome of E. lineata is comparable in depth and completeness to N. vectensis. Analyses of protein motifs and revealed extensive conservation between the proteins of these two edwardsiid anemones, although we show the NF-κB protein of E. lineata reflects the ancestral structure, while the NF-κB protein of N. vectensis has undergone a split that separates the DNA-binding domain from the inhibitory domain. All contigs have been deposited in a public database (EdwardsiellaBase), where they may be searched according to contig ID, gene ontology, protein family motif (Pfam), enzyme commission number, and BLAST. The alignment of the raw reads to the contigs can also be visualized via JBrowse.
Conclusions
The transcriptomic data and database described here provide a platform for studying the evolutionary developmental genomics of a derived parasitic life cycle. In addition, these data from E. lineata will aid in the interpretation of evolutionary novelties in gene sequence or structure that have been reported for the model cnidarian N. vectensis (e.g., the split NF-κB locus). Finally, we include custom computational tools to facilitate the annotation of a transcriptome based on high-throughput sequencing data obtained from a "non-model system."
Keywords
Gene OntologyEnzyme CommissionTranscriptome AssemblyEnzyme Commission NumberSock Gene
Background
Parasitism is arguably the dominant trophic strategy on earth, as the number of parasitic species is thought to exceed the number of free-living species, perhaps by 4-to-1 or more [1, 2]. Presumably, every cellular organism is subject to parasitism, and parasites affect their hosts in a number of profound ways. For instance, parasites have helped to drive the evolution of sex [3–5] and immune systems [6]. They can markedly change the behavior of their hosts [7], influence host species' mating strategies and genetic variation [8, 9], and contribute to the decline of locally threatened populations [10, 11]. However, despite the prevalence of parasitism and its clear ecological and evolutionary importance, parasitic species are relatively poorly characterized. For example, of the 1.5 million species currently named by taxonomists, less than 1% are known to be parasites [12, 13].
The evolution of parasitism from an ancestral free-living state can be accompanied by radical alterations to an organism's ontogeny, bodyplan, and life history (e.g., polyembryony in parasitoid wasps; [14]). Despite this, relatively few studies have explored the developmental evolution of parasitism, mainly because there are practical and theoretical hurdles to such studies. Foremost, it is often difficult to culture parasites in a laboratory setting, as maintaining an obligate parasite requires co-culture of a suitable host. Furthermore, in long-established obligate parasites, the initial steps in their developmental evolution are often obscured by their lengthy evolutionary divergence from free-living outgroups. Finally, parasites are generally not regarded as "model" systems, since parasitic life cycles are often highly derived and therefore not representative of the ancestral free-living condition in major organismal lineages. However, it has been argued that parasites should be of particular interest to evolutionary-developmental biology precisely because their tight associations with host species create "highly integrated reproductive—developmental—ecological systems" that are persistent through space and time [15].
The lined sea anemone,
Edwardsiella lineata
, does not exhibit the practical and theoretical limitations that hinder the study of many other parasites, making it a good model for evolutionary developmental studies of parasitism. The larva of
E. lineata
(Figure
1
A) parasitizes the pelagic ctenophore
Mnemiopsis leidyi
(Figure
1
B; [
16
]). More than 50% of
M. leidyi
have been found to harbor parasites at Woods Hole, MA, which falls within the native range of the ctenophore [
17
]. In the North Sea, where the ctenophore has been introduced, up to 6.3% of individuals were found to harbor the parasite [
18
].
E. lineata
can enter its host through the body wall or the mouth, eventually coming to reside adjacent to the stomach or one of the eight radial canals that exit the stomach [
16
,
17
,
19
]. When situated in the host,
E. lineata
assumes a novel vermiform body plan (Figure
1
C; [
20
]) and feeds upon the ctenophore's gut contents. When ready to exit the host, or upon death of the host, the parasite morphs from the elongated form into a planula larva. The planulae are active swimmers, and can follow one of two developmental trajectories, depending on the environment: if presented with a new host, they can re-assume the vermiform body plan of the parasite; however, in the absence of a second host, they can settle and develop into an adult polyp [
17
]. The polyps live in dense aggregates on the seafloor or on other available hard substrates. Importantly, the parasite is easily collected in infected ctenophores, and it can be maintained indefinitely in the lab as an adult polyp or for several weeks as a parasite inside a ctenophore host (Stefanik, unpublished data). The derived developmental trajectory that leads from the planula to the vermiform parasite can be compared directly to the ancestral anthozoan developmental pathway that leads from the planula to the polyp. Additionally, the ontogeny of
E. lineata
may be compared to that of the starlet sea anemone,
Nematostella vectensis
, which is a leading cnidarian model system for development and genomics [
21
–
24
] and a member of the same family as
E. lineata
(Edwardsiidae) [
25
].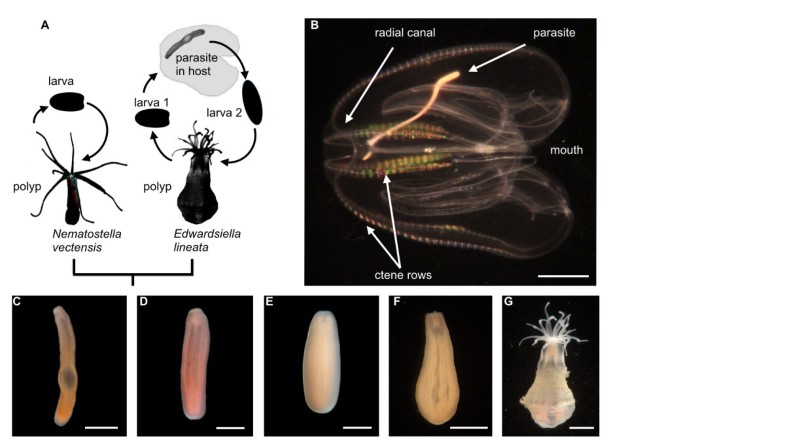 To inform our knowledge of the E. lineata gene repertoire, and how changes in expression of particular genes may contribute to ontogenetic changes associated with a derived life history, we sequenced and assembled the transcriptome of E. lineata from developmental stage-specific cDNA libraries. We created a database, EdwardsiellaBase, as a platform to share sequence information from E. lineata and facilitate queries of gene expression across developmental stages. Both the raw reads and assembled transcriptomic sequences are publicly accessible via the web interface of EdwardsiellaBase.
Construction and content
Sequencing and assembly
Sequencing yielded ~188.1 million read pairs that passed Illumina's GAIIx quality filter (each read pair consisted of two ~40 nucleotide reads from the same original RNA transcript). The overall sequencing yield of this study (~15,000 MB) exceeded that of all but two published cnidarian transcriptome sequencing projects (Figure
2
). The reads were assembled using Velvet [
26
] and Oases [
27
] over a range of kmer values (21–39 nucleotides). The assembly comprises 90,440 contigs with an N50 of 1,036 basepairs.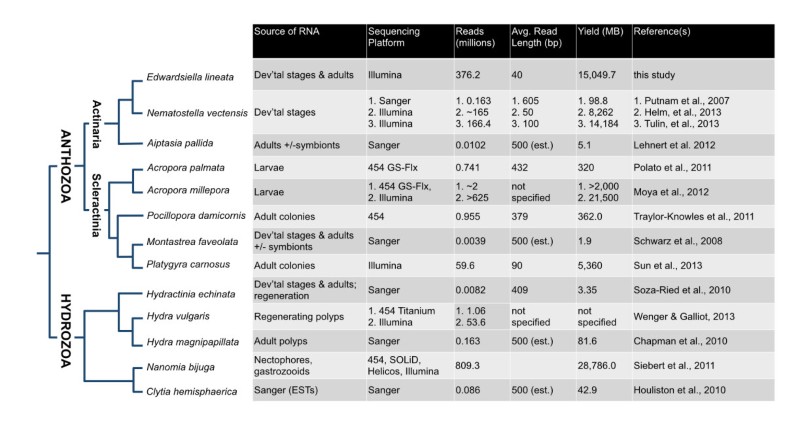 To evaluate whether our sequencing effort provided thorough coverage of the libraries we constructed, we produced a saturation curve that relates the number of sequencing reads to the percentage of the 90,440 contigs covered by those reads (Figure
3
). We began to reach saturation at around 250 million sequencing reads. Three replicates of randomly chosen samples of 250 million reads amounted to 10X coverage of 98.4% of the 90,440 contigs.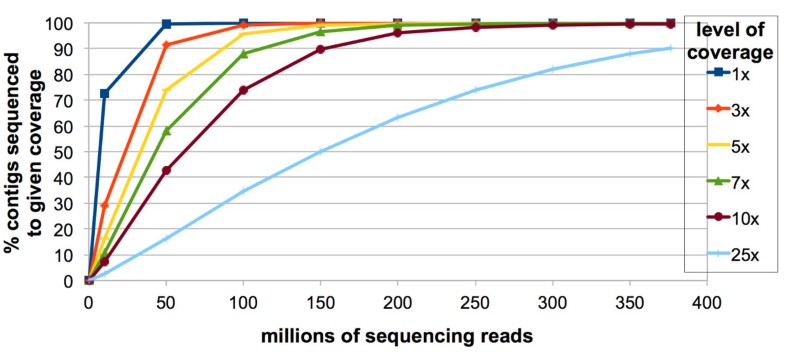 Relationship to edwardsiid type specimens
From our transcriptome assembly, we recovered a complete ribosomal RNA transcription unit (18S—ITS1—5.8S—ITS2—28S). We aligned the 18S portion to previously published 18S genes of six species from the family Edwardsiidae and one outgroup taxon (
Metridium senile
; Additional file
1
). The edwardsiid data included three previously published 18S sequences from
E. lineata
itself. Maximum likelihood analysis places the sequence obtained in this study in a clade of four
E. lineata
sequences, with bootstrap support of 81% (Figure
4
).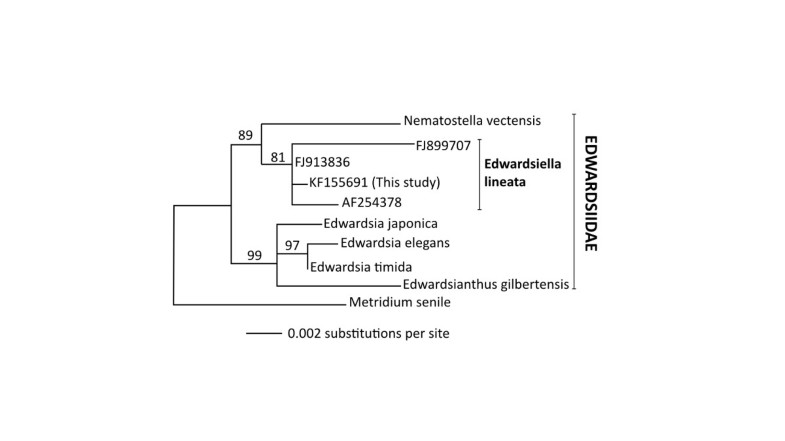 Molecular divergence dating
We used a molecular clock approach based on seven concatenated protein-coding genes [
37
] to estimate the divergence date between
E. lineata
and
N. vectensis
. The analysis included seven cnidarians in addition to 81 non-cnidarian taxa for which the full complement of protein sequences is available and robust estimates of divergence times from the fossil record exist ([
37
–
47
]; Additional file
2
).
N. vectensis
appears as the most closely related taxon to
E. lineata
in the analysis (Figure
5
). The divergence time between these two edwardsiid anemones was estimated between 215–364 million years. This compares to an estimated divergence time of 504–652 million years between sea anemones (Actinaria) and hard corals (Scleractinia), which is consistent with a recently published report [
28
].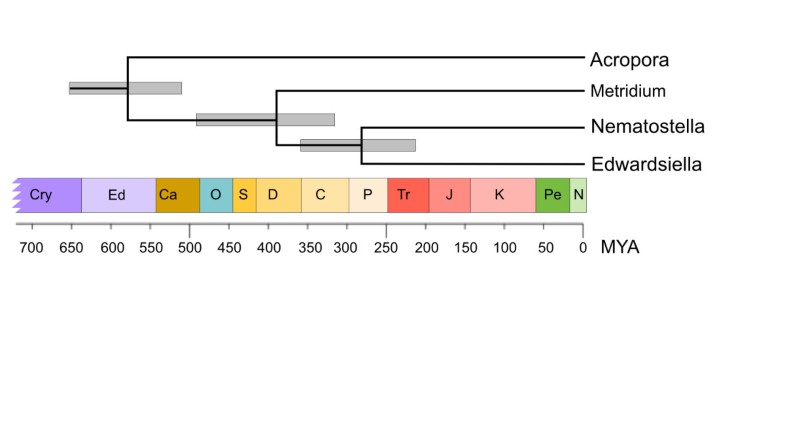 Taxonomic affinity and inferred phylogenetic antiquity of sequences
Of the 90,440 contigs in our transcriptome assembly, 40% (36,234) produced BLAST hits to sequences in NCBI's non-redundant (NR) protein database, while 60% (54,206) had no BLAST hits (Figure
6
A). Most of the raw reads (>71%) map to those contigs that produce BLAST hits (Additional file
3
). Ninety-one percent of the contigs that fail to produce BLAST hits are short (100–500 nucleotides in length; Additional file
4
). Nearly three-quarters of the contigs that produced a BLAST hit (73.5%) had a top hit to
N. vectensis
(Figure
6
B).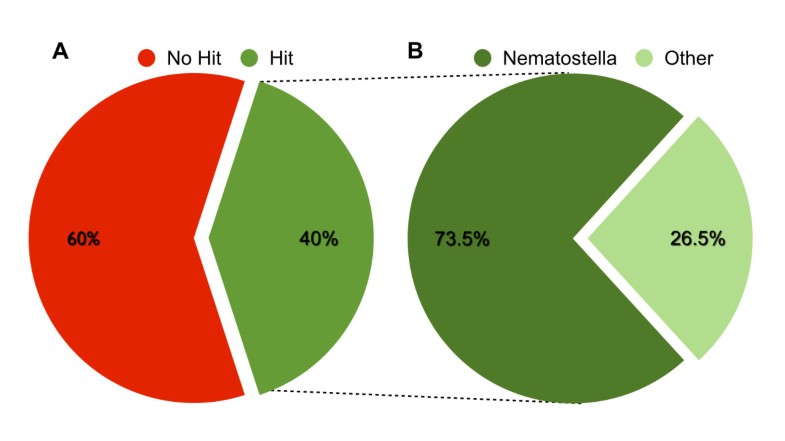 Taxonomically restricted BLAST searches were performed so that we could provisionally ascribe the origin of each of the
E. lineata
transcripts to a particular evolutionary ancestor. For example, a transcript shared with other animal lineages but not non-metazoan eukaryotes or prokaryotes would be assigned to the metazoan ancestor. Using this approach, we infer that 19.2% of the genes producing BLAST hits originated in the common ancestor of Eubacteria and Eukaryotes, another 10.8% originated in the common ancestor of animals, and 2.2% originated in the common ancestor of cnidarians (Figure
7
). Sequences producing hits to distantly related lineages, but not to more closely related lineages (e.g., to "Eubacteria" but not to "Bilateria," "basal Metazoa," or "other Eukaryota") probably represent contaminating organisms. Approximately 16% of genes that produced BLAST hits matched only to sequences from the other edwardsiid anemone,
N. vectensis
.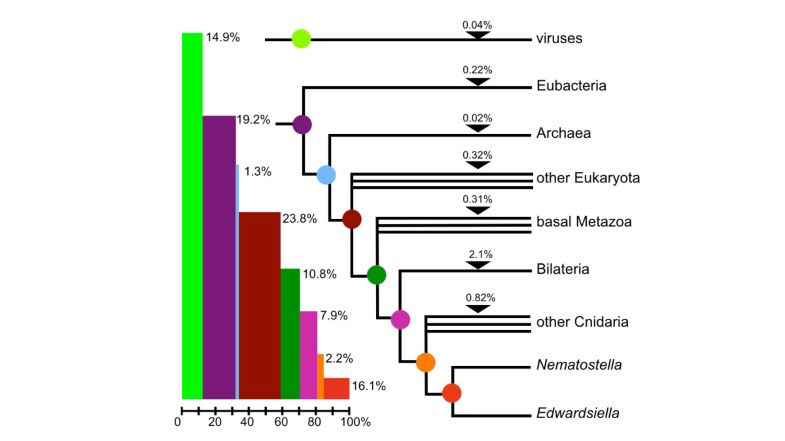 Gene ontology (GO) analysis
Of the approximately 40% of contigs (36,234) that produced a BLAST hit to a protein sequence in the non-redundant database at NCBI, roughly half (18,613) could be associated with one or more GO annotation terms. In total, these contigs matched 4,246 GO terms. Because most contigs match many GO terms, there are a total of 244,321 pairings between contigs and GO terms. Using an in-house script (Additional file
5
), we tallied the number of matches to the GO terms in the most inclusive subcategories under "Molecular Function" (Figure
8
), "Biological Process" and "Cellular Component" (Additional file
6
). To place these results in context, we performed the same GO analysis on published ESTs from
N. vectensis
[
49
]. In general, there was a close correspondence between the recovery of particular GO categories in these two edwardsiid sea anemones. In the 20 categories under "Molecular Function" where a match was possible, we recovered a match from one or both of the anemones for 17 GO categories. For these 17 GO categories, we retrieved an equal number of hits for both anemones in three instances, a slightly greater number of hits for
N. vectensis
in three instances, and a greater number of hits for
E. lineata
in 11 instances. With respect to Molecular Function (Figure
8
), the recovery of a greater number of hits in
E. lineata
versus
N. vectensis
was most pronounced for "negative regulation of molecular function" (15 for
E. lineata
vs. 10 for
N. vectensis
), "receptor activity" (21 vs. 12), and "enzyme regulator activity" (19 vs. 13).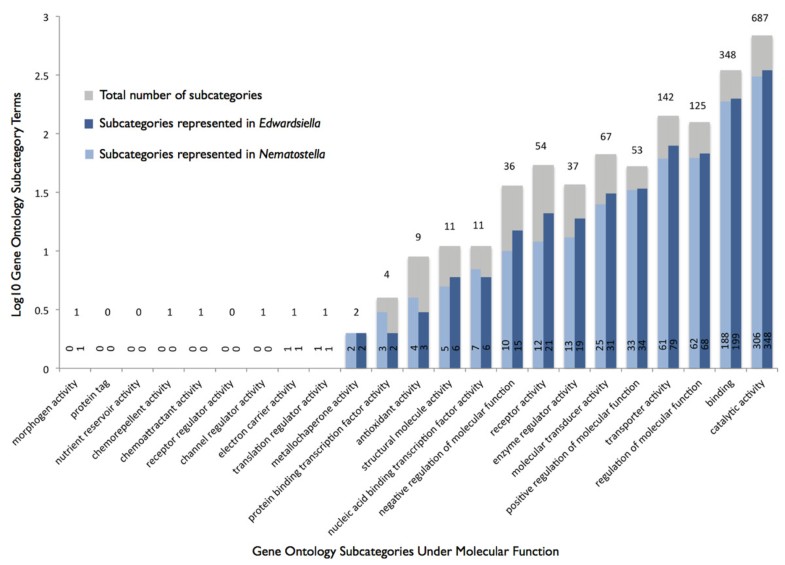 Metabolic pathway analysis
To identify metabolic pathways represented by the assembled contigs, we extracted the Enzyme Commission (EC) numbers from our Blast2GO results for
E. lineata
. We then cross-referenced these with EC numbers already assigned by The Kyoto Encyclopedia of Genes and Genomes (KEGG; [
50
]) to predicted genes in
N. vectensis
. Overall, there are 5935 EC numbers, of which, 638 are associated with
N. vectensis
. One or more EC numbers could be associated with 2,148 of the
E. lineata
contigs. These contigs produced matches to 594 EC numbers, of which, 408 are shared between
N. vectensis
and
E. lineata
, while 186 were found in
E. lineata
but not
N. vectensis
. The metabolic pathways represented by the
E. lineata
contigs and
N. vectensis
predicted genes were diagrammed using iPath 2.0 (Figure
9
; Additional file
7
; [
51
]).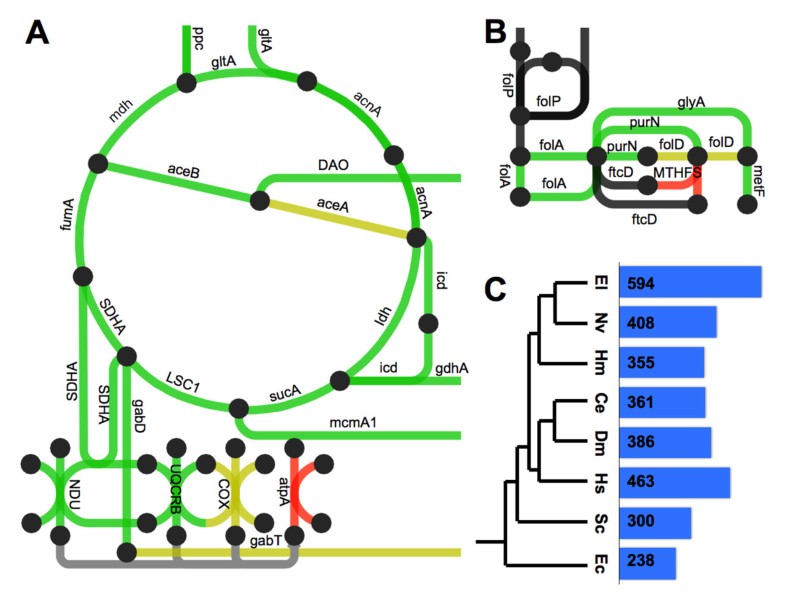 Recovery of specific genes and gene families from E. lineata
Utility
The raw sequencing reads and the contigs generated from our transcriptome assembly are housed at EdwardsiellaBase (
http://www.EdwardsiellaBase.org
), whose overall organization is based on PocilloporaBase [
67
]. The database was populated as follows (Figure
13
; blue arrows). Each of the assembled contigs is associated with a Contig ID, nucleotide sequence, and sequence length. Those contigs that produced a BLAST hit at NCBI are also associated with the protein accession numbers from the top five hits, and these numbers were used to retrieve additional information from NCBI (Gene/Protein Name and Species Name/Taxon ID). Then, using Blast2GO, the protein accession numbers were used to retrieve information about biochemical pathways (Enzyme Commission Number; Enzyme Name) and gene ontology (Gene Ontology ID; Gene Ontology Term). All contigs were translated in all six frames and searched using HMMer to identify conserved protein domains (Pfam Accession Number; Pfam Motif Name; Pfam Description Keyword). The raw reads were aligned to the assembled contigs using Bowtie 2 (v. 2.0.0-beta; [
68
]).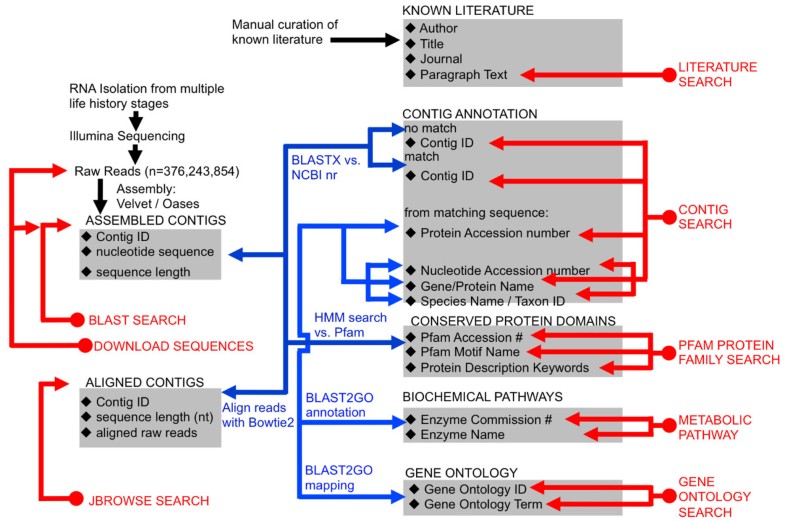 The data can be searched by Contig, Protein Family, Metabolic Pathway or Gene Ontology (Figure 13; red arrows). EdwardsiellaBase also supports the complete range of BLAST options to search the assembled contigs for matches to a query sequence. Finally, the JBrowse [69, 70] function enables one to view alignments of the raw reads to the assembled transcriptome to help assess validity of transcripts. A literature database allows users to search the published literature on Edwardsiella using matches to keywords or any user-entered text string. The database structure and entity relationships are depicted in Additional file 9.
Conclusions
We describe the sequencing and assembly of a reference transcriptome for the parasitic cnidarian, the lined sea anemone, E. lineata. This dataset represents a significant contribution to the comparative study of cnidarian transcriptomes because of (1) the overall sequencing yield (~15,000 Mb of nucleotide sequence), (2) the phylogenetic placement of E. lineata as the closest cnidarian taxa to N. vectensis for which appreciable molecular sequence data exist, and (3) the fact that E. lineata is a recently evolved parasite whose novel life cycle is tractable to laboratory investigation. The assembled transcripts published in this study capture the large majority of the transcriptome of this sea anemone. The diversity of Gene Ontology terms, metabolic pathways components, and gene family members we were able to recover from the E. lineata contigs compares favorably with published EST data from N. vectensis. The assembled contigs are available in a searchable database, EdwardsiellaBase, that will serve as a platform for studying the evolutionary developmental genomics of E. lineata's novel, derived parasitic life history, and will be useful for comparative transcriptomic studies between cnidarian taxa, particularly between E. lineata and N. vectensis. The scripts and computational tools employed in this study are included in the supplementary files to facilitate the annotation of transcriptome assemblies from other emerging model systems for which genomic data are not available.
Availability and requirements
Declarations
Acknowledgements
This research was supported by NSF grants MCB-0924749 and IOS-0818831 to JRF. DJS was supported by training grant NIH/NIGMS F31 GM095289-01 to JRF. Data generation and analysis were also supported by the budget of "Marine Genomics," a course in the Boston University Marine Semester. AMR received funding from the University of North Carolina at Charlotte. We are grateful to T. Gilmore for helpful comments on the manuscript. We would also like to thank Kevin Peterson for advice on the evolutionary divergence dating, and two annonymous reviewers, whose comments improved this manuscript.
Authors' Affiliations
(1)
Department of Biology, Boston University, Boston, USA
(2)
Bioinformatics Program, Boston University, Boston, USA
(3)
Department of Biology, University of North Carolina at Charlotte, Charlotte, USA
(4)
Marine Program, Boston University, Boston, USA
Copyright
© Stefanik et al.; licensee BioMed Central Ltd. 2014
This article is published under license to BioMed Central Ltd. This is an open access article distributed under the terms of the Creative Commons Attribution License (http://creativecommons.org/licenses/by/2.0), which permits unrestricted use, distribution, and reproduction in any medium, provided the original work is properly cited.