ITEP: An integrated toolkit for exploration of microbial pan-genomes
Received: 9 August 2013
Accepted: 18 December 2013
Published: 3 January 2014
Abstract
Background
Comparative genomics is a powerful approach for studying variation in physiological traits as well as the evolution and ecology of microorganisms. Recent technological advances have enabled sequencing large numbers of related genomes in a single project, requiring computational tools for their integrated analysis. In particular, accurate annotations and identification of gene presence and absence are critical for understanding and modeling the cellular physiology of newly sequenced genomes. Although many tools are available to compare the gene contents of related genomes, new tools are necessary to enable close examination and curation of protein families from large numbers of closely related organisms, to integrate curation with the analysis of gain and loss, and to generate metabolic networks linking the annotations to observed phenotypes.
Results
We have developed ITEP, an Integrated Toolkit for Exploration of microbial Pan-genomes, to curate protein families, compute similarities to externally-defined domains, analyze gene gain and loss, and generate draft metabolic networks from one or more curated reference network reconstructions in groups of related microbial species among which the combination of core and variable genes constitute the their "pan-genomes". The ITEP toolkit consists of: (1) a series of modular command-line scripts for identification, comparison, curation, and analysis of protein families and their distribution across many genomes; (2) a set of Python libraries for programmatic access to the same data; and (3) pre-packaged scripts to perform common analysis workflows on a collection of genomes. ITEP's capabilities include de novo protein family prediction, ortholog detection, analysis of functional domains, identification of core and variable genes and gene regions, sequence alignments and tree generation, annotation curation, and the integration of cross-genome analysis and metabolic networks for study of metabolic network evolution.
Conclusions
ITEP is a powerful, flexible toolkit for generation and curation of protein families. ITEP's modular design allows for straightforward extension as analysis methods and tools evolve. By integrating comparative genomics with the development of draft metabolic networks, ITEP harnesses the power of comparative genomics to build confidence in links between genotype and phenotype and helps disambiguate gene annotations when they are evaluated in both evolutionary and metabolic network contexts.
Keywords
Comparative genomicsClusteringCurationDatabaseMetabolic networksOrthologsPan-genomePhylogenetics
Background
Technological advances in DNA sequencing have led to rapid increases in sequencing throughput and a decrease in sequencing cost [1]. These advances have enabled comparative studies of the whole genomes of many related species [2]. Such genome analyses have provided valuable insights into evolutionary mechanisms, diversity, and adaptability of life to environmental variation [3–5] as well as key trait variations among industrially or medically important strains [6–9].
Identifying orthologs and orthologous protein families is an important step towards understanding and interpreting genome variation [10]. However, there is no single method that correctly predicts orthology in all cases, leading to the development of many different methods targeting different applications [11]. Due to the use of different algorithms and parameters used to perform clustering, automatically computed databases of orthologs often predict different protein families for the same proteins [12, 13]. Since orthologs are often taken to have the same function, these differences lead to differences and thus to uncertainty in the predicted functions of the genes [11].
Further confounding the ability to automatically infer protein function, clustering efficacy depends on the evolution rate of those families, which can vary widely [14]. The need to carefully curate protein functions and gene calls is also compounded by a rapid increase in the number of incomplete genomes [15], including the approximations to single-species genomes that arise from metagenomic assemblies [16]. Careful examination of gene calls and functional annotations is particularly important for accurately assessing the gain and loss of function in these incomplete genomes because genes are often left uncalled or incorrectly annotated due gene fragmentation or sequencing errors (leading to erroneous frame shifts or nonsense mutations).
A number of software packages have been developed to integrate orthologous group identification, visualization tools, and common comparative analyses based on protein content [17–24]. However, due to the challenges cited above, many of these analyses require manual curation, which is difficult to scale to hundreds of genomes. Additional tools are necessary to help researchers curate annotations and evaluate the integrity of protein families across related genomes.
We present ITEP, a modular bioinformatics toolkit for the generation, curation, and analysis of protein families across closely-related microbial genomes in which the combination of core and variable genes constitute their "pan-genomes". The toolkit provides a consistent command-line interface between a user's genomic data and existing tools for protein family prediction by clustering, ortholog detection, analysis of functional domains, identification of core and variable genes and gene regions, alignments and trees, cluster curation, and the integration of cross-genome analysis and the generation of draft metabolic networks for study of metabolic network evolution. The toolkit makes it easier to identify and fix problems such as inaccurate annotations and missing (un-called) genes and to study the evolutionary history and physiological implications of the curated families. ITEP's architecture enables researchers to rapidly develop their own customized comparative analysis workflows, which are easily automated, allowing users to focus their curation effort, rapidly generate and test hypotheses, and build accurate metabolic networks.
Implementation
The ITEP toolkit is a collection of Python and BASH scripts that interface with an SQLite database backend (Additional file
1
) and a large number of existing tools to organize and analyze genomic content across related genomes (see Figure
1
and Additional file
2
for overview). The toolkit runs on Linux natively; a virtual machine is also provided that includes a complete ITEP installation, which can be run on any operating system (linked to from the project homepage at
https://price.systemsbiology.net/itep
). The toolkit includes: (1) convenient functions for genome importing and formatting, (2) modular analysis scripts that can be linked by piping to quickly and flexibly create workflows, (3) several convenient wrapper scripts that link other functions together to perform common analysis and visualization, and (4) a set of underlying Python libraries for programmatic data access. Interfaces are available for processing genomic data from the GenBank database [
25
], RAST [
26
], or the DOE KnowledgeBase [
27
]. Standard GenBank files (.gbk) from any other source may also be imported into ITEP by running them through a provided pre-processing script.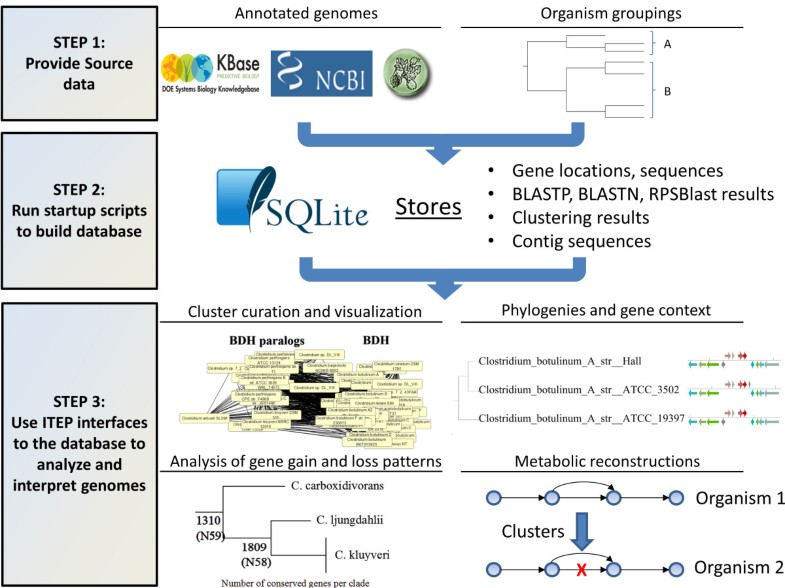 ITEP's SQLite database stores information on gene locations, annotations and sequences, sequence homology data, de novo-computed protein families, protein similarities to externally defined orthologous groups (such as COGs), and the DNA sequence of each contig for every imported genome. Protein families are generated by creating a graph of similarities between proteins and running a clustering program (the most strongly supported clustering program is MCL [38], but a user can use any other clustering program as long as outputs are provided in the correct format). Setup scripts are provided to readily import this data into the SQLite database.
After the database is built, the user can use provided command-line scripts to access subsets of the data within it and perform the supported analyses (Figure 1). Most of the command-line access scripts are pipe commands, in which the output from one command is used as an input to another using pipes (|). This architecture allows users to rapidly prototype analyses and subsequently automate them in a Bash script. Many of the database access scripts generate tab-delimited outputs that are convenient for further command-line processing or import into spreadsheets. ITEP also contains commands to visualize phylogenies and gene context for genes in the database using freely available Python packages [28, 29] or export data to standard formats such as FASTA alignments and Newick files which are widely supported in other visualization and bioinformatics software. Many of the same analyses implemented in the command-line scripts are also accessible programmatically via a set of Python libraries to aid developers who wish to build their own tools upon ITEP's data structures. Finally, pre-packaged workflow scripts are provided for common analysis tasks such as the generation of concatenated core gene trees. These can be used to quickly obtain a result or as a working starting point from which to develop new analysis pipelines.
Conclusions
The ITEP toolkit integrates a large number of existing bioinformatics tools into a single cohesive, flexible framework for comparative analysis of physiological variation in microbial pan-genomes. The modular design of the toolkit makes it straightforward to add additional functionality to the toolkit, as illustrated by our implementation of novel tools for generation of draft metabolic reconstructions from a curated reference network. It also makes the analysis very flexible, empowering researchers to quickly develop analysis workflows while also providing a wide array of tools for curation of annotations and gene calls. The ability to rapidly curate protein families and propagate metabolic networks from reference organisms to related strains will streamline the process of generating high-quality physiological and evolutionary hypotheses and ultimately lead to an improvement in the inter-genome consistency of metabolic models of microbes.
Availability and requirements
Project name: ITEP: Integrated Toolkit for Exploration of microbial Pan-genomes.
Project home page: https://price.systemsbiology.net/itep
Operating system(s): Linux; A virtual machine is available that can be run on any platform supported by VirtualBox (link is on the project home page).
Programming language: Python (2.6 or 2.7), Bash
Other requirements: SQLite3+, MCL, NCBI BLAST+, Python modules: Biopython (1.61), Numpy, Ruffus, and ETE2; others are optional depending on usage.
License: GNU GPL2.0+
Any restrictions to use by non-academics: None
Abbreviations
AIR:

Aminoimidazole ribotide
BLAST:

Basic local alignment search tool
FGAM:

5′-Phosphoribosylformylglycinamidine
FGAR:

N-Formylglycinamide ribonucleotide
GAR:

Glycinamide ribonucleotide
GPR:

Gene-Protein-Reaction relationship
ITEP:

Integrated toolkit for the exploration of pan-genomes
MCL:

Markov cluster (clustering algorithm)
PRPP:

5-Phosphoribosyl 1-pyrophosphate
RAST:

Rapid annotation using subsystem technology
tBLASTn:

Translated BLAST against nucleotides.
Declarations
Acknowledgements
Thanks to Nicholas Youngblut for his help with RAST integration. Thank you to Caroline Milne and Nicholas Chia for critical readings of the manuscript. The authors gratefully thank the U.S. Department of Energy Genomic Sciences Program (award number DE-FG02-10ER64999) for funding this work.
Authors' Affiliations
(1)
Department of Chemical and Biomolecular Engineering, University of Illinois at Urbana-Champaign, Urbana, USA
(2)
Department of Microbiology, University of Illinois at Urbana-Champaign, Urbana, USA
(3)
Institute for Genomic Biology, University of Illinois at Urbana-Champaign, Urbana, USA
(4)
Institute for Systems Biology, Seattle, USA
Copyright
© Benedict et al.; licensee BioMed Central Ltd. 2014
This article is published under license to BioMed Central Ltd. This is an open access article distributed under the terms of the Creative Commons Attribution License (http://creativecommons.org/licenses/by/2.0), which permits unrestricted use, distribution, and reproduction in any medium, provided the original work is properly cited.