Research article

Open Access
Neuropeptides encoded by the genomes of the Akoya pearl oyster Pinctata fucata and Pacific oyster Crassostrea gigas: a bioinformatic and peptidomic survey
Received: 19 May 2014
Accepted: 3 September 2014
Published: 2 October 2014
Abstract
Background
Oysters impart significant socio-ecological benefits from primary production of food supply, to estuarine ecosystems via reduction of water column nutrients, plankton and seston biomass. Little though is known at the molecular level of what genes are responsible for how oysters reproduce, filter nutrients, survive stressful physiological events and form reef communities. Neuropeptides represent a diverse class of chemical messengers, instrumental in orchestrating these complex physiological events in other species.
Results
By a combination of in silico data mining and peptide analysis of ganglia, 74 putative neuropeptide genes were identified from genome and transcriptome databases of the Akoya pearl oyster, Pinctata fucata and the Pacific oyster, Crassostrea gigas, encoding precursors for over 300 predicted bioactive peptide products, including three newly identified neuropeptide precursors PFGx8amide, RxIamide and Wx3Yamide. Our findings also include a gene for the gonadotropin-releasing hormone (GnRH) and two egg-laying hormones (ELH) which were identified from both oysters. Multiple sequence alignments and phylogenetic analysis supports similar global organization of these mature peptides. Computer-based peptide modeling of the molecular tertiary structures of ELH highlights the structural homologies within ELH family, which may facilitate ELH activity leading to the release of gametes.
Conclusion
Our analysis demonstrates that oysters possess conserved molluscan neuropeptide domains and overall precursor organization whilst highlighting many previously unrecognized bivalve idiosyncrasies. This genomic analysis provides a solid foundation from which further studies aimed at the functional characterization of these molluscan neuropeptides can be conducted to further stimulate advances in understanding the ecology and cultivation of oysters.
Keywords
Pinctada fucata
Crassostrea gigas
Molluscs
Circular dichroism
Egg-laying hormone
Feed circuit activating peptide
Gonadotropin-releasing hormone
High-performance liquid chromatography
Mass spectrometry
Neuropeptides
Background
Neuropeptides encompass a diverse class of cell signaling molecules that are produced and released from neurons through a regulated secretory pathway [1]. They may function as hormones, transmitters and modulators; as modulators of neuronal activity, neuropeptides contribute to the generation of different outputs from the same neuronal circuit in a context-dependent manner [2], or organize complex motor functions [3]. Neuropeptides that act as hormones are released into the haemolymph via a network of neurohemal organs, upon which they regulate various states of physiology, including growth, metabolism, and reproduction [4].
In general, neuropeptides are generated from an immature precursor that contain an N-terminal signal sequence and single or multiple copies of bioactive peptide [5]. Mature bioactive peptides are often short with low in molecular weights (<10 kDa), the shortest and smallest being dipeptides [6, 7]. Within the secretory apparatus, proteases cleave the precursor at mono- or dibasic cleavage sites [8], after which mature peptides are often further modified through post-translational modifications [9]. Conventional methods of neuropeptide characterization have involved their purification directly from neural-associated tissues in conjunction with the analysis of corresponding gene expression. Identification of cross-species neuropeptide conservation has typically relied on the use of antibody probes that bind to homologs. However, given the relative ease and affordability of genomics and mass spectrometry, the near full neuropeptide repertoire of several species has been revealed [10], even within non-model animal species [11].
One mollusc in which genomics has helped to reveal the extent of the neuropeptidome is the owl limpet, Lottia gigantea. Lottia is a marine gastropod that has emerged as a molluscan genome model following the recent sequencing of its relatively small genome. Data mining of the L. gigantea genome has revealed around 59 genes that encode for putative neuropeptides [12], most of which had been previously characterized or identified through functional testing or descriptively identified (i.e. immunohistochemistry) in other molluscs, insects or annelids. Examples of these include the tetrapeptides Ala-Pro-Gly-Trp-NH2 (APGWamide) and Phe-Met-Arg-Phe-NH2 (FMRFamide), as well as the egg laying hormone (ELH) and gonadotropin-releasing hormone (GnRH) [12]. While most genes encoding neuropeptides have not been identified in molluscs, some that have, do share distinct homology with Drosophila, such as the putative proctolin homolog PKYMDT and allatostatin C, which are believed to be derived from neuropeptides with an early origin from either eumetazoan or bilaterian ancestors [2, 10].
Most research in oysters has been devoted to understanding their widespread ecological impacts, nutrient processing, nutrition, larval settlement, and environmental factors that modulate spawning frequency and distribution. However, little is known of the metabolic neuropeptides that regulate these processes. Insight into this area has the potential to be either exploited for advances in oyster culture, or for controlling and understanding their natural biological processes which contribute to their invasiveness. Recently, genome sequence assemblies and annotations became available for Pinctata fucata and Crassostrea gigas, providing an excellent opportunity to characterize the repertoire of oyster neuropeptides [13, 14].
The Akoya pearl oyster Pinctata fucata, are wide spread and can form dense populations, but are cultured primarily for their ability to produce pearls [15]. The P. fucata draft genome version 1.1 (approximately 40x coverage) became available in 2012 predicting 23,257 complete gene models and includes genes associated with shell biomineralization [13], as well as reproduction-related genes involved in the process of germ cell migration; vasa, nanos, oocyte maturation, and spawning. This includes 5-hydroxytryptamine, vitellogenin and estrogen receptors [16]. On the other hand in the same year analysis of the highly polymorphic C. gigas genome and transcriptomes revealed an extensive set of genes that provides a rare glimpse of how C. gigas respond to environmental stress, and adapt to near environments, as well as giving insight perspective into the molecular mechanism of shell formation, development and reproduction [14].
In this study, we interrogated the genomes and transcriptomes of P. fucata and C. gigas to identify neuropeptide genes. To help support gene predictions, we performed comparative analysis and peptidomic investigation of C. gigas ganglia. Among those neuropeptides identified are those known to be involved in molluscan reproduction (e.g. APGWamide, egg-laying hormone and gonadotropin-releasing hormone) and growth (e.g. FMRFamide). This study provides a foundation for the experimental analysis of neuropeptides in oysters, which can be used to increase focus on the loss of associated ecosystem and food supply services that oysters contribute to the environment and human well-being.
Results and discussion
We have identified genes encoding putative full-length or partial-length neuropeptide precursors from the
P. fucata
and
C. gigas
genome, and transcriptome databases for
C. gigas
(Figure
1
and Additional file
1
). Numerous peptides are released from these precursors, some of which were confirmed from
C. gigas
neural tissue by liquid chromatography-tandem mass spectrometry (LC-MS/MS) analysis (Additional files
2
,
3
and
4
). For some of the neuropeptides, defined roles in reproduction and growth have been established and will be discussed in the context of the newly identified oyster sequences. Database accession numbers for sequences used in this study can be found in Additional files
2
and
5
.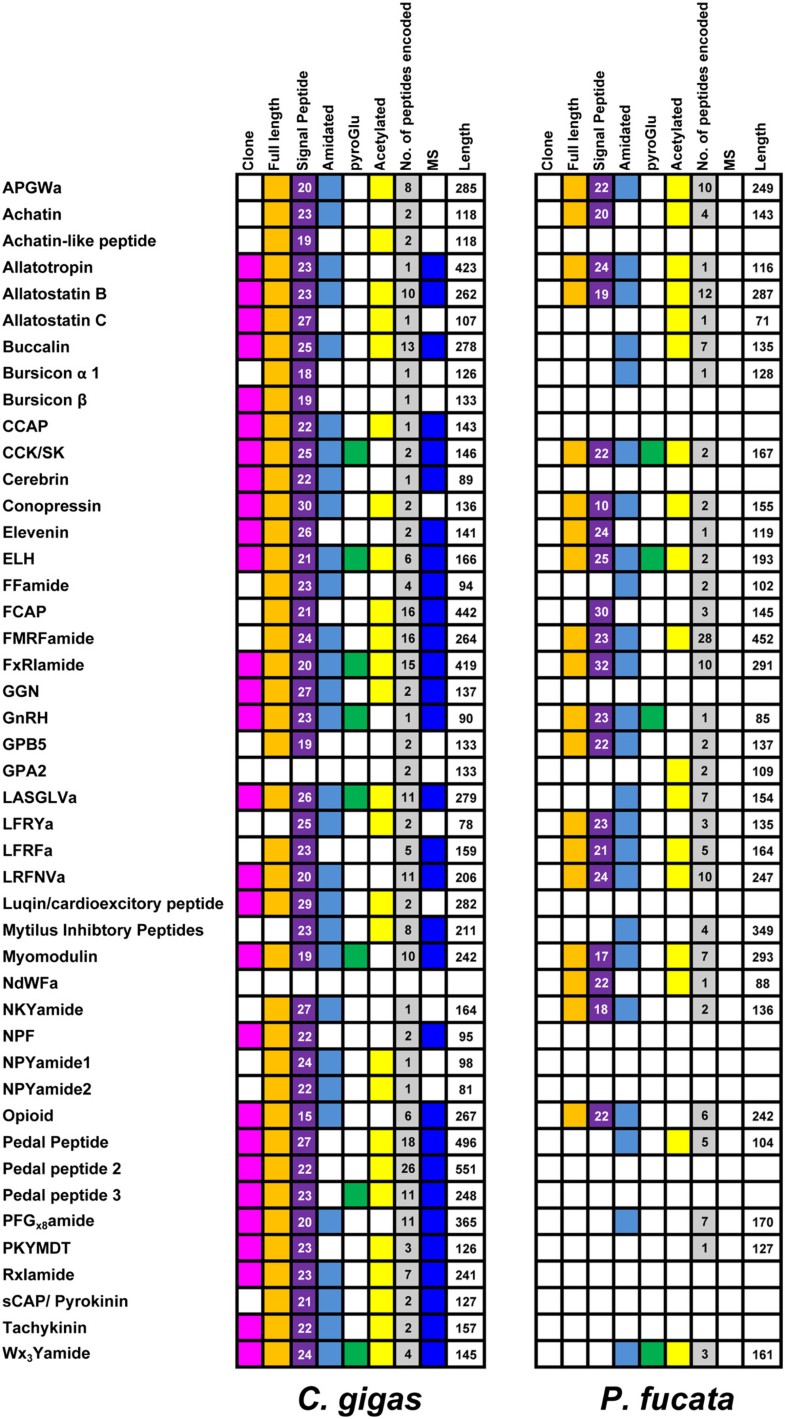 Conclusions
In this study we described the identification of putative oyster neuropeptides using in silico genome and transcriptome database searches. The results clearly demonstrate that neuropeptide genes are conserved in bivalves, however, there are distinct differences with other molluscs. Despite a sessile mode of life and thus less intricate patterns of behavioral events, oysters have obviously retained a repertoire of neuropeptides with a complexity similar to that of other mollusc classes. The number of peptides predicted in our study supports the power of genome mining for neuropeptide gene discovery, and provides a strong foundation for future in silico investigations within oysters. Further research is additionally needed to validate peptide predictions through gene expression analysis as well as peptide expression identification using mass spectrometry approaches with other endocrine tissues and at different stages of development and metabolic states. To achieve this, target tissues would include the oysters visceral and cerebral ganglia, gonads and in depth in vivo assays of synthetic and recombinant peptides. Function must then be confirmed by bioactivity.
Abbreviations
LC:

Liquid chromatography
MALDI-TOF:

Matrix-assisted laser desorption/ionization time-of-flight
MS:

Mass spectrometry
RMSD:

Root-mean square distance
ELH:

Egg-laying hormone
FCAP:

Feed circuit activating peptide
GnRH:

Gonadotropin-releasing hormone
GPBA:

Glycoprotein alpha
GPB5:

Glycoprotein beta
NPF:

Neuropeptide F
NKY:

Neuropeptide KY
NPY:

Neuropeptide Y
CCK:

Cholecystokinin
SK-like:

Sulfakinin.
Declarations
Acknowledgements
This work was supported by grants from the Australian Research Council (SFC), the University of the Sunshine Coast (AE, SFC), ANR (ANR-08-GENM-041) (PF) and EU FP7-KBBE-2009 (REPROSEED grant no. 245119) (PF, JH). Mass spectrometry analysis was performed at the technical platform "Proteogen" of SF ICORE 4206 of the University of Caen Basse-Normandie (Dr. B. Bernay). This research was undertaken with the assistance of resources provided at the NCI National Facility systems at the Australian National University through the National Computational Merit Allocation Scheme supported by the Australian Government.
Authors' Affiliations
(1)
School of Science and Education, Genecology Research Center, University of the Sunshine Coast, Maroochydore DC, Australia
(2)
Université de Caen Basse-Normandie, Biologie des ORganismes et Ecosystèmes Aquatiques (BOREA), Caen, France
(3)
CNRS UMR 7208, BOREA, Caen, France
(4)
Port Stephens Fisheries Institute, New South Wales, Australia
Copyright
© Stewart et al.; licensee BioMed Central Ltd. 2014
This article is published under license to BioMed Central Ltd. This is an Open Access article distributed under the terms of the Creative Commons Attribution License (http://creativecommons.org/licenses/by/4.0), which permits unrestricted use, distribution, and reproduction in any medium, provided the original work is properly credited. The Creative Commons Public Domain Dedication waiver (http://creativecommons.org/publicdomain/zero/1.0/) applies to the data made available in this article, unless otherwise stated.