Research article

Open Access
Genomic organization and alternative splicing of the human and mouse RPTPρ genes
Received: 29 April 2001
Accepted: 8 June 2001
Published: 8 June 2001
Abstract
Background
Receptor protein tyrosine phosphatase rho (RPTPρ, gene symbol PTPRT) is a member of the type IIB RPTP family. These transmembrane molecules have been linked to signal transduction, cell adhesion and neurite extension. The extracellular segment contains MAM, Ig-like and fibronectin type III domains, and the intracellular segment contains two phosphatase domains. The human RPTPρ gene is located on chromosome 20q12-13.1, and the mouse gene is located on a syntenic region of chromosome 2. RPTPρ expression is restricted to the central nervous system.
Results
The cloning of the mouse cDNA, identification of alternatively spliced exons, detection of an 8 kb 3'-UTR, and the genomic organization of human and mouse RPTPρ genes are described. The two genes are comprised of at least 33 exons. Both RPTPρ genes span over 1 Mbp and are the largest RPTP genes characterized. Exons encoding the extracellular segment through the intracellular juxtamembrane 'wedge' region are widely spaced, with introns ranging from 9.7 to 303.7 kb. In contrast, exons encoding the two phosphatase domains are more tightly clustered, with 15 exons spanning ∼ 60 kb, and introns ranging in size from 0.6 kb to 13.1 kb. Phase 0 introns predominate in the intracellular, and phase 1 in the extracellular segment.
Conclusions
We report the first genomic characterization of a RPTP type IIB gene. Alternatively spliced variants may result in different RPTPρ isoforms. Our findings suggest that RPTPρ extracellular and intracellular segments originated as separate modular proteins that fused into a single transmembrane molecule during a later evolutionary period.
Keywords
Protein Tyrosine Phosphatase
Phosphatase Domain
Intron Phase
Juxtamembrane Region
Small Exon
Background
Protein tyrosine phosphorylation regulates many important cellular functions including signal transduction, growth, differentiation, cell adhesion and axon guidance. The balance between protein tyrosine kinase and phosphatase activity is an integral part of this regulatory mechanism. A large number of protein tyrosine phosphatases have been identified, which fall into the broad categories of cytoplasmic and receptor-like molecules. All receptor-like protein tyrosine phosphatases (RPTPs) contain an extracellular region, a single transmembrane segment and at least one intracellular catalytic domain. They have been subdivided into several classes based on the structure of their extracellular segments (Figure
1
). A combination of immunoglobulin-like (Ig) domains and fibronectin type III (FN-III) repeats in the ectodomain defines the type II class of RPTPs. An additional feature of type II RPTPs is a potential proteolytic cleavage site within the membrane-proximal FN-III repeat. Upon cleavage, extracellular N-terminal and predominantly intracellular, membrane bound C-terminal segments are generated, which remain non-covalently associated [
1
] A subset of the type II class, identified previously as type IIB RPTPs [
2
], is characterized by the presence of an N-terminal MAM domain.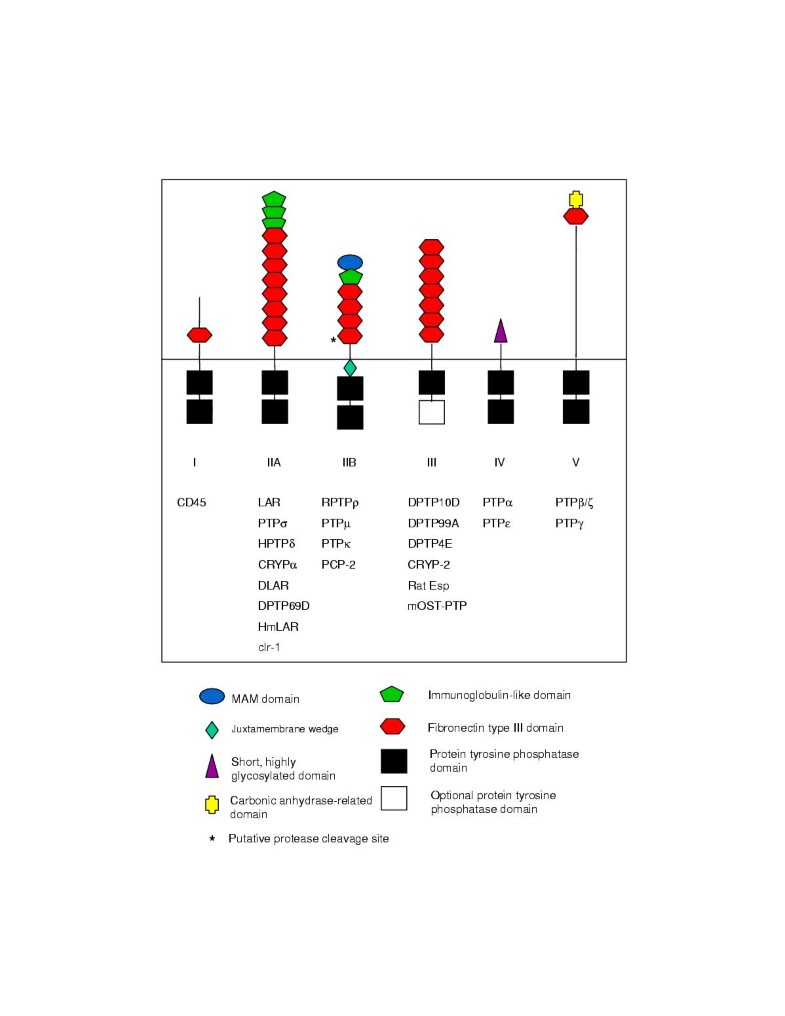 Currently, four type IIB phosphatases (PTPμ, PTPκ, PCP-2 and RPTPρ) have been reported. The hPCP-2 [3], hPTPκ [4], and hPTPμ [5] RPTPs are located on human chromosomes 1, 6 and 18, respectively, and hRPTPρ is located on chromosome 20 [6]. Several additional human RPTPs (PTPπ, PTPψ, hPTP-J, PTPRO) share very high sequence similarity (>98%) with PCP-2, and are likely to represent the same gene (Unigene database, http://www.ncbi.nlm.nih.gov/unigene). There are, in addition, several murine homologues of the four human genes: mPTPκ (Genbank #NM 008983), mPTPμ (#NM008984), mRPTPρ (#AF152556), mRPTPρ -1 and mRPTPρ -2 (# AF162856/7), mRPTPmam4 (#NM 021464), mPTPf (#D88187) and mPTPλ (#U55057). The latter two are likely to be murine homologues of hPCP-2, and mRPTPmam4 is the same gene as mRPTPρ.
RPTPρ is the most recently isolated member of the IIB family [6, 7]. Northern blot and in situ hybridization studies have shown that RPTPρ is largely restricted to the central nervous system [6]. Within the CNS, expression is developmentally regulated and, in the mouse, delineates a unique boundary region in the granule cell layer of the cerebellar cortex [7]. Motifs in the RPTPρ extracellular segment (MAM, Ig and FN-III domains) are commonly found in cell adhesion molecules. The two phosphatase domains in the intracellular segment suggest that RPTPρ, like other members of the RPTP family, is involved in signal transduction through protein tyrosine dephosphorylation.
The human RPTPρ gene has been mapped to chromosome 20q12-13.1 [6]; it is located between anchor markers D20S99 and D20S96, and is flanked by the phospholipase C gamma 1 and splicing factor SRp55-2 genes. The mouse gene maps to a syntenic region at 93 cM on mouse chromosome 2, a region closely linked to Pltp and flanked by the markers, D2Mit22 and D2Mit52. To date, only portions of the human RPTPκ, RPTPμ and PCP-2 genes have been sequenced, however, the region encompassing the human RPTPρ gene has been sequenced in its entirety (Chromosome 20 sequencing group, Sanger Centre), but it is not, as yet, fully assembled and annotated. The mouse chromosomal region containing the RPTPρ gene has been sequenced (Celera Discovery System), but it is also largely unassembled. In this report, we describe the cloning of the mouse cDNA, the identification of an unusually long 3' UTR, the identification of alternatively spliced exons, and the genomic organization of the human and mouse RPTPρ genes.
Conclusions
We describe the cloning of the mouse RPTPρ cDNA, the genomic structure and alternative splicing of the mouse and human genes, and the presence of an 8 kb 3'-UTR in human RPTPρ. RPTPρ is the largest RPTP gene characterized to date, extending over more than 1 megabase pairs of genomic DNA. Its considerable length is due, primarily, to expanded introns in the extracellular region. The protein domains of the extracellular segment are encoded by 1 to 3 exons, which form modules that are flanked by phase 1 introns. The majority of introns in the intracellular segment are in phase 0, and are relatively small. These data suggest that the ectodomain and the phosphatase domain arose separately by exon shuffling and duplication and fused at a later evolutionary period. The MAM domain, the region characterizing type IIB phosphatases, possesses a unique genomic structure common to all such domains when located at the N-terminus. The fourth fibronectin repeat in RPTPρ is encoded by three exons, an additional feature found only in type II phosphatases. At least two alternatively spliced exons flank the transmembrane domain, the region showing the greatest variability between the four IIB phosphatases. An additional alternatively spliced exon precedes the catalytic core of the first phosphatase domain. Comparison of the genomic structure of representative members of the RPTP family (types I-V) indicates that the intron/exon organization of both phosphatase domains is highly conserved. There is considerable variation in the length of the 3' UTR in the RPTPs; at 8 kb, the RPTPρ 3' UTR is the longest characterized to date. Our results provide the first characterization of the genomic structure of an RPTP type IIB gene. This information will facilitate future studies of promoter and other regulatory elements responsible for the tissue specificity of gene expression.
Materials and Methods
Cloning of mouse RPTPρ cDNA
The mouse RPTPρ cDNA was obtained using a combination of 5'-RACE and PCR by methods described in [40]. Total RNA was isolated (RNAzol, Tel-Test, Friendswood, TX) from C57BL/6 mouse brain and used to synthesize first strand cDNA (AMV-RT, Roche Molecular Biochemicals, Indianapolis), which was then amplified by PCR using degenerate primers based on the human RPTPρ sequence. PCR products were analyzed on 1% agarose gels and subcloned into the TOPO2.1 vector (Invitrogen, Carlsbad, CA). Each strand was sequenced at least twice. Sequence analysis and assembly were performed using Vector NTI Suite (Informax, Bethesda, MD). Murine RPTPρ sequences were identified by BLAST [41] using blastn, on the nr database, with all parameters set to default values. An initial 923 nt fragment was obtained, which spanned the region from the 4th FN-III repeat through the first phosphatase domain. Additional PCR was performed using new gene specific primers based on the newly isolated murine RPTPρ sequence (Genbank #AF152556), and degenerate primers based on the hRPTPρ sequence (Genbank #NM 007050).
Alternative splicing
First strand cDNA was made from total RNA from human fetal brain (16-24 weeks; Clontech, Palo Alto, CA) and from neonatal (P1) and adult (P60) mouse whole brain using Superscript II Reverse Transcriptase (Gibco BRL, Rockville, MD). In addition, cDNA was made from cerebellum, brainstem, forebrain and cortex (P23). The reverse primer, 5' CACGCACACAGTTGAAGATGTCC, which is complementary to a region near the end of the first phosphatase domain (3580 to 3602 nt; NM_007050), was used in all cDNA synthesis. PCR was performed (Expand Long Template PCR system, Roche Molecular Biochemicals, Indianapolis) as recommended by the manufacturer. Primers were as follows: Exon 14: forward primer, 5' CAACTGTGTTCGTCTGGCTAC (AS1); reverse primer, 5' GCCCAGGAGAATGATGATGAAC (Ex15rv2). Exon 16: forward primer, 5'GAGAAGCAGGTGG ACAACACCGTG (AS2fw); reverse primer, 5' GCTCATCTCCACAGGGTCAC (Exrv). Exon 17/18: forward primer, 5' CGCA ATGATGAAGGCTTCTC (Exfw); reverse primer, 5' GCTCATCTCCACAGGGTCAC (Exrv).). Exon 22a: forward primer, 5' CTCTGCCAGCATCGTCATGGTCAC (Ex22fw); reverse primer, 5' GTCTCCATAGACCTCTGTGTCATCTGGCC (Ex23rv). All primers were used at a final concentration of 250 nM. An Eppendorf Mastercycler Gradient was used with the following cycling parameters: 2 minutes at 94°C, 35 cycles of 15 seconds at 94°C, 30 seconds at 56°C (exon 14), 55°C (exon 16), 57°C (exon 17/18) or 60°C (exon22/23), 45 seconds at 72°C, and a final extension step (2 minutes at 72°C). The PCR products were run on 4% NuSieve GTG agarose (FMC, Rockville) gels and confirmed by sequencing.
Human and mouse nucleotide sequence analysis
The human RPTPρ cDNA sequence was used to search the Sanger Center's chromosome 20 database for genomic clones encoding RPTPρ exons. The chromosomal region containing the human RPTPρ gene was represented within PAC and BAC clones of chromosome 20, contig 125. The mouse cDNA sequence (Genbank accession #AF152556) was used to search the Celera Discovery System mouse genomic database for clones containing RPTPρ exons.
Abbreviations
AS:

alternative splice site
BAC:

bacterial artificial chromosome
Ig:

immunoglobulin-like domain
FN-III:

fibronectin type III repeats
MAM:

meprin/A5/μ domain
nt:

nucleotide
PAC:

P1 artificial chromosome
PCR:

polymerase chain reaction
PTPase:

protein tyrosine phosphatase
PC:

proteolytic cleavage site
RACE:

rapid amplification of cDNA ends
RT-PCR:

reverse transcriptase polymerase chain reaction
RPTP:

receptor-like protein tyrosine phosphatase
TM:

transmembrane domain
UTR:

untranslated region.
Declarations
Acknowledgements
This paper includes sequence data that were produced by the Chromosome 20 Sequencing Group at the Sanger Center, and can be obtained from ftp://ftp.sanger.ac.uk/pub/human/chr. Mouse genomic sequence data were obtained through use of the Celera Discovery System and Celera's associated databases. JB and MP are members of The Ohio State University Biochemistry Program. The work was supported by NIH grant MH57415 to AR.
Authors' Affiliations
(1)
Departments of Pharmacology, The Ohio State University Columbus, USA
(2)
Molecular and Cellular Biochemistry, The Ohio State University Columbus, USA
Copyright
© Besco et al.; licensee BioMed Central Ltd. 2001
This article is published under license to BioMed Central Ltd. This is an Open Access article: verbatim copying and redistribution of this article are permitted in all media for any purpose, provided this notice is preserved along with the article's original URL.