Research article

Open Access
Analysis of two large functionally uncharacterized regions in the Methanopyrus kandleri AV19 genome
Received: 20 December 2002
Accepted: 2 April 2003
Published: 2 April 2003
Abstract
Background
For most sequenced prokaryotic genomes, about a third of the protein coding genes annotated are "orphan proteins", that is, they lack homology to known proteins. These hypothetical genes are typically short and randomly scattered throughout the genome. This trend is seen for most of the bacterial and archaeal genomes published to date.
Results
In contrast we have found that a large fraction of the genes coding for such orphan proteins in the Methanopyrus kandleri AV19 genome occur within two large regions. These genes have no known homologs except from other M. kandleri genes. However, analysis of their lengths, codon usage, and Ribosomal Binding Site (RBS) sequences shows that they are most likely true protein coding genes and not random open reading frames.
Conclusions
Although these regions can be considered as candidates for massive lateral gene transfer, our bioinformatics analysis suggests that this is not the case. We predict many of the organism specific proteins to be transmembrane and belong to protein families that are non-randomly distributed between the regions. Consistent with this, we suggest that the two regions are most likely unrelated, and that they may be integrated plasmids.
Keywords
Codon UsageLateral Gene TransferRibosome Binding SiteUnknown RegionAV19 Genome
Background
Typically, for a newly sequenced genome the number of unique genes is mentioned. This is usually claimed to be about one third of the annotated genes. However, this number is highly questionable as random open reading frames (ORFs) are often assigned as protein coding genes. Based on an analysis of protein length distributions, we have estimated the true number of genes in each of the completely sequenced prokaryotic genomes [1]. Out of the estimated number genes in microbial genomes, M. kandleri contains the largest fraction of genes for which function cannot automatically be assigned based on sequence similarity (see supporting information at end of manuscript).
We have discovered that a significant fraction of these genes are located within two large regions of the chromosome (see Figure
1
). This is in constrast to what is observed in other prokaryotes where genes of unknown function are scattered throughout the genome. This organization of genes into large clusters would suggest that the proteins encoded by these genes are likely to represent novel protein complexes or biochemical pathways [
2
].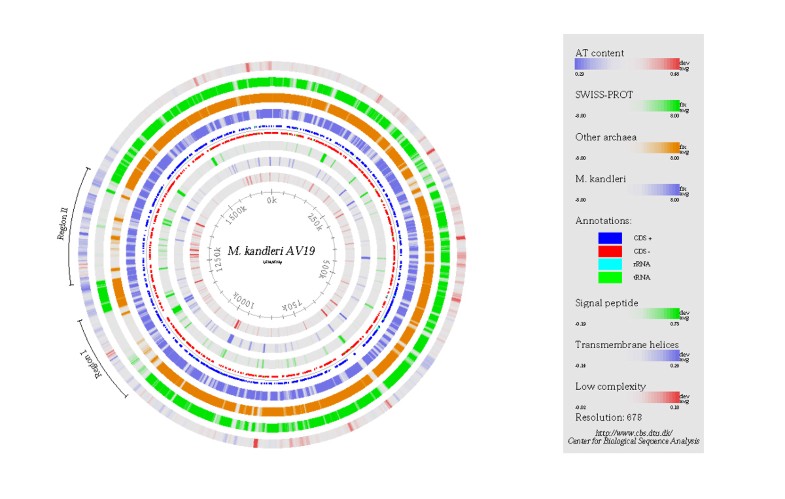 Pre-genome analysis of 16S ribosomal RNA had suggested M. kandleri to be placed close to the root of the Euryarchaeal tree. However, phylogenetic trees based on gene content, gene order, and ribosomal proteins places it toghether with the other archaeal methanogens [3, 4]. It thus comes as a surprise that its genome appears to contain large numbers of genes not present in the genomes of any of the other sequenced archaeal methanogens. Furthermore, the M. kandleri genome has been claimed to contain very few genes acquired through lateral gene transfer [3]. It should however be noted that this claim was entirely based on an analysis of proteins with BLAST matches to sequences from other organisms. It is thus not possible to exclude that the two regions of unknown function could been transferred from other species that have not been characterized so far.
Results and discussion
To get an overview of the M. kandleri genome, we created circular visualizations known as genome atlases [5–7]. Figure 1 shows a customized atlas which summarizes the most interesting positional features of the M. kandleri genome: AT-content, predicted protein properties, and protein sequence similarity.
BLASTP searches of all predicted protein sequences in the M. kandleri genome were performed against a number of different databases. Comparison with SWISS-PROT was used for identifying proteins homologous with possible known function while a database of predicted archeal proteins was used for detecting conserved archeal proteins possibly missing in SWISS-PROT. The results of these two searches, as well as a search within the M. kandleri proteome, are shown in Figure 1.
Figure 1 reveals two large chromosomal regions containing mostly protein coding genes without significant sequence similarity to genes from other organisms. The smaller of the two regions, region I, is located at 1,063 kbp (kilobase pairs) to 1,182 kbp and the slightly larger region (1,231 kbp–1,390 k) will be referred to as region II. To rule out that the genes within these regions are simply missing from the databases mentioned above, a TBLASTN search was performed against all sequences in GenBank. This resulted in no significant matches to DNA from other organisms than M. handleri itself.
From the atlas visualization it is clear that region II (but not region I) has a much lower AT-content than the genome average. The average AT-content is only 35.1% compared to the already low genomic average of 38.8%. An atypical local base composition is often used as supporting evidence for lateral gene transfer, although it should never be used alone [8].
Conclusions
While claims of newly sequenced genomes containing large numbers of unique proteins are often encountered, the existence of these proteins is rarely backed up by anything but a gene finding method. While such spurious gene predictions are typically scattered throughout the genome, we have discovered two distinct, large regions in the genome of M. kandleri where only a small fraction of the annotated genes share significant similarity with known proteins from other organisms. Analysis of length distributions and codon usage strongly suggests the presence of a large number of unique protein coding genes within these regions and rejects the hypothesis that the regions could have been aquired through lateral gene transfer. Instead, we believe the most likely origin to be integration of plasmids. Extensive bioinformatics analysis of the proteins encoded by these regions suggests many of them to be transmembrane, but little else can be predicted about their functions. Additional experimental data is needed in order to learn more about these proteins.
Methods
The genome sequence and annotation of the M. kandleri AV19 genome was downloaded from GenBank [21] along with 13 other sequenced archaeal genomes (A. pernix, P. aerophilum, S. solfataricus, S. tokodaii, T. acidophilum, T. volcanium, A. fulgidus, M. thermoautotrophicum, M. jannaschii, M. acetivorans, M. mazei, P. abyssi, and P. horikoshii).
Sequence similarity searches
All sequence similarity searches were performed using gapped BLAST with low complexity filter enabled [22]. The conceptual translations of all annotated protein coding genes in the M. kandleri genome were searched against four different sequence databases: the M. kandleri proteome itself, SWISS-PROT [23], GenBank [21], and a set of all annotated protein coding genes from the 13 other sequenced archaeal genomes. In the BLAST results from the search against the M. kandleri proteome, the self match of each protein was discarded.
Prediction of protein properties
Protein properties were predicted from sequence using a wide array of prediction methods. Low-complexity regions in the sequences were identified using SEG, which is the program used by BLAST to mask such regions [24]. SignalP was used to predict signal peptides using the model trained on eukaryotic proteins [25]. Transmembrane helices were predicted using the TMHMM method [26]. These three protein features were the only that were found to correlate significantly with the unknown regions according to Kolmogorov-Smirnov tests [17].
The other features tested for correlations were: grand average hydropathity [27], instability index [28], predicted glycosylation sites [29], predicted phosphorylation sites [30], PEST regions [31], and secondary protein structure predicted by PSIPRED [32].
Atlas visualization
The atlas visualization is a circular representation of a microbial genome in which different DNA or protein properties are visualized as colored circles [5–7].
The matches found by the BLAST searches described above are visualized as three circles (Figure 1) representing each of the databases against which BLAST searches were performed. For every protein the negative logarithm of E-value of the most significant match was calculated (imposing a maximum score of 15 for highly significant matches). These values were mapped to the chromosomal location of the corresponding genes color coded so that regions with many significant matches are colored whereas regions with few matches are gray.
The predicted protein properties were plotted by making similar mappings of the predicted fractions of transmembrane and low-complexity residues in each protein. Signal peptide predictions were represented by their mean S-score [25]. All three sets of values were color coded using a scheme so that only regions containing unusually many secreted, transmembrane, and/or low-complexity proteins will be visible.
Finally, we include a circle showing the AT-content (which is closely correlated to many DNA structural properties [6]). A double sided color scheme was used which highlights regions of unusually high or low AT-content compared to the average for the genome.
Length distribution plots
Protein length distributions for proteins from different regions of the M. kandleri were plottes as density estimates. Rather than using simple histograms, Gaussian kernel density estimates were calculated for log-transformed protein lengths. The widths of the Gaussian kernels were estimated based on the number of data points and their spread [33]. The log-length density estimates were subsequently transformed back to yield ordinary length distributions.
Calculation of codon usage and AT-content
For genes residing in the each of the unknown regions and for genes from known regions, the codon usage was calculated by first counting the frequency of each of the 61 coding triplets. The triplets encoding each amino acid were then normalized to a sum of one to cancel effects due to the amino acid composition. We refer to these normalized frequencies as the codon usage. Applying the codon usage estimated from all annotated protein coding regions as weighting factors, the average codon AT-content for each amino acid was calculated as a weighted average of the AT-content of all codons encoding the amino acid in question.
RBS pattern search
The sequences located at positions -30 to -1 relative to translation start were extracted for all annotated protein coding genes. These sequence were used as positive examples in the subsequent search. The sequences for positions -60 to -31, again relative to translation start, were extracted for use as negative examples. All DNA words up to a length of 10 bp were tested for significant overrepresentation in the positive examples relative to the negative examples using a hypergeometric test as described by Jensen and Knudsen [34].
Supporting information
To examine the fraction of genes with known function in each of the sequenced prokaryotic genomes, the EUCLID method was used for automatically assigning cellular role categories to annotated proteins based on BLASTP matches to SWISS-PROT [
22
,
23
,
35
,
36
]. The number of proteins in each genome for which a category could be assigned was compared to our estimate of the number of protein coding genes in the genome [
1
]. Table
2
shows the results of this analysis, which reveals that
M. kandleri
is the genome for which function can be assigned to the smallest fraction of the estimated number of protein coding genes. This is largely due to the two regions of unknown function.
Table 2
Fraction of proteins assignable to cellular role categories. The estimated number of genes in each genome is compared to the number of genes for which a cellular role could be assigned using EUCLID.
| Organism | No. genes estimated | No. genes assigned | %of estimate |
| --- | --- | --- | --- |
| M. kandleri | 1,477 | 653 | 44 |
| A. pernix | 1,376 | 684 | 50 |
| P. aerophilum | 1,706 | 867 | 51 |
| S. tokodaii | 2,035 | 1,045 | 51 |
| S. solfataricus | 2,288 | 1,186 | 52 |
| M. mazei | 2,686 | 1,420 | 53 |
| M. acetivorans | 3,456 | 1,850 | 54 |
| P. furiosus | 1,683 | 911 | 54 |
| P. horikoshii | 1,448 | 786 | 54 |
| Halobacterium sp. | 1,573 | 895 | 57 |
| A. fulgidus | 1,818 | 1,074 | 58 |
| M. jannaschii | 1,350 | 781 | 58 |
| P. abyssi | 1,497 | 855 | 58 |
| M. thermoautotrophicum | 1,466 | 867 | 60 |
| T. acidophilum | 1,250 | 783 | 63 |
| T. volcanium | 1,243 | 792 | 64 |
Declarations
Acknowledgements
This work was supported by grants from the Danish National Research Foundation and the Danish Natural Science Research Council. Marie Skovgaard is funded by EU Cell Factory Project, Screen, QLK3-CT-2000-00649.
Authors' Affiliations
(1)
Center for Biological Sequence Analysis, The Technical University of Denmark, Lyngby, Denmark
Copyright
© Jensen et al; licensee BioMed Central Ltd. 2003
This article is published under license to BioMed Central Ltd. This is an Open Access article: verbatim copying and redistribution of this article are permitted in all media for any purpose, provided this notice is preserved along with the article's original URL.