Research article
Open Access
Genomic structure and alternative splicing of murine R2B receptor protein tyrosine phosphatases (PTPκ, μ, ρ and PCP-2)
Received: 17 November 2003
Accepted: 11 February 2004
Published: 11 February 2004
Abstract
Background
Four genes designated as PTPRK (PTPκ), PTPRL/U (PCP-2), PTPRM (PTPμ) and PTPRT (PTPρ) code for a subfamily (type R2B) of receptor protein tyrosine phosphatases (RPTPs) uniquely characterized by the presence of an N-terminal MAM domain. These transmembrane molecules have been implicated in homophilic cell adhesion. In the human, the PTPRK gene is located on chromosome 6, PTPRL/U on 1, PTPRM on 18 and PTPRT on 20. In the mouse, the four genes ptprk, ptprl, ptprm and ptprt are located in syntenic regions of chromosomes 10, 4, 17 and 2, respectively.
Results
The genomic organization of murine R2B RPTP genes is described. The four genes varied greatly in size ranging from ~64 kb to ~1 Mb, primarily due to proportional differences in intron lengths. Although there were also minor variations in exon length, the number of exons and the phases of exon/intron junctions were highly conserved. In situ hybridization with digoxigenin-labeled cRNA probes was used to localize each of the four R2B transcripts to specific cell types within the murine central nervous system. Phylogenetic analysis of complete sequences indicated that PTPρ and PTPμ were most closely related, followed by PTPκ. The most distant family member was PCP-2. Alignment of RPTP polypeptide sequences predicted putative alternatively spliced exons. PCR experiments revealed that five of these exons were alternatively spliced, and that each of the four phosphatases incorporated them differently. The greatest variability in genomic organization and the majority of alternatively spliced exons were observed in the juxtamembrane domain, a region critical for the regulation of signal transduction.
Conclusions
Comparison of the four R2B RPTP genes revealed virtually identical principles of genomic organization, despite great disparities in gene size due to variations in intron length. Although subtle differences in exon length were also observed, it is likely that functional differences among these genes arise from the specific combinations of exons generated by alternative splicing.
Keywords
central nervous systemdephosphorylationalternative splicingadhesion molecules
Background
Over the past decade, receptor protein tyrosine phosphatases (RPTPs) have emerged as integral components of signal transduction in the vertebrate and invertebrate central nervous system. RPTP domain structure suggests cell adhesive properties, and studies on Drosophila mutants have provided strong evidence that specific RPTPs act together to provide a set of partially redundant signals necessary for muscle targeting and fasciculation decisions in CNS neurons [1, 2], both crucial components in the establishment and maintenance of neural circuits.
RPTPs have been divided into eight major subfamilies (Figure
1
), based on phylogenetic analysis of the phosphatase domains [
3
]. Four of these subfamilies (R2A, R2B, R3, and R4) play critical roles in CNS development [
4
]. Common to all Type 2 RPTPs is an extracellular segment containing a combination of multiple fibronectin and immunoglobulin (Ig)-like domains, and a single transmembrane region. The intracellular region contains a membrane proximal juxtamembrane domain, followed by a catalytically active tyrosine phosphatase domain and a second inactive domain. Type 2 RPTPs have been further subdivided into two distinct classes (R2A and R2B). Genes in the R2B class are differentiated from the R2A class by an additional MAM (
M
eprin/
A
5/PTP
m
u) domain at the N-terminus [
5
]. In addition to a putative role in signal transduction, R2B molecules have cell adhesive properties [
6
]. Because no invertebrate homologues of the four R2B molecules have been found to date [
7
], and no ESTs indicative of R2Bs have been isolated from invertebrates, the function(s) of these phosphatases is likely to be highly specific to vertebrate species.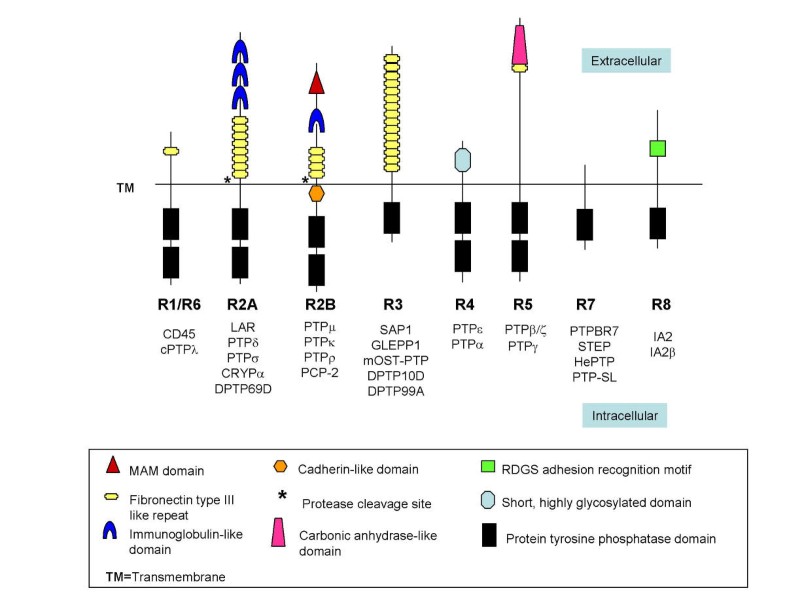 Previously, we have described the genomic structure of human PTPρ [8] and have shown that the transcript is expressed primarily in the central nervous system where it delineates a distinct developmental compartment in the cerebellar cortex [9, 10]. In the present study, the genomic structures of all four murine R2B genes (PTPκ, PTPμ, PTPρ and PCP-2) were compared, and their expression localized to specific cell types within the central nervous system. The 5'-genomic sequences were examined for putative promoter regions and transcription factor binding sites, and full-length sequences were used to determine the phylogenetic relationship between the four genes. Clustal-X alignment of cDNA and Genbank sequences predicted the presence of alternatively spliced exons. Five such exons were confirmed experimentally, with the majority being localized in the juxtamembrane and first phosphatase domain in each of the four genes.
Conclusions
Analysis of the intron/exon structure of the four R2B phosphatase genes revealed that despite considerable disparities in gene size, genomic organization was virtually identical, possibly reflecting their close phylogenetic relationship. In the central nervous system, the expressions of the four transcripts were unique, perhaps resulting from the use of different transcription binding sites. Considerable variation in exon utilization was seen in the juxtamembrane domain, a region shown to interact with a variety of intracellular signal transduction molecules. Alternative splicing of exons in this region could result in different functional roles for each of the R2B phosphatases.
Methods
Genomic structure of R2B genes
The genomic structure of the four murine R2B RPTP genes was determined as follows: The R2B cDNA sequences were used to identify the corresponding genomic shotgun clones in the Celera mouse genomic DNA database, using BLAST (parameters set to default values) and MEGABLAST programs. The identified individual shotgun fragments were aligned onto their respective scaffolds, and distances were calculated based on scaffold lengths. A similar approach using the NCBI [47] and Sanger Center [48] databases was used to identify the human R2B gene structure. The identified clones were superimposed onto the assembled minimal tiling paths and the size of the genes was calculated from the sizes of the individual overlapping clones. In order to determine exon/intron organization, each cDNA sequence was compared to genomic DNA sequences using Spidey [49]. The vertebrate genomic sequence was selected as input, "use large intron sizes" was enabled, and the minimum mRNA-genomic identity was set to 60%.
Phylogenetic analysis
RPTP R2B nucleotide and amino acid sequences were aligned using Vector NTI Suite, V.6, AlignX. PAUP 4.0b10 was used to construct a phylogenetic tree of the R2B gene family. The S. cerevisiae tyrosine phosphatase PTP1, and the D. melanogaster receptor tyrosine phosphatase, DLAR, were used as outgroups. Rooted phylogenetic trees were drawn using the parsimony method with transversions weighted 10:1 over transitions, and changes in the first nucleotide of the triplet codon were weighted by a factor of 2 over changes in the second or third nucleotides. Heuristic searches were used to find the optimum tree, with the order of sequence additions randomized.
Transcription factor binding sites
The genomic region to be examined for transcription factor binding sites was determined using BLAST2 [50] and FirstEF [51]. The RPTP 5' UTRs and genomic DNA sequences were aligned pairwise to detect introns. For cases where multiple 5' UTRs were reported in Genbank, the sequences were aligned and differences identified as either an incomplete reporting of the 5' UTR, or possible alternative start sites if sequences were located in different regions of the genome. The "MATCH" program [52] was used to identify potential transcription factor binding sites in the 5000 bp preceding the 5' UTR, using the Vertebrate matrix of the TRANSFAC 5.0 database, with cut off values set to "minimize false positives and false negatives".
Riboprobe synthesis and in situ hybridization
The distribution of R2B RPTPs in the brain was determined by in situ hybridization with digoxigenin-labeled RNA probes, synthesized as follows: The design of RT-PCR and PCR primers was based on the reported sequences (Genbank) for murine PTPρ (NM_021464), PTPμ (NM_008984), PTPκ (NM_008983), and PCP-2 (NM_011214). RT-PCR primers spanned a region near the 3' end of the second phosphatase domain, and PCR primers were designed to amplify the region corresponding to the first and second phosphatase domains of PTPρ, PTPμ, and PTPκ, and the second domain of PCP-2. The expected sizes for PTPρ (1.72 kb), PTPμ (1.5 Kb), PTPκ (1.5 Kb), and PCP-2 (465 bp) were obtained and cloned into the pBLUEscript II KS vector. Probes were labeled with digoxigenin using the DIG RNA Labeling Kit (Roche #1175025) as described by the manufacturer with the following modifications. In the labeling mix, 0.5 μl of 40 U/μl RNase OUT (Life Technologies), and 2 μl of 20 U/μl T7 (antisense) or T3 (sense) RNA polymerase (Roche), was added. The DNA template was digested with 1 U/μl RNase-free DNase I (Epicentre). Transcripts were purified by standard RNA precipitation, and the pellets resuspended in 50 μl DEPC-treated H20. Adult (P60) C57BL/6 mouse brains were cryostat sectioned (20 μm) in the sagittal plane, and in situ hybridization was conducted as described previously [9, 10]. Riboprobe-labeled sections were washed at a final stringency of 0.125x SSC, at 65°C. Following the hybridization washes, the sections were processed with an anti-digoxigenin antibody (Roche) [53], dried and coverslipped.
Alternative splicing of the four RPTP R2B genes
First strand cDNA was made from total RNA from neonatal (P1) and adult (P60) mouse whole brain using Superscript II Reverse Transcriptase (Invitrogen). In addition, cDNA was made from cerebellum, brainstem, forebrain and cortex of a P23 mouse, and a 16–24 week old human fetal brain (Clontech). The reverse primer (5' CACGCACACAGTTGAAGATGTCC), which was used in all RPTP first strand cDNA synthesis, is complementary to a region near the end of the first phosphatase domain (3580 to 3602 nt; NM_007050). PCR was performed (Platinum Taq, Invitrogen) as recommended by the manufacturer. All primers were used at a final concentration of 250 nM. An Eppendorf Mastercycler Gradient was used with the following cycling parameters: 2 minutes at 94°C, 35 cycles of 15 seconds at 94°C, 30 seconds at 58 or 60°C, 45 seconds at 72°C, and a final extension step (5 minutes at 72°C). The PCR products were run on 3.5% NuSieve GTG agarose (Biowhittaker) gels, stained with ethidium bromide and photographed using a Kodak DC120 camera. DNA bands were isolated and gel purified using Qiagen Gel Extraction kit. Identity of all RT-PCR products was confirmed by sequencing. Primer sequences are available from the authors upon request (rotter.1@osu.edu).
Author's Contributions
JB conducted alternative splicing experiments and bioinformatic analysis; MP conducted in situ hybridization experiments; RD identified transcription factor binding sites; AF prepared text and figures, and assisted with data analysis; AR supervised studies and assisted with data analysis.
List of Abbreviations
AS:

alternatively spliced
bp:

base pairs
DEPC:

diethyl pyrocarbonate
Ig:

immunoglobulin-like domain
EST:

expressed sequence tags
FN-III:

fibronectin type III repeat
MAM:

meprin/A5/μ domain
nt:

nucleotide
PCR:

polymerase chain reaction
RT-PCR:

reverse transcriptase polymerase chain reaction
RPTP:

receptor-like protein tyrosine phosphatase
TM:

transmembrane domain
UTR:

untranslated region. Genbank accession numbers for sequences used: yeast PTP1 Z74278, yeast PTP2 Z75116
mouse:

ptprt (PTPρ) NM_021464, human PTPRT (PTPρ) NM_007050
mouse:

ptprl (PCP-2) NM_011214, human PTPRU (PCP-2) NM_005704
mouse:

ptprm (PTPμ) NM_008984, human PTPRM (PTPμ) NM_002845
mouse:

ptprk (PTPκ) NM_008983, human PTPRK (PTPκ) NM_002844.
Declarations
Acknowledgments
Mouse genomic sequence data were obtained through use of the Celera Discovery System and Celera's associated databases. The work was supported by NIH grant MH57415 (AR).
Authors' Affiliations
(1)
Department of Pharmacology, The Ohio State University, Columbus, USA
(2)
Division of Human Cancer Genetics, The Ohio State University, Columbus, USA
(3)
Mathematical Biosciences Institute, The Ohio State University, Columbus, USA
Copyright
© Besco et al; licensee BioMed Central Ltd. 2004
This article is published under license to BioMed Central Ltd. This is an Open Access article: verbatim copying and redistribution of this article are permitted in all media for any purpose, provided this notice is preserved along with the article's original URL.