Research article

Open Access
Computational evidence for hundreds of non-conserved plant microRNAs
Received: 14 April 2005
Accepted: 13 September 2005
Published: 13 September 2005
Abstract
Background
MicroRNAs (miRNA) are small (20–25 nt) non-coding RNA molecules that regulate gene expression through interaction with mRNA in plants and metazoans. A few hundred miRNAs are known or predicted, and most of those are evolutionarily conserved. In general plant miRNA are different from their animal counterpart: most plant miRNAs show near perfect complementarity to their targets. Exploiting this complementarity we have developed a method for identification plant miRNAs that does not rely on phylogenetic conservation.
Results
Using the presumed targets for the known miRNA as positive controls, we list and filter all segments of the genome of length ~20 that are complementary to a target mRNA-transcript. From the positive control we recover 41 (of 92 possible) of the already known miRNA-genes (representing 14 of 16 families) with only four false positives.
Applying the procedure to find possible new miRNAs targeting any annotated mRNA, we predict of 592 new miRNA genes, many of which are not conserved in other plant genomes. A subset of our predicted miRNAs is additionally supported by having more than one target that are not homologues.
Conclusion
These results indicate that it is possible to reliably predict miRNA-genes without using genome comparisons. Furthermore it suggests that the number of plant miRNAs have been underestimated and points to the existence of recently evolved miRNAs in Arabidopsis.
Keywords
miRNA GenePlant miRNAsmiRNA CandidateMature miRNA SequenceSingle Linkage Cluster
Background
MicroRNAs (miRNAs), 20–25 nucleotides in length, are involved in negative post transcriptional regulation in most multi-cellular organisms (for a review see e.g. [1, 2]). The generality and importance of this recently discovered regulatory mechanism is gradually becoming apparent, and here we present computational evidence for new miRNAs indicating that their numbers are more abundant than previously believed, and argue that they play a major role in evolution.
Most of the miRNAs identified so far are conserved in other species, some remarkably well[3]. Previous computational screens for miRNA have relied on this evolutionary conservation to identify a few hundred putative miRNAs in vertebrates[4], C. elegans[5], and plants [6–8], and many have been experimentally confirmed (reviewed in [9]). However, these screens miss all miRNAs that have diverged since the last common ancestor of the genomes under comparison. A recent study using a combined bioinformatic and high-throughput experimental approach have identified 53 miRNAs not conserved beyond primates[10]. In plants, where comparisons have been between the distantly related A. thaliana (thale cress) and O. sativa (rice) genomes that diverged some 200 million years ago[11], it is probable that there are miRNAs which have escaped detection. Of the 112 Arabidopsis miRNA-genes currently registered[12], only 56 are conserved in the monocot rice (see methods section), indicating the existence of a substantial number of unconserved miRNA-genes. miRNA and short interfering RNAs (siRNA) are very similar in function, but different in biogenesis. According to the current nomenclature[13] both microRNAs (miRNAs) and short interfering RNAs (siRNAs) are 20–25 nucleotides long single stranded molecules that arise from processing of double stranded RNA (dsRNA) precursors. They are distinguished by the type of dsRNA they are excised from. While siRNAs come from long exogenous or endogenous dsRNA molecules (very long hairpins or RNA duplexes), mature miRNAs come from the stem region of shorter hairpins.
The mature miRNA or siRNA forms part of the RNA induced silencing complex (RISC) that binds to mRNAs. miRNA/siRNAs that bind with almost perfect complementarity to an mRNA often results in the cleavage of its target. Currently it seems that the higher the degree of complementarity to a target mRNA, the larger chance of that target being degraded. miRNAs with imperfect complementarity to a 3' untranslated region of a mRNA have been shown to inhibit translation of the mRNA[14, 15]
When the base pairing between the miRNA and the target is incomplete it is non-trivial to identify targets for a miRNA [16–19]. In plants, however, most of the known miRNAs pair almost perfectly with one or more mRNAs, making it straightforward to identify likely plant targets (miRNAs often have more than one target). Using this observation it is possible to predict miRNA candidates in Arabidopsis that exhibit near perfect base pairing with the targets, without relying on homology to other organisms[20]. Here this idea is extended and refined to yield a highly specific screen that finds plant miRNAs in numbers much larger than previously thought.
Conclusion
The present analysis predicts 71 new Arabidopsis miRNA genes with very few false positives (estimated specificity is 100%) and over five hundred with an estimate of 9% false predictions. The procedure misses some real miRNAs, such as those encoded in untranslated regions of genes, those with very many targets (classified as repeats by our method), and those not fulfilling our strict structural constraints, and we believe that the real number could be several thousands. Although, the predictions should eventually be confirmed in the lab, our data suggest that the Arabidopsis genome encodes substantially more miRNA genes than previously thought, and that the number of miRNAs is comparable to the number of protein transcription factors. Our results also indicate that many miRNA are specific to small groups of related species and we speculate that they could play a part in speciation. Finally we find it unlikely that these conclusions are specific to plants, and we hypothesize that they extend to most other multicellular organisms.
Methods
Sequences
Arabidopsis genome and annotation were the RefSeq sequences based on the 5.0 version released by TIGR. Known miRNAs were from the 5.1 release of the microRNA registry[39].
The micromatcher procedure
Finding all micromatches
For each annotated spliced mRNA we exhaustively searched the genome for micromatches of length at least 20 with maximum 2 mismatches (no gaps allowed) using the suffixarray based program vmatch[
40
] (This search took 6 days on an Intel Xeon 2.2 Ghz machine running Linux).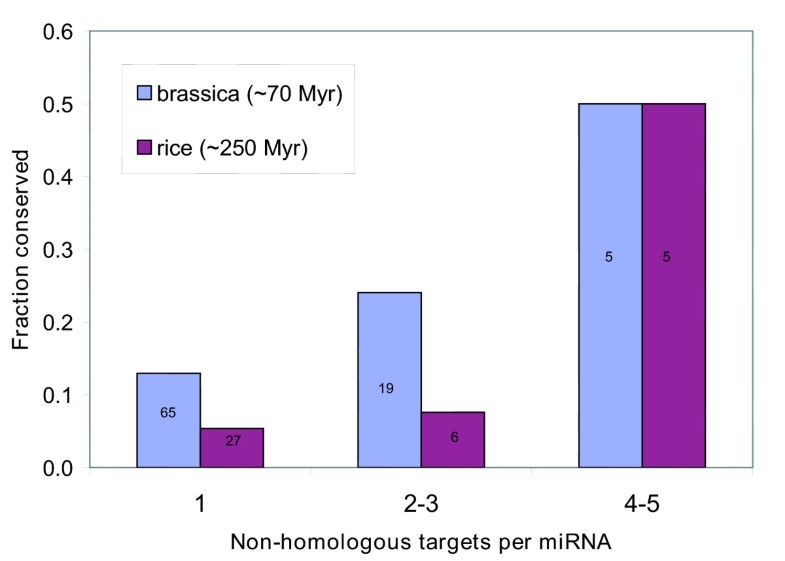 Note about the positive control set of mRNAs: To select the positive control mRNA-targets we allow for 3 mismatches over the whole length of the mature miRNA; this potentially includes in the positive control set mRNAs that will be unable to recover the matching miRNA allowing only 2 mismatches over a length of 20 bases (the criterion used later). This discrepancy can lead to a too pessimistic estimation of the performance of procedure.
Lowcomplexity filter
Genomic micromatches not fulfilling a simple low complexity filter were discarded: 1) all four bases had to be present at least once, and 2) at most 11 of the three most frequent dinucleotides in the sequence were allowed.
Duplex stability
Using the program RNAcofold (Vienna RNA package[41]) the free energy change when a microRNA-candidate binds to a target site was calculated. Micromatches where this duplex energy is larger than -34 kcal/mol were discarded.
Long matches
Micromatches longer than 26 residues were discarded. To ascertain that a micromatch was not part of a longer match, the two parts of the micromatch extended by 50 bases to each side were aligned with bl2seq (two sequence NCBI blast), and those with a match longer than 26 were discarded.
Overlaps with known features and repeats
A micromatch was discarded if it had any bases in common with annotated exons (including matches to the reverse strand of the exon) or repeats as determined by RepeatMasker[42] run with Arabidopsis specific repeat libraries (RepBase Update 8.12, RM database version 20040306).
Copy number
Additionally to traditional repeat-masking that relies on the identification of known repeats, we made an additional pragmatic repeat filter: We simply determined the number of times all candidate sequences occurs in the entire genome, and removed candidates with a copy number higher than 10.
Filtering on properties of the possible precursor
In order to predict a possible precursor molecule, two genomic sequences around each micromatch were extracted: One starting 10 bases 5' of the micromatch and extending 240 bases 3' of the micromatch, and one with the extension lengths reversed. Each of these was treated independently in the following analysis. First the potential precursor sequence was folded with RNAfold[43] to find the minimum free energy structure These values are comparable, because all sequences are of almost equal length. Candidates with a folding free energy larger than -60 kcal/mol are discarded. This is a highly permissive filter. The mature miRNA has to be fully contained in a double stranded region of the precursor. The complementary part of the miRNA in this stem is denoted miRNA*. It is demanded that all base pairs between the miRNA and the miRNA* are pairing in the same direction opposite each other. The number of paired bases in the mature miRNA is required to be 16 or more.
In the known miRNA precursors, the stem is always longer than just the length of the mature miRNA. To find how far the stem of a candidate extends from the mature miRNA, we count how far inward towards the loop or outwards toward the ends of RNA-string the stem extends using the following algorithm: Moving out from the terminal basepair between miRNA and miRNA* a score of 1 is assigned for each base pair encountered and a score of -1 for each unpaired base. The extension is stopped when the current score is less than 5 lower than the maximum score so far. The last base pair is considered the terminus of the stem. Candidates with extensions less than 4 bases on either side of the mature miRNA were discarded. It was also required that the shortest number of bases between the miRNA and miRNA* were larger than 9 and less than 130.
Taken together these structural criteria constitute a highly selective, but somewhat conservative filter.
Matches to ESTs and ASRP
BLASTN was used to search all Arabidopsis ESTs downloaded from GenBank on September 27, 2004. Hits longer than 70 nucleotides with more than 95% identity between a predicted precursor and an EST were considered positive. Sequences cloned and sequenced as part of the Arabidopsis Small RNA Project (ASRP)[44], were downloaded from [45]. All matches at least 15 long with at most one mismatch with our predicted mature miRNA-sequences were found using vmatch[46].
Conservation in other genomes
To determine how many of our predictions were conserved in other plant genomes, we blasted the predicted Arabidopsis precursors against the rice-genome and brassica sequence downloaded from [47]. A miRNA prediction was taken to be conserved if it had a significant (e-value < 0.01) blast hit containing the mature miRNA with no more than 2 mismatches and the homolog had flanking sequence capable of folding back on the mature miRNA with at least 15 base pairs between the miRNA and miRNA*.
The number of non-homologous targets for a putative miRNA
For all candidate microRNAs in the baseset matching more than one mRNA, we found the number of different non-homologous targets by performing single linkage clustering on the aminoacid sequences of the corresponding mRNAs using the program 'blastclust' from NCBI. Two proteins were considered homologous if they had more than 70% identity across at least 50% of the length.
Clustering of micromatches into genomic loci
Micromatches with genomic start position within 4 nucleotides were logically grouped into the same locus.
Clustering of similar miRNA sequences into families
We used the program vmatch[48] to align and perform single linkage clustering of the predicted mature miRNA sequences. Candidate pairs aligning over at least 17 bases, allowing an edit distance of 1 were grouped in the same family.
Functional analysis of targets
We obtained gene ontology annotation (GOSLIM) from [49]. From each GOSLIM category we constructed a 2 × 2 contingency table counting the number of targets vs non-targets with or without the GOSLIM annotation. We used R[50] to calculate p-values with Fisher's Exact Test and employed the package 'qvalue'[51] to correct for multiple testing setting a false discovery rate level at 0.001. The results are included as [Additional file 2], along with the R-code used.
Declarations
Acknowledgements
We wish to thank anonymous reviewers for helpful comments and suggestions.
Authors' Affiliations
(1)
Bioinformatics Centre, Institute of Molecular Biology, University of Copenhagen, Denmark
Copyright
© Lindow and Krogh; licensee BioMed Central Ltd. 2005
This article is published under license to BioMed Central Ltd. This is an Open Access article distributed under the terms of the Creative Commons Attribution License (http://creativecommons.org/licenses/by/2.0), which permits unrestricted use, distribution, and reproduction in any medium, provided the original work is properly cited.