Research article
Open Access
Microsatellite mapping of QTL affecting growth, feed consumption, egg production, tonic immobility and body temperature of Japanese quail
Received: 15 February 2005
Accepted: 08 June 2005
Published: 08 June 2005
Abstract
Background
The Japanese quail (Coturnix japonica) is both an animal model in biology and a commercial bird for egg and meat production. Modern research developments with this bird, however, have been slowed down by the limited information that is available on the genetics of the Japanese quail. Recently, quail genetic maps with microsatellites and AFLP have been produced which open the way to comparative works with the chicken (Gallus gallus), and to QTL detection for a variety of traits. The purpose of this work was to detect for the first time QTL for commercial traits and for more basic characters in an F2 experiment with 434 female quail, and to compare the nature and the position of the detected QTL with those from the first chicken genome scans carried out during the last few years.
Results
Genome-wide significant or suggestive QTL were found for clutch length, body weight and feed intake on CJA01, age at first egg and egg number on CJA06, and eggshell weight and residual feed intake on CJA20, with possible pleiotropy for the QTL affecting body weight and feed intake, and egg number and age at first egg. A suggestive QTL was found for tonic immobility on CJA01, and chromosome-wide significant QTL for body temperature were detected on CJA01 and CJA03. Other chromosome-wide significant QTL were found on CJA02, CJA05, CJA09 and CJA14. Parent-of-origin effects were found for QTL for body weight and feed intake on CJA01.
Conclusion
Despite its limited length, the first quail microsatellite map was useful to detect new QTL for rarely reported traits, like residual feed intake, and to help establish some correspondence between the QTL for feed intake, body weight and tonic immobility detected in the present work and those reported on GGA01 in the chicken. Further comparative work is now possible in order to better estimate and understand the genetic similarities and differences of these two Phasianidae species.
Keywords
Quantitative Trait LocusFeed IntakeJapanese QuailQuantitative Trait Locus DetectionSignificant Quantitative Trait Locus
Background
Like the chicken, the Japanese quail belongs to the Phasianidae family [1]. In the wild, it is a small migratory bird originating from the Far East which was first raised in bird cages in Japan and China around the 15th century because of its singing abilities, and later became to be known in Japan as a good egg-laying bird for human consumption [1]. Exported to North America in the 1930s, it started to be used for pilot studies in genetics and physiology and in avian research [2]. The Japanese quail is now a well established animal model in biology and a bird used for intensive egg and meat production mainly in Asia and Europe, but also in the Middle East and America [3].
Until recently, however, only a few linkage groups have been known for the Japanese quail, and few genes have been mapped [4] despite the large variety of traits that have been studied in the Japanese quail [3]. The development of the first microsatellite [5] and AFLP [6] panels and of the corresponding maps [6, 7] have made it possible to localize new genes [8, 9], which should further enhance the interest of the quail in biological research and open the way to more comparative genetic studies with chickens. Maps can also be used to do a genome-wide search for quantitative trait loci (QTL) by locating QTL nearby anonymous AFLP or microsatellite markers in segregating backcross or F2 populations. Moreover, the existence of markers that cross-amplify quail and chicken DNA [5, 8] makes it possible to connect both maps and to compare the QTL results for these two species, thereby getting further insight into their evolutionary relationship.
The objective of the present work was to produce the first set of QTL detected in Japanese quail for growth, egg production and quality, feed consumption and other traits. For that purpose, an F2 experiment was carried out with two quail lines selected for early egg production [10] and for high duration of tonic immobility [11]. The microsatellite map [7] used for the detection of QTL in the present work was developed earlier from the same F2 individuals.
Results
Overall performances
Table
1
shows the number of observations, the mean, the standard deviation and the range of values for the traits recorded on the 434 F2 females of the experiment.
Table 1
Elementary statistics on the characters measured for the 434 F2 female Japanese quail of the genome scan
| Trait1 | N | Mean | Standard deviation | Minimum | Maximum |
| --- | --- | --- | --- | --- | --- |
| TI (s) | 434 | 177.8 | 86.3 | 17.0 | 300.0 |
| BT (C) | 434 | 41.67 | 0.36 | 40.70 | 43.20 |
| BW1 (g) | 434 | 189.0 | 16.8 | 146.6 | 238.8 |
| FI (g/d) | 321 | 27.4 | 2.8 | 18.9 | 35.8 |
| RFI (g/d) | 321 | 0.0 | 1.8 | -4.2 | 7.5 |
| EW (g) | 323 | 11.9 | 1.1 | 9.1 | 15.3 |
| YW (g) | 323 | 3.0 | 0.4 | 2.1 | 5.2 |
| SW (g) | 323 | 0.88 | 0.09 | 0.66 | 1.25 |
| Y/A (%) | 323 | 41 | 5 | 31 | 78 |
| AFE (d) | 429 | 44.2 | 5.2 | 37 | 87 |
| EN | 363 | 322.4 | 72.8 | 18 | 415 |
| CL (d) | 363 | 7.9 | 4.1 | 1.3 | 47.9 |
| BW2 (g) | 352 | 271.0 | 30.4 | 185.0 | 361.0 |
QTL analysis
Table
2
shows the location of the significant QTL, their position on the chromosome, the maximum F value obtained at this position, their genetic effects, the reduction of the residual variance obtained by fitting a QTL at this location, and the corresponding chromosome-wide and genome-wide significance levels.
Table 2
Chromosomal location, test statistic (F), genetic effects and significance of the QTL detected in the Japanese quail
Chromosome (map length cM)

Trait1

Position (cM)

Flanking markers

F

Additive effect ± SE

Dominance effect ± SE

Reduction of σ2 (%)

Chromosome-Wide Probability

Genome-Wide

Probability

Level

CJA01 (206)

CL

0

GUJ0055

9.9

-0.93 ± 0.36

-1.81 ± 0.58

4.9

0.0006

0.002

very significant

BW2

18

GUJ0055-GUJ0052

11.6

-1.29 ± 0.27

ns2

5.7

0.0002

0.0005

very significant

BW1

19

GUJ0052

5.9

-4.36 ± 1.38

ns

2.3

0.034

0.09

suggestive

FI

19

GUJ0052

8.3

-1.03 ± 0.26

ns

4.4

0.004

0.01

significant

TI

91

ADL0037

6.2

-20.3 ± 6.3

ns

2.5

0.034

0.09

suggestive

BT

180

GUJ0062

5.7

-0.088 ± 0.026

ns

2.5

0.047

0.12

ns

SW

191

GUJ0062-GUJ0068

7.2

-0.027 ± 0.009

-0.030 ± 0.0134

3.4

0.016

0.04

significant

CJA02 (61)

BW1

54

GUJ0063-GUJ0027

4.6

ns

7.42 ± 2.75

1.7

0.038

0.29

ns

CJA03 (38)

BT

1

GUJ0099

6.1

-0.090 ± 0.029

ns

2.5

0.008

0.11

ns

CJA05 (21)

SW

12

GUJ0049

5.5

-0.026 ± 0.008

ns

2.3

0.012

0.27

ns

CJA06 (74)

EW

0

GUJ0021

5.4

0.330 ± 0.100

ns

2.7

0.023

0.16

ns

EN

32

GUJ0087

7.0

21.6 ± 6.1

ns

3.3

0.006

0.04

significant

AFE

34

GUJ0087-GUJ0054

6.2

-1.52 ± 0.46

ns

2.9

0.012

0.09

suggestive

CJA09 (25)

BW1

25

GUJ0071

4.3

3.34 ± 1.22

ns

1.6

0.028

0.46

ns

CJA14 (8)

BW2

7

GUJ0023-GUJ0097

6.2

ns

-1.32 ± 0.38

2.9

0.004

0.24

ns

CJA20 (25)

FI

2

GUJ0065-GUJ0083

8.5

-0.883 ± 0.231

ns

4.5

0.001

0.02

significant

SW

21

GUJ0065-GUJ0083

6.7

-0.026 ± 0.008

0.024 ± 0.013

3.4

0.003

0.06

suggestive

RFI

25

GUJ0083

7.2

-0.525 ± 0.142

ns

3.8

0.002

0.04

significant
Out of the 18 QTL found to be chromosome-wide significant (pc < 0.05) on 8 of the 12 autosomes scanned in this work, 7 were genome-wide significant (pg < 0.05), and 4 were genome-wide suggestive (pg < 0.10). Genome-wide significant QTL for early (BW1) and late (BW2) measures of body weight were only found on CJA01, but there was a chromosome-wide significant QTL for BW1 on CJA02 and on CJA09, and for BW2 on CJA14. Significant QTL were found for feed intake (FI) on CJA01 and for FI and residual feed intake (RFI) on CJA20. Genome-wide significant or suggestive QTL for egg production characters were obtained, on CJA01 for clutch length (CL), and on CJA06 for total egg number (EN) and age at first egg (AFE). There were QTL for eggshell weight (SW) on CJA01 and CJA20, and some evidence for another one on CJA05. One genome-wide suggestive QTL was found for tonic immobility (TI) on CJA01, and there was marginal evidence of QTL for egg weight (EW) on CJA06, and for body temperature (BT) on CJA01 and CJA03.
In most cases, the genetic effect was additive and negative, indicating that the QTL allele with the lowest additive effect originated from Line DD. The few exceptions were for QTL on CJA06 and CJA09. Among genome-wide suggestive and significant QTL, dominance was only significant for CL and SW. The reduction of the residual variance due to fitting a QTL was moderate and did not exceed 5.7%.
Chromosome CJA01
Interval mapping results for CJA01 are shown in Table
2
and Figure
1
. For all traits, the allele received from the Line DD ancestry decreased the additive genotypic value. The QTL for BW1, BW2 and FI were found at very close positions, the QTL for TI was obtained in the middle of the interval near the chicken microsatellite
ADL0037
, and the other QTL were placed at both ends of the chromosome.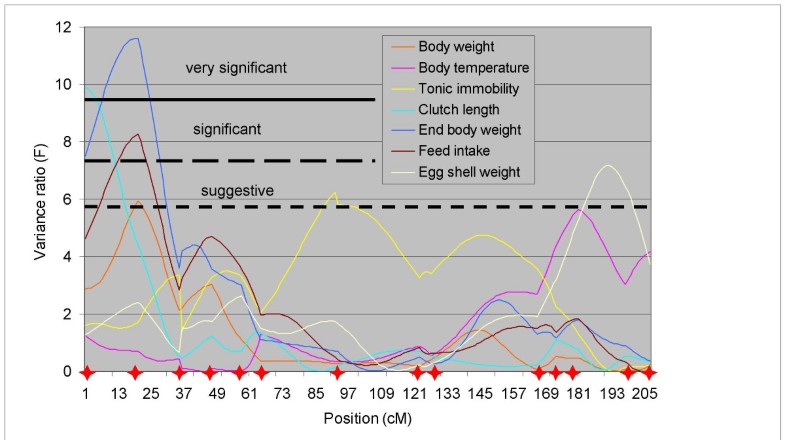 Chromosome CJA06
Interval mapping results for CJA06 are shown in Table
2
and Figure
2
. The QTL for EN and AFE were found in the middle of the chromosome at very close positions. Both alleles received from the Line DD were favourable for egg production, with a positive additive effect on EN and a negative one on AFE.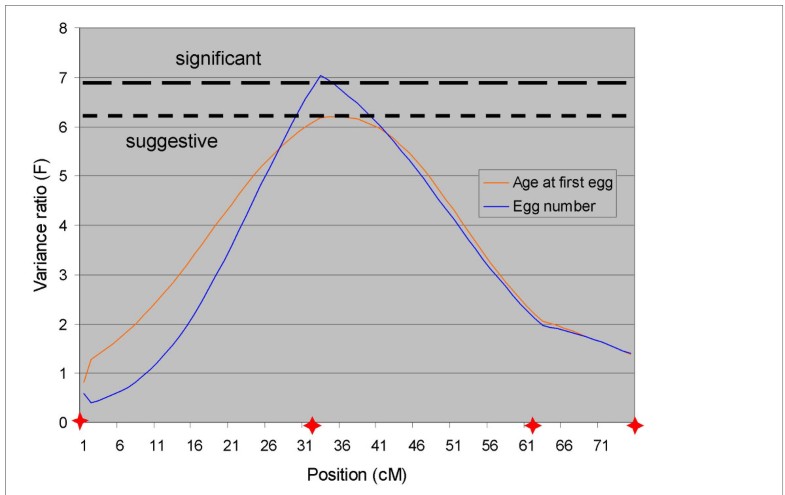 Chromosome CJA20
Interval mapping results for CJA20 are shown in Table 2. In this short linkage group, the QTL for FI and RFI were found at opposite ends but, for both traits, the allele decreasing the additive value was transmitted by the Line DD.
Imprinting and two-QTL alternative
Imprinting (parent-of-origin effect) was estimated for genome-wide significant QTL. It was only found to be significant for BW1 (Fs = 9.0 > F.01 [1,415] = 6.7) and FI (Fs = 7.6 > F.01 [1,318] = 6.7), on CJA01, with a larger effect (5.7 ± 1.4 g and 0.73 ± 0.25 g, respectively) for sire-transmitted alleles. Similarly, the two-QTL hypothesis was tested, but there was no evidence for two different QTL located on the same linkage group and acting simultaneously on the same trait.
Conclusion
For the first time with the Japanese quail, a partial genome scan using microsatellites has revealed genome-wide significant QTL for major production-related traits (BW, FI, CL, EN), and QTL for other traits with wider potential interest (TI, RFI, BT) were also detected. Few results for traits measured on both the quail and chicken are available, and comparisons between the two species are only at the beginning, but the common co-location (CJA01 and GGA01) of QTL acting on BW and FI, and of QTL for TI are already indicative of the detailed genetic similarity between the two species that future comparative work should further explore. Of course, only chromosomal regions could be detected in this study, but it is interesting to note that in the chicken, the gene for the insulin-like growth factor associated with growth and the gene for the serotonin 1F receptor implicated in behavioral traits are on GGA01, whereas a QTL for body weight and one for tonic immobility were found on CJA01. In the same way, the agouti gene is linked to feed intake, and a QTL for feed intake was detected on CJA20 where an agouti-like locus was just mapped in the Japanese quail.
Declarations
Acknowledgements
The authors dedicate this article to the memory of Dr Andrew Mills who developed the LTI Japanese quail line with JM Faure at INRA in Nouzilly (France). His determination and devotion to research have produced a unique bird model that we dearly thank him for.
The authors wish to thank JM Faure (INRA-SRA, Nouzilly) for kindly providing F0 birds of Line LTI. Expert care of experimental F0, F1 and F2 quail, and data collection by C Moussu and the team at the INRA Unité Expérimentale de Génétique Avicole (Nouzilly, France) are gratefully acknowledged. The linguistic revision of the paper was kindly carried out by W Brand-Williams.
Authors' Affiliations
(1)
Génétique et Diversité Animales, Institut National de la Recherche Agronomique, Centre de Jouy, Jouy-en-Josas, France
(2)
Faculty of Applied Biological Science, Gifu University, Gifu, Japan
(3)
Génétique Cellulaire, Institut National de la Recherche Agronomique, Centre de Toulouse, 31326, France
(4)
Unité Expérimentale de Génétique Avicole, Institut National de la Recherche Agronomique, Centre de Tours, Nouzilly, France
(5)
Département de Génétique Animale, Institut National de la Recherche Agronomique, Centre de Jouy, Jouy-en-Josas, France
Copyright
© Minvielle et al; licensee BioMed Central Ltd. 2005
This article is published under license to BioMed Central Ltd. This is an Open Access article distributed under the terms of the Creative Commons Attribution License (http://creativecommons.org/licenses/by/2.0), which permits unrestricted use, distribution, and reproduction in any medium, provided the original work is properly cited.