Research article
Open Access
Analysis of bacteria-challenged wild silkmoth, Antheraea mylitta (lepidoptera) transcriptome reveals potential immune genes
Received: 04 April 2006
Accepted: 21 July 2006
Published: 21 July 2006
Abstract
Background
In the recent years a strong resemblance has been observed between the insect immune system and the mammalian innate immune mechanisms suggesting their common origin. Among the insects, only the dipterans (Drosophila and various mosquito species) have been widely investigated for their immune responses towards diverse pathogens. In the present study we constructed and analysed the immune transcriptome of the lepidopteran Antheraea mylitta, an economically important Indian tasar silkmoth with a view to unravel the potential immune-related genes and pathways.
Results
An expressed sequence tag (EST) library was constructed from mRNA obtained from fat bodies of A. mylitta larvae that had been challenged by infection with Escherichia coli cells. We identified 719 unique ESTs from a total of 1412 sequences so generated. A third of the transcriptome showed similarity with previously characterized immune-related genes that included both the known and putative immune genes. Of the four putative novel defence proteins (DFPs) annotated by PSI-BLAST three showed similarity to extracellular matrix proteins from vertebrates implicated in innate immunity, while the fourth was similar to, yet distinct from, the anti-microbial protein cecropin. Finally, we analysed the expression profiles of 15 potential immune-related genes, and the majority of them were induced more prominently with E. coli compared to Micrococcus luteus. We also identified several unknown proteins, some of which could have probable immune-related functions based on the results of the ProDom analysis.
Conclusion
The present study has identified many potential immune-related genes in A. mylitta some of which are vertebrate homologues and others are hitherto unreported putative defence proteins. Several genes were present as members of gene families, as has also been observed in other insect species.
Keywords
Additional Data FileSilk GlandPutative ProteasePeptidoglycan Recognition ProteinPutative Immune Protein
Background
Insects are evolutionarily successful organisms and occupy almost all habitats in nature. An efficient immune system is one of the attributes for this evolutionary success. However, unlike mammals, the insects lack an adaptive immune system. The insect immune response is comprised of cellular and humoral components. The former involves the action of haemocytes in phagocytosis of microbes, encapsulation of large pathogens and nodule formation [1] whereas the latter involves activation of prophenoloxidase cascade leading to melanisation of invading microorganisms [2] and synthesis of a battery of anti-microbial peptides [3].
Insect immunity is well studied in dipterans such as fruit flies and mosquito species [4–7]. Only limited information is available on genes induced on pathogen challenge in a few lepidopteran species that include the domesticated silkmoth, Bombyx mori [8], Cecropia moth,Hyalophora cecropia [9] and tobacco hornworm,Manduca sexta [10] and in these too the immune response pathways employed to combat pathogen infections remain to be fully characterised.
Abundant genetic resources are now available for B. mori, with a 9 X shotgun sequence coverage of its genome and more than 100,000 ESTs in dbEST (NCBI) [11–13]. With reference to insect immunity, the ESTs have been obtained from baculovirus-infected B. mori cultured cells and pupae, but no large scale information on bacteria-induced immune genes is as yet available.
In this study, we have constructed and analysed an immune transcriptome following bacterial challenge of the Indian tasar wild silkmoth, Antheraea mylitta, an economically important lepidopteran cultivated for silk production. Prior information on immune response genes in wild silkmoths is lacking except for a few peripheral studies. Two proteins from A. mylitta – a lysozyme protein, 3-D structure of which is elucidated [14] and a protease inhibitor have been characterized [15]. We chose to examine the fat body transcriptome since it is a major immune organ in insects, analogous to the mammalian liver. We generated a total of 1412 ESTs, of which 31% could be ascribed to putative immune functions. We also validated the upregulation of a selected subset of genes from the immune transcriptome by semi-quantitative RT-PCR.
Results and discussion
As described in Materials and Methods, we constructed a cDNA library from fat body tissues of
E. coli
- challenged
A. mylitta
larvae and randomly sequenced a large number of inserts from the library. By running TGICL program, we obtained 719 clusters from a total of 1412 ESTs, of which 166 were contigs (comprising 859 ESTs) and 553 were singletons. The majority of the EST clusters were 500 to 600 bp, with an average of 524 bp and a maximum of 1994 bp (Figure
1
). Each of these clusters potentially represents a unique gene from
A. mylitta
, and our results have hence expanded the number of genes known for this organism from the handful previously known genes. The 1412 EST sequences (accession numbers EB742119- EB743530) can be accessed at the NCBI EST sequence database, dbEST and the 719 clusters can be accessed at URL mentioned in references [
16
].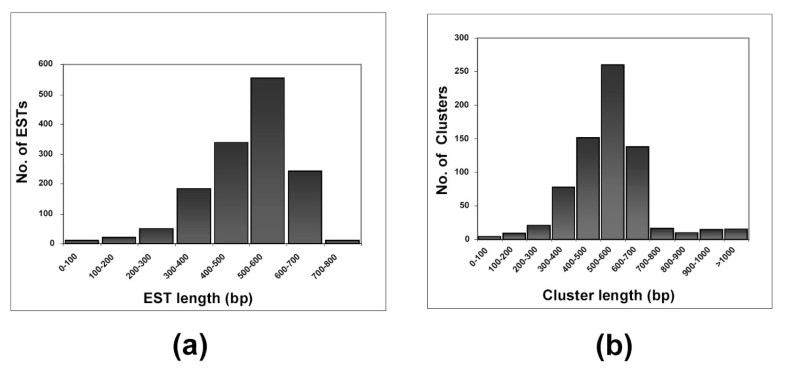 Conclusion
The immune response in insects is dynamic and different effector genes are likely expressed at different time points during infection, contributing to the ability of the insects to ward off infections in spite of the absence of adaptive immunity. The current transcriptome represents genes likely expressed upon E. coli infection in the A. mylitta fat body at 24 hrs post infection. Unexpectedly, the Imd pathway components that are implicated in the activation of various effector pathways upon gram-negative bacterial infection in Drosophila were not present in our transcriptome. The 24-hour post infection period may have been non-optimal for expression of some genes, and since the EST library was not normalized the less abundant transcripts may have gone undetected. Alternatively, it is possible that other pathways are involved in the immune induction in the moths.
The present study has increased the repertoire of lepidopteran-specific putative immune response genes by several hundred-fold. This will be a valuable resource for lepidopteran-specific immune studies in particular and insect immune studies in general.
Methods
Insects, bacterial inoculation and tissue collection
A. mylitta, 5th instar, day 3 larvae were procured from Regional Research Station, Warangal, Andhra Pradesh. Log phase E. coli cells (DH5α), washed and resuspended in saline (0.3 M NaCl, 0.005 M KCl), were injected into the haemocoel of the larvae as described earlier [38]. At 24 hours post infection (hpi), larvae were dissected to isolate fat body, and the tissue was flash frozen in liquid N2 and then stored at -70°C till further use.
cDNA library construction and generation of ESTs
Total RNA was extracted from the fat body using Trizol reagent (Invitrogen). The complementary DNA synthesis was carried out using Stratagene ZAP-cDNA® synthesis kit following manufacturer's instructions. Directional cDNA library was constructed by cloning of cDNA fragments into pBluescript II SK (+) vector and electroporation into E. coli strain DH10B. Insert-containing plasmid clones were sequenced with RV-M primer (5'GAG CGG ATA ACA ATT TCA CAC AGG 3') with the aid of MegaBACE3000 sequencer.
EST processing
Raw sequences obtained from sequence chromatograms were processed using several programs. A cut-off Phred Quality Value of ≥15 was assigned to extract quality sequences from chromatograms. The quality sequences were screened for the presence of vector sequences using 'Cross Match' program [39]. Then masked vector sequences were automatically removed by in-house developed trimming tool. Sequences shorter than 50 bases were removed. The resulting high-quality sequences were assembled into sequence contigs with the TGICL program [40], which initially makes clusters using MegaBLAST and thereafter makes an assembly using CAP3 for each cluster generated in the first step. A cluster is defined as a unique sequence obtained either by multiple alignment of many sequences that are > 95% similar or derived from a single sequence. A cluster containing ≥2 ESTs is termed a contig and that containing only one sequence, a singleton.
The unique putative gene sequences obtained by clustering and assembly were annotated by running BLAST [41] against non-redundant (nr) protein database of NCBI. Further, BLAST output was parsed to classify the putative gene transcripts into different functional classes.
Analysis of unknown proteins
Proteins that did not show any significant hits in NCBI nr database or showed similarity to unknown or hypothetical proteins were characterized by additional computational tools.
a. Domain search
For the sequences showing high similarity to hypothetical and/or unknown proteins, and those showing weak similarity to nr protein database, domain search was performed using ProDom [42]. Putative function was assigned based on the type of domains found.
b. Signal peptide and transmembrane domain analysis
Presence of transmembrane domains and signal peptide analysis was done on the transcripts not showing any significant hits in NCBI database. The signal peptide analysis was done by SignalP software [43] and trans-membrane domain analysis was done with TMHMM program [44].
c. Functional annotation with PSI-BLAST
The functional annotation of four novel immune upregulated transcripts (DFPs) was done using PSI-BLAST [33].
Expression profile
A. mylitta larvae were differentially challenged- a) Unchallenged, b) Saline-injected, c) M. luteus and d) E. coli. Log phase E. coli and M. luteus bacteria, washed and resuspended in insect saline (0.3 M NaCl, 0.005 M KCl) were injected (30 μl) into a set of A. mylitta larvae. One set each of saline-injected and uninjected larvae were kept as a control. Four tissues, namely fat body, epidermis, mid gut, and silk gland were dissected out and flash frozen in liquid nitrogen. Total RNA was isolated using Trizol reagent. To remove genomic DNA contamination, total RNA was treated with RNAse free DNAse (NEB) as prescribed by the manufacturers. cDNA was synthesized using MMLV reverse transcriptase (Invitrogen) and oligo dT primers from 1 μg of total RNA. The primers were designed for the selected ESTs by Primer3 software [45].
Semi-quantitative RT-PCR was carried out for all the four differentially challenged tissues using an Eppendorf master cycler under the following conditions- 94°C, 2 min- initial denaturation, 27 cycles (94°C – 30 s, 58°C- 30s, 72°C-2 mins) and a final elongation at 72°C for 10 mins. Actin cDNA was amplified as an endogenous control. PCR reaction components included: 1X buffer, 100μM dNTPs, 1.5 mM MgCl2, 0.5 units Taq polymerase (MBI), 0.5 μM primers. Primer sequences are enlisted in additional data (see Additional data file 5).
Obtaining full-length cDNA by 5' RACE
We had obtained full-length coding sequences of the DFP-1, 2 and 3 through EST sequencing. To acquire full-length DFP-4 cDNA, we carried out 5' RACE PCR using the 5' RACE kit (Clontech). The 5' ends were amplified by using an adaptor primer and a reverse gene specific primer. PCR was performed for 25 cycles in an Eppendorf master cycler. A 300 bp band was isolated, sequenced and confirmed to be the 5' DFP-4 sequences.
Declarations
Acknowledgements
We acknowledge Ms Riti Mohapatra for her assistance in the bioinformatics analysis. We are thankful to Mr. Riccardo M. Bennett-Lovsey and Mr. Alex D. Herbert, graduate students, Imperial College, London, for their suggestions in annotating the unknown proteins. We also acknowledge Mr. Venkateswara Rao, Department of Sericulture, Andhra Pradesh, India for supplying A. mylitta larvae. JN acknowledges financial support from Department of Biotechnology, India. AG and AKP are recipients of the fellowship from University Grants Commission (UGC) and Council of Scientific and Industrial Research (CSIR), India respectively.
Authors' Affiliations
(1)
Laboratory of Molecular Genetics, Centre for DNA Fingerprinting and Diagnostics, Nacharam, India
Copyright
© Gandhe et al; licensee BioMed Central Ltd. 2006
This article is published under license to BioMed Central Ltd. This is an Open Access article distributed under the terms of the Creative Commons Attribution License (http://creativecommons.org/licenses/by/2.0), which permits unrestricted use, distribution, and reproduction in any medium, provided the original work is properly cited.