Pfarao: a web application for protein family analysis customized for cytoskeletal and motor proteins (CyMoBase)
Received: 27 June 2006
Accepted: 29 November 2006
Published: 29 November 2006
Abstract
Background
Annotation of protein sequences of eukaryotic organisms is crucial for the understanding of their function in the cell. Manual annotation is still by far the most accurate way to correctly predict genes. The classification of protein sequences, their phylogenetic relation and the assignment of function involves information from various sources. This often leads to a collection of heterogeneous data, which is hard to track. Cytoskeletal and motor proteins consist of large and diverse superfamilies comprising up to several dozen members per organism. Up to date there is no integrated tool available to assist in the manual large-scale comparative genomic analysis of protein families.
Description
Pfarao (Protein Family Application for Retrieval, Analysis and Organisation) is a database driven online working environment for the analysis of manually annotated protein sequences and their relationship. Currently, the system can store and interrelate a wide range of information about protein sequences, species, phylogenetic relations and sequencing projects as well as links to literature and domain predictions. Sequences can be imported from multiple sequence alignments that are generated during the annotation process. A web interface allows to conveniently browse the database and to compile tabular and graphical summaries of its content.
Conclusion
We implemented a protein sequence-centric web application to store, organize, interrelate, and present heterogeneous data that is generated in manual genome annotation and comparative genomics. The application has been developed for the analysis of cytoskeletal and motor proteins (CyMoBase) but can easily be adapted for any protein.
Keywords
Ruby
Motor Protein
Sequencing Project
Phylogenetic Relation
Manual Annotation
Background
The success of the genome sequencing projects have culminated in release 149 of GenBank [1] that announced two milestones: the total sequence data passed the 100 gigabases mark, and, for the first time, the number of bases derived from whole genome shotgun sequencing projects exceeded the number of bases in the traditional divisions of GenBank. However, the process of genome annotation still lags considerably behind that of genome data generation. Although many tools have been developed for the ab initio annotation of whole genomes, especially the annotation of data from higher eukaryotes yields low success rates [2]. The success rates can considerably be increased by similarity searches of EST data or of annotated data from other genomes. But also these data have their drawbacks: ESTs are fragmentary and might suffer from several artefacts including contamination with genomic DNA; similarities to proteins in other species might suffer from evolutionary divergence or the orthologue-paralogue problem [3]; and the presence of alternative splicing considerably complicates the interpretation of alignments between genomic DNA, cDNAs and ESTs. More seriously, however, similarity data is never complete. But it is the annotation that connects the sequence to the biology of the organism [4].
Manual annotation is still by far the most accurate and successful way to achieve correct predictions of genes. This process is best done using the possibilities of comparative genomics and multiple sequence alignments. Because a majority of the proteins are not characterized and their functions are largely unknown, the initial process involves categorizing these predicted proteins into subsets of proteins or protein families based on homology, presence of various functional domains and motifs, as well as similarity to well characterized proteins from other species.
Thus, when working with collections of protein-sequences from different species and sources, one quickly accumulates large amounts of heterogeneous data: Protein and DNA sequences, their identifiers in different databases, references to literature, information about species including taxonomy, and links to online resources like sequencing projects. Since data that can be retrieved from public databases is often incomplete or incorrect it is very desirable to be able to combine manually edited with automatically generated content. In addition, there is often misleading and contradicting data, especially concerning the nomenclature and classification of proteins, that needs to be tracked and commented.
Cytoskeletal and motor proteins have extensively been studied in the past. They are involved in diverse processes like cell division [5], cellular transport [6], neuronal transport processes [7], or muscle contraction [8], to name a few. Especially motor proteins consist of large superfamilies. E.g. vertebrates contain up to 60 myosins and about the same number of kinesins that are spread over more that a dozen distinct classes. Since genome sequence data is rapidly accumulating it is very important to have a reference database for the nomenclature and phylogenetic relation of the proteins that allows the most accurate assignment of biological function possible.
Pfarao is a database driven web application that was written to assist researchers investigating structure, function and phylogeny of proteins. It has been developed for the analysis of cytoskeletal and motor proteins (CyMoBase), but can be adapted to any type of protein. It stores, organizes, interrelates, presents, and analyzes data of various sources. Additionally, it triggers external prediction programs, so that manually entered and automatically generated data is always synchronized.
Utility and discussion
The requirements for Pfarao can be summarized as follows: The key component of the database is the protein sequence that is obtained by manual annotation of genome and EST data with the help of a multiple sequence alignment. The sequence needs to be connected to data that allows the useful interpretation of the results concerning its biological function, and it needs to be linked with primary databases like GenBank or PubMed. To be useful for the specific protein community, whose members are expected to work in all biological and medical sub disciplines, the information of the database has to be presented in the most comprehensible way.
Web interface
Great attention has been paid to a versatile yet easy to use web interface. We think that accessibility and high quality representation is key to a productive usage of the system.
Data can be entered and edited using a series of forms and lists. Relations are represented as pull-down menus.
Pfarao encompasses a live web front end that is generated from the content of the database at each request and thus always reflects the current data, eliminating the need for manual updates. To browse the content of the database, the user selects a set of proteins and protein classes, and is then guided to refine the selection by choosing a set of specific taxa or species. Taxa and species can either be selected from tables containing specific subsets, or from a tree representation of the taxa and species that is generated to match the protein and protein class selection. Taxa and species can be browsed and selected by expanding/collapsing and including/excluding subsections of the tree, or by using shortcuts or auto-completion fields (Fig. 2). We consider the selection of specific species and taxa a key feature for comparative analyses of protein inventories and diversity (Fig. 2).
Upon confirmation of the selection of protein and species, the system compiles a list of all sequences matching the specified criteria and presents it as a list grouped by species in taxonomic order. Additional data about the species like alternative names, links to sequencing centres and publications, as well as detailed information about the sequences including publications, comments, domain organization, and the sequence data, can selectively be shown or hidden (Fig.
3
).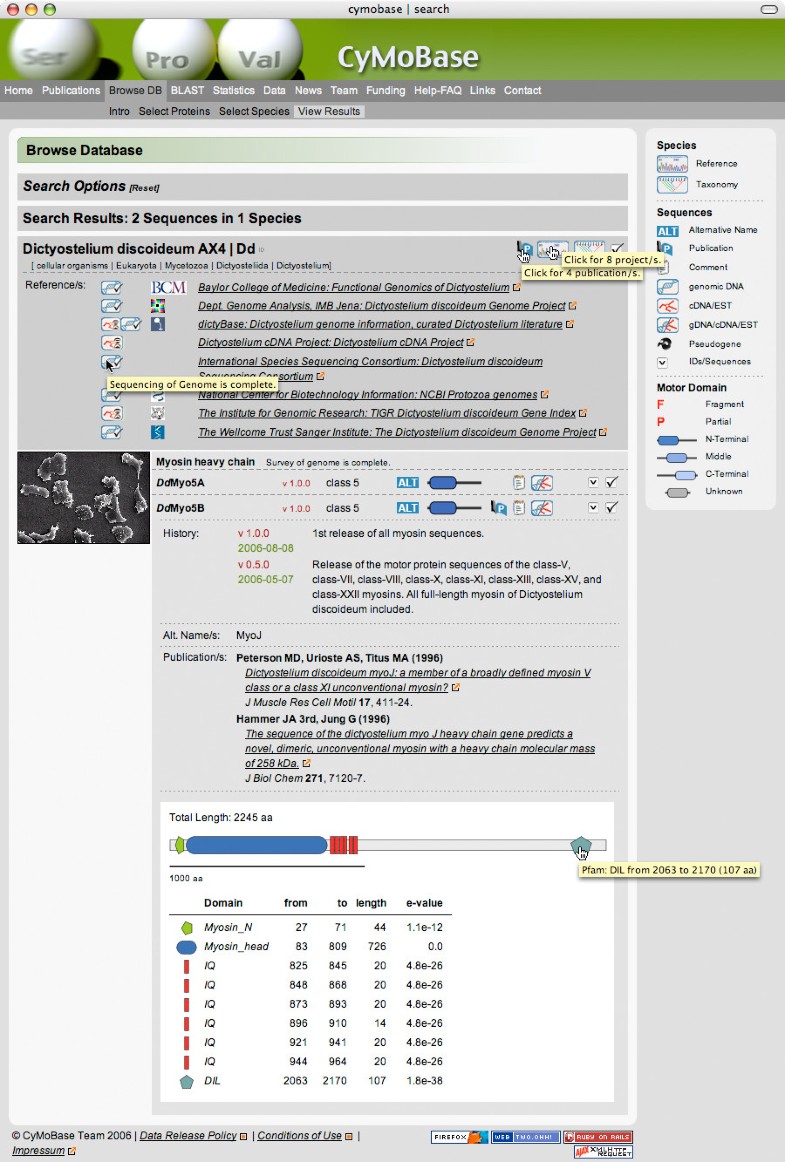 The system provides an integrated BLASTP [14] search and is able to link the sequences in the BLAST database with the records in the SQL database via an ID. Thus the user can, apart from the sequence, immediately access all related information. The organization of the database lends itself to different types of statistical analysis. For each protein, a set of tables and graphs can be generated. These analyses provide important information for the comparison of the protein inventory of specific taxa and species, as well as important insights into the selected protein superfamily. The protein inventory table gives an overview about the class distribution and the number of class members of all or a number of selected species (ordered by taxonomy). Color-coding of the cells helps to quickly identify characteristic patterns of specific taxa. Charts show the ratio of protein classes and the distribution of the molecular weight for a chosen set of classes. All charts are generated on the fly in resolution-independent SVG-code, so they can also be used for print.
Future developments
Pfarao provides a solid platform for additional features and significant future developments of the system are underway. The front end will be extended to allow the graphical representation and fast browsing of large alignments of selected sequences that will be of great value for mutational studies. The interface is also intended to support the generation of phylogenetic trees for a user-defined set of sequences. These extensions will increase the transparency of the manual annotation process, as the user will be able to look at the two basic sources of information about protein sequence relations. It is also planned to incorporate the corresponding DNA data and to track the various alternative splice forms of the proteins.
Case study
Pfarao has initially been developed for cytoskeletal and motor proteins but can easily been adapted to any protein. The database for cytoskeletal and motor proteins is called CyMoBase [23]. Our current in house database contains 3265 Sequences (3095759 amino acids) from 666 species, 494 publications, and 385 references to 165 sequencing projects but is being extended on a daily basis. A portion of the data has been released in the publicly available CyMoBase.
Conclusion
Here, we introduce a web application for the analysis of proteins from manual annotation and their relationship. The major motivation for this work was to provide an integrated environment that organizes and relates all relevant information and presents it using a high quality interface. Pfarao is a tool that allows the researcher to constantly monitor the state of the work without having to manually aggregate data from a range of sources. It has been developed for the analysis of cytoskeletal and motor proteins (CyMoBase) but can easily be customized for any type of protein.
Availability and requirements
CyMoBase can be accessed at http://www.motorprotein.de/cymobase.
Due to the technologies used, it requires Firefox version 1.5 or greater with cookies and JavaScript enabled. Other browsers do not have the required feature set or do not comply with the standards of the W3C [19]. The database schema, the web application, the server program and all scripts can be obtained upon request and used under a Creative Commons License. Use of Pfarao by non-academics requires permission.
Abbreviations
ID:

Identification Number
SVG:

Scalable Vector Graphics
XHTML:

Extensible HyperText Markup Language
XML:

Extensible Markup Language
XML-RPC:

Extensible Markup Language – Remote Procedure Call
Declarations
Acknowledgements
M.K. is supported by a Liebig Stipendium of the Fonds der Chemischen Industrie, which is in part financed by the BMBF. This work has been funded by grant I80798 of the VolkswagenStiftung.
Authors' Affiliations
(1)
Department of NMR-based Structural Biology, Max-Planck-Institute for Biophysical Chemistry, Goettingen, Germany
Copyright
© Odronitz and Kollmar; licensee BioMed Central Ltd. 2006
This article is published under license to BioMed Central Ltd. This is an Open Access article distributed under the terms of the Creative Commons Attribution License (http://creativecommons.org/licenses/by/2.0), which permits unrestricted use, distribution, and reproduction in any medium, provided the original work is properly cited.