Research article

Open Access
Quantitative assessment of relationship between sequence similarity and function similarity
Received: 05 July 2006
Accepted: 09 July 2007
Published: 09 July 2007
Abstract
Background
Comparative sequence analysis is considered as the first step towards annotating new proteins in genome annotation. However, sequence comparison may lead to creation and propagation of function assignment errors. Thus, it is important to perform a thorough analysis for the quality of sequence-based function assignment using large-scale data in a systematic way.
Results
We present an analysis of the relationship between sequence similarity and function similarity for the proteins in four model organisms, i.e., Arabidopsis thaliana, Saccharomyces cerevisiae, Caenorrhabditis elegans, and Drosophila melanogaster. Using a measure of functional similarity based on the three categories of Gene Ontology (GO) classifications (biological process, molecular function, and cellular component), we quantified the correlation between functional similarity and sequence similarity measured by sequence identity or statistical significance of the alignment and compared such a correlation against randomly chosen protein pairs.
Conclusion
Various sequence-function relationships were identified from BLAST versus PSI-BLAST, sequence identity versus Expectation Value, GO indices versus semantic similarity approaches, and within genome versus between genome comparisons, for the three GO categories. Our study provides a benchmark to estimate the confidence in assignment of functions purely based on sequence similarity.
Keywords
Gene OntologySemantic SimilarityFunctional SimilarityIndex LevelQuery Protein
1. Background
Large-scale genome sequencing projects have discovered many new proteins. Of all the proteins whose sequences are known, functions have been experimentally determined for only a small percentage [1]. Annotation of a genome involves assignment of functions to proteins in most cases on the basis of sequence similarity. Protein function assignments based on postulated homology as recognized by sequence identity or significant expectation value of alignment are used routinely in genome analysis. Over the past years, many computational methods [2–11] have been developed to predict function through identifying sequence similarity between a protein of unknown function and one or more proteins with experimentally characterized or computationally predicted functions. However, it is widely recognized that functional annotations should be transferred with caution, as the sequence similarity does not guarantee evolutionary or functional relationship. In addition, if a protein is assigned an incorrect function in a database, the error could carry over to other proteins for which functions are inferred by sequence relationship to the protein with errant function assignment [12–14].
Despite the central role that sequence comparison programs play in functional annotation, a thorough analysis of the quality of methods based on a large-scale dataset has not been performed. Improvements in the sensitivity of sequence comparison algorithms have reached the point that proteins with previously undetectable sequence relationship, for instance with 10–15% identical residues, may be classified as similar [
15
]. On the other hand, alignments are more likely to be correct for higher levels of pairwise sequence identity; and are less likely to be correct in the so-called "twilight zone", where the sequence similarity is low [
16
]. An estimate of the expectation value of an alignment provides a good assessment for whether the two aligned proteins are homologous [
17
]. Nevertheless, prediction of protein function from sequence is a difficult problem, because not only sequence similarity does not guarantee homology, but also homologous proteins often have different functions [
18
,
19
]. In particular, when two proteins are distantly related, there is no good indicator to reliably assess whether they are homologous or not. Figure
1
shows the number of unique orthologous pairs between the yeast
Saccharomyces cerevisiae
and
Arabidopsis thaliana
acquired from the Website of Clusters of Orthologous Groups of proteins (COGs) [
37
]. The COG pairs distribute in a broad range of sequence identity and expectation value. It is clear that neither percentage of sequence identity nor expectation value can give a complete insight into the relationship between the two proteins. Towards this we wish to study the detailed quantitative relationship in terms of functions and relate it with sequence identity and expectation value intervals.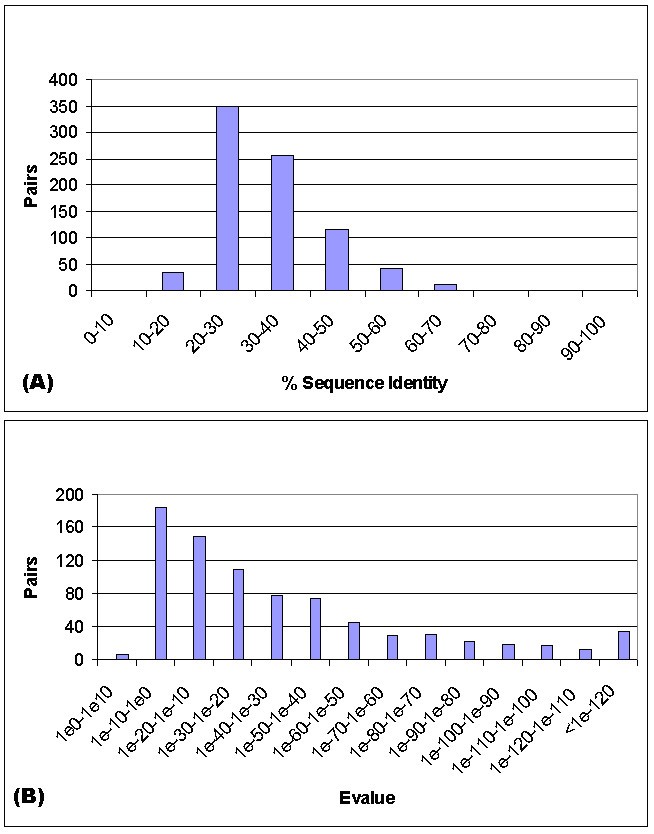 A number of studies in sequence-function relationship have been carried out. Shah et al. [20] showed that many EC (Enzyme Commission) classes could not be perfectly discriminated by sequence similarity at any threshold. Pawlowski et al. [15] have studied the relation between sequence similarity and functional similarities based on the EC classification for the E. coli genome. However, this study is limited only to within genome comparisons and lacks any analysis based on inter-genome comparisons. Devos et al. [21] have studied the complexity in transferring function between similar sequences. Their study shows that binding site, keywords, and functional class annotations are less conserved than EC numbers, and all of them in turn are less conserved than protein structure. Wilson et al. showed that percent identity in sequence alignment is more effective at quantifying functional conservation of their simple classification of SCOP domains than modern probabilistic scores [22]. However, all these studies did not use a broad definition of functions for a systematic large-scale analysis. In this paper, we will build a comprehensive and systematic benchmark for the sequence-function relationship using four model organisms (Arabidopsis thaliana, Saccharomyces cerevisiae, Caenorrhabditis elegans, and Drosophila melanogaster) and controlled vocabularies of function annotation terms in the Gene Ontology [38] from three different perspectives, i.e., biological process, molecular function, and cellular component.
2. Results and discussion
3. Conclusion
It has been long recognized that genome annotations using computational methods produce many false function assignments. Many of these methods have been applied to function prediction. They often provide valuable hypotheses, but none are perfect. As a result, it is known that many databases contain incorrect function assignments, and these erroneous assignments propagate from one database to another. Nevertheless, up until now there has been no systematic study for this critical issue. The question whether two proteins are functionally similar is very complex to answer. Function is a very complex notion involving many different aspects including chemical, biochemical, cellular, organism mediated, and developmental processes. Qualitatively it is expected that with higher sequence similarity, the two proteins are more likely to have related functions. However, quantitatively the relationship between function similarity at the different categories and sequence similarity has not been studied deeply. Such a quantitative study is fundamentally important, as it can provide assessment of gene function prediction quality and insights into the underlying mechanisms of new evolving functions through changes in sequence [25, 26].
Our study confirms that sequence comparison often provides good suggestions for gene functions or related functions. These suggestions serve as useful hypotheses for further experimental work to confirm, refine or refute the predictions. Such a process can substantially increase the speed of biological knowledge discovery. On the other hand, when assigning function based purely on similarity to proteins of known function (as annotated in databases), it is important to be aware of incomplete or wrong annotations. Given the value of computational function annotation, our study also shows that a significant portion of gene annotations of biological process, molecular function, and cellular component based solely on sequence similarity, in particular, when the sequence similarity is low, are unreliable. Our study also provides a numerical benchmark for the extent to which one can trust computational annotation. It is possible that a confidence score can be derived from our study for any annotation based on sequence similarity. With this score in the annotation file, the user can have a better insight about the quality of the annotations. Furthermore, our analyses highlights the different sequence-function relationships identified from BLAST versus PSI-BLAST, sequence identity versus Expectation value, GO indices versus semantic similarity approaches and within genome versus between genome comparisons, for the three GO classification types.
There are some limitations in our current study. Our study can only reflect certain aspect of protein function. Protein function variations may result from factors other than sequence, such as alternative splicing and post-translational modification, and our method does not address these factors. Another limitation is that when we assess gene function prediction, we only consider one hit at a time in a database. In many cases, sequence comparison yields multiple hits for one query protein and these hits may have different functions. In our future study, we will develop a new method to assess the function prediction for a query protein by combining the functions of multiple hits while considering the dependence among these functions and the E-values of the hits.
Declarations
Acknowledgements
This research is supported by USDA/CSREES-2004-25604-14708 and NSF/ITR-IIS-0407204. We like to thank the anonymous reviewers for their helpful suggestions.
Authors' Affiliations
(1)
Digital Biology Laboratory, Department of Computer Science and Christopher S. Bond Life Sciences Center, University of Missouri, Columbia, USA
Copyright
© Joshi and Xu; licensee BioMed Central Ltd. 2007
This article is published under license to BioMed Central Ltd. This is an Open Access article distributed under the terms of the Creative Commons Attribution License (http://creativecommons.org/licenses/by/2.0), which permits unrestricted use, distribution, and reproduction in any medium, provided the original work is properly cited.