Research article

Open Access
Evolutionary genomics of plant genes encoding N-terminal-TM-C2 domain proteins and the similar FAM62 genes and synaptotagmin genes of metazoans
Received: 22 November 2006
Accepted: 31 July 2007
Published: 31 July 2007
Abstract
Background
Synaptotagmin genes are found in animal genomes and are known to function in the nervous system. Genes with a similar domain architecture as well as sequence similarity to synaptotagmin C2 domains have also been found in plant genomes. The plant genes share an additional region of sequence similarity with a group of animal genes named FAM62. FAM62 genes also have a similar domain architecture. Little is known about the functions of the plant genes and animal FAM62 genes. Indeed, many members of the large and diverse Syt gene family await functional characterization. Understanding the evolutionary relationships among these genes will help to realize the full implications of functional studies and lead to improved genome annotation.
Results
I collected and compared plant Syt-like sequences from the primary nucleotide sequence databases at NCBI. The collection comprises six groups of plant genes conserved in embryophytes: NTMC2Type1 to NTMC2Type6. I collected and compared metazoan FAM62 sequences and identified some similar sequences from other eukaryotic lineages. I found evidence of RNA editing and alternative splicing. I compared the intron patterns of Syt genes. I also compared Rabphilin and Doc2 genes.
Conclusion
Genes encoding proteins with N-terminal-transmembrane-C2 domain architectures resembling synaptotagmins, are widespread in eukaryotes. A collection of these genes is presented here. The collection provides a resource for studies of intron evolution. I have classified the collection into homologous gene families according to distinctive patterns of sequence conservation and intron position. The evolutionary histories of these gene families are traceable through the appearance of family members in different eukaryotic lineages. Assuming an intron-rich eukaryotic ancestor, the conserved intron patterns distinctive of individual gene families, indicate independent origins of Syt, FAM62 and NTMC2 genes. Resemblances among these large, multi-domain proteins are due not only to shared ancestry (homology) but also to convergent evolution (analogy). During the evolution of these gene families, duplications and other gene rearrangements affecting domain composition, have occurred along with sequence divergence, leading to complex family relationships with accordingly complex functional implications. The functional homologies and analogies among these genes remain to be established empirically.
Keywords
Intron PositionIntron GainHUGO Gene Nomenclature CommitteePublic Sequence DatabasePrimary Nucleotide Sequence
Background
Synaptotagmins (Syts) share a common structure: an N-terminal transmembrane (TM) sequence followed by a variable length linker and two tandem, distinctly conserved C2 domains, C2A and C2B. Syt1 [1] identified as a protein component of synaptic vesicles, is known to be required for nervous system function, acting crucially in the fast, synchronous component of calcium regulated synaptic vesicle exocytosis [2]. Genomic analysis of Syt genes [3, 4] indicates that animal genomes encode diverse sets of Syt genes but always maintain a Syt1 orthologue. Although it is likely that Syt1 orthologues function similarly [2, 5–8] the functions of the other Syt genes, in different species, still remain to be established. The complexity of this task increases with the number of Syt genes and these increase along with organism complexity. The first study of the full set of Syt genes in a model organism [9] indicated that only Syt1 is expressed on synaptic vesicles. The other Syt genes were found to be expressed in different and distinct places. Many studies using different mammalian Syt genes, indicate tissue distributions which are primarily neural eg. [[10, 11] and references therein]. Naturally occurring, cell type-specific expression patterns have, however, rarely been described eg. [[7, 9, 12, 13] and references therein]. The discovery of genes in plants which are similar to Syt genes [3, 4, 14] further complicates functional predictions. While the plant genes and another group of animal genes (FAM62) share similarity with Syt genes, little is known about their functions. A preliminary biochemical analysis of proteins from the human FAM62 gene family has just been published [15] but growing speculation about the plant genes [16–18] necessitates a more detailed description of their similarities and differences which could usefully inform future functional studies. I have made use of the abundance of recently deposited nucleotide sequences from a wide range of organisms, to carry out a comparative genomics analysis of these genes, in order to shed light on their evolutionary relationships.
Discussion
I have examined groups of genes in plants and animals which encode N-terminal TMs followed by a linker and one or more C2 domains. The
NTMC2
genes and the
FAM62
genes share sequence similarity in the linker region between the N-terminus and the first C2 domain. This region has recently been identified as a conserved domain of unknown function named SMP [
30
]. The
NTMC2
genes have one or two C2 domains and the
FAM62
genes have three or more C2 domains. The plant genes and the animal genes each have modular gene structures with conserved intron positions. Figure
13
shows a summary of the structures of the
FAM62
genes and the
NTMC2
genes.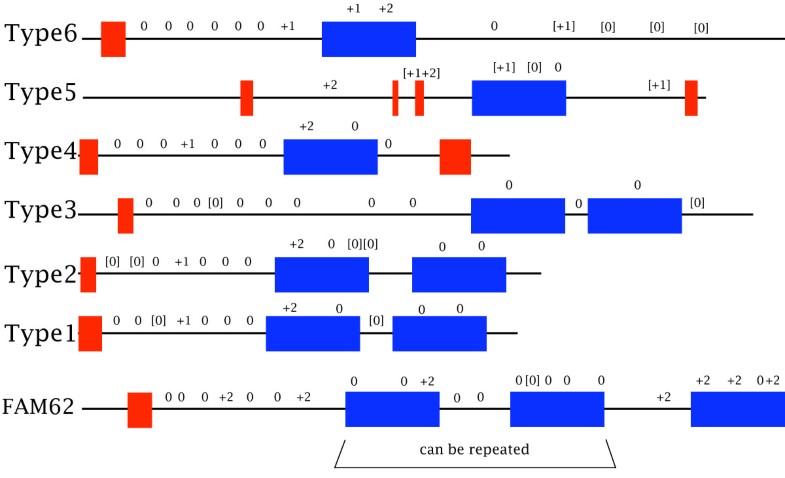 FAM62-like genes are identifiable in yeasts and fungi, but their more divergent sequences and general lack of introns set them apart from the group of metazoan FAM62 genes and I have not analysed them here. I have identified similar genes in other non-metazoans, such as Trypanosoma brucei, Ostreococcus tauri and Cyanidioschyzon merolae, but these too are quite divergent and lack introns (details in additional file 5). All of the full-length nucleotide sequences in this paper are listed in additional file 6. All of the full-length amino acid sequences in this paper are listed in additional file 7.
The NTMC2Type1, NTMC2Type2 and NTMC2Type3 genes are Syt-like, in that they have an N-terminal TM and two separately conserved C2 domains. Their conserved intron patterns distinguish them from Syt genes which have only been found in metazoans and have their own distinctive intron patterns. The NTMC2Type1, NTMC2Type2 and NTMC2Type4 genes are highly similar up to the first C2 domain, indicating a possible gene fusion or fission.
A gene fission event is apparent in the genes encoding Doc2 and Rabphilin proteins (figure 12, details in additional file 4). Rabphilin and Doc2 are related proteins, each with two tandem C-terminal C2 domains which share amino acid sequence similarity with Syt C2 domains. They have partly shared gene structures. The genes encoding the Doc2 proteins comprise the C-terminal half of the genes encoding Rabphilin and thus lack the N-terminal Rabphilin effector domain. Whereas genes encoding Rabphilin are widely distributed among metazoans, genes encoding Doc2 appear to have arisen in the vertebrate lineage. Ciona intestinalis has one Rabphilin gene and no Doc2 genes. Mus musculus has one Rabphilin gene and three Doc2 genes. Figure 12 illustrates these sequences and their common gene structure. The conserved intron positions help to clarify the relationship between the Doc2 genes and the Rabphilin genes. The intron patterns within the C2 domain regions of these genes appear dissimilar to those of any of the other groups of C2 domains analysed here, further demonstrating that genes which share similarity at the amino acid level, can be divided into genuinely homologous families on the basis of their gene structures.
The difficulty of applying a consistent and meaningful gene nomenclature is highlighted by this work. In the past, gene naming was usually the result of slow and painstaking research. Genes were given names indicating a phenotype or functional aspect of an expressed product. Now in the genome era, vast numbers of genes are appearing at great speed. To make sense of all this new information, evolutionary genomics [29] aims to dissect the complex relationships between genes in different life forms over evolutionary time scales, thereby improving genome annotation. Genes can express multiple functional products and be regulated differently in different contexts. This means that it cannot be straightforward to predict the functional consequences of variations at particular genomic loci, in different species or even different individuals. Functional annotation of genomes is therefore not a straightforward task.
There is already confusion with Syt nomenclature (see for example SYT5, Syt5, SYT9 and Syt9 in the Gene and Pubmed databases at NCBI). Equivalent genomic loci in different species can be given different names through separate genome annotation pipelines, and the community of researchers engaged in functional studies of the gene products, continue to supply yet more names relating to the particular functions they have studied (for example, see [15]). In this paper I have named the Syt α genes, which lack human homologues, in line with [9]. I have named those with human homologues, according to the HUGO gene nomenclature committee approved human gene names [25]. Three Syt genes in Caenorhabditis elegans remain unclassified at present and I have simply numbered them (1) to (3) for now. The Wormbase [31] nomenclature for Caenorhabditis elegans Syt genes: snt-1 to snt-6 does not (apart from snt-1 being numbered consistent with its relationship to other Syt1 genes) yet take account of their evolutionary relationships. Flybase [32]Syt gene names are currently restricted to three of the seven Syt genes in Drosophila melanogaster: Syt1,4 and 7 (yet see [33] where four Syt genes were identified in Drosophila melanogaster, but only two of these match Flybase Syt genes, likely due to inaccuracies in the source databases used). While the Homo sapiens and Mus musculus genes encoding Rabphilin have now been named RPH3A and Rph3a, respectively, the genes encoding Doc2 proteins have not yet acquired genome nomenclature committee approved names. I named the FAM62 genes in this paper according to the HUGO gene nomenclature committee approved names, but these names have no functional meaning. I suggest a nomenclature for the plant genes which describes their domain composition. This may have some functional relevance.
For the future annotation of genomes with homologues of the genes discussed here, it would be useful to incorporate these gene predictions into the sequence databases such that they are obviously visible and appropriately connected. This should be possible via the recently introduced Third Party Annotation (TPA) facility at the NCBI and EMBL nucleotide sequence databases. Genome annotation needs to be updated continuously and the information from separate genome projects integrated. A possible wiki solution to the problem of updating genome annotation has recently been proposed [34].
Conclusion
A comparative genomics analysis of genes with N-terminal-TM-C2 domain architectures helps to understand how these genes have evolved. Although it is not possible to draw firm conclusions about the total gene complement of organisms from incomplete genome sequences, such information is needed for sound inferences about the origin and diversification of gene families. The examination of a wide variety of fragmentary sequences does, however, provide much information, useful both for understanding the evolution of genes and their functional products. Large scale, structure-based comparisons of protein sequences inform functional perspectives on the evolution of protein repertoires eg. [[35–37] and references therein]. A structural analysis of eukaryotic C2 domain proteins [38] has considered the evolution of this particular domain. For more gene-oriented perspectives, see eg. [29, 39, 40] and for a consideration of non-coding sequence evolution, see eg. [41, 42].
The collection of genes used here, includes evolutionarily widely dispersed genes with distinctive intron-exon patterns. It includes several gene families with long evolutionary histories. The origins of these gene families are not yet clear but appear to be several. Genome sequences from more lineages of simple, deep-branching eukaryotes may, in future, reveal the earlier histories of these gene families. The collection demonstrates different modes of gene evolution: the C2 domain duplication of FAM62A genes, the whole gene duplication of the Tribolium castaneum FAM62 genes and Mus musculus Doc2 genes, the alternative exons of the C2-1 domain encoded by insect FAM62 genes, the gene fusion/fission of NTMC2Type2/NTMC2Type4 and Rabphilin/Doc2 genes, and the expansion and diversification of the Syt gene family. Intron gains and losses are also demonstrated. Intron movements in the duplicated Tribolium castaneum FAM62 genes and intron movement with functional consequences in the NTMC2Type2 genes are interesting examples. The mechanisms of intron gain and loss and the causes of intron evolution are matters of considerable debate [39, 43]. This gene collection provides some useful information for this area of investigation.
Different gene products in this collection share a domain architecture which implies membrane proteins tethered by TM domains, which via their C2 domains, interact with lipids, other membranes and other proteins, sometimes in a calcium regulated manner. Functional studies on many of these genes have yet to be undertaken. It remains to be seen exactly what levels of functional equivalence exist even between different members of the same gene family, for example, the Syt gene family. An empirical approach to investigating the functions of plant NTMC2 genes and animal FAM62 genes would therefore seem more wise than attempting to make functional predictions based on their shared structural domains, which are not homologous. Improved understanding of the evolutionary relationships among these genes will help to guide and interpret future functional studies as well as informing the effort to annotate genome sequences. I hope that innovations in gene and genome annotation will in future allow the easy integration of new results from functional studies and that new functional studies can likewise be informed by evolutionary considerations based on good annotation. Complex, eukaryotic genes are difficult to predict accurately from genome sequences and need to be verified by comparison with transcript sequences. This is especially important when subtle gene regulation by alternative splicing and RNA editing is involved. Ideally, in time, it will be possible to integrate all sources of data into a comprehensible resource.
Methods
Cloning and sequencing of Physcomitrella patens genes
Physcomitrella patens genomic DNA was a gift from Didier Schaefer. I used this as a template for PCR reactions. I amplified genomic regions using Pfu turbo polymerase with phosphorylated primers and cloned the products into Sma digested pBSIIKS-. After sequencing, overlapping clones were selected and digested with restriction enzymes in such a way as to ligate the genomic locus into one piece. The sequence of each genomic clone was deposited in the public sequence databases [EMBL:AM410046, EMBL:AM4100449, EMBL:AM410050]. cDNA clones, also gifts from Didier Schaefer, were obtained from the M. Hasebe collection [44] at PHYSCObase [23] and sequenced completely. These sequences were deposited in the public sequence databases [EMBL:AM410045, EMBL:AM410047, EMBL:AM410048].
Confirmation of RNA editing of Arabidopsis thaliana NTMC2Type2.2
A full-length cDNA clone of Arabidopsis thaliana NTMC2Type2.2 was a gift from Boris Voigt. I confirmed the coding sequence and deposited this in the public sequence databases [EMBL:AM410051].
Declarations
Acknowledgements
I wish to thank Didier Schaefer and Boris Voigt for their gifts of plant DNAs.
Authors' Affiliations
(1)
Medical Research Council Laboratory of Molecular Biology, Cambridge, UK
Copyright
© Craxton; licensee BioMed Central Ltd. 2007
This article is published under license to BioMed Central Ltd. This is an Open Access article distributed under the terms of the Creative Commons Attribution License (http://creativecommons.org/licenses/by/2.0), which permits unrestricted use, distribution, and reproduction in any medium, provided the original work is properly cited.