Research article

Open Access
Comparative genomic analysis and evolution of the T cell receptor loci in the opossum Monodelphis domestica
Received: 21 November 2007
Accepted: 29 February 2008
Published: 29 February 2008
Abstract
Background
All jawed-vertebrates have four T cell receptor (TCR) chains: alpha (TRA), beta (TRB), gamma (TRG) and delta (TRD). Marsupials appear unique by having an additional TCR: mu (TRM). The evolutionary origin of TRM and its relationship to other TCR remain obscure, and is confounded by previous results that support TRM being a hybrid between a TCR and immunoglobulin locus. The availability of the first marsupial genome sequence allows investigation of these evolutionary relationships.
Results
The organization of the conventional TCR loci, encoding the TRA, TRB, TRG and TRD chains, in the opossum Monodelphis domestica are highly conserved with and of similar complexity to that of eutherians (placental mammals). There is a high degree of conserved synteny in the genomic regions encoding the conventional TCR across mammals and birds. In contrast the chromosomal region containing TRM is not well conserved across mammals. None of the conventional TCR loci contain variable region gene segments with homology to those found in TRM; rather TRM variable genes are most similar to that of immunoglobulin heavy chain genes.
Conclusion
Complete genomic analyses of the opossum TCR loci continue to support an origin of TRM as a hybrid between a TCR and immunoglobulin locus. None of the conventional TCR loci contain evidence that such a recombination event occurred, rather they demonstrate a high degree of stability across distantly related mammals. TRM, therefore, appears to be derived from receptor genes no longer extant in placental mammals. These analyses provide the first genomic scale structural detail of marsupial TCR genes, a lineage of mammals used as models of early development and human disease.
Keywords
Gene Segment
Nucleotide Identity
Versus Segment
Recombination Signal Sequence
Opossum Genome
Background
The hallmarks of the vertebrate adaptive immune system are antigen specific receptors, the T cell receptors (TCR) and immunoglobulins (Ig) encoded by genes that undergo somatic DNA recombination to generate diverse binding specificities. The TCR are expressed by thymus-derived lymphocytes (T cells) that play a major role in regulation and effector functions of immune responses. Each T cell expresses a unique TCR that binds a specific antigen resulting in the activation of an immune response [1, 2]. TCR are heterodimers comprised of either alpha (TRA) and beta (TRB) or gamma (TRG) and delta (TRD) combinations, respectively. These two combinations define the two major lineages of T cells: αβT cells and γδT cells [3, 2]. αβT cells typically recognize peptide antigens presented on major histocompatibility complex (MHC) encoded molecules. In contrast γδT cells have been shown to be either MHC restricted or in some cases, similar to Ig, able to bind free antigen [4]. Ig are expressed by antibody forming cells (B cells), which produce both a membrane bound form of Ig that comprises the B cell receptor (BCR) and a soluble form that is free antibody. Like TCR, Ig are made up of two different chain types, a heavy (IgH) and light (IgL) chain. TCR and Ig chains both contain variable domains that bind the antigen and membrane-proximal constant (C) domains. It is the variable domains that are encoded by gene segments that undergo somatic recombination to generate diversity in binding specificity. The gene segments encoding the variable domains of TRA, TRG and IgL chains are the variable (V) and joining (J) gene segments, while the variable domains of TRB, TRD and IgH chains are encoded by exons assembled from V, diversity (D) and J gene segments [5]. Recombination of these gene segments takes place in the thymus for developing T cells and adult bone-marrow for developing B cells [5].
Of the immunoglobulin superfamily (IgSF) members, the TCR and Ig are each other's nearest relatives, however there are dissimilarities to their genetic structure and evolutionary history [6, 7]. For example all jawed-vertebrates appear to contain the same four homologous TCR isotypes: TRA, TRB, TRG, and TRD [8]. In contrast there is variability in the number and class of Ig isotypes in different vertebrate lineages [9, 10]. In addition the organization of TCR loci appears to be more conserved than Ig. For example, in cartilaginous fish most Ig loci are organized as multiple, unlinked clusters of [V-(D)-J-C], limiting the combinatorial usage of their gene segments [11]. Whereas, in bony fish and tetrapods the majority of Ig loci are organized in the translocon style of Vn-(D)n-Jn-Cn [11]. TCR loci tend to be organized in the translocon style in all lineages. These differences between TCR and Ig genes are likely the result of dissimilar selection forces on the two different antigen receptor systems and have made determining the evolutionary relationship of the TCR and Ig chains to each other unclear [12].
The relationship between Ig and TCR is further muddled by the recent discoveries in marsupials and sharks of TCR loci that appear to be hybrids between ancestral Ig and TCR loci [13, 14]. In marsupials, a mammalian lineage that diverged from eutherians (placental mammals) 186 to 193 million years ago (MYA), a new fifth TCR chain, named TCR mu (TRM) has been identified [14, 15]. Unlike the conventional TCR, TRM has a tandem cluster organization and its origins appear to have involved a recombination between and ancestral TCR locus, most likely a TRD and IgH. TRM appears analogous to an unusual shark TCR called NAR-TCR, which utilizes the C regions of TRD and upstream Ig-like V regions [13]. Both TRM and NAR-TCR are expressed in an atypical TCR isoform that contains double variable domains. Marsupial TRM and shark NAR-TCR, however, are not orthologous but rather the product of convergent evolution generating common features [14]. Nonetheless the presence of TCR with these features in both marsupials and cartilaginous fish, make it likely analogous TCR will be found in other vertebrate lineages and illustrate a level of plasticity in TCR evolution heretofore unrealized.
The availability of the first completely sequenced marsupial genome provides the opportunity to investigate the evolutionary origins of TRM and its relationship to the conventional TCR in mammals [16]. Towards this aim we have determined the complete genomic organization, content and evolution of the loci encoding both the conventional TCRs (TRA, TRB, TRG and TRD) and the recently discovered TRM locus in the opossum Monodelphis domestica. In addition, these analyses provide a level of detail for the TCR genes of a marsupial that has only been available for a limited number of eutherians such as human and mouse.
Conclusion
First and foremost, we have described in detail the genomic content and complexity of the T cell receptor loci for the opossum Monodelphis domestica, the first such analysis available for a marsupial. The opossum is arguably the most extensively studied marsupial species and is used as a model of human disease and development. The opossum, for example, is one of the few mammalian model organisms that develop melanoma following exposure to ultraviolet radiation providing a cancer model [42]. Additionally, opossums are a natural host and a reservoir of the causative agent of Chagas disease, Trypanosoma cruzi [43]. Like all marsupials, opossums give birth to highly altricial young also providing a model for early immune as well as other anatomical system development. Further characterization of the immune system in the opossum, and T cell immunobiology in particular, is important for better understanding of these disease and developmental models. Complete characterization of the TCR genomics in this species is one step in that direction.
In spite of detailed analyses of the opossum conventional TCR loci, the origins of TRM remain enigmatic. The current evidence support the following conclusions and model for the origin of TRM: 1) There likely was a recombination or insertion event between an
IgH
and
TCR
locus (Figure
10
); 2) The
TCR
locus involved was most likely
TRD
or a
TRD-like
based on sequence similarity [
14
]. Unfortunately the highly conserved and stable organization of the TRA/D region across birds and mammals does not provide clues as to how TRD might have participated in the origins of TRM; 3) The IGH-TCR hybrid formed likely underwent a whole or partial duplication event giving rise to multiple sets of V, D, and J elements one of which remained unrearranged in the germline, the other becoming germline joined either through direct RAG mediated V(D)J recombination in the germline (left-hand path in Figure
10
) or through retrotransposition (right-hand path in Figure
10
). Ongoing analyses of the TRM locus in the platypus may yield further insights into these possible scenarios for the origins of this unusual TCR chain.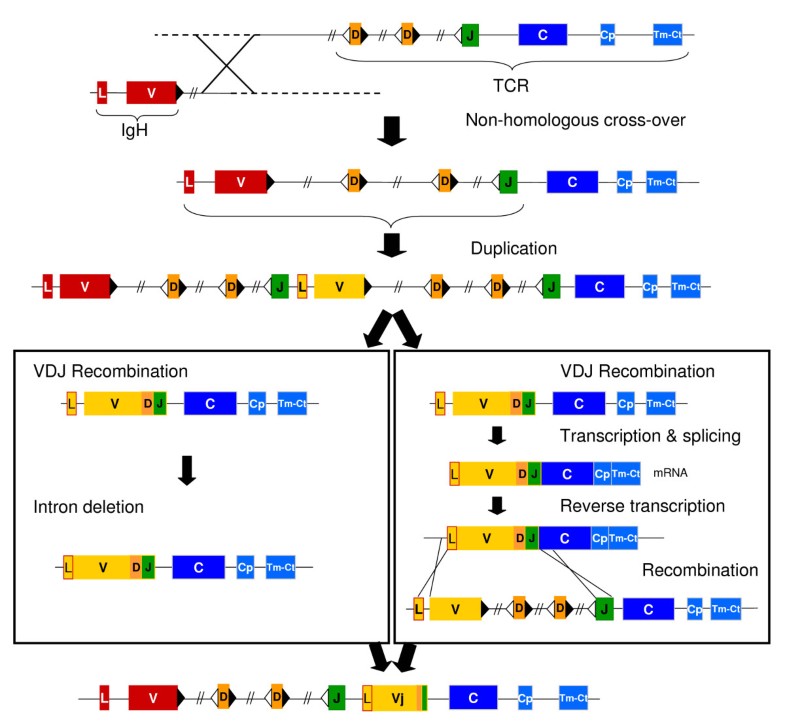 Methods
Genome analyses
The opossum whole genome assembly MonDom5 was used in this study and it is available at GenBank under the accession number AAFR00000000[23]. The location for all TCR gene segments in MonDom5 is provided in Additional file 3. For comparative purposes the current genome assemblies from human (NCBI 36), mouse (NCBI m37), cow (Btau_3.1) and chicken (WASHUC2), rabbit (RABBIT), dog (CanFam2.0), cat (CAT), horse (preEnsembl EquCab2), hedgehog (eriEur1), elephant (BROAD E1), armadillo (ARMA) and the anole lizard (AnoCar1.0) were searched for any evidence of TRM. Genomes were analyzed using BLAST assembled genomes tools [23, 35].
RNA extraction
Opossum lymphoid tissues were collected and immediately processed to extract the RNA or stored in RNAlater® (Ambion, Austin, TX) at 4°C for 24 hours and stored at -80°C for use later. Whole RNA extraction was performed using the Trizol RNA extraction protocol (Invitrogen, Carlsbad, CA). Tissue was homogenized in 1 ml of Trizol® Reagent per 100 mg until the tissue was completely dispersed. Phase separation was done using 200 μl of chloroform per 1 ml of Trizol. RNA was precipitated with 500 μl of isopropanol per 1 ml of trizol, washed with 70% ethanol and resuspended in 50 to 100 μl of DEPC water. DNase treatment to remove contaminating DNA has been performed using Ambion's kit TURBO DNA-free (Ambion, Austin, TX). Each sample was quantified using the NanoDrop ND-1000 Spectrophotometer (NanoDrop Technologies, Wilmington, DE).
Reverse transcription, PCR and sequencing
Reverse transcription-polymerase chain reactions (RT-PCR) were performed using GeneAmp RNA PCR Core Kit (Applied Biosystems, Foster City, CA). Amplifications of cDNAs were performed using AdvantageTM-HF 2 PCR (BD Biosciences, CLONTECH Laboratories, Palo Alto, California) with the conditions: 94°C for 1 minute, denaturation at 94°C for 30 seconds, annealing/extension according to the melting temperature of the primers, and a final extension period of 68°C for 5 minutes.
PCR products were cloned using TOPO TA Cloning® Kit for sequencing (Invitrogen, Carlsbad, CA). Plasmids were sequenced using BigDye Terminator Cycle Sequencing Kit v3 (Applied Biosystems, Foster City, CA) in 10 μl reactions and analyzed on an ABI Prism 3100 DNA automated sequencer (PerkinElmer Life And Analytical Sciences Inc, Wellesley, MA). Analyses of chromatograms were done using the SequencherTM 4.6 program (Gene Codes Corporation, Ann Arbor, MI).
Identification of TRV, TRD, TRJ, TRC genes
To determine the location, content and organization of the TCR genes, the whole opossum genome was searched using the BLAST algorithm. TRA, TRB, TRG, TRD and TRM were located using sequences previously isolated [28, 29, 38, 14]. The V and J segments were located by similarity to corresponding segments from other species and by identifying the flanking conserved RSS.
Rapid amplification of 5' complementary DNA ends (5' RACE) performed on opossum thymus mRNA was used to identify novel, expressed V, D and J segments. In addition to using 5' RACE, PCR using primers that are specific for each V family were also used in RT-PCR to amplify cDNA containing VDJ recombinations that are underrepresented in the RACE PCR. Primers used to amplify the conventional TCR are complementary to the most conserved sequences of the V regions and have been paired with primers located on the C regions (Additional file 4). Sequences obtained by these means were compared with the whole opossum genome using the BLAST algorithm to identify novel TCR gene segments. This approach allowed the identification of gene segments in six possible reading frames, which also help to find gene segments located in the reverse orientation and D segments that may be used in multiple reading frames. The exon-intron organization of V regions was determined using sequences obtained by 5' RACE.
Determination of the exon-intron organization in the C regions was done using BLAST to compare available cDNA sequences that encode complete TCR chains to the opossum genomic sequences. Additionally, transcripts encoding the C terminal end of TCR were obtained by 3' RACE performed on thymus cDNA. Clones obtained by 3' RACE PCR were used to identify the CP, TM and CT and 3' untranslated regions (UTR) for each one of the TCR. cDNA made using the Oligo dT primer was used to perform 3' RACE PCR. The Oligo dT primer supplies a priming site for the GeneRacerTM 3' PCR primers. Sequences obtained by 3' RACE were aligned with the germline sequences to determine the location, intron-exon boundaries and splice sites of these exons.
Nomenclature
Opossum gene segments were named following the IMGT nomenclature established for human and mouse [44]. TRV segments were numbered according to their location, from the 5' to 3' end of the locus. TRAJ segments were numbered from 3' to 5' according to a nomenclature proposed by Koop et al. [45] and followed by IMGT. The TRBD, TRBJ and TRBC found in four cassettes in the opossum are numbered according to the cassette to which they belong and the position of the cassette from 5' to 3' in the locus.
Phylogenetic analyses
Nucleotide sequences that encode from FR1 through FR3 of the V regions identified from each one of the opossum TCR loci were compared to TCR V sequences from other species retrieved from GenBank. The sequences were aligned using ClustalX [46] and BioEdit [47] programs. Phylogenetic analyses were performed using MEGA version 3.0 [48] for the distance methods (neighbor joining and minimum evolution). Confidence values were obtained from bootstrap analyses using 1000 replications.
The accession numbers for sequences used in the phylogenetic analyses are:
Figure 2
Human: A8.4: D13077; A3: X57534; A16: DQ097913; A9.2: X57531; A40: DQ097942; A10: DQ097904; A27: DQ341447; A25: DQ097923; A35: DQ097935; A22: DQ097920; A20: X70305; A34: DQ097934; A30: X58768; A41: DQ097943; A36/DV7: X61070; A17: DQ097914; A6: X58747; A24: M17661; A21: U50404; A23/DV6: D13071; A29/DV5: M17664; A1.1: X04939; A26.1: L06886; A4: M17663; A38-2/DV8: D13074; A14: S51029; D3: M23326; D1: AY357942; D2: S24406; A19: Z46641; A2: DQ097917. Mouse: A9: M33586; A17: X60319; A12.3: M38680; A6: M34200; A11: DQ340292; A13: M38102; A4: L47342; A7: X56719; A14.3: L77149; A5.4: M38681; A10: X57397; A3.1: X02967; A1: M22604; A2: X03760; A21/DV12: M94080; A15-2/DV6-2: M37599; D5: X12729; D4: M23545; TRADV16D: M16118; D2.2: M37280. Rabbit: D4: 38120; 885: M12885; D1: D26555; D5: D38121. Sheep: A622: M55622; D1S1: Z12989; D6: AJ005908; D7: AJ809501; D4: AJ005906; D2: AJ005904; D5: Z12995; D3S2: Z12996; A35: U78035. Cow: 014: D90014; 013: D90013; 015: D90015; 011: D90011; 012: D90012; 017: D90017; D113: D16113; 016: D90016; D116: D16116. Chicken: 611: GDU04611; 612: GDU04612; 613: GDU04613.
Figure 5
Human: B11.3: X58797; B7.2: U07975; B12.1: X07224; B14: X06154; B17: U03115; B2: M64351; B27: U66061; B25.1: L27610; B13: U03115; B4.3: X58812; B21.1: L27608; B23: L27614; B5: X61439; B9: M27380; B3.1: U07977; B15: U03115; B24.1: L27612; B10.3: U17047; B28: U08314; B6.9: X61447; B19: U48260; B30: L06893; B20.1: X72719; B29.1: M13847. Mouse: B14: AE000664; B16: L29434; B3: AE000663; B21: X16691; B26: K02548; B23: X59150; B24: M61184; B12: M30881; B2: AE000663; B4: X56725; B17: AE000664; B29: X00696; B10: X16694; B13.3: M15616; B19: AJ249821; B31: X03277; B30: X16695; B20: M11859; B1: X01642. Rabbit: B8: BAA04245; B11: BAA04248; B9: BAA04246; B7S1: BAA04241; B1: AAA31472; B5: BAA04239; B10: BAA04247; B2: M13895; B6: BAA04240. Sheep: B6S1: AAB88431; B8S1: AAB88433; B10S1: AAB88434; B1S5: AAB88425; B7S1: AAB88432; B22S1: AAB88440; B3S1: AAB88427; B13S1: PQ0068; B15S1: AAB88438; B12S1: AAB88435; B17S1: AAB88439; B2S1: AAB88426; B4S1: AAB88430. Cow: B126: PQ0062; B129: PQ0065; B125: PQ0061; B122: JQ0473; B123: PQ0060; B124: PQ0059. Chicken: B1S1: B36198; B2S2: AAA62753.
Figure 7
Human: G2: M13429; G3: S60779; G4: S60780; G2: M27335. Mouse: G3: AF037352; G6: M13338; G4: M13336; G7: AF037352; G1: Z22847. Rabbit: G1S2: D38137; G1S3: D38138; G1S1: D38135; G1S4: D38139; G2S1: D38142. Sheep: G6S1: Z13007; G2S1: Z12999; G2S2: Z13000; G2S3: Z13001; G2S4: Z13002; G5S1: Z13005; G5S2: Z13006; G1S1: Z12998; G3S1: Z13003; G4S1: Z13004. Cow: G6: AY560834; G1S1: D16119; G1S3: D16131; G5S11: D16126; G5S7: D16130; G5S6: D16129; G5S16: D16133; G3S1: U73186; G3S2: U73187; G4S1: U73188. Platypus: V3.1: AAY82120; V3.2: AAY82094; V1.1: AAY82100; V1.2: AAY82093; V1.3: AAY82109; V2.2: AAY82110; V2.3: AAY82114; V2.1: AAY82119. Chicken: G3S8: U78235; G3S4: U78231; G3S3: U78230; G2S7: U78225; G2S8: U78226; G2S9: U78227; G1S4: U78212; G1S5: U78213; G1S3: U78210; G1S8: U78216.
Figure 9A
IgH: Hsheep80: U80145; Hmouse21: M27021; Hhuman47: X64147; Maxolot43: L20243; Hmouse69: K01569; Hhuman14: X05714; Mxenopus84: M20484; Hmouse70: M21470; Hhuman00: DQ454900; HHlama75: AY544575; HHlama33: AY342133; HHlama32: AJ629032; HHlama86: AF441486; Hpig94: U15194; Hhuman62: U80162; Hopossum13: AF012113; Hopossum24: AF012124; Hhuman86: M99686; Hmouse65: M25465; Hmouse85: M31285; Hmouse01: X03301; Mchicken48: M30348; Mzebrafish80: AF281480; Mcatfish60: DQ230560; Mtrout03: DQ831803; Mrockcod55: AF303555; Hwolffish86: AY188786; Hsturgeon61: DQ257661; Wnurseshark50: U51450; Wlungfish27: AF437727; Mnurseshark51: M92851; Hhornshark49: X13449; Hsandbarshark57: AY548357. NAR-TCR: TnarsharK88: DQ022688; Tnarshark10: DQ022710; Tnarshark06: DQ022706. NAR: Nwobbegong92: AF336092; Nwobbegong94: AF336094; Nnurseshar03: AF447103; Nnurseshar81: AY114781. IgL: Khuman92: Y08392; Khuman98: DQ915098; Ksheep10: X54110; Krabbit53: AF211353; Krat09: U39609; Khorse11: X75611; Kopossum08: AY074408; Lnurseshark44: GCU15144; Khamster65: U17165; Khuman98: AY320598; Lmouse88: DQ986488; Lray46: AB062646; Lseabream69: EF555069; Lsturgeon42: AJ387842; Lsalmon17: AF273017; Lseabass79: AJ291779; Ltrout60: X65260; Lhuman77: AF216777; Lopossum81: AF049781; Lchicken67: S65967; Lxenopus78: L76578; Lhuman69: Z73669. TRG: TGhuman29: M13429; TGplatypus21: DQ011321; TAmouse98: M34198; TArabbit85: M12885; TGhuman79: S60779; TGcow86: U73186; TGrabbit42: D38142; TGcow88: U73188. TRA/D: TAsalmon97: EF467297; TAsalmon05: EF466505; TAfugu52: AY198352; TAselfish71: AY198371; TAselfish49: AY198349; TAcod44: AJ133844; TAfugu95: AB222395; TDhalibut71: AB076071; TDfugu79: AB222479; TAzebrafish50: AL592550; TADhuman96: Z14996; TAsheep35: U78035; TDsheep03: AJ005903. TRB: TBtrout23: OSU18123; TBseabream37: AM490437; TBfugu32: AB222432; TBselfish13: AF324813; TBopossum8.1: XM_001363148; TBmouse82: DQ983582; TBsheep11: AF030011; TBrabbit19: D17419; TBhuman04: M27904; TBsheep17: AF030017; TBcow29: D90129; TBmouse16: M15616.
Figure 9B
Gray short-tailed opossum: IGHV1-1: AAC48826; IGHV1-6: AAC48820; IGHV1-11: AAC48816; IGHV1-16: AAC48836; IGHV1-23: AAC48846; IGHV2-1: AAC48849. Remaining germline sequences are available at AAFR00000000. Brush-tail possum: 70: AAL87470; 71: AAL87471; 72: AAL87472; 73: AAL87473; 74: AAL87474; 76: AAL87476; 77: AAL87477; 78: AAL87478; 79: AAL87479; 91: AAD41691; 92: AAD41692; 41: AAT40441; 40: AAT40440; 44: AAT40444; 43: AAT40443; 42: AAT40442. Virginia opossum: P83 is an unpublished sequence kindly provided by Dr. R. Riblet. Tammar Wallaby: sequences are unpublished but available upon request. Northern Brown Bandicoot: Bandicoot58: AY586158. Shark NTCR: AAY98815.
Dot plot analyses
Comparisons of the genomic sequence were performed using the program Spin from the Staden Package [49]. Dot matrix plots were generated to determine degrees of similarity among cassettes for the TRB locus. The sequence analyzed includes the four TRB cassettes with coding and non-coding sequence from 3kb upstream of the most 5' TRBD (TRBD1) segment to the most 3' TRBC (TRBC4) segment, which comprises 51 kb. Although not shown, similar comparisons were performed for the other TCR loci.
Abbreviations
TCR:

T cell receptor. TRA: T cell receptor alpha. TRB: T cell receptor beta. TRG: T cell receptor gamma. TRD: T cell receptor delta. TRM: T cell receptor mu. Ig: immunoglobulin. V: variable gene segment. D: Diversity gene segment. J: Joining gene segment. C: constant region. Tm: transmembrane region. Cp: connecting peptide. Ct: cytoplasmic region. RSS: recombination signal sequence. MHC: major histocompatibility complex.
Declarations
Acknowledgements
This work was supported by funding from the National Institutes of Health Initiative for Maximizing Student Diversity (ZEP, JT) and Institutional Development Award (IDeA) programs (MLB, JH), the Robert C. McNair program (AML) and the National Science Foundation (RDM).
Authors' Affiliations
(1)
Center for Evolutionary and Theoretical Immunology and Department of Biology, University of New Mexico, Albuquerque, USA
Copyright
© Parra et al; licensee BioMed Central Ltd. 2008
This article is published under license to BioMed Central Ltd. This is an Open Access article distributed under the terms of the Creative Commons Attribution License (http://creativecommons.org/licenses/by/2.0), which permits unrestricted use, distribution, and reproduction in any medium, provided the original work is properly cited.