Research article
Open Access
Highly conserved gene order and numerous novel repetitive elements in genomic regions linked to wing pattern variation in Heliconius butterflies
Received: 18 January 2008
Accepted: 22 July 2008
Published: 22 July 2008
Abstract
Background
With over 20 parapatric races differing in their warningly colored wing patterns, the butterfly Heliconius erato provides a fascinating example of an adaptive radiation. Together with matching races of its co-mimic Heliconius melpomene, H. erato also represents a textbook case of Müllerian mimicry, a phenomenon where common warning signals are shared amongst noxious organisms. It is of great interest to identify the specific genes that control the mimetic wing patterns of H. erato and H. melpomene. To this end we have undertaken comparative mapping and targeted genomic sequencing in both species. This paper reports on a comparative analysis of genomic sequences linked to color pattern mimicry genes in Heliconius.
Results
Scoring AFLP polymorphisms in H. erato broods allowed us to survey loci at approximately 362 kb intervals across the genome. With this strategy we were able to identify markers tightly linked to two color pattern genes: D and Cr, which were then used to screen H. erato BAC libraries in order to identify clones for sequencing. Gene density across 600 kb of BAC sequences appeared relatively low, although the number of predicted open reading frames was typical for an insect. We focused analyses on the D- and Cr-linked H. erato BAC sequences and on the Yb-linked H. melpomene BAC sequence. A comparative analysis between homologous regions of H. erato (Cr-linked BAC) and H. melpomene (Yb-linked BAC) revealed high levels of sequence conservation and microsynteny between the two species. We found that repeated elements constitute 26% and 20% of BAC sequences from H. erato and H. melpomene respectively. The majority of these repetitive sequences appear to be novel, as they showed no significant similarity to any other available insect sequences. We also observed signs of fine scale conservation of gene order between Heliconius and the moth Bombyx mori, suggesting that lepidopteran genome architecture may be conserved over very long evolutionary time scales.
Conclusion
Here we have demonstrated the tractability of progressing from a genetic linkage map to genomic sequence data in Heliconius butterflies. We have also shown that fine-scale gene order is highly conserved between distantly related Heliconius species, and also between Heliconius and B. mori. Together, these findings suggest that genome structure in macrolepidoptera might be very conserved, and show that mapping and positional cloning efforts in different lepidopteran species can be reciprocally informative.
Keywords
Bacterial Artificial ChromosomeBacterial Artificial Chromosome CloneColor PatternBacterial Artificial Chromosome LibraryCore Motif
Background
Among emerging evolutionary and ecological model organisms, the passion-vine butterfly genus Heliconius (Nymphalidae: Heliconiinae) offers particularly exciting possibilities for integrative research into the genetic and developmental basis of adaptive variation [1, 2]. The genus, composed of around 40 species with hundreds of geographic variants, couples color pattern divergence with multiple cases of mimicry-related convergent evolution [2]. The wing color patterns of Heliconius are adaptations that warn potential predators of the butterflies' unpalatability [3] and also play an important role in speciation [4]. Nearly all Heliconius species participate in local Müllerian mimicry associations and, in any one area, the wing color patterns of different aposematic butterfly species converge into a handful (usually six or less) of clearly differentiated mimetic assemblages [5]. The color patterns characterizing many of these mimicry rings often change dramatically every few hundred kilometers. This pattern of convergent and divergent evolution in Heliconius is best exemplified by the mimetic relationship between H. erato and H. melpomene. The two species are distantly related within the genus and never hybridize [2, 6, 7], yet, where they co-occur, local races possess nearly identical wing patterns and have undergone parallel and congruent radiations into over 20 geographic races [5, 8].
The multiple radiations of mimetic color patterns, particularly the parallel radiations of H. erato and H. melpomene, provide "natural experiments" for comparative studies into the genetic and developmental basis of adaptive change. In this paper, we describe a simple strategy that integrates growing genomic resources in Heliconius to identify regions of the genome near the loci that modulate wing pattern variation in H. erato. Our strategy relies on the fact that large phenotypic differences within species are caused by a handful of major effect loci [8] and that crosses can be designed that allow researchers to unambiguously follow the segregation of alleles at these loci [9, 10]. By scanning through thousands of AFLP polymorphisms in these crosses we can identify markers tightly associated with particular color pattern genes. These markers are then used to probe newly available Bacterial Artificial Chromosome (BAC) libraries and allow us to obtain large sections of genomic sequence around color pattern genes. These targeted genomic sequences provide the first insights into the architecture of the H. erato genome including details on gene density, repeat structure and, with sequence information from homologous regions of the H. melpomene genome, the preservation of fine-scale gene order between the two co-mimics. These data facilitate comparative mapping work on the genetic basis of color pattern variation and convergence in Heliconius, including efforts to positionally clone the color pattern genes themselves. These data also provide some of the first information on patterns of microsynteny in lepidopteran genomes, complementing recent work showing marked patterns of synteny conservation at a macro scale between H. melpomene and the silk moth Bombyx mori [11].
We are focusing our research efforts on two major color pattern loci,
D
and
Cr
, which underlie much of the observed pattern variation in
H. erato
. Both genes are unlinked and alleles at the different loci interact to cause phenotypic shifts across large areas of the wing surface, changing the position, size and shape of red/orange/yellow and melanic patches on both the dorsal and ventral surfaces of the forewings and hindwings. Alleles at the
D
locus primarily act by switching scale color between black (melanin) and red/orange (ommochrome pigments) [
12
,
13
]. In contrast, alleles at
Cr
control the positioning of melanin across both the forewing and hindwing, thereby either exposing or covering underlying white and yellow pattern elements (Figure
1
). The two loci strongly interact to control the size, shape, and position of both the forewing band and hindwing bar of many races of
H. erato
[
9
,
10
,
14
].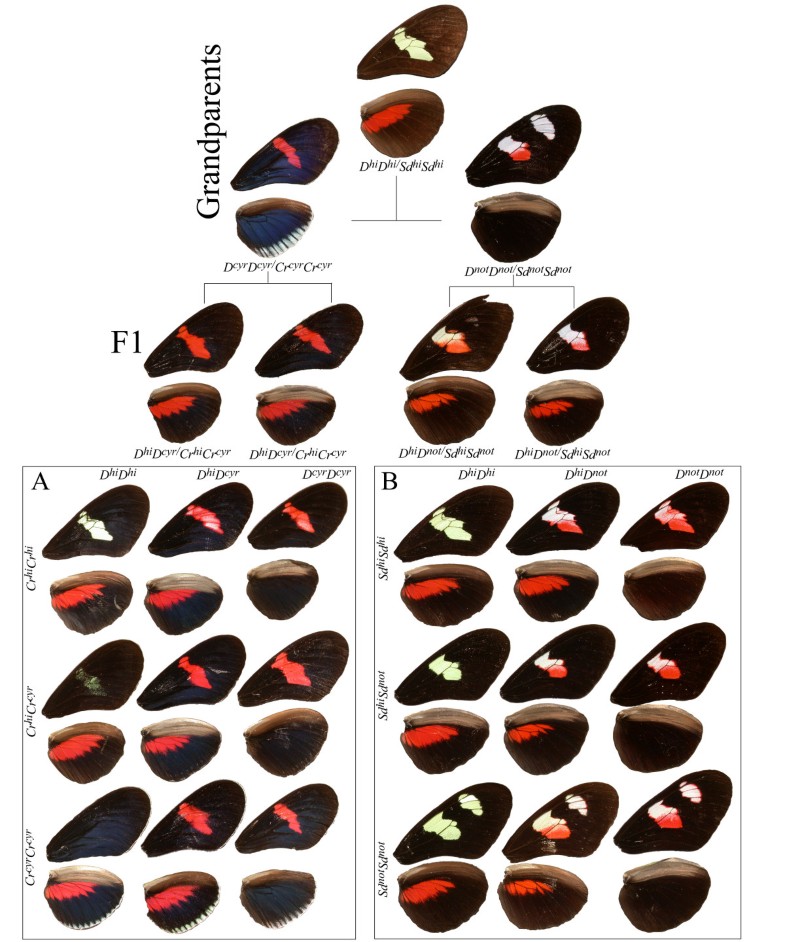 Crossing experiments among the various races of H. erato and H. melpomene have shown that the genetic basis of the color pattern radiations is similar in these species [15]. In both, a small number of major effect loci, or complex of tightly linked loci, modulate much of the intraspecific pattern variation. Furthermore, the phenotypic effects of many of the major patterning genes are often quite similar between the two species [5, 16, 17]. For example, Cr in H. erato and the N/Yb/Sb complex in H. melpomene control most of the variation in yellow and white pattern elements in different mimic races of the two species [9, 10, 17]. Similarly, variation in the major red pattern elements on the forewing and hindwing of H. erato and H. melpomene can be explained by variation at an unlinked gene, D, in H. erato and the similarly named D/B complex, in H. melpomene. In contrast, in H. melpomene these switch genes represent clusters of tightly linked elements separated by one cM or less [2, 18]. Comparative mapping experiments have shown that the Yb complex in H. melpomene and the Cr locus in H. erato, which have analogous phenotypic effects, map to the homologous regions of their respective genomes [15].
There were three primary goals for the study presented here. First, we sought to identify molecular markers linked to the H. erato color pattern genes D and Cr. Second, we used some of these molecular markers to identify and sequence BAC clones containing genomic sequences linked to these color pattern genes. Lastly, we analyzed selected BAC sequences in order to better understand fine-scale characteristics of the H. erato genome and to make comparisons with homologous genomic sequences in H. melpomene and B. mori. Ultimately we found that synteny is highly conserved between Heliconius species, and even between Heliconius and B. mori. We also observed relatively low gene density coupled with a high frequency of novel repeat elements in the Heliconius genomic sequences. Together, our data show that comparative genomic analysis between lepidopterans is highly tractable, and that positional cloning of genes underlying color pattern variation in Heliconius should be possible using standard methods.
Conclusion
The mimetic wing patterns of Heliconius stand out as one of the best examples of an adaptive radiation. We are using a strategy that couples growing genomic resources with high-resolution linkage analysis in order to gain a fuller appreciation of the genetic basis of this radiation. We have identified regions of the Heliconius genome tightly linked to genes that modulate pattern variation and, for one of these regions, we have demonstrated the fine-scale preservation of gene order between distantly-related Heliconius species and across Lepidoptera (Heliconius and B. mori). This conservation is significant because it will greatly facilitate efforts for gene identification through parallel and complementary efforts in different species. It is our hope that further fine-scale mapping, complemented by targeted genomic sequencing, will allow us to identify the genes that underlie wing pattern variation and diversity in the genus Heliconius.
Declarations
Acknowledgements
The work was funded by U.S. National Science Foundation grants IOB 0344705 and DEB 0715096 to WOM. The H. erato BAC library was constructed by C. Wu, H. Zhang (TAMU), and M. R. Goldsmith (URI) under NSF Grant IBN-0208388. In addition, the Computational Biology Service Unit at Cornell University, which is partially funded by Microsoft Corporation, provided bioinformatics support for our analysis of genomic repeat structure. AFLP analysis and sequencing of PCR products was carried out at the Sequencing and Genotyping Center at the University of Puerto Rico- Rio Piedras. We thank Nicola Flanagan, Alexandra Tobler, Karla Maldonado, Jenny Acevedo Gonzales, Hector Alejandro Merchan, Yhadi Cotto, Kelitt Santiago and Felix Araujo Perez for help in rearing and maintaining butterfly stocks. Finally, a special thanks to Daniel P. Lindstrom for his support and helpful suggestions during manuscript preparation.
Authors' Affiliations
(1)
Department of Biology, University of Puerto Rico – Rio Piedras, San Juan, USA
(2)
Department of Ecology and Evolutionary Biology, University of California Irvine, Irvine, USA
(3)
Department of Evolutionary and Functional Biology, University of Parma, Parma, Italy
(4)
Program in Developmental Biology, Baylor College of Medicine, Houston, USA
(5)
Department of Ecology and Evolutionary Biology, Cornell University, Ithaca, USA
(6)
Department of Genetics, North Carolina State University, Raleigh, USA
(7)
Department of Molecular and Human Genetics, Baylor College of Medicine, Houston, USA
(8)
Human Genome Sequencing Center, Baylor College of Medicine, Houston, USA
(9)
Department of Biochemistry and Molecular Biology, University of Texas – M.D. Anderson Cancer Center, Houston, USA
(10)
Department of Zoology, University of Cambridge, Cambridge, UK
(11)
FAS Center for Systems Biology, Harvard University, Cambridge, USA
(12)
Centre for Ecology and Conservation, University of Exeter, Penryn, UK
(13)
Center for Conservation Research and Training, University of Hawai'i at Manoa, Honolulu, USA
Copyright
© Papa et al; licensee BioMed Central Ltd. 2008
This article is published under license to BioMed Central Ltd. This is an Open Access article distributed under the terms of the Creative Commons Attribution License (http://creativecommons.org/licenses/by/2.0), which permits unrestricted use, distribution, and reproduction in any medium, provided the original work is properly cited.