Research article

Open Access
Structural conservation versus functional divergence of maternally expressed microRNAs in the Dlk1/Gtl2 imprinting region
Received: 17 January 2008
Accepted: 23 July 2008
Published: 23 July 2008
Abstract
Background
MicroRNAs play an important functional role in post-transcriptional gene regulation. One of the largest known microRNA clusters is located within the imprinted Dlk1/Gtl2 region on human chromosome 14 and mouse chromosome 12. This cluster contains more than 40 microRNA genes that are expressed only from the maternal chromosome in mouse.
Results
To shed light on the function of these microRNAs and possible crosstalk between microRNA-based gene regulation and genomic imprinting, we performed extensive in silico analyses of the microRNAs in this imprinted region and their predicted target genes.
Bioinformatic analysis reveals that these microRNAs are highly conserved in both human and mouse. Whereas the microRNA precursors at this locus mostly belong to large sequence families, the mature microRNAs sequences are highly divergent.
We developed a target gene prediction approach that combines three widely used prediction methods and achieved a sufficiently high prediction accuracy. Target gene sets predicted for individual microRNAs derived from the imprinted region show little overlap and do not differ significantly in their properties from target genes predicted for a group of randomly selected microRNAs. The target genes are enriched with long and GC-rich 3' UTR sequences and are preferentially annotated to development, regulation processes and cell communication. Furthermore, among all analyzed human and mouse genes, the predicted target genes are characterized by consistently higher expression levels in all tissues considered.
Conclusion
Our results suggest a complex evolutionary history for microRNA genes in this imprinted region, including an amplification of microRNA precursors in a mammalian ancestor, and a rapid subsequent divergence of the mature sequences. This produced a broad spectrum of target genes. Further, our analyses did not uncover a functional relation between imprinted gene regulation of this microRNA-encoding region, expression patterns or functions of predicted target genes. Specifically, our results indicate that these microRNAs do not regulate a particular set of genes. We conclude that these imprinted microRNAs do not regulate a particular set of genes. Rather, they seem to stabilize expression of a variety of genes, thereby being an integral part of the genome-wide microRNA gene regulatory network.
Keywords
Imprint Gene
Mature Sequence
Predict Target Gene
Imprint Region
Sequence Identifier
Background
MicroRNA function and biogenesis
MicroRNAs are small (~20–23 nucleotides) non-coding ribonucleic acid (RNA) molecules encoded in the genomes of many eukaryotes and viruses. They bind to partially complementary sites in the messenger RNAs (mRNAs) of their target genes, thereby inducing the post-transcriptional mechanisms of gene silencing [1]. Estimates suggest that microRNAs might regulate up to 30% of all genes [2]. The presumed number of unidentified microRNAs is large [3]. Currently, about 470 microRNAs are annotated in Homo sapiens (human) and about 380 in Mus musculus (mouse) based on miRBase version 9.0. MicroRNA-encoding genes are widely distributed across a genome and occur in intergenic regions and in the introns of both protein-coding and non-coding genes. Intronic microRNAs are primarily expressed with their host gene. If not, the microRNA encoding sequences cluster at distinct genomic positions and are often coexpressed as a single polycistronic transcript within 50 kilobases [4].
In the nucleus, the RNAse enzyme Drosha and its co-factor Pasha cleave the long microRNA precursor transcript into a 70 nt to 90 nt long pre-microRNA, which has a characteristic hairpin structure. This pre-microRNA is then exported to the cytoplasm, where the enzyme Dicer processes it. The remaining microRNA duplex is incorporated into the RNA induced silencing complex (RISC). During this process the microRNA duplex is unwound and one of the RNA strands is expelled. The mature microRNA remains in the RISC and binds to partially complementary sites in the mRNAs of its target genes and prevents their translation. mRNA degradation, spatial separation or direct inhibition of the translation process may silence the transcript [1, 5, 6].
Like microRNA biogenesis, the target recognition process is not fully understood. The role played by RISC components also remains unclear. However, it is well established that the primary microRNA sequence is important for target recognition. Several criteria have been developed and provide the current foundation for target gene prediction. First, sequence complementarity in the seed region (bases 2–8 starting 5') of the mature microRNA is widely regarded as crucial for binding [2, 7, 8]. Second, 3' matches can compensate for minimal 5' pairing [9]. Third, a single mRNA sequence can contain several sites, either for one or several different microRNAs, which appears to increase silencing efficiency [10, 11]. Fourth, since most microRNA binding sites are apparently located in the 3' untranslated region (3' UTR), searches for target sites are usually restricted to this area [2, 9, 12, 13].
Imprinting and the Dlk1/Gtl2 region
One of the largest microRNA clusters is on human chromosome 14q32. Its orthologous region in mouse is situated on the long arm of chromosome 12. About 10% of the microRNAs currently known in mouse and human are located in this cluster. This cluster is located within a well-known imprinted region that is characterized by parental-origin-specific mono-allelic expression of the encompassed genes (genomic imprinting is an epigenetically heritable mechanism that has been extensively reviewed [
14
–
16
]). In the
Dlk1/Gtl2
region, six imprinted genes have been annotated; three are paternally expressed (
Dlk1/DLK1
,
Rtl1
/
RTL1
,
Dio3/DIO3
), and four are maternally expressed (
Gtl2
/
MEG3
,
anti-Rtl1
,
Rian/MEG8
,
Mirg
) [
16
–
18
]. Some of these genes have different names in mouse and human. To avoid confusion, we will only use the mouse name. While the paternally expressed genes encode proteins, the maternally expressed genes represent non-coding RNAs. Analyses of numerous microRNAs in this region revealed that the microRNAs are transcribed only from the maternal chromosome in mouse [
19
,
20
]. For their human orthologs, it is likely that these microRNAs share the murine imprinting pattern; however, this has not been experimentally validated. Pronounced transcription of the intergenic regions between
Gtl2
and
Mirg
suggests that these microRNAs are embedded in long non-coding transcripts that may run from the
Gtl2
promoter to as far as the 3' end of
Mirg
[
20
]. In the orthologous human genomic sequence, the presence of numerous expressed sequence tags (EST) suggests substantial transcription of the region downstream from
Rian
. Figure
1
depicts the 42 human microRNAs and the 42 mouse microRNAs based on information from miRBase [
21
] version 9.0 and the annotated transcripts for the
Dlk1/Gtl2
region.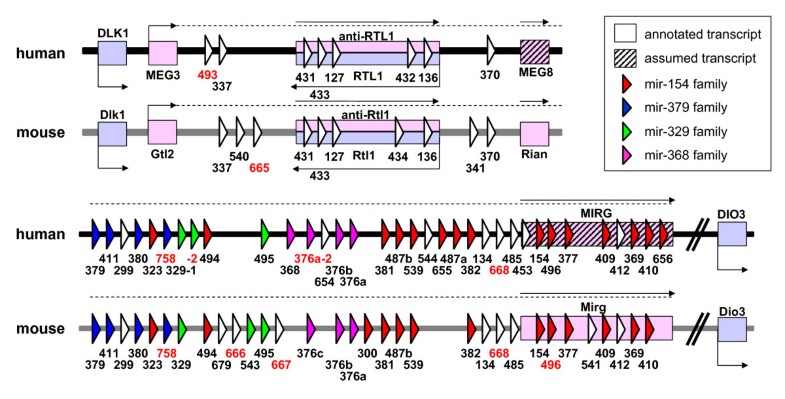 In both organisms the microRNA precursor sequences are organized in two groups: the first between Gtl2 and Rian [22], and the second between Rian and the 3' end of Mirg [19]. Most of the pre-microRNAs in the second cluster are arranged in tandem arrays of closely related sequences and are presumably the result of sequence duplications. Seitz et al. [19] identified the microRNAs in this second cluster and identified three different hairpin sequence families, one family with 24 members, one with six members and one with four members. These families have been incorporated into the miRBase [21] families indicated in figure 1.
Deregulation of imprinted gene expression in this region causes hypertrophy in sheep hind muscles [17], abnormalities in muscle, bone and placenta, impaired embryonic growth and death in mouse [18, 23, 24], skeletal malformations and various other abnormalities in human [25]. The observed phenotypes have not been mapped to specific transcripts, and the potential functional involvement of these microRNAs remains unclear. Although not extensively analyzed, strong expression of Mirg and the imprinted microRNAs has been observed in the mouse brain [20]. Since expression of Gtl2 and Mirg has been observed in several mouse organs, including skeletal muscle, tongue, limbs and placenta, during early stages of development [20], it appears likely that these microRNAs also appear in the tissues affected. Thus, deregulation of these imprinted microRNAs might contribute to the observed phenotypes.
The high sequence similarities observed between many of the imprinted microRNA genes suggest that the mature microRNAs may also be similar and silence the same target genes [19, 26–28]. To test this, we systematically compared the pre-microRNA and mature sequences of the imprinted microRNAs on human chromosome 14 and mouse chromosome 12. As suggested by the phenotypes of the imprinting mutations and tissue-specific expression patterns, these microRNAs may silence specific subsets of genes that play a role in organ development, such as brain and muscle. Since possible target genes have been identified for only a few imprinted microRNAs, e.g. miR-134, miR-376a, miR-370, and the microRNAs embedded in the antisense transcript of the Retrotransposon-like 1 (Rtl1) gene [19, 22, 29–32], we established a pipeline that combines different algorithms to predict microRNA target genes computationally.
We decided to exploit the diversity of available target prediction methods by combining their results. In multiple areas of bioinformatics (e.g. protein structure prediction, protein function prediction and gene prediction) such consensus methods have achieved higher prediction accuracy and robustness than any of the underlying algorithms alone. Studying the predicted target genes of the Dlk1/Gtl2 microRNAs in terms of their sequence features, expression patterns and gene ontology annotations, we find that the microRNAs in the imprinted region may target a similarly broad spectrum of genes as a group of randomly selected microRNAs that are located elsewhere in the genome.
Discussion
The results of our microRNA sequence analysis show that microRNAs encoded within the Dlk1/Gtl2 region are well conserved between mouse and human, both in terms of their pre-microRNA and mature sequences. A large fraction of the microRNAs in this imprinted cluster is contained in large families of hairpin sequences. This is true for the microRNAs clustering between Rian and the 3' end of Mirg, thereby confirming previous studies that propose multiple tandem duplications of an ancestral precursor sequence as the evolutionary origin of these pre-microRNAs [19, 26–28]. However, we observed that not a single pre-microRNA between Gtl2 and Rian is member of a hairpin family and that there is also no mature sequence family between Gtl2 and Rian or spanning over the whole region from Gtl2 to the 3' end of Mirg. Hence, we see little indication that microRNAs in the upstream region of Rian originate from the same ancestral microRNA as the microRNAs downstream of Rian.
Considering the pre-microRNA sequence family composition, a high similarity among the mature microRNAs would be also expected. Surprisingly, unlike the pre-microRNAs, mature sequences in the downstream region of Rian are rather divergent, a feature that has not yet been addressed. We observe fewer similar mature sequences and therefore, smaller mature microRNA families. Since the mature sequences are well conserved between mouse and human and the orthologous pre-microRNAs also encode the most similar mature sequences, the divergence of these microRNAs is likely to date more than 75 million years ago, to a common ancestor shared by mouse and human [51]. From our observations, we suggest the following hypothesis: After the sequence duplication event in a common ancestor, selective pressure on the duplicates was sufficiently low to enable the pronounced diversity to evolve rapidly. This divergence later became functional and preserved in descendants.
Our analysis of sequence similarities between all mature and pre-microRNA sequences within each species revealed that the Dlk1/Gtl2 microRNAs show only weak sequence similarities to other microRNAs in the genome. This supports our hypothesis that this cluster is structurally distinct from other microRNAs in both the human and mouse genome. Possibly as a consequence of mature microRNA sequence divergence, the predicted microRNA target genes are diverse. Our analysis showed very little overlap between individual microRNAs in the target lists. Even smaller sequence families defined on the mature microRNAs did not exhibit considerable overlaps in predicted targets, which could have hinted at a concerted specialized function of these microRNAs.
We observed a high correlation between the GC content of the mature microRNA and the number of predicted targets, which we attributed to the greater contribution of GC base pairing over AT base pairing in determining sequence and energy scores during the target prediction process. While the biological relevance of this effect cannot be fully assessed in the absence of appropriate experimental data, we could derive a target prediction method with cutoffs that depend on the mature microRNA sequence using the "Vari" filter method. This reduces the GC correlation and appears to offer a good compromise between sensitivity and specificity (see Additional file 5). Similarly, the GC content and length of the 3' UTR target sequences was observed to influence target gene prediction. We demonstrated that the chromosomal densities of target sequence predictions correlate with GC content and the length of 3' UTRs of the genes on each chromosome. Consequently, some chromosomes are enriched or depleted for microRNA target genes.
As might be expected for mature microRNAs that do not show pronounced similarities, the microRNAs derived from the imprinted region target a broad spectrum of genes. This observation does not support that these clustered microRNAs fulfill one specific function. However, their tissue-specific expression pattern suggests that they might be able to simultaneously reduce the expression of numerous genes in distinct cell-types.
Since the microRNAs analyzed in this study are derived from an imprinted region their possible interactions in regulatory networks with one another are of particular interest. In our study, we find no evidence for a significant enrichment or depletion of imprinted genes among the predicted target or antitarget genes. Thus, a specific down-regulation of imprinted genes is probably not one of the major functions of the microRNAs within the Dlk1/Gtl2 region.
Unlike the imprinted genes, we find an enrichment of eutherian-specific genes within the predicted antitarget sets. This effect is apparently associated with the short 3' UTRs of eutherian-specific genes. The short length of the 3' UTRs might be a feature caused by specific evolutionary origins of these genes, such as possible retro-transposition or tandem-duplication events. Due to their late occurrence in evolution, these genes might also have been unable to accumulate an equal amount of microRNA-binding sites. Alternatively, there might be evolutionary selection against microRNA binding sites in recently evolved genes, linked to an ongoing process of acquiring specific functions. The enrichment of eutherian-specific genes is also observed for the antitargets of the randomly selected microRNAs in the reference set. Thus, the observed effect is not due to special associations between the location of the microRNAs within the Dlk1/Gtl2 imprinting region and eutherian-specific genes in terms of their function or shared evolutionary history.
The analysis of gene expression data and functional annotations revealed general characteristics of microRNA target genes. Predicted microRNA targets exhibited enhanced expression with reduced variation in expression values among the targeted transcripts in each tissue. Our observation is consistent with the model that post-transcriptional regulation by microRNAs leads to a stabilization of expression levels, rather than a complete silencing of target genes [52]. The target genes also exhibit characteristic GO annotation terms, including development, regulation and cell communication processes, which are in total agreement with previous studies of microRNA target genes [2, 13, 53, 54]. Following the observation of the selection for long and GC-rich transcripts in microRNA target gene prediction, we noticed that sets of transcripts only selected by the length and GC content of their 3' UTR also yield similar results in gene expression and GO annotation. The agreement between our results and previous findings suggests a relation between the length and GC content of a 3' UTR sequence and the biological function of the gene. Therefore, we conclude that the differences in the sequence properties of 3' UTR sequences might be due to specific biological functions that depend on the effects of post-transcriptional regulation like a microRNA mediated stabilization of gene expression levels.
Conclusion
Although the results of our microRNA sequence analysis showed that the imprinted Dlk1/Gtl2 microRNAs are well conserved between mouse and human, we find that the mature microRNAs are quite distinct among each other in terms of their sequences and of the genes they are predicted to regulate. Co-expression of such a high number of microRNA genes may provide an efficient way for boosting different mature microRNAs in a particular cell type, thereby influencing the activity of a high number of genes simultaneously. Although there is no obvious relation to the observed phenotypes for imprinting mutations within the imprinted Dlk1/Gtl2 region [23, 24], susceptible developmental processes can be substantially disturbed due to an altered tissue-specific co-expression of those microRNAs. Considering the observed diversity of the microRNAs and their broad spectrum of potential targets in protein-coding genes and repetitive elements, these microRNAs might represent an important modulator of tissue-specific gene expression and therefore, an integral part of the microRNA gene regulation network in mouse and human.
Declarations
Acknowledgements
We thank Christine Steinhoff for providing pre-processed gene expression data, Joachim Büch for the IT support, and Janet Kelso, Gilles Gasparoni, Jörn Walter and Thomas Lengauer for helpful discussions and suggestions. We thank Christine Green for proof-reading the final manuscript. The project was supported by the EU STREP FOSRAK.
Authors' Affiliations
(1)
Max-Planck-Institut für Informatik, Saarbrücken, Germany
(2)
Universität des Saarlandes, Genetik/Epigenetik, Saarbrücken, Germany
(3)
Max-Planck-Institut für Evolutionäre Anthropologie, Leipzig, Germany
Copyright
© Kircher et al; licensee BioMed Central Ltd. 2008
This article is published under license to BioMed Central Ltd. This is an Open Access article distributed under the terms of the Creative Commons Attribution License (http://creativecommons.org/licenses/by/2.0), which permits unrestricted use, distribution, and reproduction in any medium, provided the original work is properly cited.