Research article

Open Access
Probing regulon of ArcA in Shewanella oneidensis MR-1 by integrated genomic analyses
Received: 31 August 2007
Accepted: 25 January 2008
Published: 25 January 2008
Abstract
Background
The Arc two-component system is a global regulator controlling many genes involved in aerobic/anaerobic respiration and fermentative metabolism in Escherichia coli. Shewanella oneidensis MR-1 contains a gene encoding a putative ArcA homolog with ~81% amino acid sequence identity to the E. coli ArcA protein but not a full-length arcB gene.
Results
To understand the role of ArcA in S. oneidensis, an arcA deletion strain was constructed and subjected to both physiological characterization and microarray analysis. Compared to the wild-type MR-1, the mutant exhibited impaired aerobic growth and a defect in utilizing DMSO in the absence of O2. Microarray analyses on cells grown aerobically and anaerobically on fumarate revealed that expression of 1009 genes was significantly affected (p < 0.05) by the mutation. In contrast to E. coli ArcA, the protein appears to be dispensable in regulation of the TCA cycle in S. oneidensis. To further determine genes regulated by the Arc system, an ArcA recognition weight matrix from DNA-binding data and bioinformatics analysis was generated and used to produce an ArcA sequence affinity map. By combining both techniques, we identified an ArcA regulon of at least 50 operons, of which only 6 were found to be directly controlled by ArcA in E. coli.
Conclusion
These results indicate that the Arc system in S. oneidensis differs from that in E. coli substantially in terms of its physiological function and regulon while their binding motif are strikingly similar.
Keywords
Fumarate
Regulon
TMAO
OmcA
DMSO Reductase
Background
Shewanella oneidensis MR-1 is a facultative gram-negative anaerobe with remarkable anaerobic respiration abilities that allow the use of a diverse array of terminal electron acceptors. These acceptors include fumarate, nitrate, nitrite, thiosulfate, elemental sulfur, trimethylamine N-oxide (TMAO), dimethyl sulfoxide (DMSO), Fe(III), Mn(III) and (IV), Cr(VI), and U(VI) [1]. Because of this exceptional metabolic flexibility and the potential use of this organism for the bioremediation of metal/radionuclide contaminants in the environment, S. oneidensis MR-1 has been extensively studied and its genome has been sequenced [2]. However, little is known on how this bacterium adopts different metabolic modes in response to the availability of oxygen. In Escherichia coli, the global regulator Fnr (fumarate nitrate regulator) plays a major role in altering gene expression between aerobic and anaerobic conditions. In contrast, S. oneidensis MR-1 appears to employ Crp (cyclic-AMP receptor protein) rather than EtrA (electron transport regulator, S. oneidensis analog to E. coli Fnr) and possibly other unidentified proteins in regulating anaerobic respiration [3–5].
Arc (aerobic respiration control) is another system playing a role in oxygen-sensing and regulating anaerobic respiration in E. coli [6]. As a classical two-component system, Arc consists of the transmembrane sensor kinase ArcB and the DNA binding response regulator ArcA [7]. Under anaerobic or microaerobic respiratory conditions, ArcB undergoes autophosphorylation by sensing the redox state of quinone pool [8, 9]. The phosphorylated ArcB then transfers a phosphate group to ArcA through a phospho-relay mechanism, resulting in phosphorylated ArcA (ArcA-P) [7, 10, 11]. ArcA-P functions as either an activator or repressor in mediating downstream genes by binding to DNA in the promoter regions of the target genes [11]. Gene expression profiling has revealed that more than a thousand genes in the E. coli genome are regulated either directly or indirectly by the ArcA protein [12, 13].
S. oneidensis MR-1 ArcA shared more than 80% in amino acid sequence identity to its homologs in a number of bacterial species in Escherichia, Salmonella, Yersinia, Erwinia, Photorhabdus, Vibrio, and Shigella [6, 8, 14–16]. In addition, the Asp54 residue in the N-terminal receiver domain and the helix-turn-helix (HTH) DNA-binding motif in the carboxy-terminal domain are structurally conserved. However, the genome lacks a definitive full-length arcB gene. ArcA of S. oneidensis MR-1 has been proven functional and involved in the oxygen response as well as in respiration of DMSO and in the detachment of cells from biofilms [14, 17, 18]. SO1327 (HptA) of S. oneidensis, exhibiting a significant degree of similarity to the Hpt domain of the E. coli ArcB, has been proposed to function to transfer phosphate groups to ArcA [14]. However, whether HptA is able to phosphorylate ArcA either in vitro or in vivo remains unanswered except that an hptA deletion strain was only slightly deficient in utilizing DMSO [14]. Furthermore, proteins equivalent to the sensor and/or the additional phosphotransfer domains remain unidentified.
The purpose of this genome-based study is to understand how the S. oneidensis MR-1 Arc system affects expression of genes under aerobic and anaerobic conditions. To this end, an arc A knockout mutational strain was constructed and subjected to physiological characterization and transcriptomic analysis. Results revealed that the mutation in arcA has a profound effect on the bacterial physiology and transcriptome. Meanwhile, an ArcA recognition weight matrix was generated using promoter regions of the core members of the Arc system to estimate the operons directly controlled by ArcA. Comparatively, this atypical Arc system differs from the E. coli Arc system substantially in terms of both functionality and regulon.
Discussion
The canonical Arc signal transduction system in γ-proteobacterial species typified by E. coli is recognized as a second global regulator that, like Fnr, mediates gene expression in response to respiratory condition changes [7, 8, 13]. In S. oneidensis, EtrA, an analog of E. coli Fnr, appears to play a negligible role in this regulatory process, leaving the Arc system the best currently recognized candidate for the role [3, 4]. In addition to high similarities in protein sequence and structure, the S. oneidensis arcA gene has been shown to be able to complement an E. coli arcA deletion mutant [14]. These findings strongly suggest a functional similarity between ArcA proteins in S. oneidensis and in other organisms and that the Asp54 residue is the phosphorylation site if required. A homolog to the arcB gene in S. oneidensis MR-1 has yet to be identified in the genome. Further comparative analyses of multiple Alteromonadaceae genomes indicate that this type of Arc system is in fact common among the Alteromonadaceae. Unfortunately, the 'atyptical' Arc systems have been largely overlooked possibly because of the sequence and structure conservation of ArcAs.
In this study, we have attempted to understand the major physiological changes mediated by ArcA and define its regulon with a comparison with ArcA of the canonical Arc system in E. coli. The two systems differ significantly from each other in several key aspects. Firstly, physiologically, one of major questions about the Arc system is whether it regulates any aspect of aerobic respiration. Unexpectedly, S. oneidensis ArcA is directly involved in aerobic metabolism. In E. coli, it is believed that the Arc system regulates gene expression in response to anaerobic conditions under which ArcB phosphorylates ArcA [8]. Correspondingly, the maximum growth rate of an E. coli arcA mutant was not significantly different from that of the wild-type when grown on a variety of media if oxygen deprivation is excluded [22, 30, 63–65]. Similarly, the absence of ArcA did not show any effect on cell morphology and growth characteristics of Salmonella enterica serovar Enteritidis under aerobic conditions [15]. All these results indicate that ArcA has a very limited role, if any, in aerobic respiration in these bacteria. Secondly, ArcA of S. oneidensis appears to be irrelevant to survival during stationary phase. The E. coli ArcA is heavily involved in starvation-induced modulations of gene expression and therefore plays a key role in the bacterial stasis survival [29, 66, 67]. Thirdly, E. coli ArcA proteins directly control the TCA cycle while the S. oneidensis ArcA controls DMSO reduction directly [14]. All these differences suggest that the S. oneidensis ArcA functionally deviates from the canonical one considerably.
In spite of significant difference in their physiological roles, the activation mechanism by phosphorylation and the target sequences of ArcA proteins of
E. coli
and
S. oneidensis
share a high level of similarity. In this study, the EMSA results reinstated that a binding motif in the promoter region rather than expression differences of target genes appears to be more crucial for binding. Nevertheless, a combination of binding motif and expression difference promotes more accurate prediction. With the combination, up to 50
S. oneidensis
operons are identified while at least 82 operons are reportedly under direct control of ArcA in
E. coli
[
12
]. Given that up to 2183 genes are predicted to be in common in
E. coli
(~48.8%) and
S. oneidensis
(~51.4%) genomes [
68
], the number of overlapping operons (6) is surprisingly small (Figure
7
). The majority of members in the
E. coli
ArcA regulon involved in metabolism are not identified in the
S. oneidensis
ArcA regulon, implicating that a significant difference in ArcA regulons of these two organisms has evolved. It is worth noting that none of the operons encoding TCA enzymes were located next to these high-confident ArcA-binding sites, consistent with our observation that these TCA operons were not affected by the
arcA
mutation. In
E. coli
, on the contrary, the promoter region of most TCA genes contains an ArcA-binding site with
z
score above 3.0 [
12
]. It is possible that ArcA-independent expression of
S. oneidensis
TCA genes may be largely due to the loss of ArcA-binding sites in their promoter regions.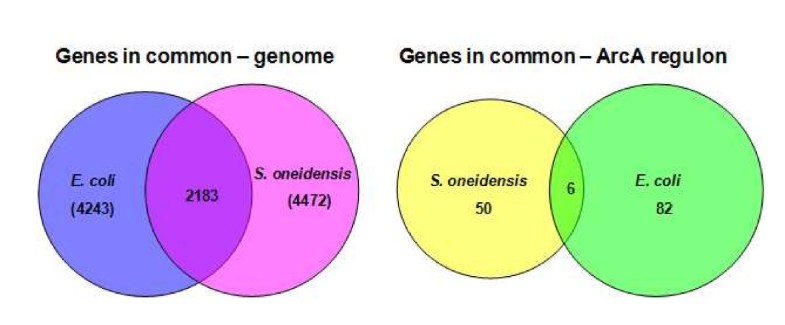 Similarly, S. oneidensis ArcA may acquire controls over new genes once an ArcA-binding site emerged in their promoter regions through evolution. Genes (so1427-30) for DMSO reductase and related proteins serve as a good example. DMSO reduction pathway shares most of components for anaerobic respiration on all other electron acceptors except TMAO [46]. In E. coli, the Arc system functions as a global regulator of respiratory gene expression under microaerobic and anaerobic growth conditions [8–10]. As a result, utilization of many compounds anaerobically is found to be affected simultaneously. In contrast, the arcA mutant is defective in DMSO respiration only, making it hard to accept that S. oneidensis ArcA functions in a similar way. Given that a predicted ArcA-binding site is found within so1427 promoter region, we propose that this operon become a new number of ArcA regulon only because the binding site shows up, presumably by chance.
Conclusion
This study provides the first comprehensive profile to elucidate the functions of the atypical Arc system in S. oneidensis, compared to the canonical one in E. coli. Our findings demonstrated that two Arc systems are significantly different from each other with respect to the physiological functions and the regulons although the sequences and binding motif are highly similar. S. oneidensis ArcA does not appear to be involved in regulation of TCA cycle while ArcA in E. coli repress the genes involved in the TCA cycle under anaerobic condition. More than 50 operons were confidently identified as members of the Shewanella ArcA regulon, but a much larger number of members are expected. However, only a very limited number of the regulon members are shared by the E. coli ArcA regulon. The significant differences in both physiology of arcA mutants and regulon of ArcA proteins of these two microorganisms may simply be due to the differences in lifestyle, metabolism, and gene content between them. Further molecular characterization of the lineage-specific ArcA regulon members identified in this study is needed to dissect the functional diversity and ultimately the evolution of the Arc system in γ-proteobacteria.
Declarations
Acknowledgements
We thank James K. Fredrickson for comments on the manuscript and invaluable discussions. This research was supported by The U.S. Department of Energy under the Genomics: GTL Program through Shewanella Federation, Office of Biological and Environmental Research, Office of Science. Oak Ridge National Laboratory is managed by University of Tennessee-Battelle LLC for the Department of Energy under contract DOE-AC05-00OR22725.
Authors' Affiliations
(1)
Institute for Environmental Genomics and Department of Botany and Microbiology, University of Oklahoma, Norman, USA
(2)
Environmental Sciences Division, Oak Ridge National Laboratory, Oak Ridge, USA
(3)
Center for Microbial Ecology, Michigan State University, East Lansing, USA
(4)
Department of Molecular Virology and Microbiology, Baylor College of Medicine, Houston, USA
Copyright
© Gao et al; licensee BioMed Central Ltd. 2008
This article is published under license to BioMed Central Ltd. This is an Open Access article distributed under the terms of the Creative Commons Attribution License (http://creativecommons.org/licenses/by/2.0), which permits unrestricted use, distribution, and reproduction in any medium, provided the original work is properly cited.